From the charming cities of Florence, Siena and Pisa to the picturesque countryside dotted with medieval villages, Tuscany in Italy offers an extraordinary combination of history, art, gastronomy and breathtaking nature. If you're as fed up as we are, check out our complete guide to where to go in Tuscany and the best things to do and see in Tuscany.
What makes Tuscany so special?
Tuscany is one of the most famous regions in Italy, stretching from the dominant peaks of the Apuan Alps, through the gentle hills of the Chianti wine region to the coastal beaches, sea and islands.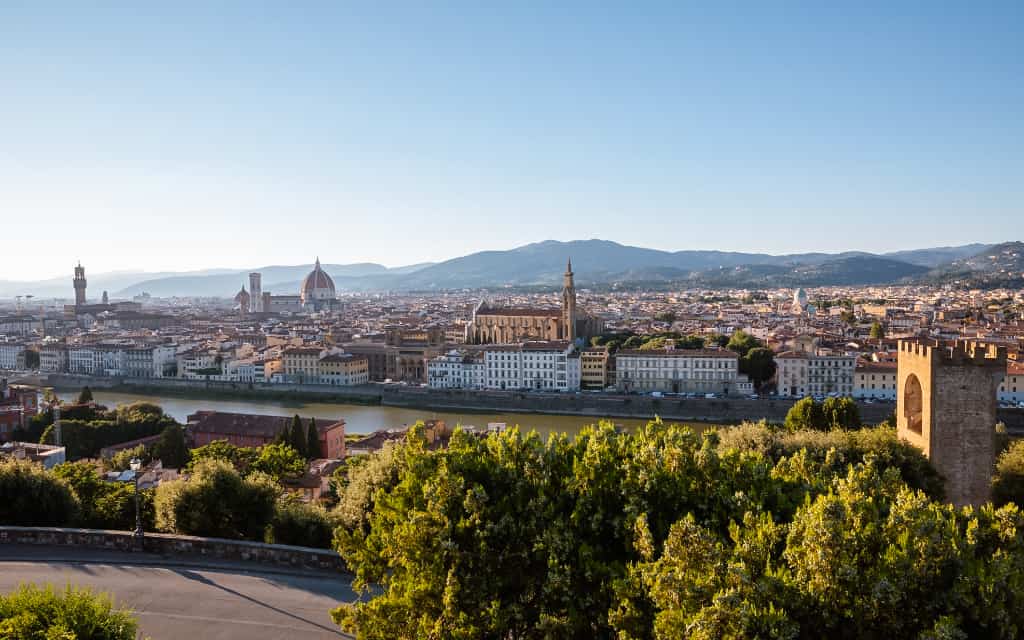 The countryside offers a peaceful retreat where time seems to slow down. As far as the eye can see, there are rolling vineyards that produce some of Italy's most famous wines, such as Chianti and Brunello di Montalcino. Olive groves yield precious extra virgin olive oil and fields of sunflowers and lavender create a colourful mosaic.
Tuscany is the birthplace of the Renaissance and the legacy of great figures such as Michelangelo, Leonardo da Vinci and Botticelli. Florence is literally an open-air museum of the Renaissance.
Small towns such as San Gimignano, Volterra and Montepulciano invite you to stroll through the narrow cobbled streets, explore the ancient towers and discover hidden corners around every corner.
Tuscany is the perfect interplay between the city and the medieval villages. The eye is caressed by its artistic and architectural heritage, the taste buds rejoice at the local wine and great food.
You can read about other beautiful places in Italy here: Where to go in Italy? 26 tips for the most beautiful places and cities in Italy
Tuscany: the most beautiful cities
1. Florence
Florence is the capital of Tuscany and definitely needs to be on your list of things to see in Tuscany. A Renaissance town with a famous cathedral where you can wander the old streets for hours.
And be charmed. Because Florence will enchant you. The sights, the atmosphere, the art. Florence is also known for its rich nightlife and great shopping opportunities.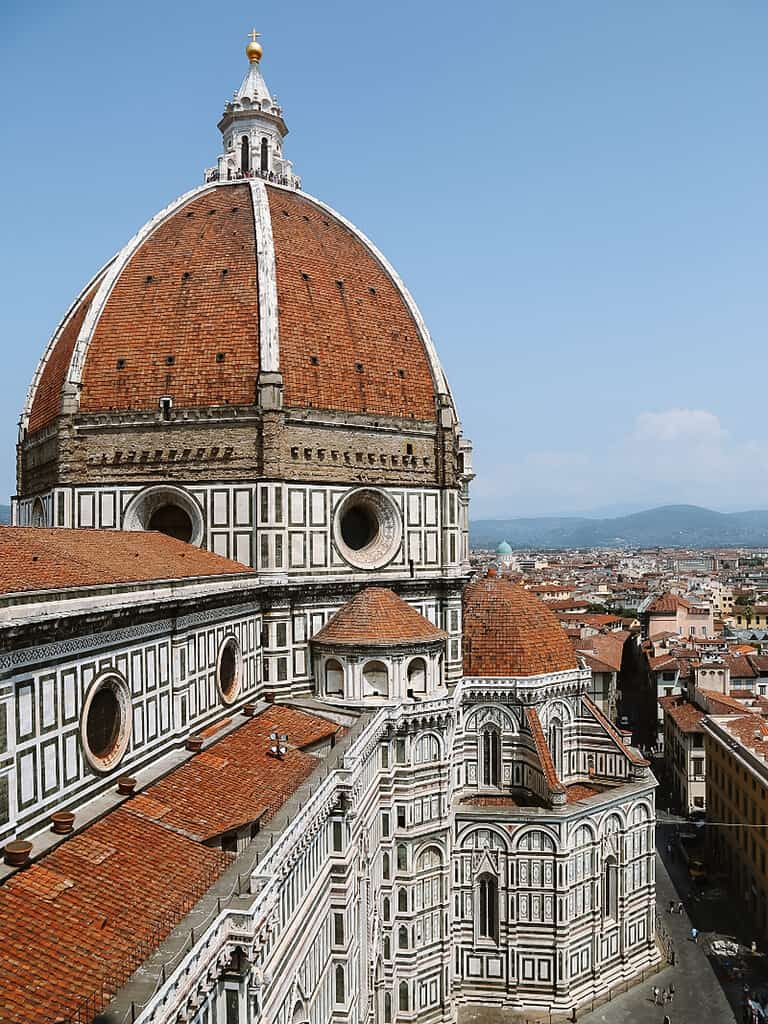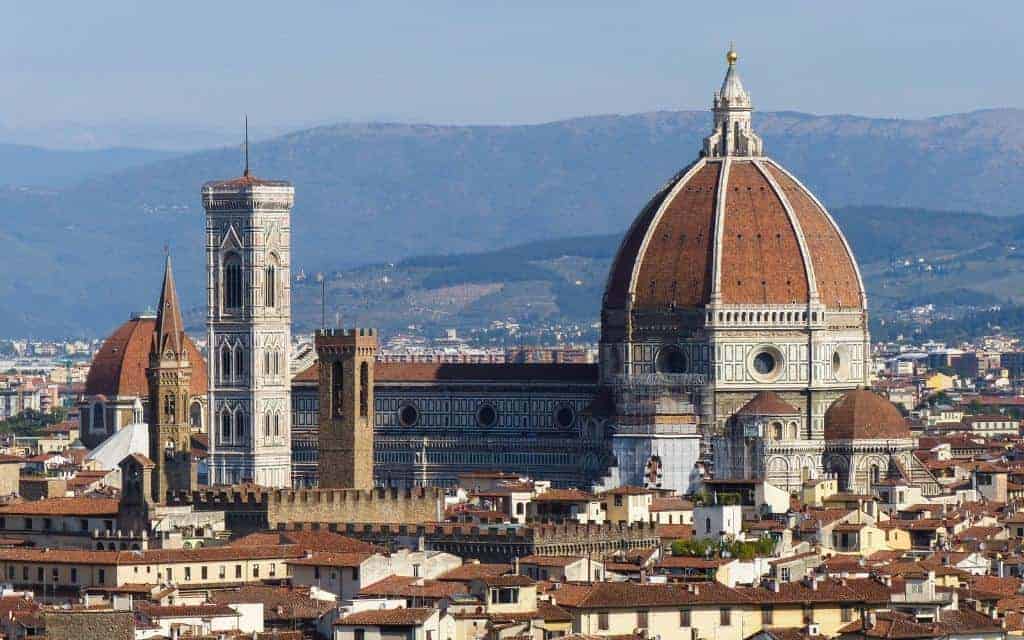 Florence's symbol is the magnificent Cathedral of Santa Maria del Fiore. You may have seen its brick dome in many photos of Florence.
If you love art, don't miss the world-famous Uffizi Gallery which includes masterpieces by Michelangelo, Giotto, Da Vinci and the Birth of Venus by Botticelli.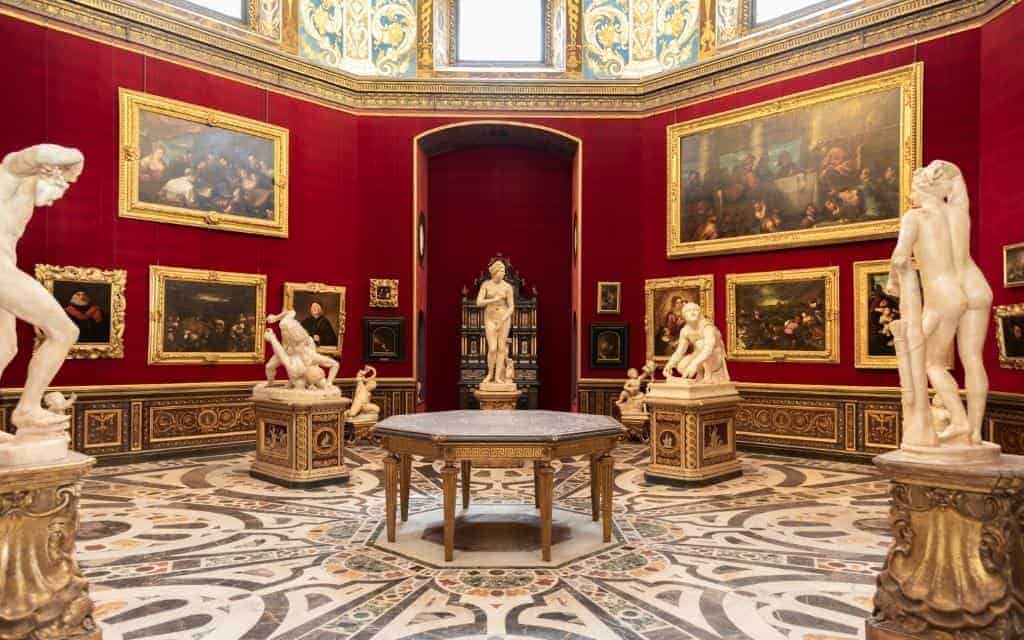 You can see the famous statue of David in Accademia Gallery . Wander the streets, climb Giotto's bell tower for a fantastic view of the red rooftops of the old town and enjoy a stroll along the Arno River with the iconic Ponte Vecchio bridge.
There are so many great things to do in Florence. Set aside at least two days to visit the city.
Day trips from Florence
From Florence you can take a variety of excursions around Tuscany. Go to a trip to Siena, San Gimignano and Monteriggioni and enjoy Tuscan cuisine.
Or connect a tour of Siena and San Gimignano with a visit to the Chianti vineyards and the Leaning Tower of Pisa . A great day trip to visit the best of Tuscany.
Near Florence, just outside Tuscany, is Cinque Terre , a beautiful area with iconic fishing villages. On this trip you'll enjoy a visit to the whole area and a cruise on the sea by comfortable coach.
Read our complete guide to Florence and our tips on the most beautiful places to visit in Florence.
2. Pisa
Pisa is just an hour away from Florence. A city with an iconic leaning tower, but which hides so much more. Stroll through Piazza dei Miracoli, visit the breathtaking cathedral with its ornate baptistery and soak up the lively atmosphere of the old town.
And who knows, you might come across another leaning tower on your wanderings around town – it's there and not hard to find :).
Read our complete guide and what to visit in Pisa.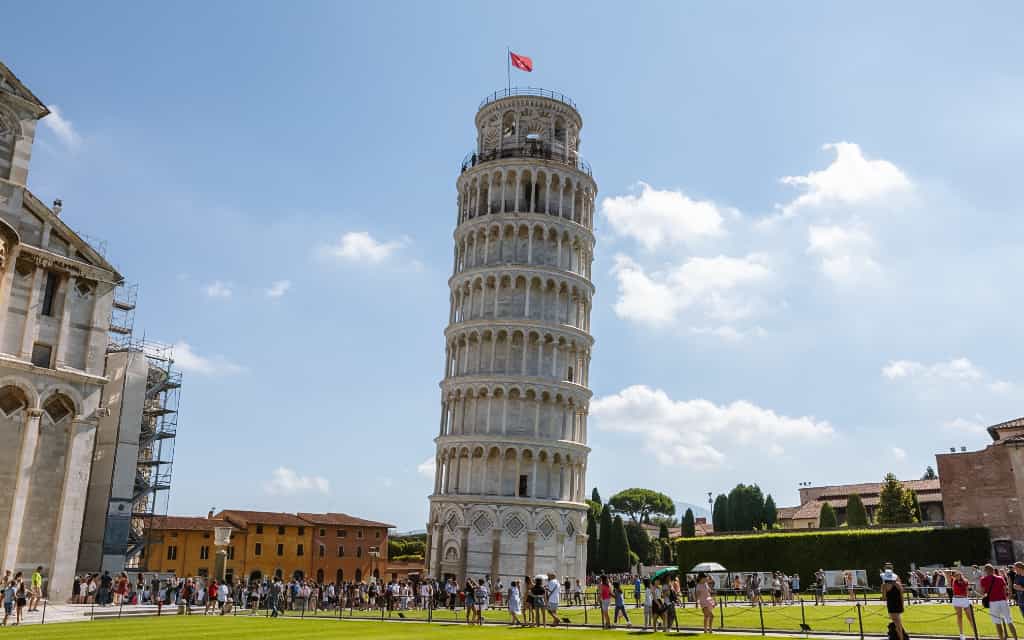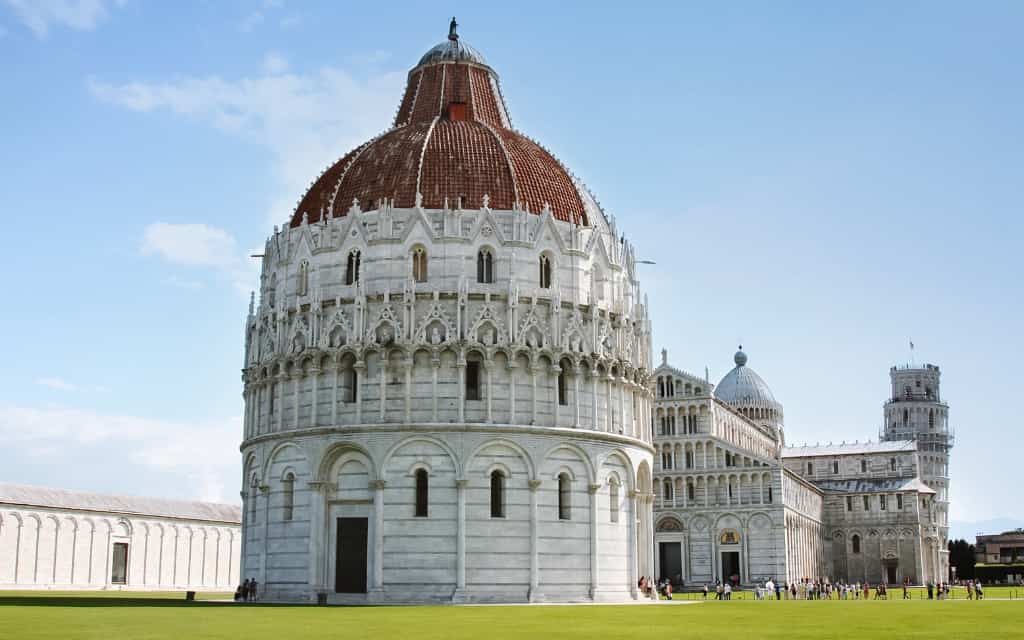 Tip: Florence and Pisa are among the most popular places in the whole of Tuscany. It gets pretty busy in the high season. Book your tickets for the most popular attractions well in advance and skip the queues on the spot:
3. Lucca
Lucca fits in a bit with the more touristy cities of Pisa and Florence. But that doesn't mean it has nothing to offer. On the contrary, it is one of the places to visit in Tuscany. With fewer tourists, you'll enjoy the Tuscan atmosphere all the more.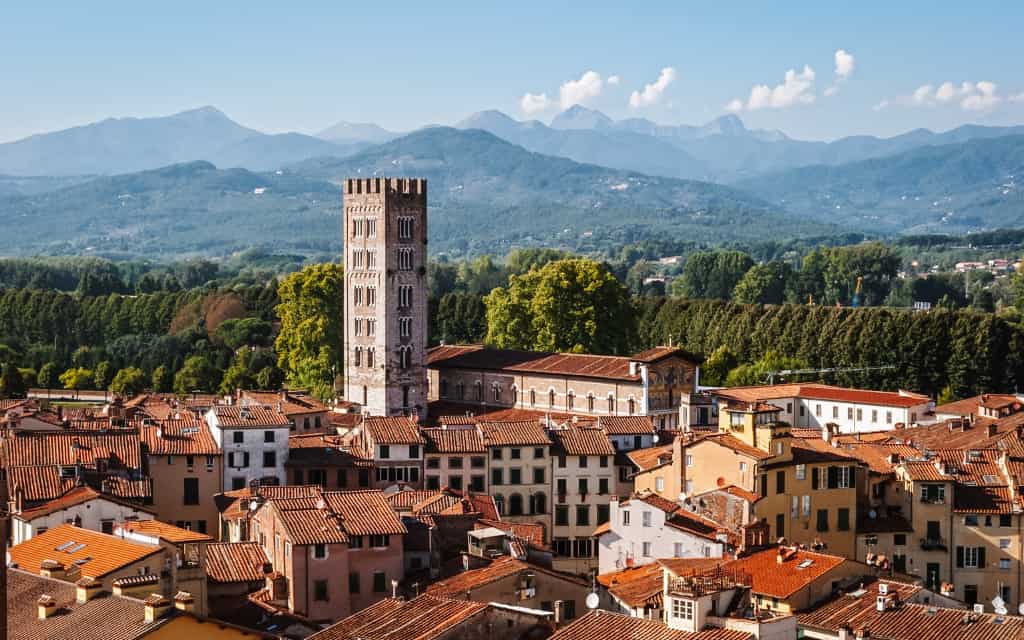 The Old Town is a labyrinth of narrow streets surrounded by medieval walls, where an authentic and relaxed atmosphere is preserved. Climb the imposing Guinigi Tower, topped with holly oaks, and enjoy the view of the city.
Or visit Lucca's stunning cathedral or enjoy a meal at Piazza dell'Amfiteatro, which stands on the site of the original amphitheatre.
Lucca, like Pisa , is the perfect day trip.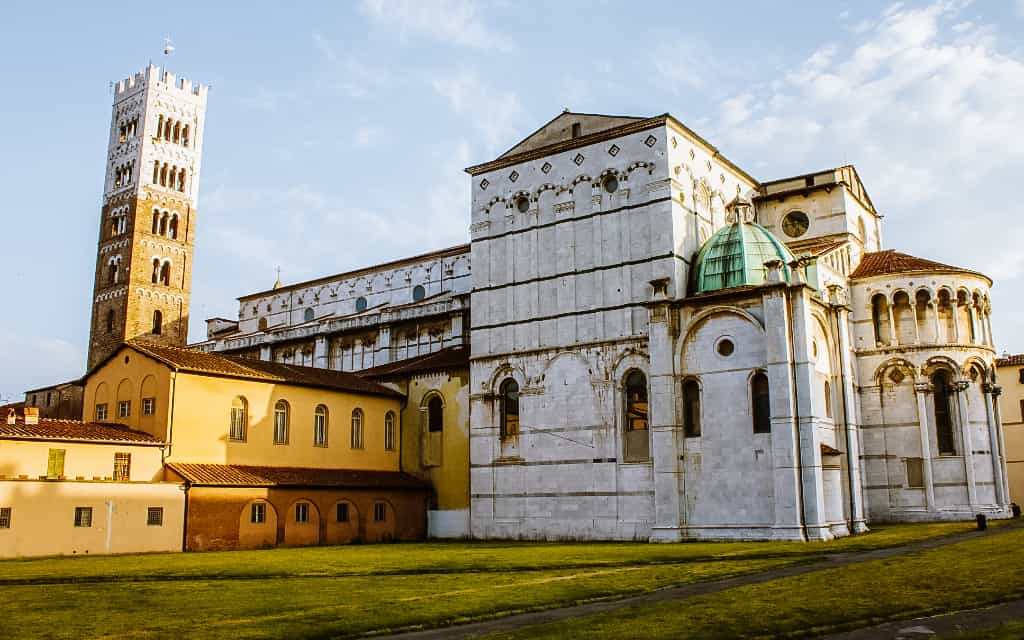 4. Siena – what to visit in Tuscany
Siena is one of the most beautiful cities in Tuscany. According to many, it is the most beautiful medieval city ever. It is also the heart of Tuscany, because it lies right in the middle of it.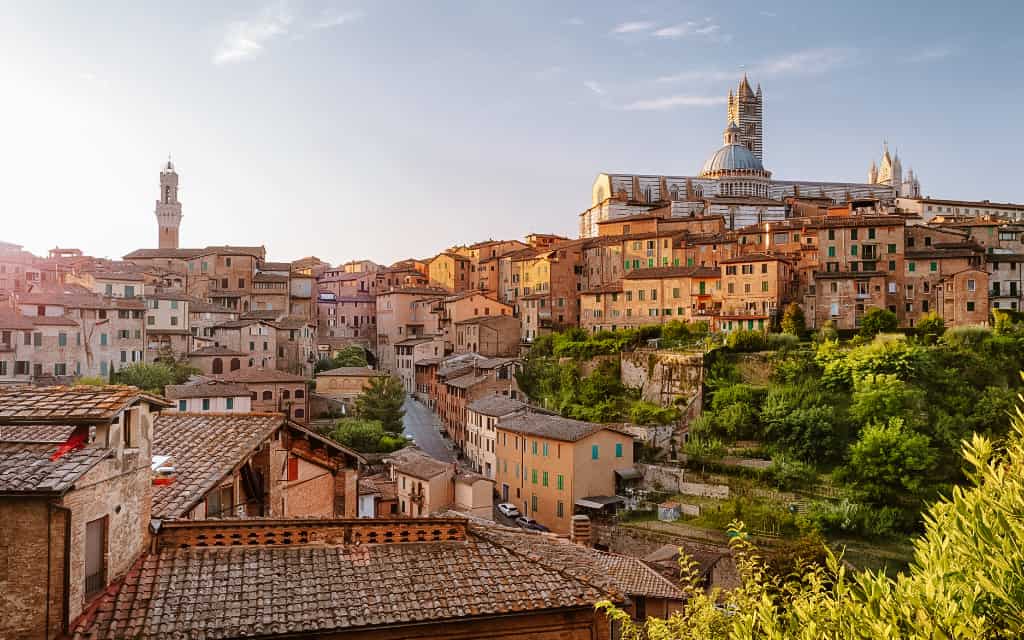 The centrepiece of Siena is Piazza del Campo, a beautiful square famous for its characteristic shell shape. If you're a Bond fan, it might look familiar – it appeared during the chases in Quantum of Solace. This square is also the venue of the world-famous Palio horse races, a tradition that dates back several hundred years.
Among the most beautiful monuments of Siena and the whole of Tuscany is Siena Cathedral, with its intricate facade and magnificent interior decorated with frescoes and statues. Wander the narrow, winding streets and immerse yourself in the medieval atmosphere of the city.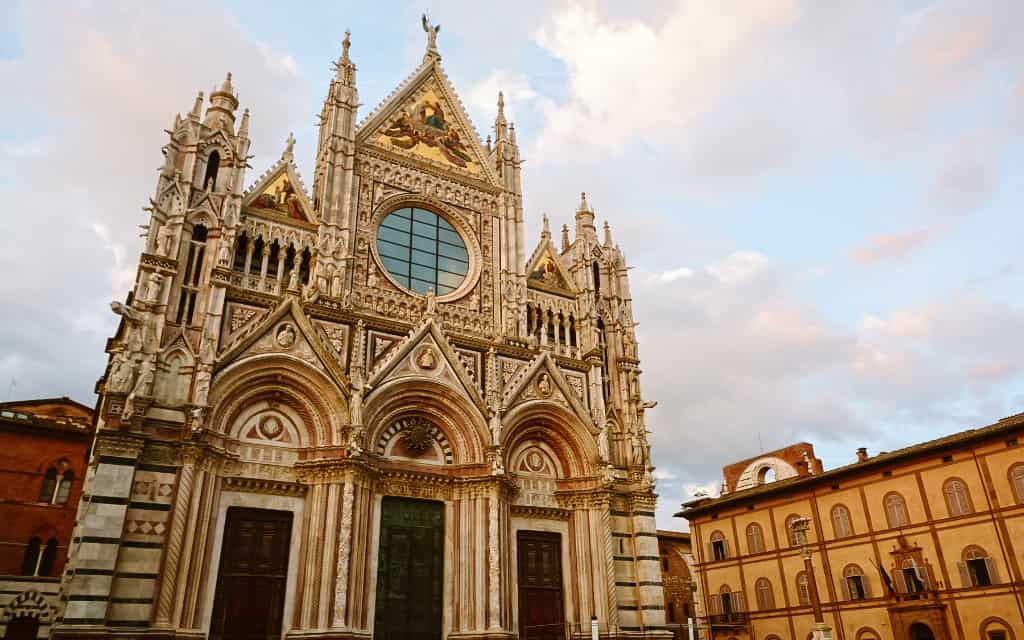 It will take you one day to explore Siena. All car parks are located on the edge of the centre, from where you have to walk uphill. If you park in this car park, you can take the escalators to the historic centre.
I recommend staying overnight in Siena and enjoying the sunrise or sunset, when the warm light beautifully brings out the colours of Siena's red-orange houses.
If your base is Florence, you can go to Siena with arranged transportation and explore other towns in the area, including San Gimignano.
Or connect a tour of Siena and San Gimignano with a visit to the Chianti vineyards and the Leaning Tower of Pisa . A great day trip to visit the best of Tuscany.
The best accommodation in Tuscany
5. Monteriggioni
Monteriggioni, a medieval village, is located in the hills near Siena. Monteriggioni is famous for its imposing walls and watchtowers, which form a perfect panorama.
Get lost in the narrow streets and admire the medieval architecture and picturesque houses that line the road. Above all, enjoy the magnificent views that you will enjoy thanks to the elevated position of Monteriggioni.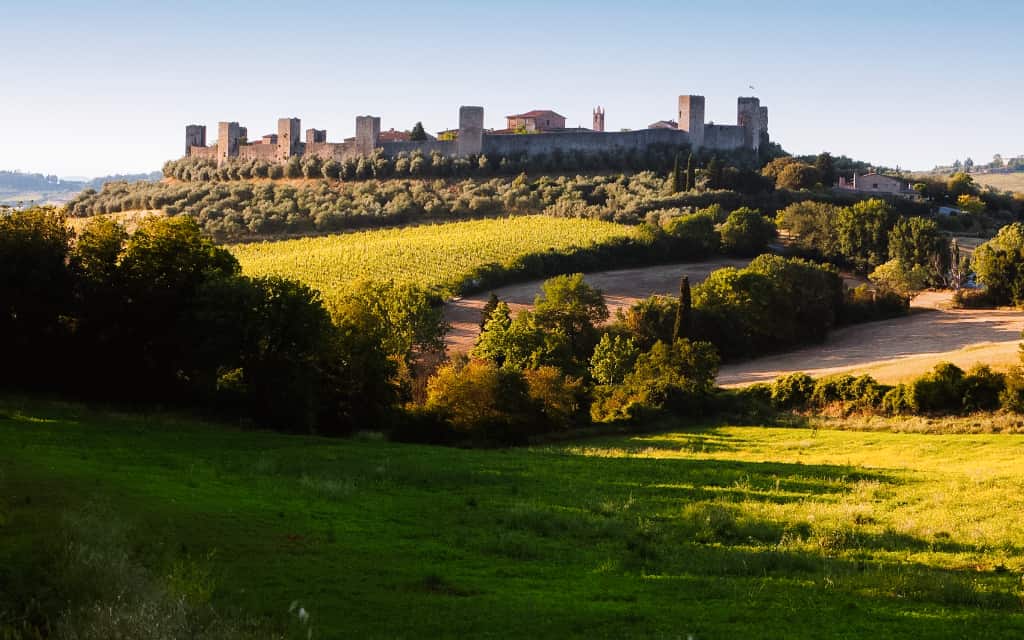 A large paid parking lot is located below the village. From here, it's just a few minutes before you reach the gates of Monteriggioni. You will only need 1-2 hours for your visit.
If your base is Florence, you can go to Monteriggioni with arranged transportation and explore other towns in the area, including Siena and San Gimignano.
6. Montepulciano
In the hills among the vineyards of Val d'Orcia lies Montepulciano, a town famous for its beautiful Renaissance architecture and excellent Vino Nobile wine.
Wander the charming streets and discover sights such as the Palazzo Comunale (climb the tower for a spectacular view) and the Cathedral of Santa Maria Assunta, which line the Piazza Grande. The Bravio delle Botti race is held here every year. Don't miss a visit to the fortress with its botanical garden or the viewpoint just outside the old town.
If you are a wine lover, head to one of the wine cellars for a tasting.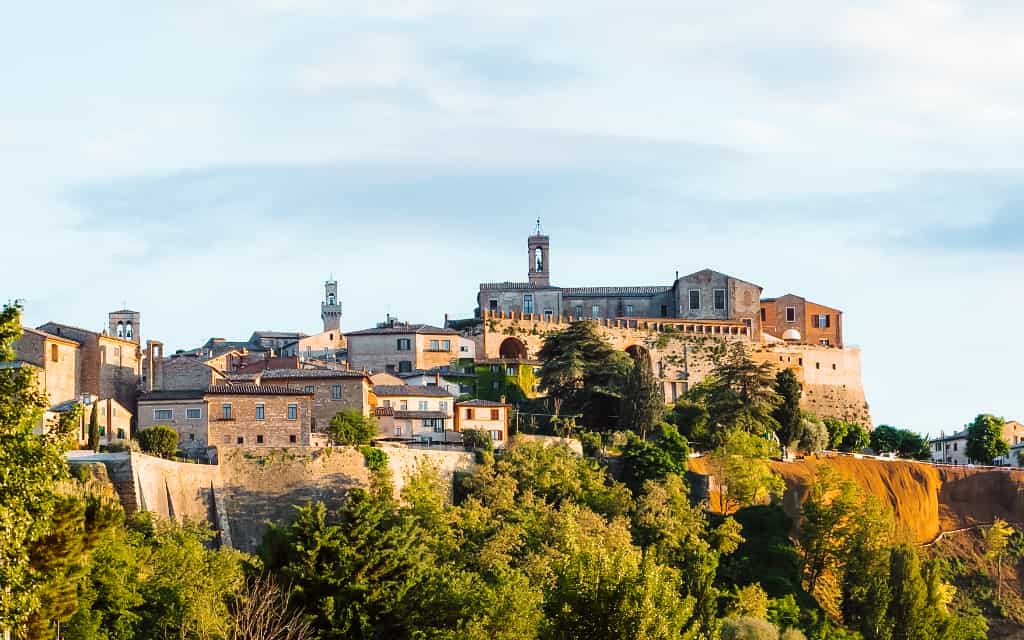 On the way to Montepulciano, don't miss the beautiful Church of San Biagio, which is accessible from the centre.
There are several car parks around the town. For the easiest access to the historic centre, park in car park P8. If you are lucky, you will find free parking spaces. Set aside a few hours for a trip to Montepulciano.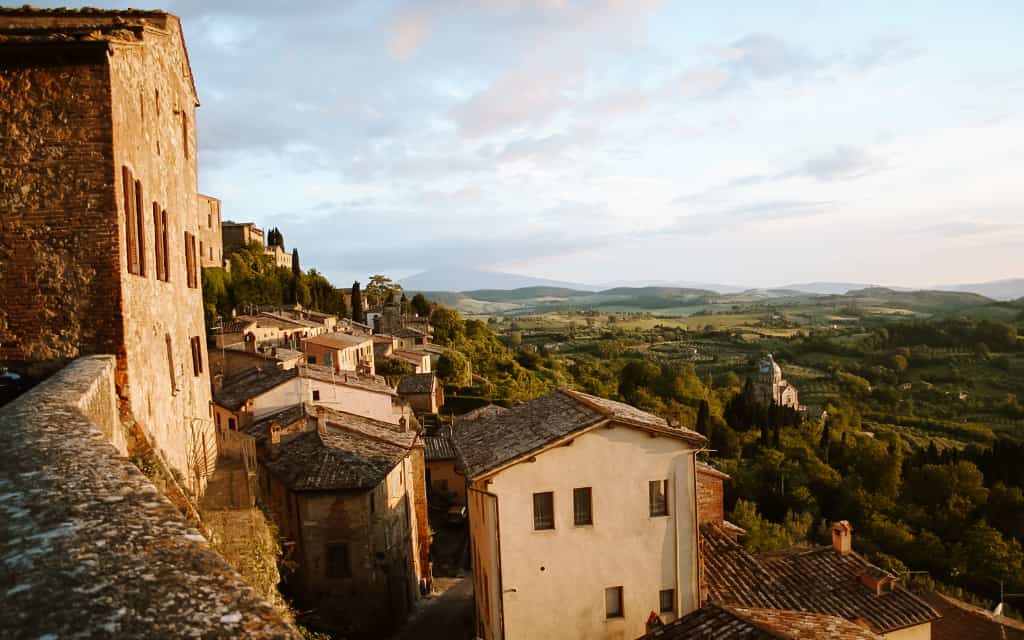 7. Pienza
Pienza is another town in the Val d'Orcia that will absolutely captivate you. The historic city centre is a UNESCO World Heritage Site.
Pienza is known as the "ideal city of the Renaissance". It was proposed by Pope Pius II. as a model of harmonious urbanism.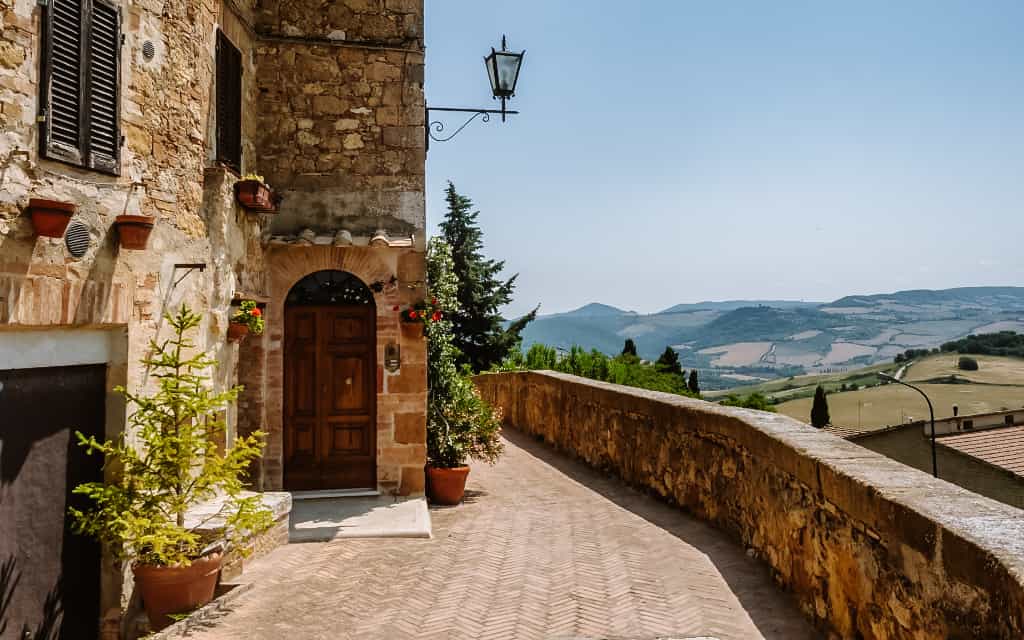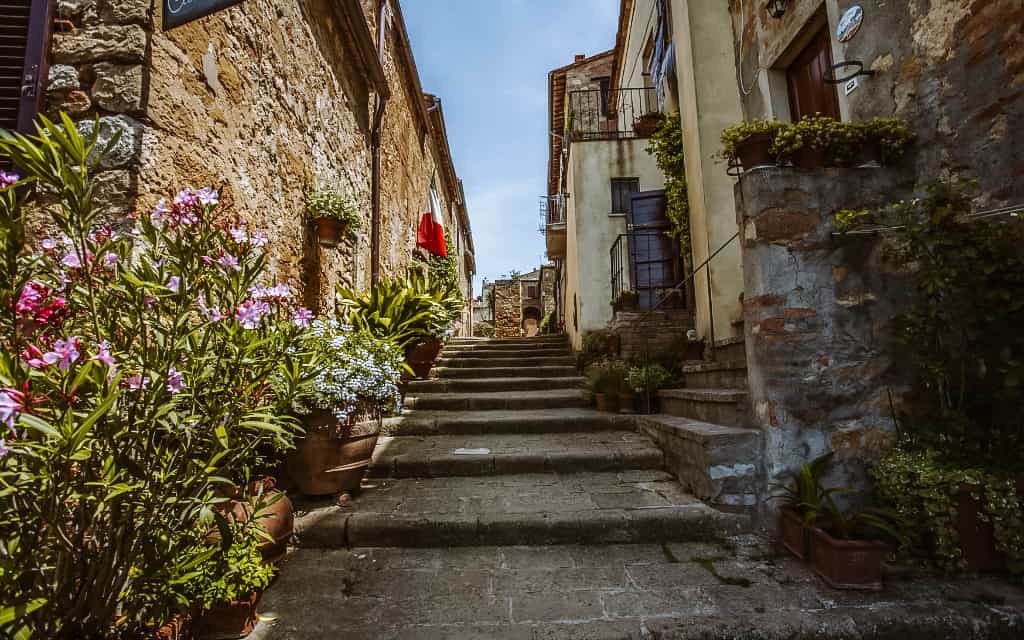 Explore Piazza Pio II, a central square surrounded by magnificent buildings such as the Palazzo Piccolomini and the Cathedral of Santa Maria Assunta. Taste the local pecorino cheese and walk around the town's fortifications, from which you can enjoy fantastic views of the Val d'Orcia.
There are hiking trails that run along the vineyards in the shade of cypress trees. The best route is along Campi Elisi, southwest of the town, where several scenes from the film Gladiator were shot.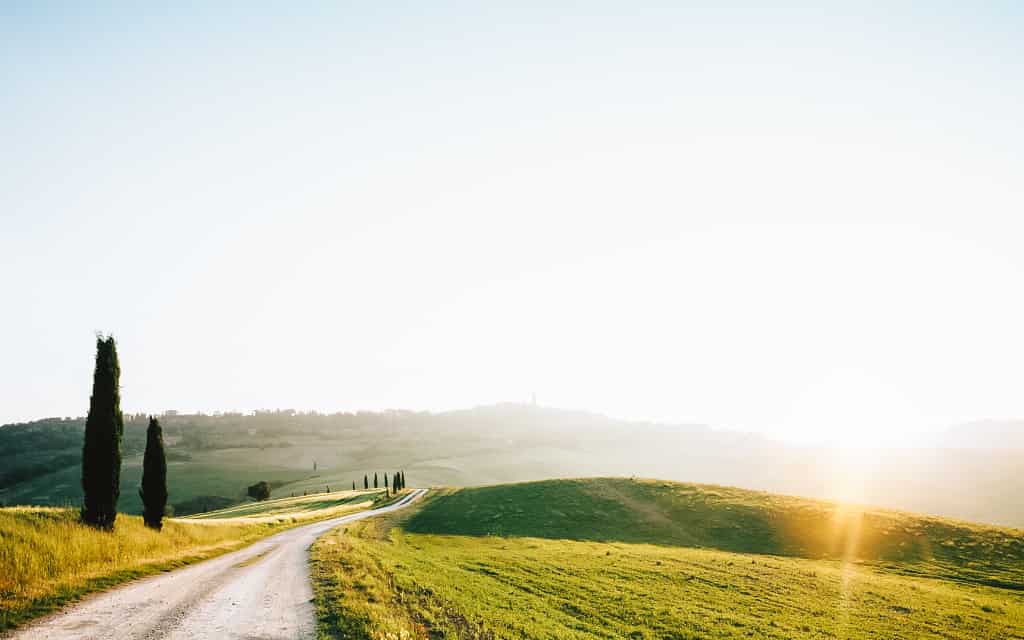 Pienza is a small town. Even with a walk, it won't take you more than 2 hours. There are several paid parking lots around the centre, but they may soon be full as Pienza is one of the most popular places in Tuscany.
Accommodation in a Tuscan villa
8. Volterra – the most beautiful towns in Tuscany
Volterra, another hilltop town in Tuscany, is famous for its ancient Etruscan origins. Here, you can literally breathe in ancient history, which you will absorb in the archaeological park, including the Roman theatre, Etruscan tombs and the Etruscan gate of Porta all'Arco.
The medieval character of Volterra is enhanced by the well-preserved walls, narrow streets and the Cathedral of Santa Maria Assunta with the Baptistery of San Giovanni.
These are all reasons why the creators of the Twilight Saga chose Volterra for one of their episodes.
Set aside at least a couple of hours to explore the city for a quick visit, but feel free to spend the whole day, including exploring the archaeological park. It's a beautiful town and easily accessible from Pisa, Florence or Siena. The nearest car park is located at the historic centre.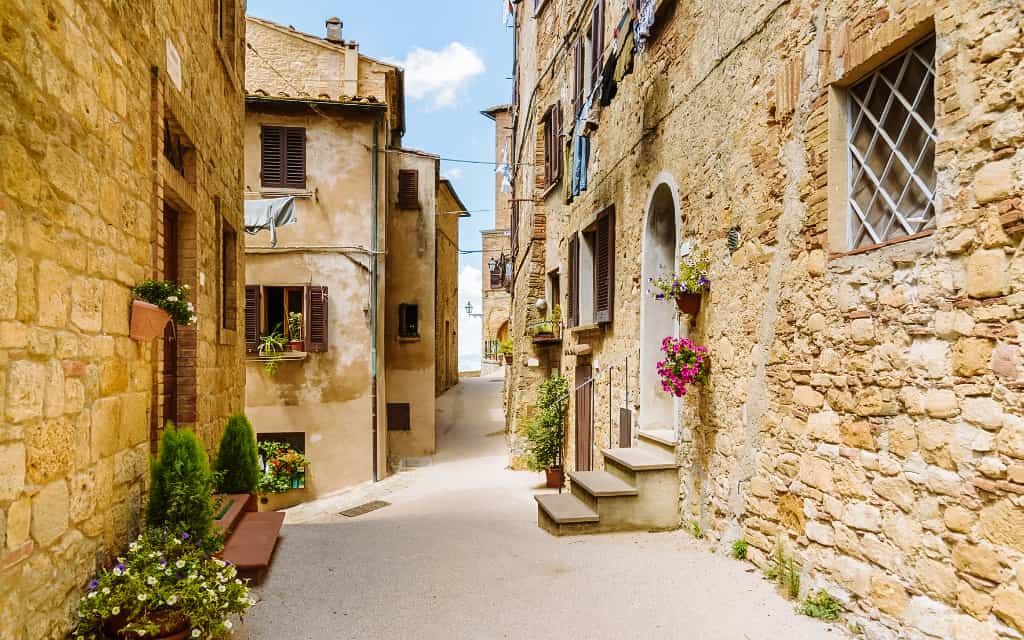 9. Arezzo
Arezzo is located in the very east of Tuscany and is one of the larger towns in the region.
The city centre is Piazza Grande, a grand square surrounded by medieval buildings and decorated with the Vasari Loggia. Giorgio Vasari was a famous Renaissance artist who painted the dome of Florence Cathedral and Michelangelo's tomb in the Basilica of Santa Croce in Florence. In Arezzo you can visit the Casa Vasari, which today serves as a museum.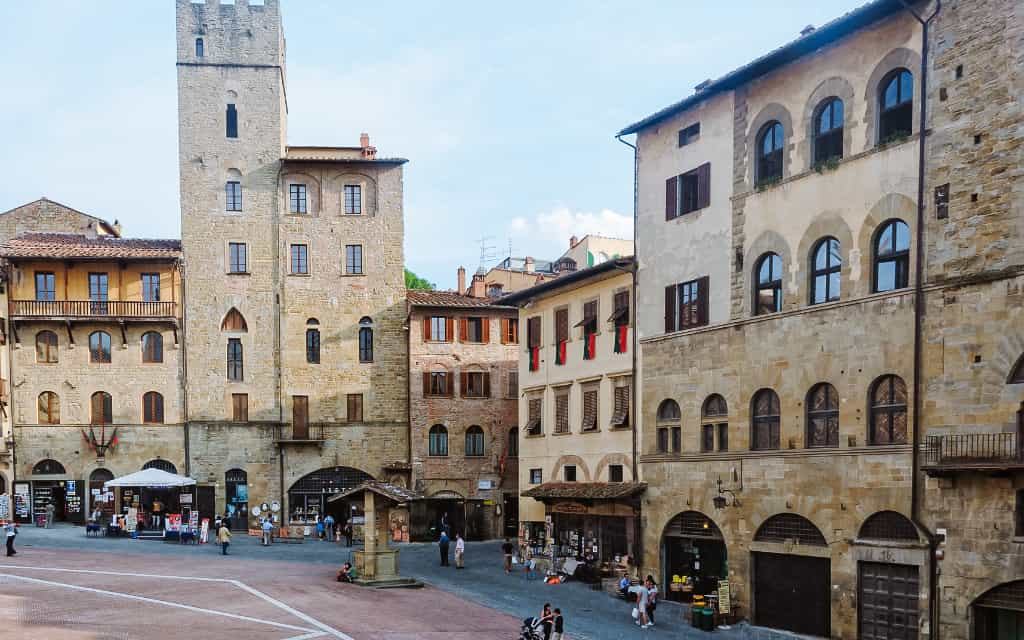 Twice a year, the Saracen Duel is held in the Piazza Grande, during which the famous jousting tournament is reenacted.
Visit the Cathedral of San Donato with its magnificent stained glass windows or the Basilica of San Francesco with Piero della Francesca's fresco "The Legend of the True Cross". Stroll along Corso Italia Street and for the best views, climb the clock tower in Piazza Grande or walk the walls of the Fortezza Medicea fortress.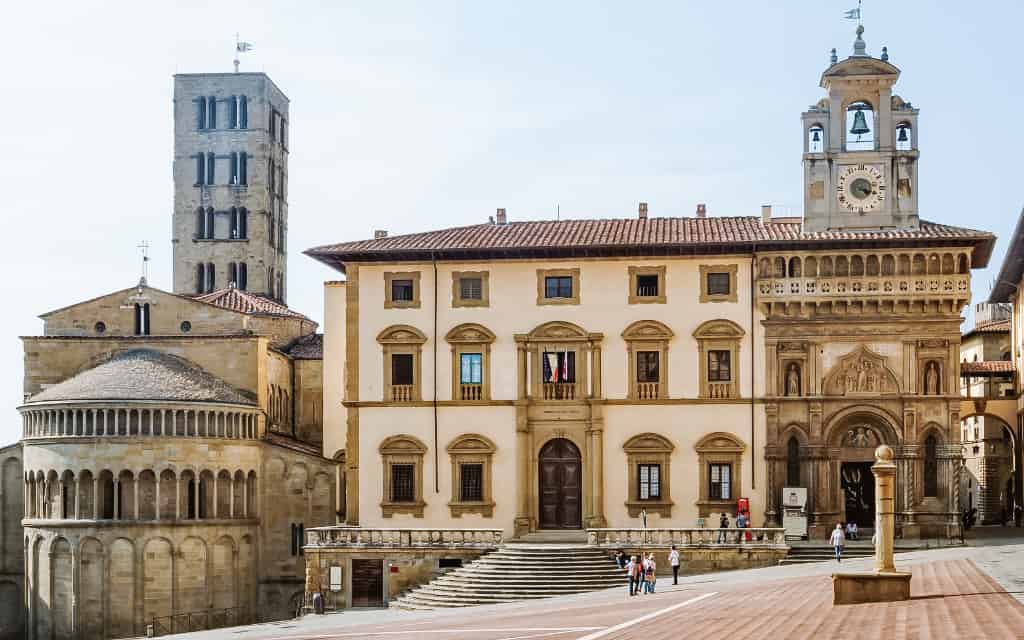 You can park directly under the city walls in this free car park. If it gets crowded, there is a paid parking lot next door at very good prices. From here you can take the escalators to the centre.
Set aside half a day to a day to visit Arezzo, depending on what you plan to see.
10. San Gimignano
Between Volterra and Siena you will find the jewel of Tuscany – San Gimignano – on a hill. The town is a UNESCO World Heritage Site thanks to its unique historical character. It is nicknamed "Tuscan Manhattan" because there are 14 towers that are visible from a distance. In the past there were many more of these towers, because the tower here symbolized power and wealth.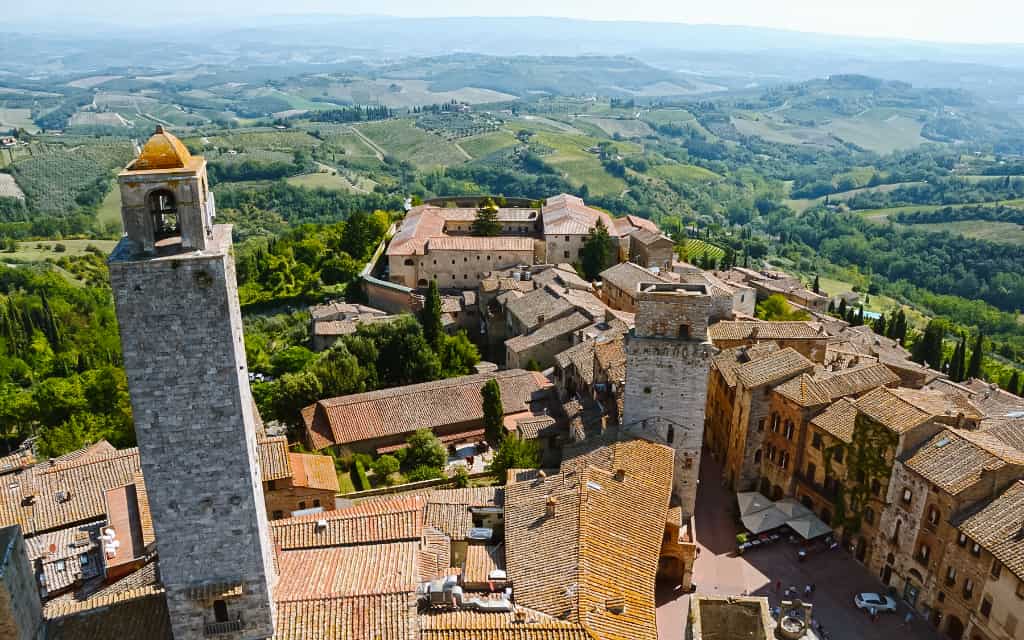 Climb over 200 steps to the Torre Grossa, the highest tower in San Gimignano, and enjoy a fantastic view of the old town. Wander the streets around Piazza del Duomo and Piazza della Cisterna.
In Piazza della Cisterna is Gelateria Dondoli, where you can get the best gelato in all of Tuscany (the gelateria has won many awards).
The Parco della Roca offers spectacular views of the surrounding rolling hills.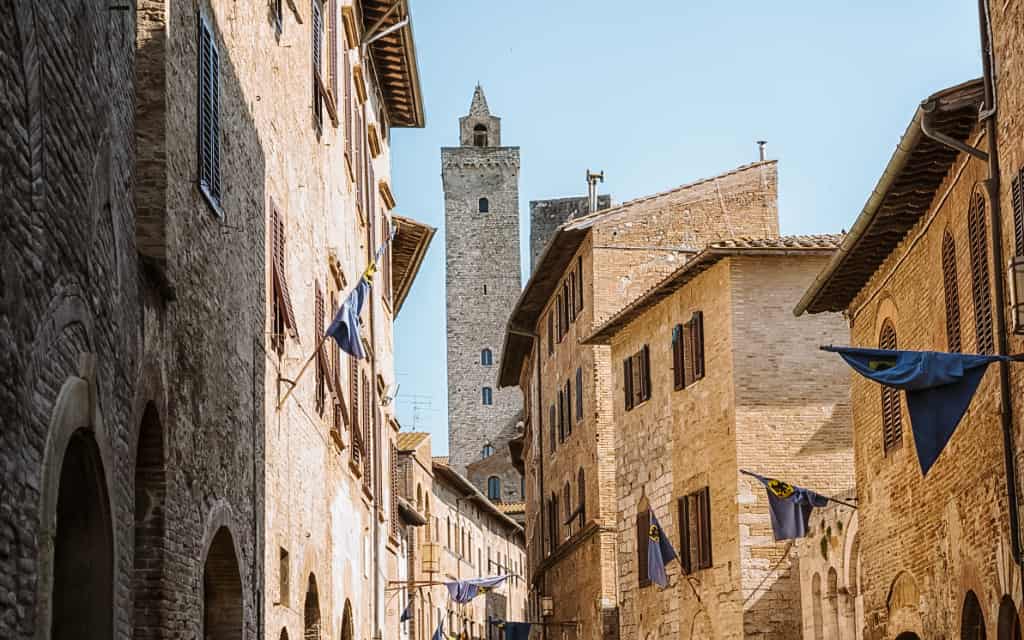 San Gimignano is one of the most beautiful places in Tuscany and definitely a must on any itinerary of what to see and visit in Tuscany. But be prepared for crowds, especially in high season.
Allow at least half a day for San Gimignano. It's not a big town, but there is a lot to see. There are three main car parks in the area – you'll see the signs when you arrive. Parking lot P1 is 10 minutes from the historic centre and is therefore the cheapest. Parking lot P2 is located almost at the entrance gate, but it is the most expensive and may be full soon.
Where to stay in the heart of Tuscany:
11. Cortona
Cortona is an Etruscan town situated on a hill above the Val di Chiana. The heart of Cortona is Piazza della Repubblica with Palazzo Comunale, where you can climb to the top of the clock tower. From Piazza della Repubblica, Via Nazionale is the main thoroughfare, a pedestrianised street lined with shops and restaurants. It takes you to Piazza Garibaldi, an open square with spectacular views of Cortona and the valley.
Piazza del Duomo is another square with a beautiful view. You can just wander around in the local alleys, some of them are truly magical.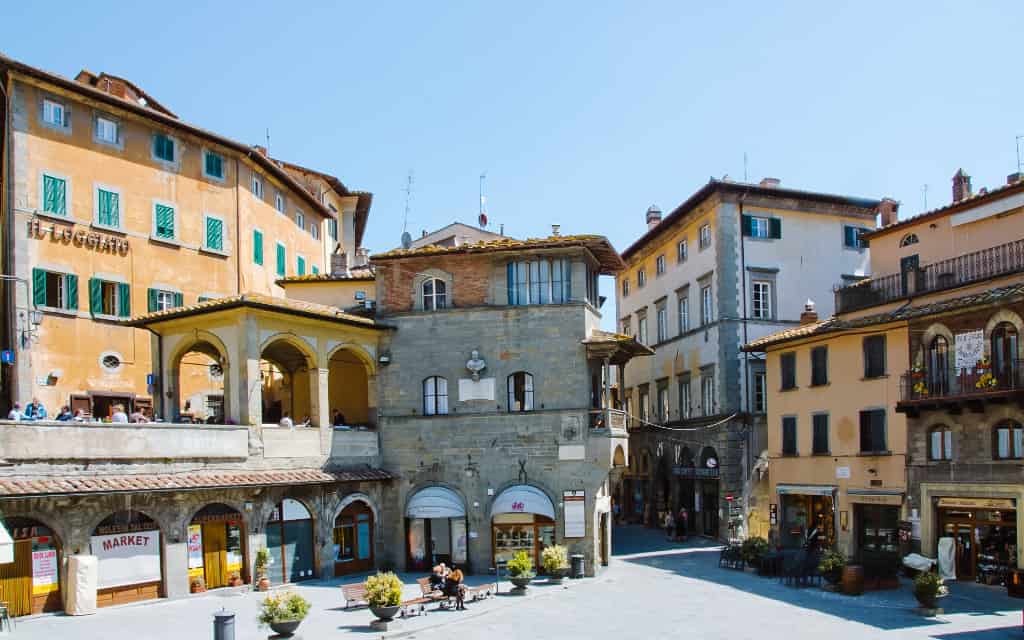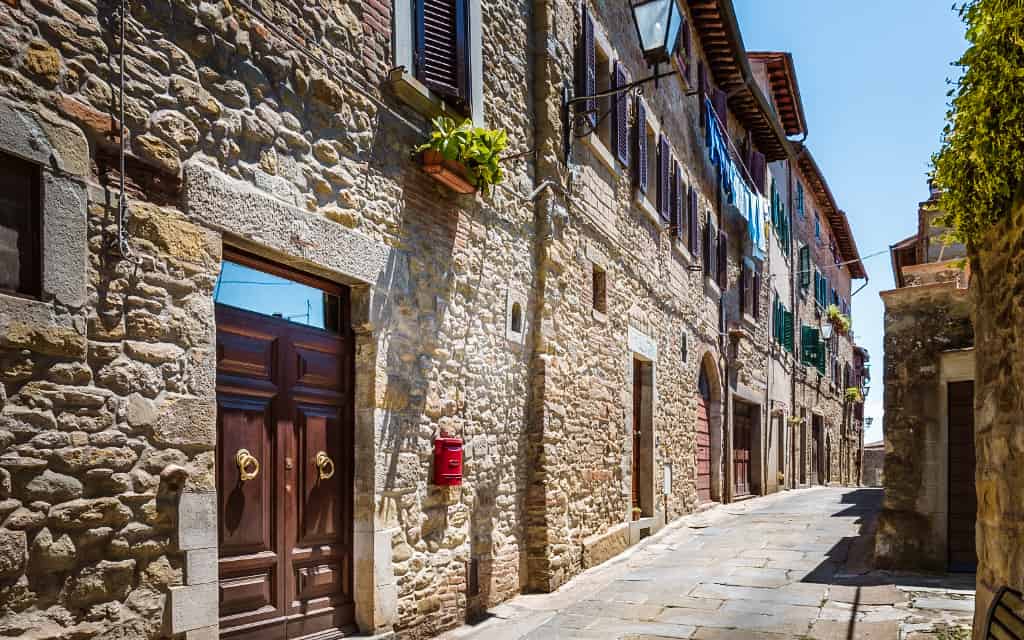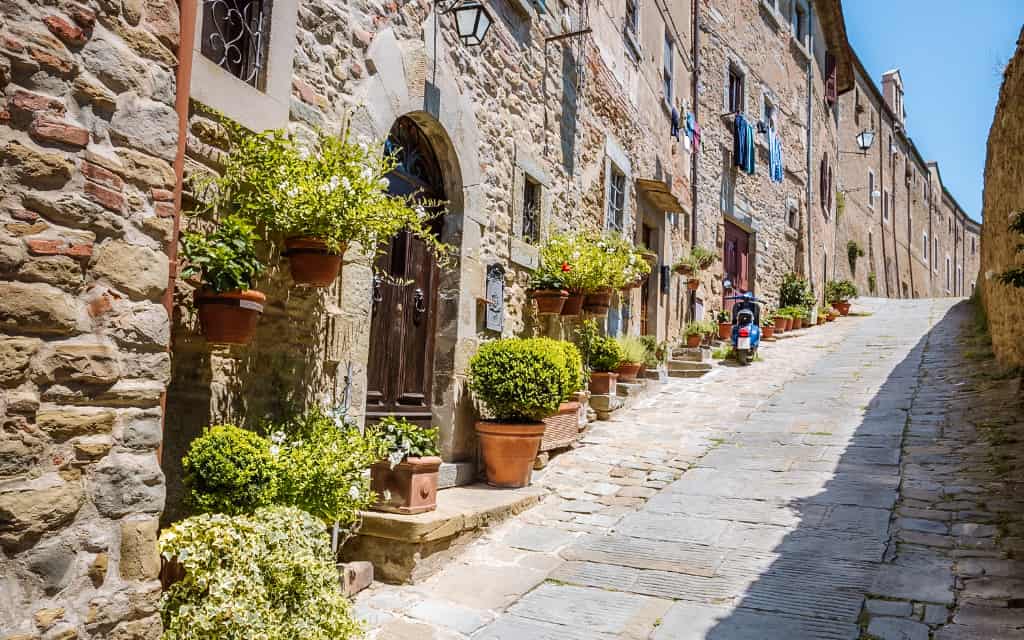 A short walk from the centre of Cortona, the Fortezza del Girifalco is at its highest point, where you can walk the ramparts overlooking the wide landscape or visit the beautiful Basilica of Santa Margherita. Both places are about 30 minutes' walk from the centre or you can park in the free car park.
A few minutes' drive from Cortona is Le Celle Monastery, a peaceful place surrounded by greenery and flowers. The monastery was built by Saint Francis of Assisi and he stayed here for some time.
Allow about half a day to visit Cortona and the surrounding area. The car parks are located under the historic centre and are mostly free of charge. From here you can take the escalators.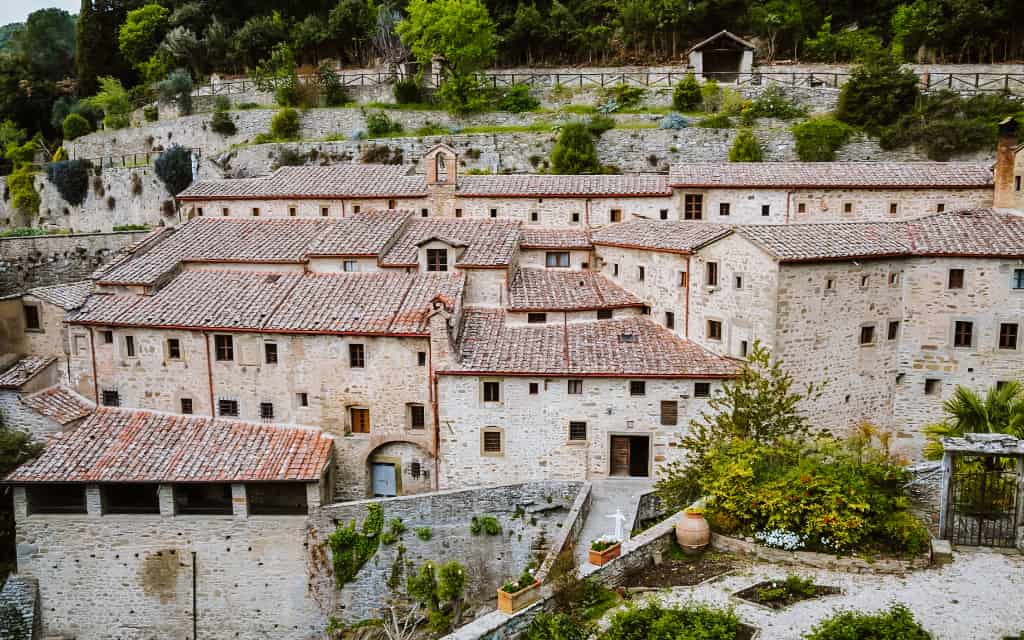 12. Pistoia
Pistoia is an unspoilt jewel of Tuscany, halfway between Lucca and Florence. A small town with a rich history, where it is a pleasure to walk the streets and discover the beautiful architecture and hidden squares.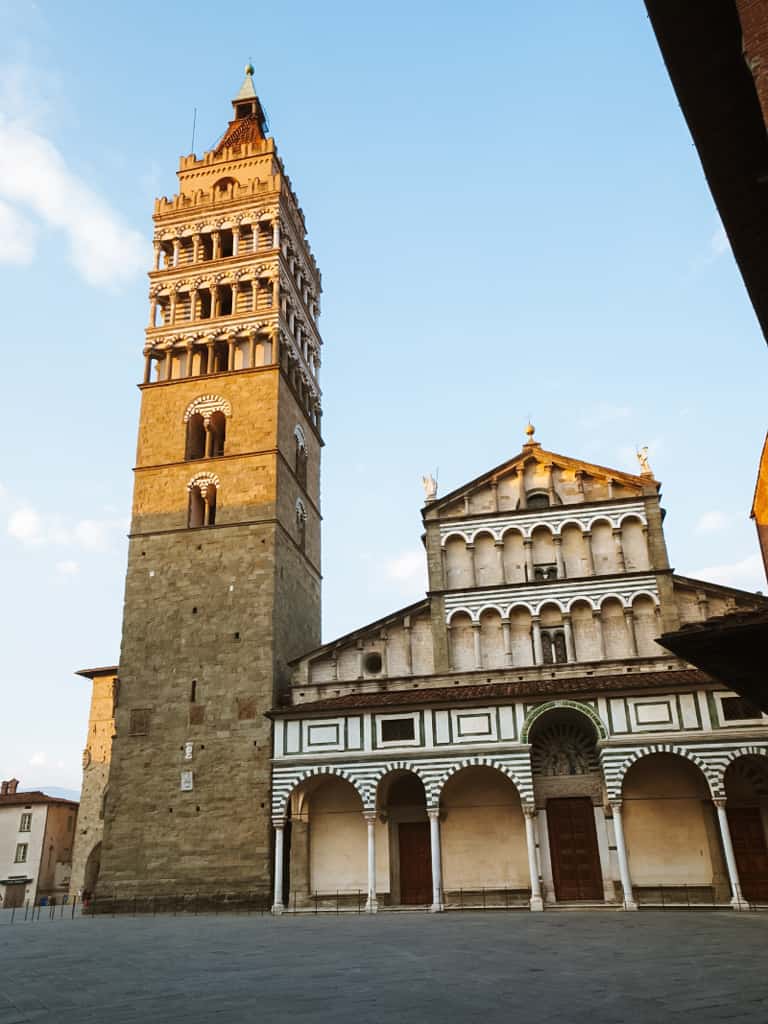 At the heart of the historic centre is Piazza del Duomo, where the magnificent San Zeno Cathedral is located, with its splendid interior. On its left side is the bell tower, where you can climb for the best view of the city.
A few minutes from the square you can walk to the Ospedale del Ceppo, a historic hospital dating from the 13th century. century. For a small fee you can see the interiors, but the building is worth seeing on its own and from the outside.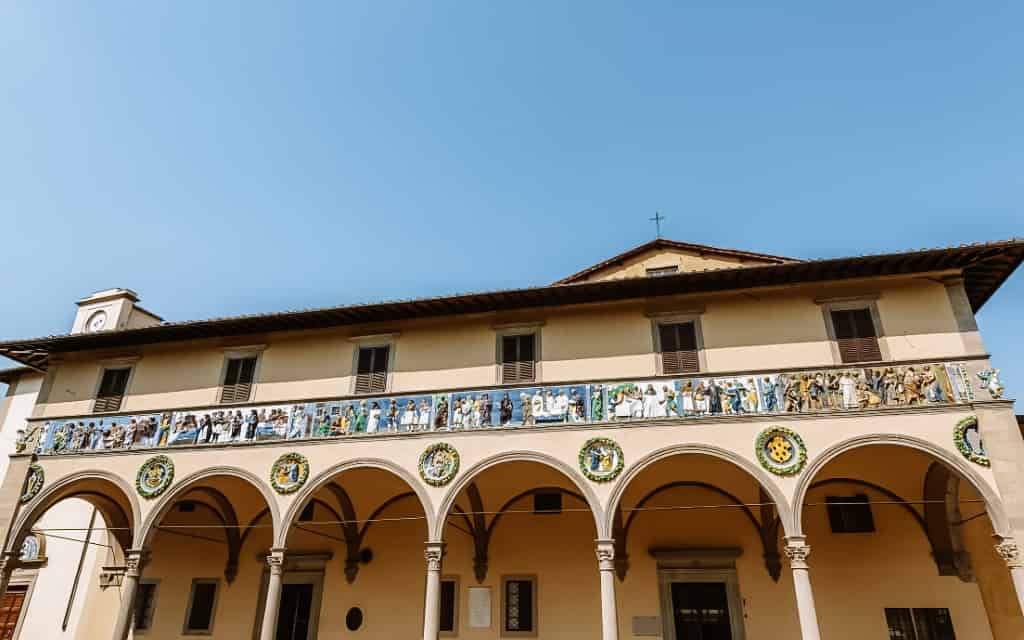 Pistoia is not a big place, it will take you only a few hours to visit. Paid parking is available near the centre, and Parcheggio Pertini is a good choice.
Tip: For delicious Tuscan cuisine, head to Locanda del Capitano del Popolo Pistoia, on the corner of Piazza del Duomo.
13. Montecatini Terme
As the name suggests, Montecatini Terme is a spa town located in the north of Tuscany. Explore the beautiful Parco delle Terme or soak in the healing waters and enjoy a spa treatment.
An overground cable car takes you directly from the town to the old town of Montecatini Alto, at the top of a hill with a beautiful historic centre.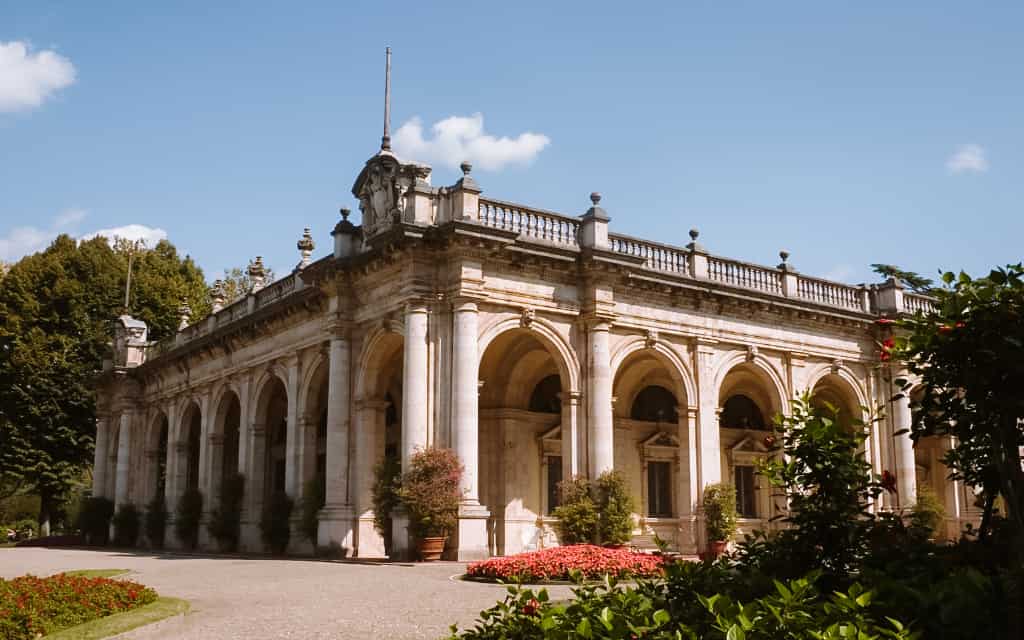 14. Sorano
Sorano is an ancient village in the south of Tuscany, carved into the rock by the Etruscans. For this reason, Sorano is nicknamed "Matera of Tuscany".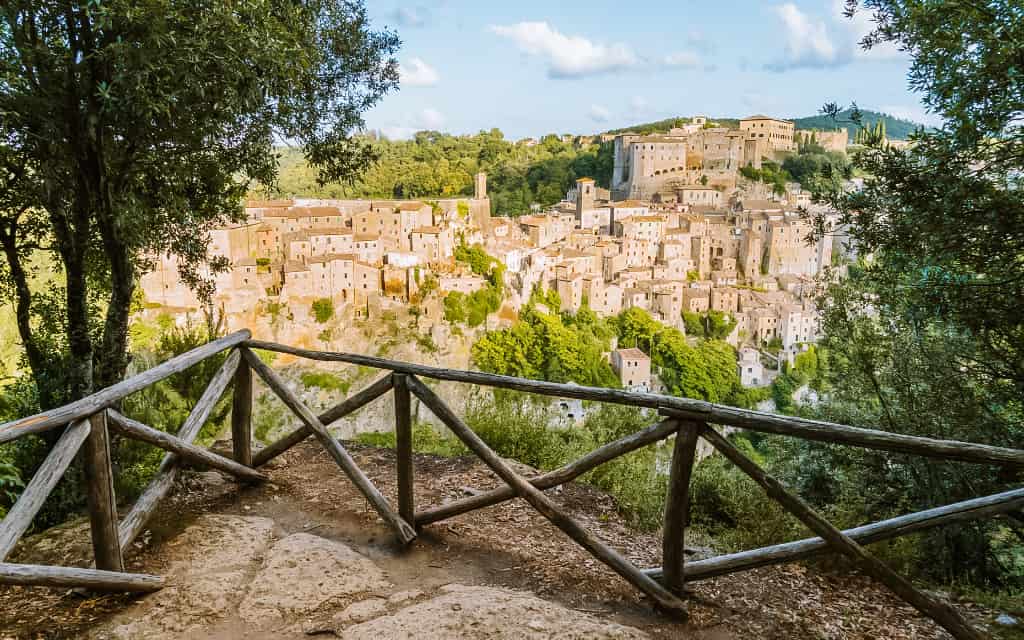 Wander the narrow cobbled streets, admire the stone houses and visit the Orsini Fortress, an imposing structure that offers panoramic views of the city and the rocky valley. The fortress is located in the south, a short walk from the free car park.
From here, head uphill, along the main or through the charming side streets (beautiful and not crowded) until you reach the north of Sorano to Masso Leopoldino Castle, another landmark of the village.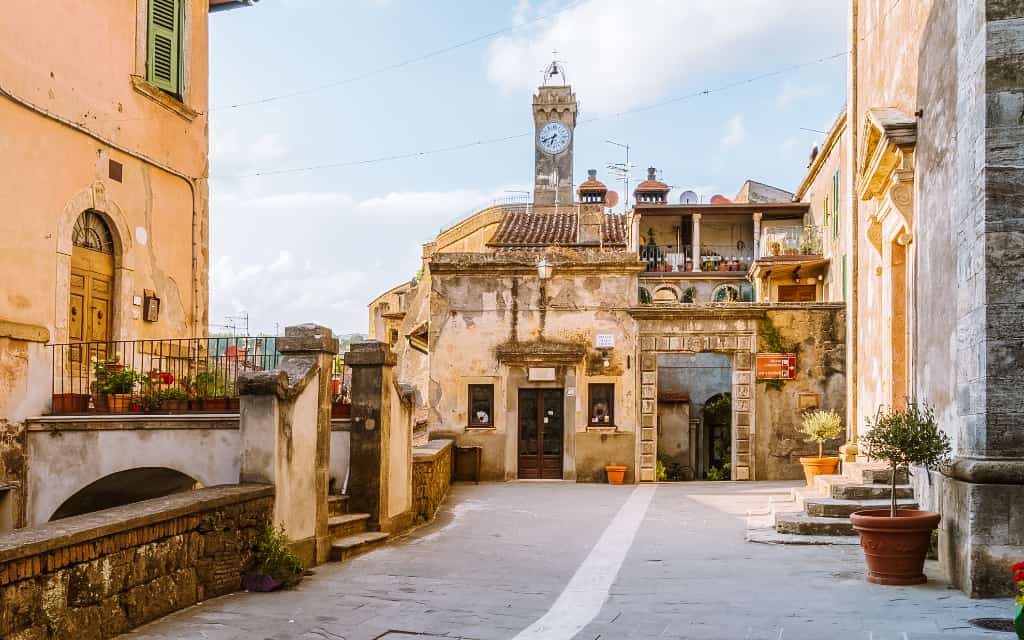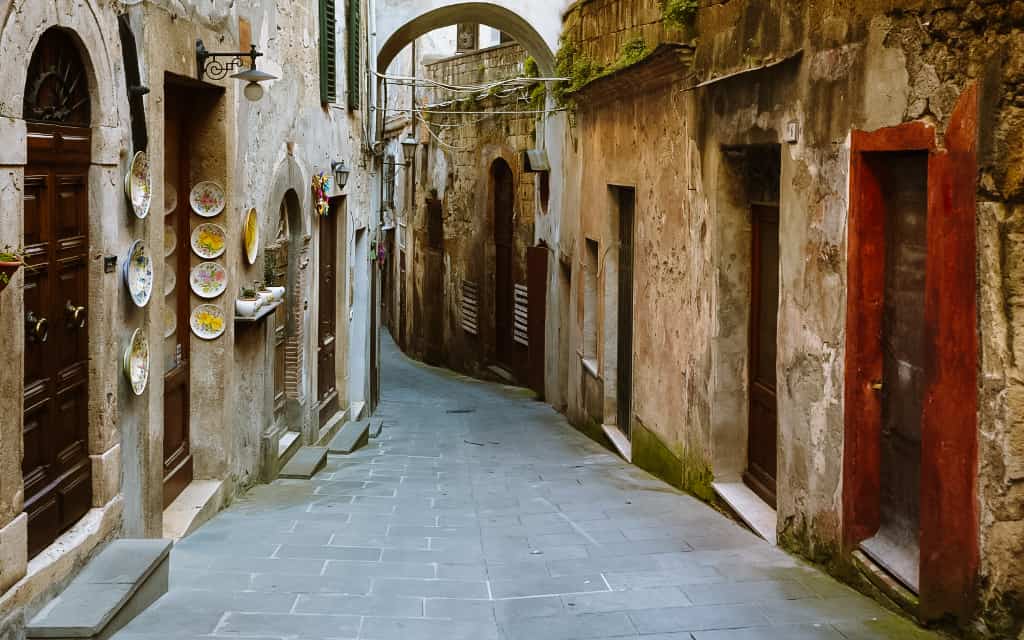 Straight from the historic centre, you can take the signposted Via Cava di San Rocco, which offers spectacular views of Sorano and the surrounding countryside (see the first photo of Sorano). The trail is carved into the tuff, including rock rooms, so you walk among the high rocks.
Until recently, the rock rooms served as agricultural outbuildings and stables, as farmers used to walk their mules and donkeys to the fields. It takes about 2-3 hours to walk the entire route and it's one of the best things to do in Sorano.
Tip: Cantina L'Ottava Rima, a rustic, authentic restaurant serving Tuscan cuisine, is located in a side street in the centre of Sorano.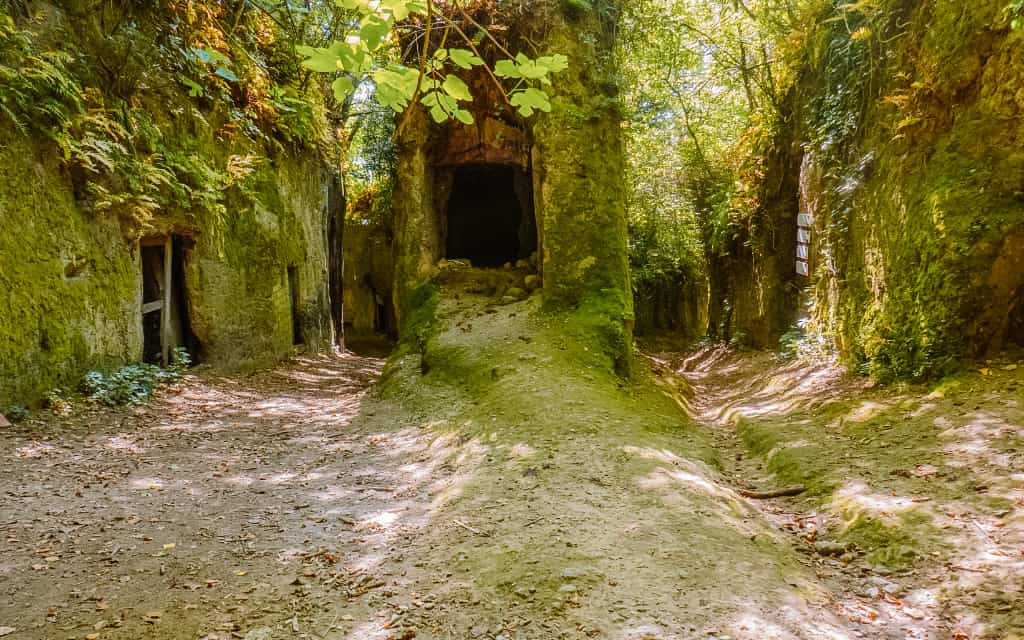 15. Pitigliano
Pitigliano is located just a short distance from Sorano. The two villages receive far fewer tourists all the way to the south of Tuscany. It's a shame, because this is where you get the true Tuscan experience and the history of the Etruscan period.
Pitigliano is a village built on a volcanic rock whose appearance is reminiscent of the Temple Mount in Jerusalem. That is why it is nicknamed "Little Jerusalem".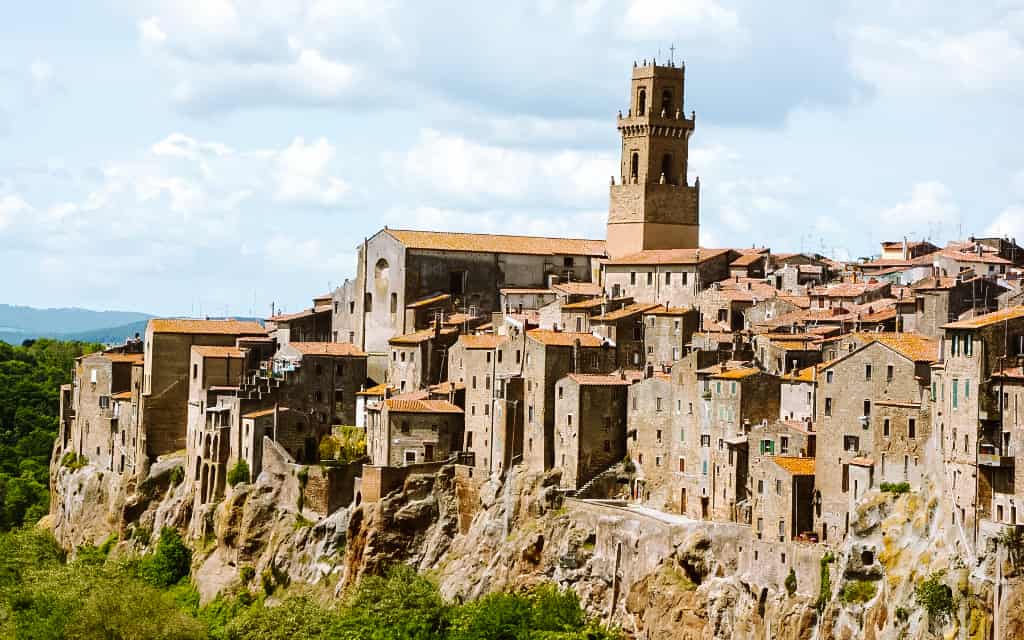 The road here is already panoramic and offers beautiful views. For an even better view of Pitigliano, enter the coordinates 42.63352011836821, 11.670796846291381 (see photo above). There are a few benches and you can park a little further on in the car park behind the cemetery (paid, but good price).
From the car park you can walk around the viewpoint to the centre in about 10 minutes. The centre is a magical labyrinth of cobbled streets, small squares and breathtaking views. It's not big and you can walk through it in about an hour.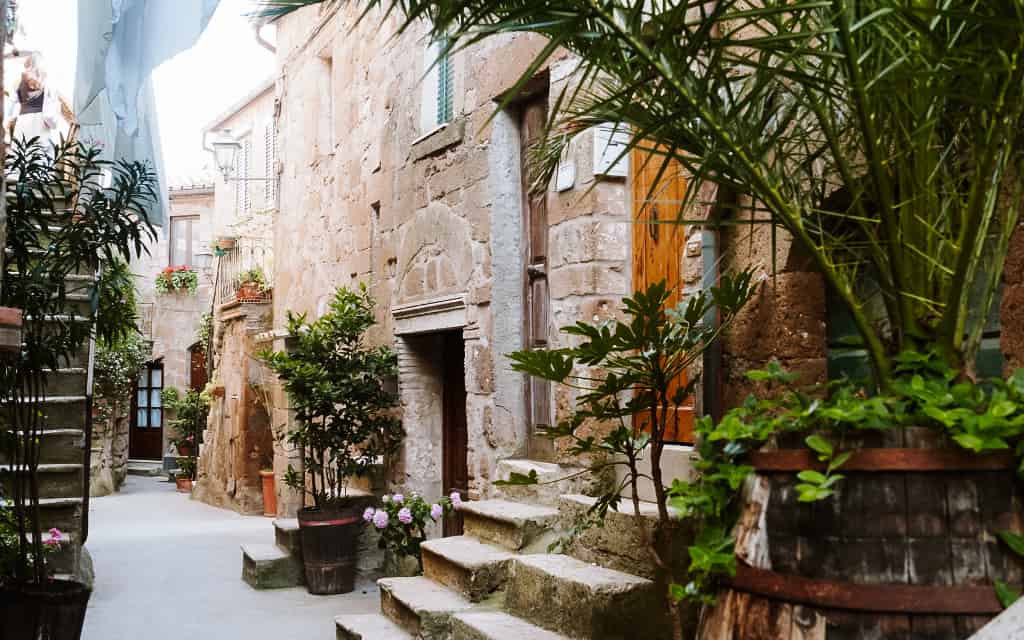 As in Sorano, Pitigliano has a road carved into the tuff – it's called Via Cava di Fratenuti and you can find a detailed description on the town's website.
Where to stay in the south of Tuscany:
Country House il Ciliegio : Villa in the beautiful mountain village of Roccatederighi, well located for trips to the sea with sandy beaches and exploring central and southern Tuscany (Siena, Val d'Orcia, Saturnia and more).
B&B Casale di Poggioferro : Fully equipped apartments in Southern Tuscany with outdoor pool and natural sand
Apartments La Residenza del Golfo: Fully equipped apartments with sea view and free parking
16. Montemerano
Montemerano is a typical Tuscan hilltop village, with stone houses and spectacular views. It is located in the south of Tuscany and is not crowded like other villages.
The historic centre is really tiny, perfect for a short stop along the way. Free parking is located a short walk from the entrance gate.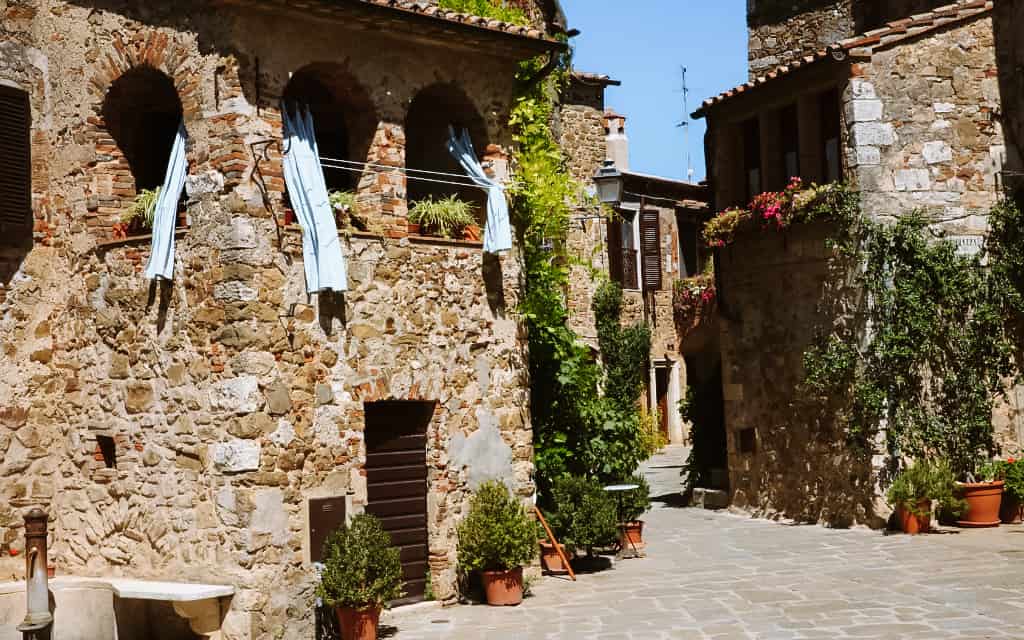 17. Livorno
Livorno is a lively coastal town that provides a great base for a holiday. Start with a tour of the historic district known as Venezia Nuova, with its network of canals, picturesque bridges and colourful buildings. Visit the historic fortresses of Fortezza Nuovo and Fortezza Vecchia and taste the "cacciucco", a Livorno fish stew.
The most famous place in Livorno is Terrazza Mascagni, a terrace overlooking the sea. From here you can watch amazing sunsets.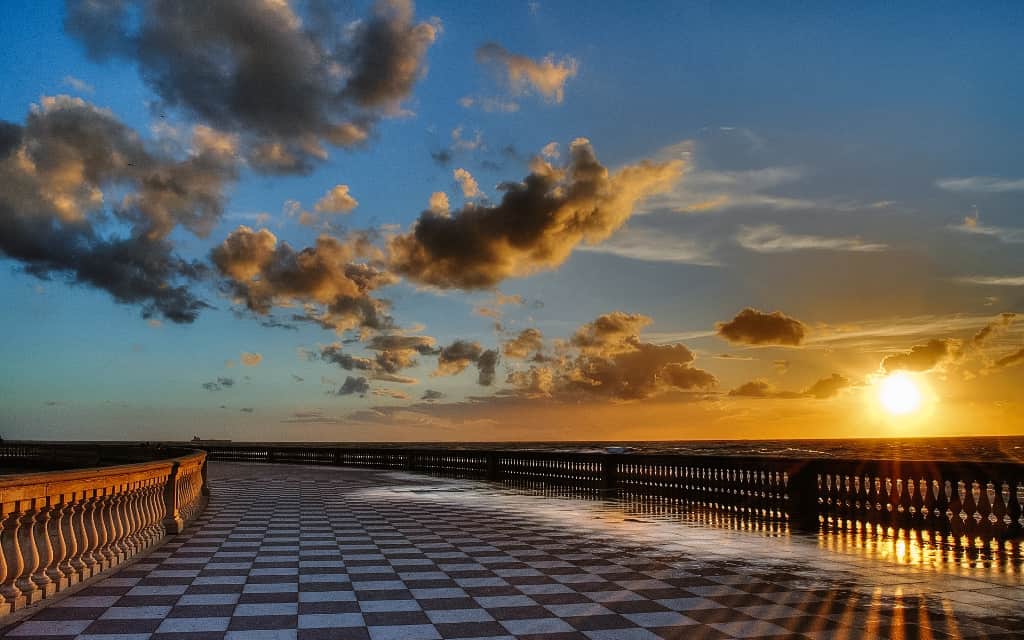 Livorno may not be as photogenic as Siena, but it offers a great location for exploring northern Tuscany if you want to live near the sea. From Livorno you can easily reach Pisa, Florence, Lucca or Volterra.
Tuscany: the most beautiful places and nature
18. Chianti wine region
The Chianti region in Tuscany, Italy is a famous area known for its rolling hills, vineyards and beautiful landscapes. Some of Italy's finest wines are produced here, especially the iconic Chianti Classico.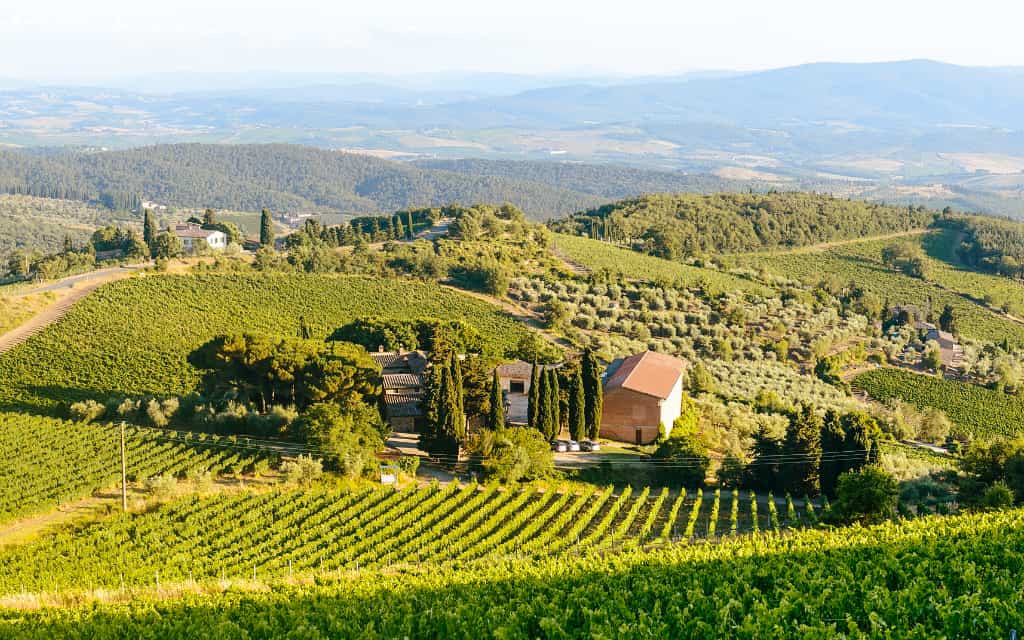 You can explore the vineyards, taste the wine, learn about the wine making process and enjoy the landscape at the same time. The area is dotted with charming medieval villages, such as Greve in Chianti and Radda in Chianti, where you can wander the narrow streets and sample local specialities.
If your base is Florence, you can go to an escorted trip to the Chianti vineyards and visit the towns of Siena, San Gimignano and Pisa . A great day trip to visit the best of Tuscany.
19. Val d´Orcia
Do you want to experience the real Tuscany, which has been the model for many famous painters? The Val d'Orcia is located between Montalcino and Montepulciano and has been a UNESCO World Heritage Site since 2004.
The rolling hills of the Val d'Orcia are covered in vibrant vineyards, golden wheat fields and iconic cypress trees, creating a postcard-perfect setting. Here you can taste some of Italy's finest wines, including the famous Brunello di Montalcino and Vino Nobile di Montepulciano.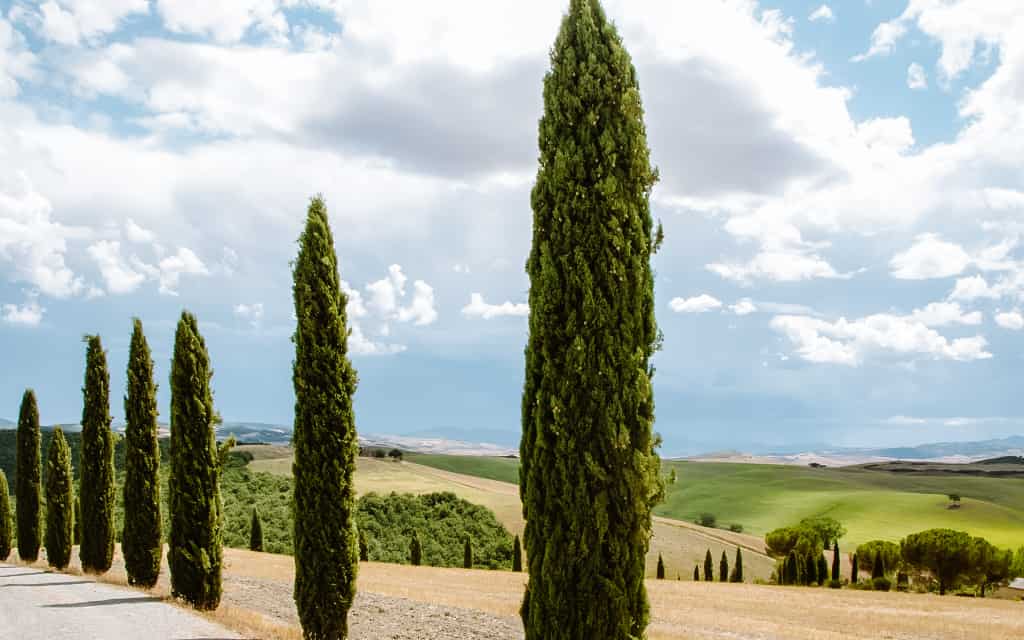 Scattered across the vineyards are medieval villages that seem frozen in time. Pienza, Montalcino, Montepulciano, with cobbled streets and ancient fortresses that have retained their authentic character (read more about Pienza and Montepulcino above).
Montefollonico, Monticchiello, Castiglione d'Orcia or San Quirico d'Orcia are also worth a short visit, with far fewer tourists. Each of the villages can be walked through in an hour, and free parking is usually on the edge of the village.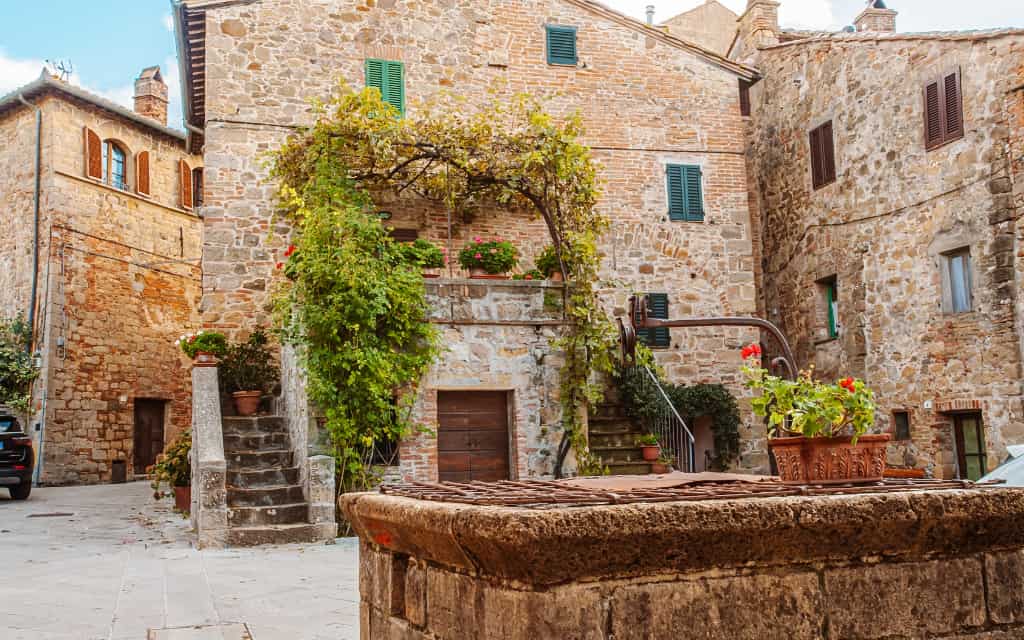 Just drive through the valley and you will come across a series of turns that lead past vineyards to viewpoints, chapels and Tuscan villas. There is usually an area to park at places of interest.
You can spend a whole day in Val d'Orcia. Visit several villages, taste wine in one of the wineries or walk among the vineyards. Especially for sunrise or sunset, there's no mistaking it.
Where to stay near Val d'Orcia, Tuscany:
Villa Casa di Campagna : Tuscan villa (studios and apartments) with outdoor swimming pool, restaurant and complete facilities in the heart of Tuscany, from where you can make excursions throughout Tuscany.
20. Apuan Alps
In the very north of Tuscany, the Apuan Alps lie between Massa and Lucca.
It is a small mountain ridge with white marble caves. Interestingly, local marble was exported to Rome for magnificent buildings and statues. If you want a behind-the-scenes look at marble mining and what goes into making it, visit the Cava Museo Fantiscritti.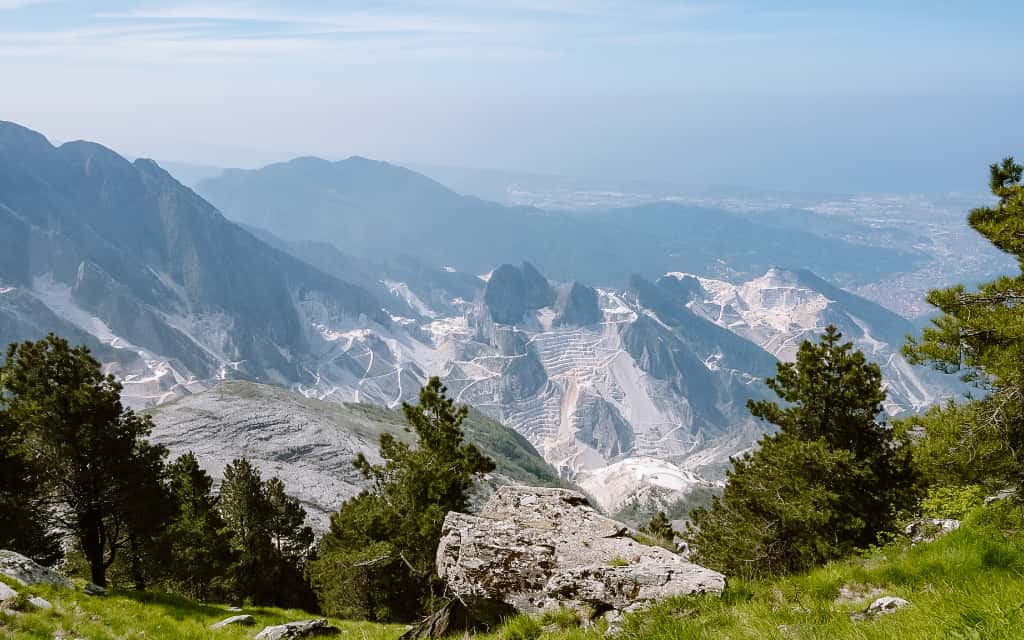 If you just want to drive through the Apuan Alps and enjoy the spectacular views (see photo above), take the regional road 59 (Strada Provinciale 59) north of Castelpoggio. You will reach a viewpoint where you can park. From here you can go even higher, but the road is more gravelly at the top – but you can drive up for even better views and then back down again, because the road is not passable.
21. Tuscan Islands National Park
The Tuscan Archipelago National Park (Parco Nazionale dell'Arcipelago Toscano) is a magnificent natural treasure located off the coast of Tuscany, Italy. The park consists of seven main islands and several smaller islands. It is the largest marine park in Europe, where you can spot dolphins if you are lucky.
22. Island of Elba
Start with a tour of the largest island, Elba, which boasts beautiful beaches, crystal clear waters and coastal towns. Elba is the third largest island in Italy after Sardinia and Sicily.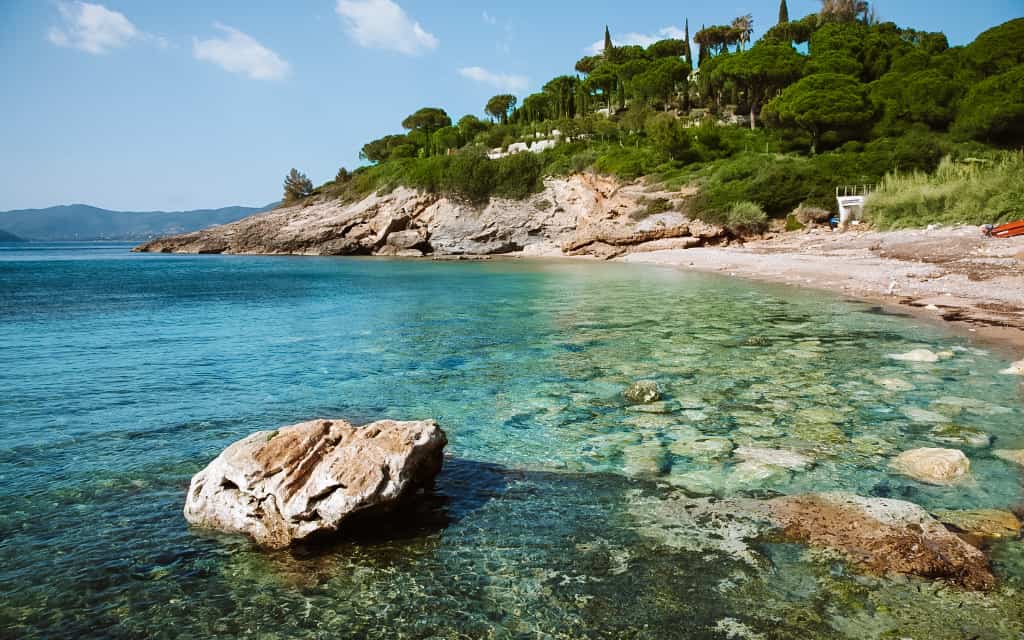 Visit the historic town of Portoferraio, where Napoleon Bonaparte was exiled, and see the ancient Medici fortresses that tower over the harbour.
Do you love hiking? Follow the trails that lead past spectacular viewpoints such as Monte Capanne, Elba's highest peak. Monte Capanne can also be reached by cable car.
The island of Elba is regularly reached by ferries from the port of Piombino.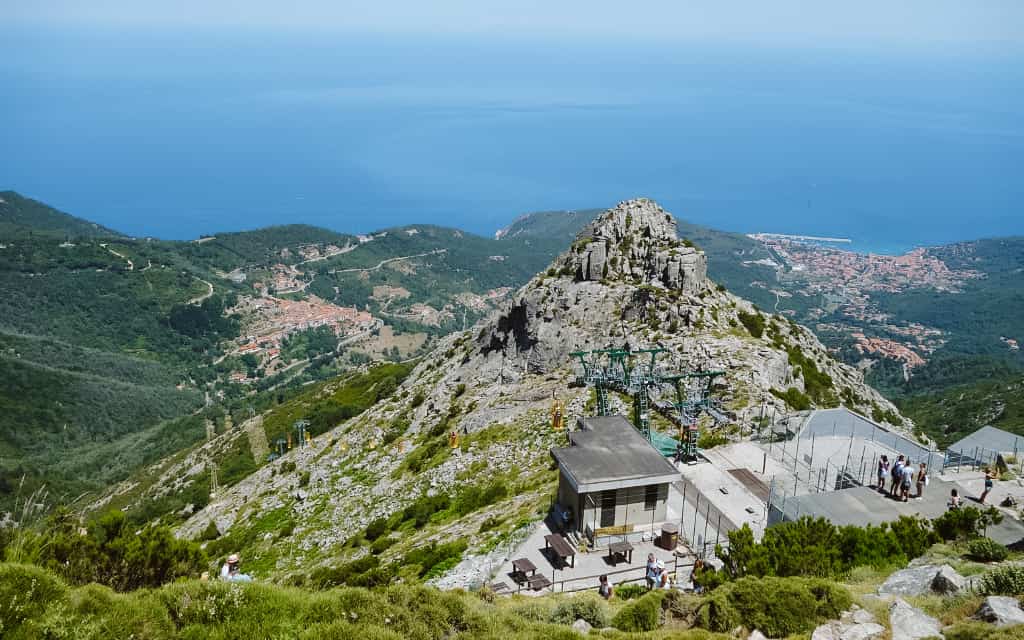 23. Giglio Island
Giglio Island is another island in the Parco Nazionale dell'Arcipelago Toscano. Smaller, mostly a mountainous island where you can enjoy beautiful beaches and hiking trails across the island.
The island can be reached by the regular ferry service from the port of Porto Santo Stefano.
24. Saturnia Thermal Springs
Saturnia is a small village in the south of Tuscany. Saturnia's biggest attraction is the Cascate del Mulino, a series of cascading hot waterfalls formed by thermal springs. These are available free of charge. If you want to enjoy a place without crowds, come early in the morning. More information here.
The thermal baths with outdoor pools and Hotel Terme di Saturnia where you can stay.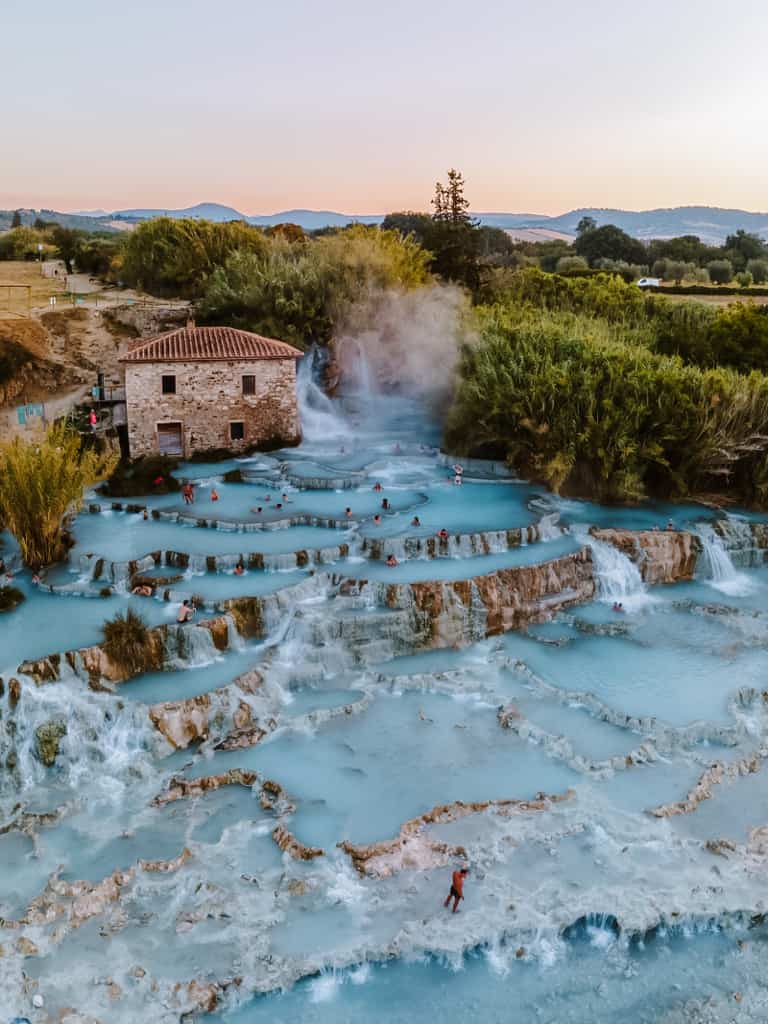 Where to stay in Tuscany?
Tuscany accommodation in the countryside
Accommodation in a Tuscan villa
The best accommodation in Florence
Camplus Guest Firenze Casa per Ferie : New, modern hotel with full facilities, restaurant and private parking
Hotel Paganini A cosy three-star hotel suitable for couples and families. Parking in the garage, easy access to the center.
Hotel Aida : Cheap hotel with garden and good access to the centre
Camping Firenze Camping in Town : A camping town with bungalows and tented cabins with private bathroom, seating area and free parking. Good connections to the centre, great price.
Best accommodation in Pisa
Hotel Repubblica Marinara : Elegant four-star hotel on the edge of the centre with free parking
Hotel Roma : A pleasant hotel just 100 metres from Piazza dei Miracoli and the Leaning Tower.
Hotel Helvetia : Cheap, clean hotel a few minutes in the city center
Best accommodation in Siena
Siena: Hotel Minerva: A mid-range hotel with a spectacular view of Siena and a spacious parking lot (for a fee).
Siena: B&B Fonte Dei Tufi Description : Budget accommodation in a quiet location a short walk from the centre, with a large garden, outdoor seating and free parking.
The best accommodation in Tuscany
Where to go in Tuscany to the sea
The sea in Tuscany boasts clear waters and, in many places, unspoilt coastal scenery. The biggest attraction is the island of Elba, which has already been mentioned a few lines above. The same goes for Giglia or any of the other Tuscan islands.
But that doesn't mean you won't find beautiful beaches around mainland Tuscany – we'll show you the most beautiful beaches in Tuscany in a moment:
Tuscany most beautiful beaches
Beaches of Scarlino (Grosseto): 11 km of beaches around the seaside town of Scarlino. To the north is Puntone Beach, ideal for families with children. Further south, you can walk to the free beach of Cala Martina, behind which lies one of the most beautiful beaches in Tuscany, Cala Violina.
Marina di Pisa – Tirrenia – Livorno: Seaside resorts in the north of Tuscany, close to Pisa and well connected to Florence. From the port of Livorno, ferries leave for destinations such as Corsica and other nearby islands.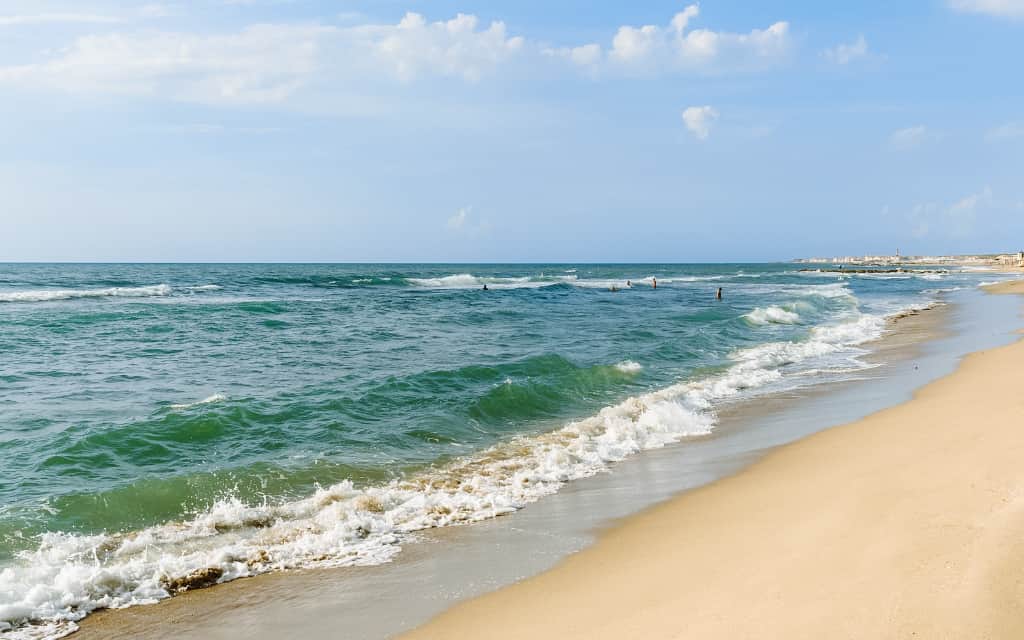 Marina di Alberese beach: located in the Maremma Regional Park, Marina di Alberese offers a pristine and unspoilt beach with dunes, pine forests and a sense of tranquillity. It is a protected area, known for its natural beauty and wildlife.
Spiaggia della Feniglia Beach: located near Orbetello in the Maremma region, Spiaggia della Feniglia is a long sandy beach surrounded by a lush pine forest.
Castiglione della Pescaia: This popular seaside town is famous for its beautiful beaches, including Spiaggia delle Rocchette and Spiaggia di Cala Violina. The beaches here are characterised by golden sand, clear waters and a wide range of facilities and services.
Marina di Torre del Lago: north of Pisa is the long sandy beach of Marina di Torre del Lago, which stretches south to Vecchiano. The beach is largely public and without extra services.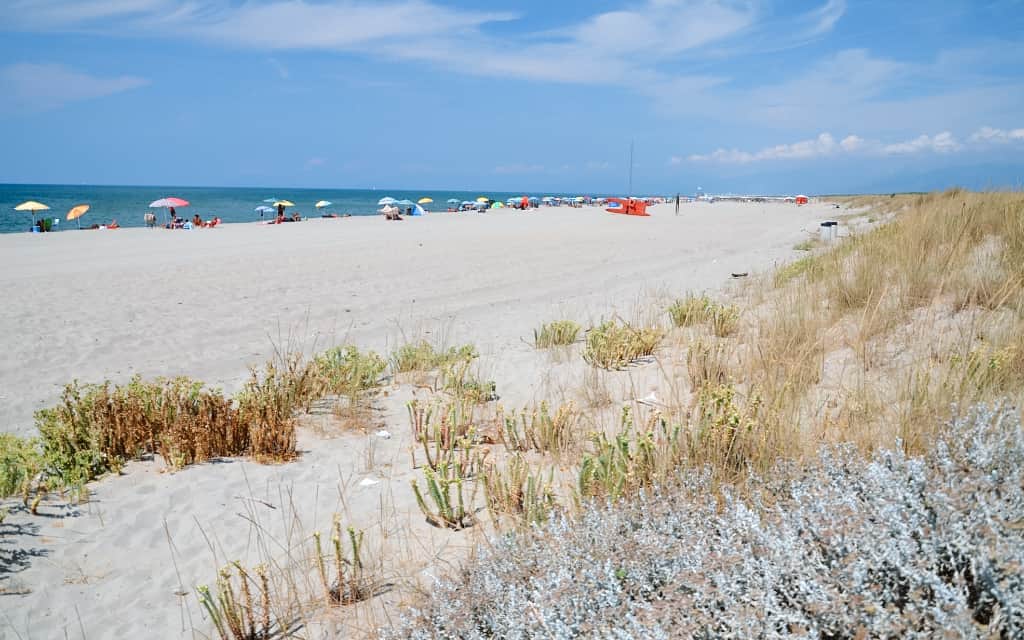 Tuscany accommodation by the sea
Tuscany transport
Tuscany is very accessible by car and by plane. It has direct air links to many major European cities, good road conditions and a dense network of train and bus services.
By car to Tuscany
A car is the ideal way to explore the whole of Tuscany. If you rent a car locally, I recommend choosing smaller models. The streets and roads in Tuscany are really narrow and winding in some places.
Many of Tuscany's towns and villages are enclosed by outer walls and you must leave your car parked in the designated car parks on the outskirts.
TIP: If you are planning to rent a car in Tuscany, the best experience we have is with Rentalcars.com, which has the widest range of cars at good prices. Insurance and free cancellation is a matter of course. Book in advance to ensure the best choice and price.
Driving to Tuscany – fees
If you go via Innsbruck, Austria, you will incur the following charges along the way:
A motorway vignette for Austria for €9.90 for 10 days (motorbikes €5.80).
Payment for crossing the Brenner Pass between Innsbruck and the Austrian-Italian border 11 €
The toll in Italy is about 8-9 € per 100 km. To Florence, you will pay a toll from the Brenner Pass of about €33.10 or to Pisa €37 (the price is valid in one direction). You can pay the toll in cash or by card. Each payment gateway has a symbol at the top showing how you can pay.
The Brenner Pass vignette and payment for Austria can be purchased online in one place.
If you are driving from Vienna, you do not pass through the Brenner Pass. On the other hand, you will pay more in tolls. You can calculate the toll here. The toll to Florence is around 38 €.
Petrol and diesel prices vary from country to country. For current fuel prices, please follow this link.
Follow this link for up-to-date information on traffic in Italy (tolls, closures, etc.). Google maps will also provide you with sufficient information.
What are the speed limits on the roads in Tuscany?
Unless otherwise stated, the following applies: maximum speed 110-130 km/h on Italian motorways, 70 km/h on two-lane roads outside the city and 50 km/h in the village. Outside the city you must have your lights on.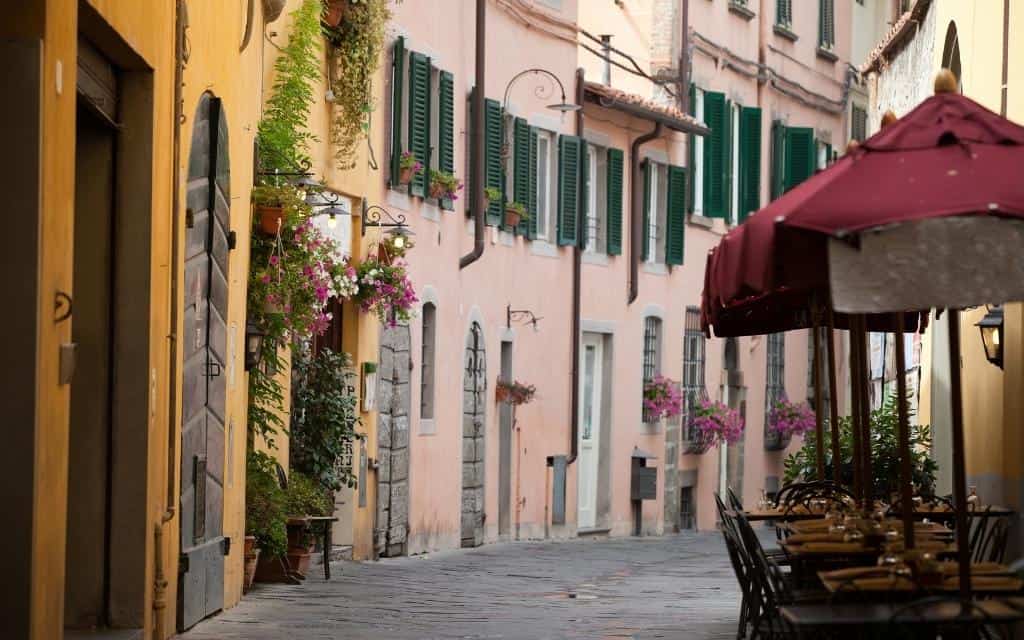 Tuscany by air
Tuscany has very good direct air links to many European cities including Prague, Berlin, Vienna, Krakow and Amsterdam. Return tickets on low-cost airlines start from €30.
Tuscany airport
Tuscany is very well connected to many major European cities including Prague, Berlin, Amsterdam, Vienna, London and others. You can choose from 3 airports:
Pisa Airport (PSA) – Pisa International Airport can be reached from Prague, Vienna, Budapest, Krakow and many other European cities. Direct flights are frequent and return tickets are available from €25 for various dates.
Florence Airport (FLR) – Florence Airport can be reached from Vienna, Munich, Frankfurt and more. The choice is slightly smaller and tickets are generally more expensive than for flights to Pisa.
Bologna Airport (BLQ) – Bologna Airport is served by scheduled flights from Prague, Vienna, Wroclaw, Krakow, Nuremberg, Berlin and other cities. There are a variety of dates to choose from and tickets are often at symbolic prices. From here, Florence can be reached by high-speed train in 1.5 hours.
For more information on how to get from the airport, read the Florence guide, which describes the different routes and options.
How to get around Tuscany?
If you plan to rent a car in Tuscany, you can pick it up right at the airport. Rentalcars.com have partnered with local car rental companies so you have a choice of locations where you can pick up your car.
Book your car well in advance (especially in high season) to get the model you want at the best price.
Tuscany has great train connections. Where trains can't go, buses will. Look for train connections via the Italian railways Trenitalia or Google maps, which also work very well.
If you are arriving at Pisa Airport, you can get to Pisa Station via the Pisamover automated train (driverless, also available in Venice, for example). There are blue ticket machines at the airport and at Pisa Centrale Station, where the train will take you. Or you can book your ticket in advance.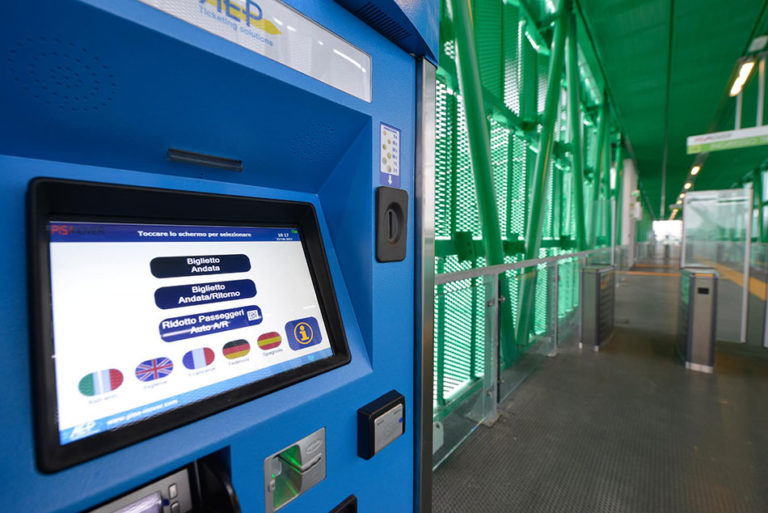 A one-way trip costs €5 and takes only 5 minutes. The Pisa mover is open daily from 6:00-00:00.
From Pisa Station you can take the train to Florence (1 hr), Lucca (30 min) or the seaside towns (Torre del Lago, Viareggio). From Florence, there are regular train services between Siena (€9.50; 1.5 hours) or Arezzo (€8.70; 1 hour).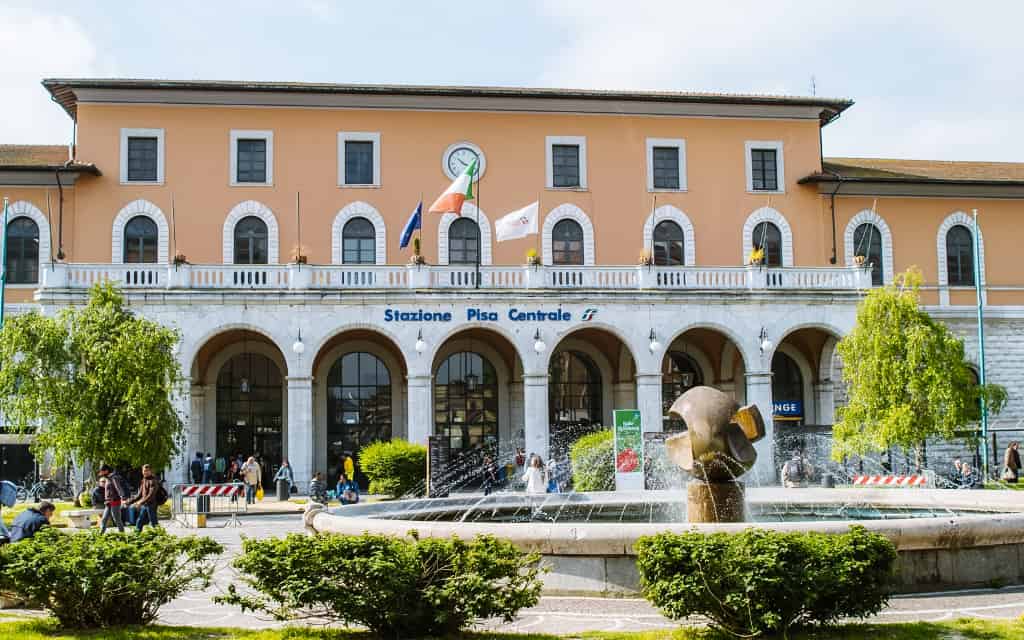 If you are planning to visit Pisa and the world-famous Leaning Tower on the way, you can find a detailed description of the route and other information in the separate guide to Pisa.
Florence Airport is small and very well connected to the centre of Florence – the T2 tram stops about 100 metres from the terminal. You buy your ticket from a machine at the airport and have to check it at the small yellow turnstile when you board.
Prices in Tuscany
You'll pay around €15 for a meal in a cheap restaurant and around €65 for a 3-course dinner in a mid-range restaurant for two. Prices for basic foodstuffs are as follows (shown for Florence, in other parts of Tuscany prices are usually slightly lower):
Milk 1 l – 1,31 €
White bread 500 g – 1,69 €
Eggs 12 pcs – 3,48 €
Cheese 1 kg – 15,75 €
Chicken breast 1 kg – 9,55 €
Bananas 1 kg – 1,91 €
Potatoes 1 kg – 1,49 €
Water 1,5 l – 0,58 €
What to taste in Tuscany?
The Tuscan food is rustic, modest, yet well seasoned. Head to one of the local tavernas or restaurants for traditional, locally sourced cuisine.
These are the typical dishes to taste in Tuscany:
Torta di ceci: Chickpea flour pancakes
Fettunta: Italian toasted bread needed olive oil, garlic and sprinkled with salt.
Bistecca alla Fiorentina: This is a thick, juicy T-bone steak, usually from Chianina or Maremmana cattle, perfectly grilled and seasoned only with salt, pepper and olive oil.
Pappa al Pomodoro: This rustic Tuscan soup is made with old bread, ripe tomatoes, garlic, basil and olive oil.
Ribollita: Bread, vegetables (e.g. cabbage, beans, carrots and onions) and olive oil are used to make a thick and hearty ribollita, a traditional Tuscan soup. It is usually cooked slowly to allow the flavours to combine.
Crostini Toscani: These are toasted slices of bread with various delicious spreads, including chicken liver pate (crostini di fegatini), Tuscan sausage or a simple topping of fresh tomatoes, basil and olive oil.
Pecorino cheese: Tuscany is famous for pecorino cheese, which is made from sheep's milk. Try different types, such as Pecorino Toscano, which has a mild and creamy flavour, or Pecorino di Pienza, a more robust and mature cheese.
Truffles: both black and white truffles grow in Tuscany and are highly prized in the region. Treat yourself to pasta with truffle sauce or shaved truffles on creamy risotto.
Cantucci and Vin Santo: A classic Tuscan dessert to end the meal. Cantucci are almond biscuits that are usually dipped in the sweet dessert wine Vin Santo.
Other popular Tuscan desserts include Castagnaccio chestnut flour cake and Biscotti di Prato cookies.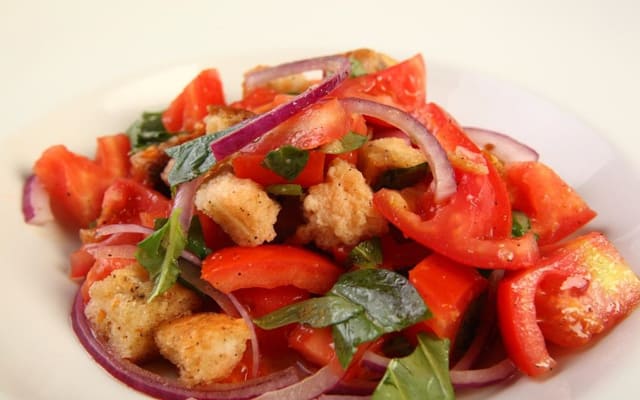 Holidays in Tuscany
In Tuscany you will find the most beautiful places in Italy. It's impossible to explore the whole of Tuscany in a few days and it's better to choose a specific part of Tuscany to explore more closely.
For example, you can head north to Tuscany via the Apuan Alps, where famous cities such as Pisa, Florence, Lucca or Pistoia are located.
The heart of Tuscany is occupied by Siena, San Gimignano, Monteriggioni, Volterra or Arezzo.
To the south you can admire the Val d'Orcia, the thermal springs of Saturnia and the towns of Montepulciano, Sorano and Pitigliano.
Tuscany, Italy: what is the weather and when to visit?
Popular times to visit Tuscany are spring (April to June) and autumn (September to October). During these months, the weather is mild, with temperatures ranging from 15 °C to 25 °C. In spring the landscape is in full bloom and in autumn you can enjoy the wine harvest.
Summer (July to August) is the main tourist season in Tuscany. The weather is hot and sunny, with temperatures ranging from 25 °C to 35 °C. Expect higher prices and many places can get pretty busy.
Winter (December to February) is the off-peak season in Tuscany. The weather is cooler, with temperatures averaging between 5 °C and 15 °C. Some tourist spots may have shorter opening hours or be closed, but it can be a great time to explore the cities. The Tuscan countryside takes on a peaceful and relaxed atmosphere in winter.
Tuscany map
HOW TO USE THIS MAP: Above you will find a detailed map of Tuscany. Click at the top left of the map to see separate layers with highlighted locations. You can hide and show the different layers or click on the icons on the map to see the names of the places I mention in the Tuscany guide. If you want to save the map, star it. For a larger version, click on the icon in the upper right corner.
Tuscany practical information
Currency: euro (EUR)
Payment: For small purchases and payments, it is smaller to have cash with you, but otherwise you will pay by card in most places. Take a look at what fees your bank charges and what exchange rates are in order not to overdo it. We can recommend the World card from mBank for us.
Electric socket: In Italy they use electrical sockets type C, F and L. Types C and F are compatible with most sockets in Europe and are widely used in northern Italy (including in hotels). L sockets are mainly found in older houses. If you are travelling from the UK or Ireland, you will need a socket reducer. In Italy, the electrical sockets used are types C, F and L. Types C and F are compatible with most sockets in Europe. Hotels and other tourist places have them too. Type L sockets are mainly found in older houses. It's better to pack a reducer, but you can buy it in almost any store for a few tens of crowns if needed.
Language: The official language is Italian. In the tourist areas you can usually speak English well too.
Safety: Tuscany in Italy is a safe area. There is a risk of pickpocketing in the more touristy places, so make sure you keep a good eye on your belongings and hide them well.
The best booking resources for visiting Tuscany
Via Booking.com we search for all accommodation. It is the largest accommodation portal in the world and you will find everything from modern hotels, cosy guesthouses to seaside villas.
Get Your Guide is a huge booking system for buying tickets, guided tours and all sorts of activities. In one place you can read other travellers' experiences and book tickets to the Vatican Museums, a cruise on the Danube or a desert safari in Dubai.
If you are planning to rent a car in Tuscany, the best experience we have with Rentalcars.com which has the widest range at good prices. Insurance and free cancellation is included.
These were the most beautiful places to visit in Tuscany and practical tips for visiting. Did you like the article? Leave a comment or share. Have a safe journey!
More information about Italy
ITALY: Get inspired by the most beautiful places in Italy.
ROME: Rome is one of the most popular cities in Europe. Here's a list of the best things to see in Rome. Build your 3-day Rome itinerary and see how to save in Rome. Find out all about the Vatican Museums or the Colosseum.
VENICE: In the article What to visit in Venice we bring you tips on the most beautiful places and other useful tips.
NAPLES: Naples has one of the oldest historic centres in the world and many other beautiful places to see.
TUSCANY: You can't miss Florence on your visit to Tuscany. See the most beautiful places in Florence.
Pisa is another wonderful city to see in Tuscany.
LOMBARDIA: Milan is the capital of Lombardy, famous for its magnificent cathedral. Just outside Milan is Lago di Como, a beautiful alpine lake.
DOLOMITES: One of the most beautiful mountain ranges in the world can be found in northern Italy. What to see in the Dolomites is in a separate article. In the Dolomites guide we share useful tips on how to plan your trip to the Dolomites.
Read even more tips on travelling in Italy.
Summary: What to visit and see in Tuscany
What are the most beautiful places to visit in Tuscany?
Tuscany is a beautiful region in Italy that hides many beautiful places to see. Renaissance Florence, Pisa with the Leaning Tower and the Square of Miracles, medieval Siena, the unique San Gimignano, the thermal springs of Saturnia, the beautiful islands, beaches and mountains of the Apuan Alps.
Why visit Tuscany?
Tuscany is the perfect interplay between the city and the medieval villages. Olive groves, avenues of cypresses and endless vineyards. The eye is caressed by its artistic and architectural heritage. The taste buds are again delighted with the local wine and great food.
When to visit Tuscany?
The main season takes place in Tuscany in summer. Temperatures are high and there are also lots of tourists in the popular places (Florence, Pisa, Siena, San Gimignano and others). Winters in Tuscany are mild and rainy. Tourists are the least here.
The best time to visit Tuscany is March to April and especially mid-September to October. The weather is pleasantly warm and there are fewer tourists than during the summer (there are still plenty of them in some places).