Wondering what to visit in Milan? Check out our complete guide to Milan's sightseeing highlights, plus practical information on transport, accommodation, prices, food and other useful tips.
Why visit Milan?
If you want to experience the true Italian atmosphere, don't go to Milan. On the contrary, you will feel the Swiss influence, thanks to which, unlike Rome, you can count on the bus to arrive at the right time ?.
But if you want to see a cathedral that will make your chin drop, shop for original pieces in local boutiques or flea markets, or take a trip to the most beautiful lakes in the Alps, Milan is the perfect holiday destination for you.
Milan is the capital of Lombardy. It is lively and the city has something to offer even to those who are not so keen on historical monuments.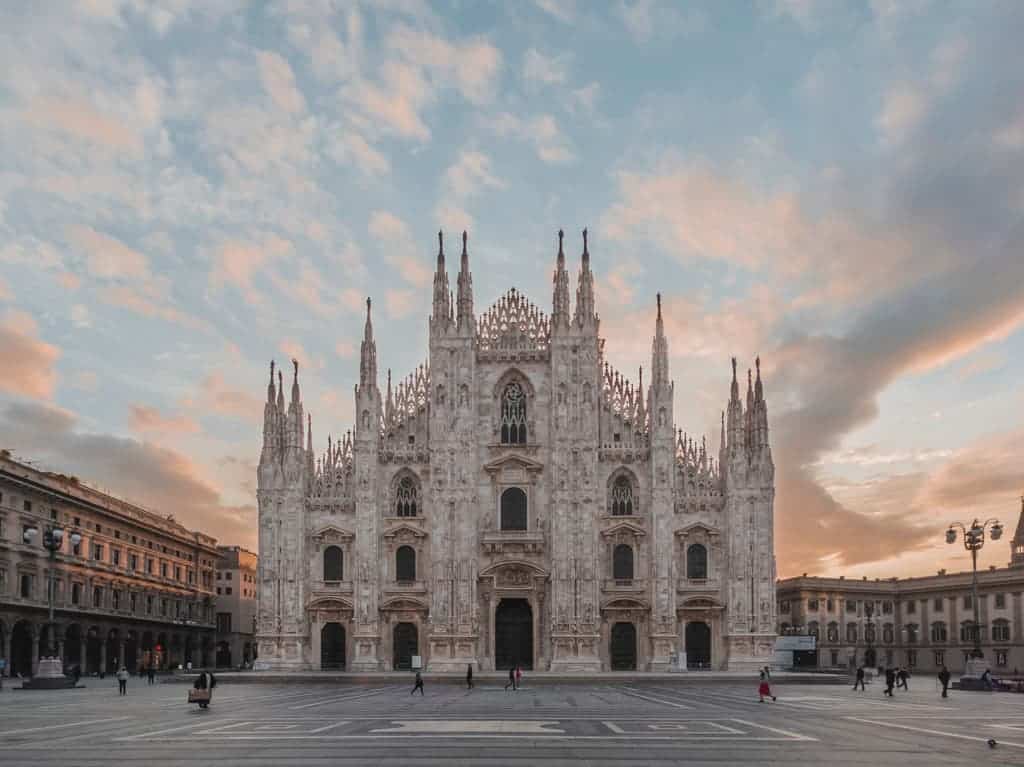 When to visit Milan?
The most ideal months to visit are April-May and September-October. It's pleasantly warm and the hot summer sun doesn't scorch you as you walk around the city. For us, I can recommend visiting Milan in winter. It's colder than Rome, where winter is more like a cooler autumn, but the fewer tourists, cheap flights and accommodation make up for it.
What to see and do in Milan? Tips for trips and the most beautiful places
Milan is not a city full of monuments like Rome, Florence or Naples. It's easy to walk around in 2-3 days and then spend the next days either soaking up the local atmosphere or taking a trip around Milan (we'll give you some tips too, because it's worth it). Check out our tips on what to see in Milan.
Dumo Cathedral and Piazza del Duomo
Most tourists come here for the Duomo. It's one of the largest cathedrals in the world (it can hold up to 11,000 people) and took over 600 years to build. It will amaze you (really amaze you) with its paintings, 3,500 statues, 135 towers, 5 bronze doors and stained glass windows.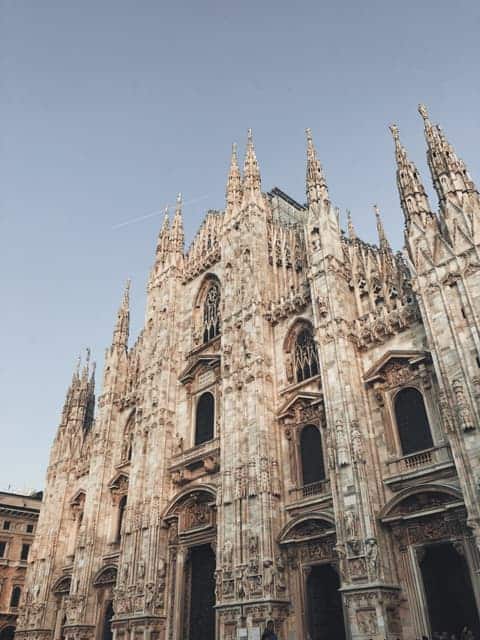 Make sure you pay for a ticket to the roof. Not so much for the view (although that's worth it too), but rather because you'll probably never walk on a nicer roof in your life. Walking between those beautiful towers is just a treat.
Queues for tickets are often long. I recommend buying a ticket for the Duomo. When you enter, just scan the QR code from your mobile phone.
Vittorio Emanuele II Gallery
The Vittorio Emaniele II Gallery is the oldest still functioning shopping centre in Italy, located to the left of the Duomo. The luxury and luxury of this place literally oozes. It is the hub for the oldest boutiques and restaurants in the city, spread over 4 floors. Even if you're not planning to shop, head here to admire the glass dome and the interior architecture. You can buy a ticket to the rooftop and enjoy the view of Milan.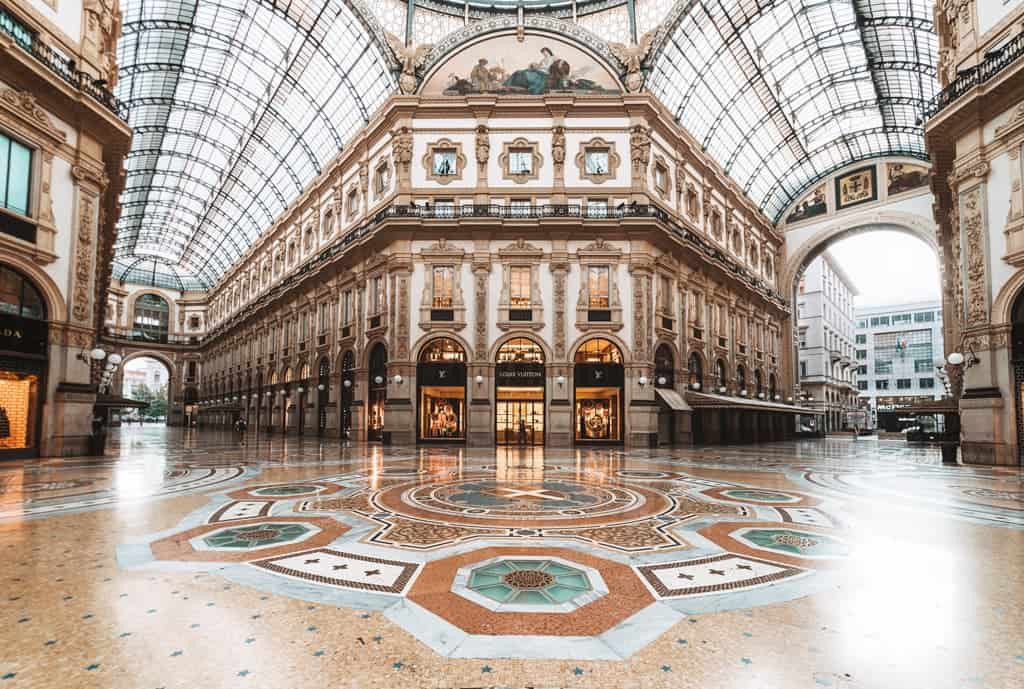 Royal Palace (Palazzo Reale di Milano)
The Royal Palace has been the seat of Milanese government for centuries. Today, it is a cultural centre where you can enjoy a wide range of exhibitions and displays, more than 1,500 a year. You will also enjoy the magnificent interior with its wide staircase. The Royal Palace lies to the right of the Duomo. Full admission to the Royal Palace in Milan is €14 and reduced admission is €12.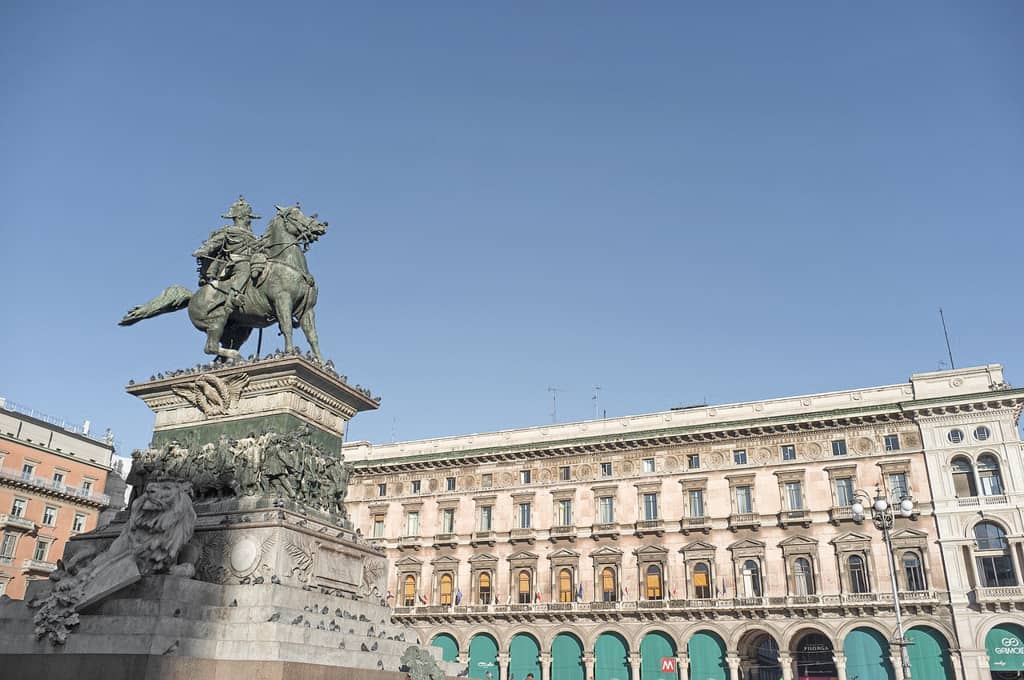 Museo del Novecento
And again, we won't go far. Between the Royal Palace and the Duomo you can go to the Museo del Novecento. The museum includes over 400 works of art from the 20th century, mostly by Italian artists. But you'll also find international artists like Warhol and Kosuth. The museum also offers a great view of the Duomo. Admission to the Museo del Novecento is €5 (reduced rate €3).
Piazza Mercanti
Piazza Mercanti is a historic square near the cathedral that was once the commercial and governmental centre of the city. If you want to soak up the medieval atmosphere and admire the beautiful buildings, be sure to head here. It's less busy than the square in front of the Duomo (and there are fewer pigeons ?).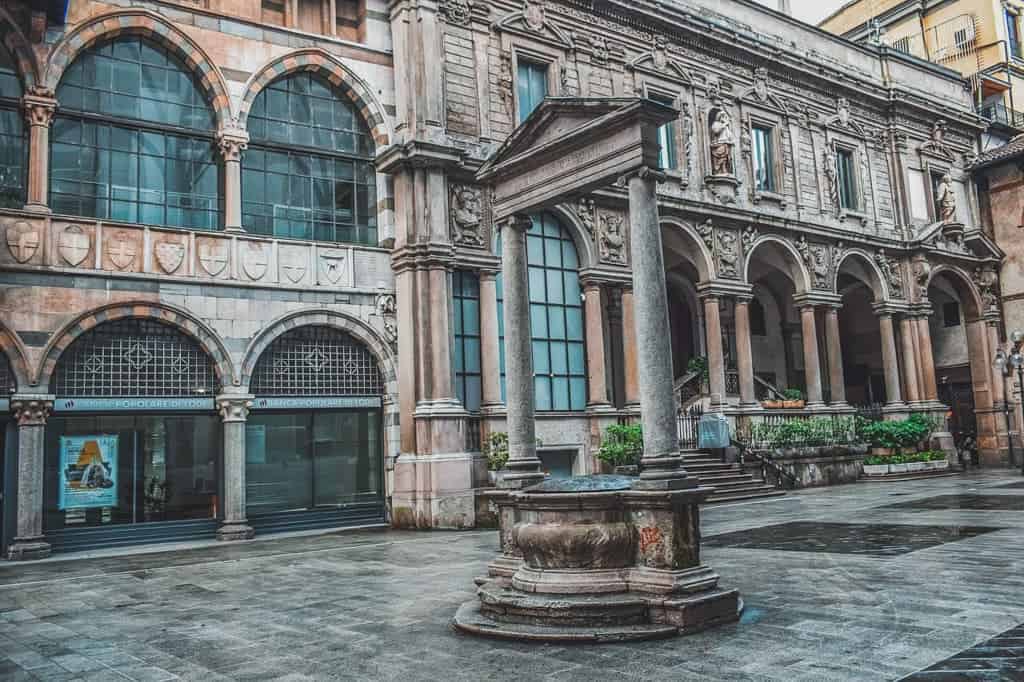 Church of Santa Maria delle Grazie and The Last Supper by Leonardo da Vinci
The Church of Santa Maria delle Grazie is a Gothic-Renaissance church that houses one of the world's greatest works of art, Leonardo da Vinci's 15th-century mural of the Last Supper.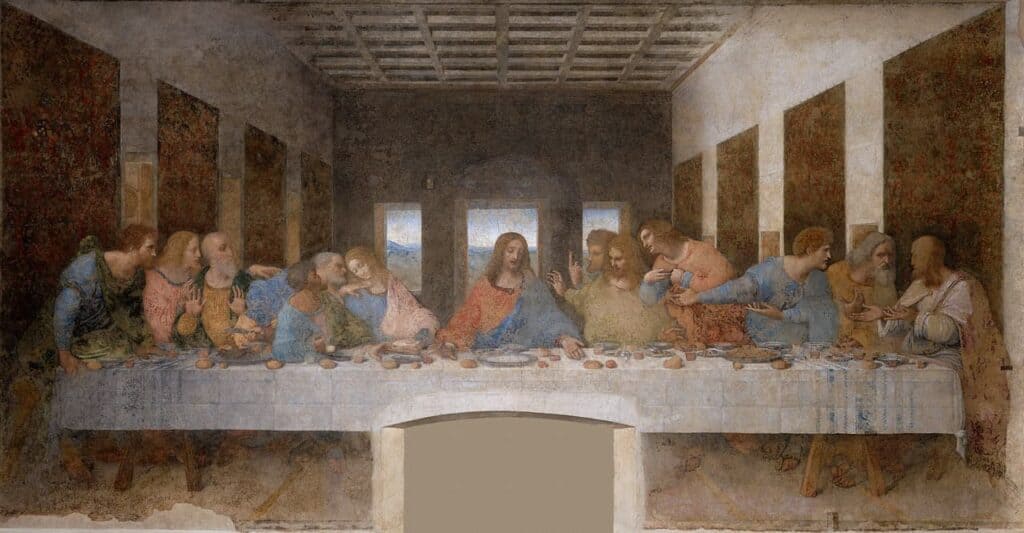 Admission to the church itself is free. However, there is a charge to see the painting of the Last Supper – €15 (reduced rate of €2 for 18-25 year olds). The painting is no longer in good condition, so they have limited the visitor limit to 1000 people per day. Booking tickets for da Vinci's Last Supper online in advance is essential, especially in high season, and can be done months in advance (you can book up to 3-4 months in advance). In the off-season, you'll find a free date here and there if you're not looking for a last-minute appointment. And if you do, there are still guided tours.
Sforza Castle (Sforzesco)
The Sforza Castle is another unforgettable tip to visit in Milan. The castle was built in the 15th century and is one of the largest citadels in the world. The site is currently home to 12 museums, including works by da Vinci and Michelangelo. You can tour the castle grounds for free, but you must purchase a €5 ticket (reduced rate €3) to enter the museums. You can book your ticket to Sforza Castle in Milan online in advance.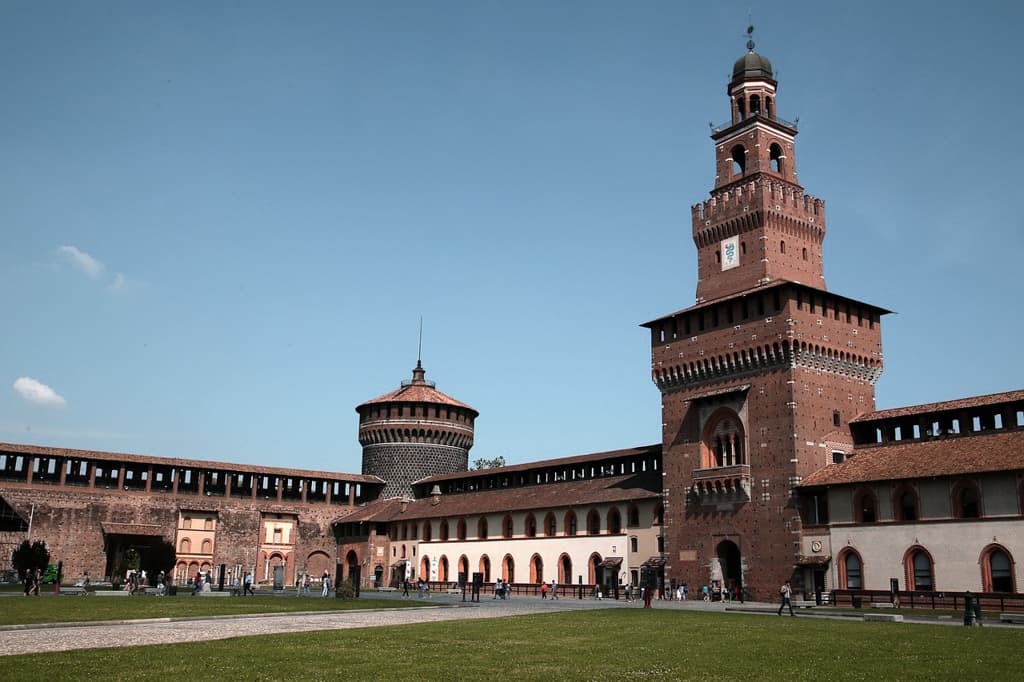 Sempione Park
Parco Sempione is the largest park in Milan and houses the Sforza Castle, the aquarium, the Triennaler di Milano (Museum of Design and Art), the Branca Tower with a great view of Milan, the library and several cafes. Just on the other side of the park from the Sforza Castle is the Arco della Pace. Wondering where to go in Milan on warm days? Make sure you go to Sempione Park and have a picnic by one of the lakes.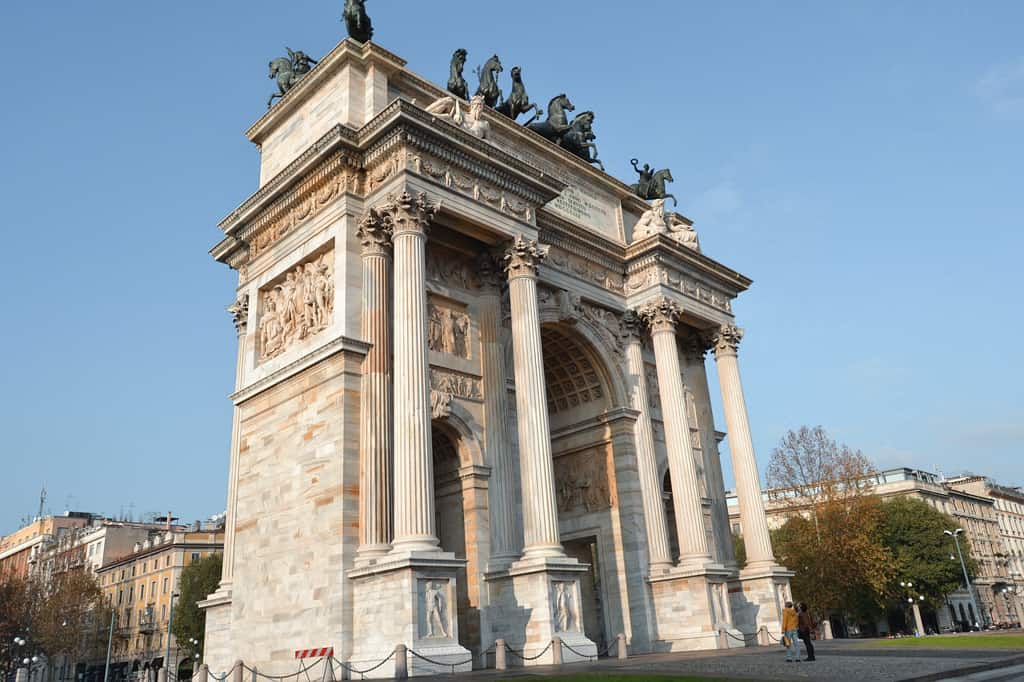 Church San Maurizio al Monastero Maggiore
Church San Maurizio al Monastero Maggiore a.k.a. the hidden gem of Milan. A place that will literally amaze you with its beautiful and well-preserved frescoes that decorate the walls and footprints. Many of these frescoes were painted by artists who followed the teachings of Leonardo da Vinci.
The church is nicknamed "the Sistine Chapel of Milan". It was built in the Renaissance style in the 16th century and originally served as a Benedictine convent for the daughters of noble families who decided to dedicate their lives to God. The Church of San Maurizio al Monastero Maggiore is free to enter.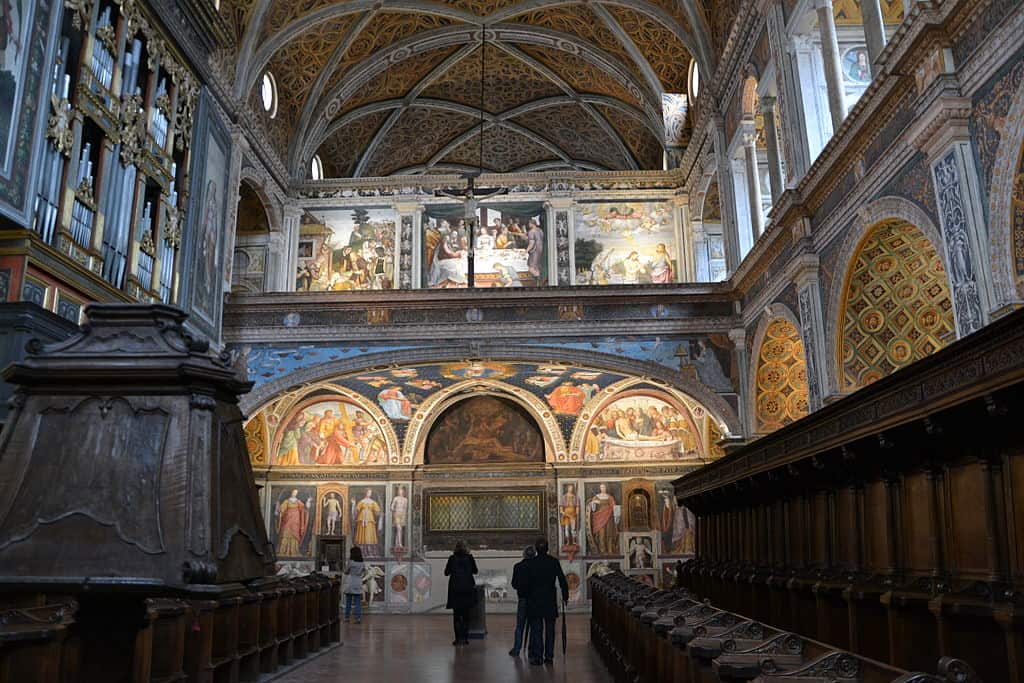 Monumental Cemetery (Cimitero Monumentale)
Despite being a cemetery, the site is literally an open-air museum covering 250,000 square metres. A large collection of Italian statues, Greek temples, obelisks and a small version of Trajan's Column.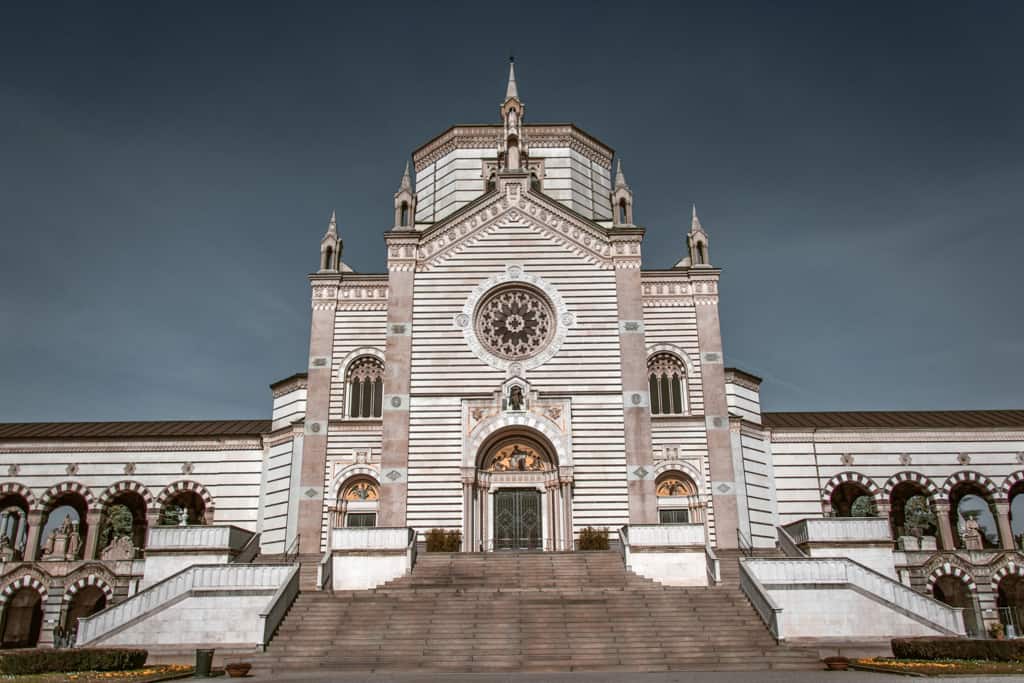 Once through the main entrance, you will enter the "Hall of Fame", where hundreds of Italy's most famous architects, athletes, actors, journalists, musicians and others are buried. Among the most impressive tombs are the white sculptural tower representing the life and death of Christ, the pyramid built for the Bruni family, and several statues representing the Last Supper. A map showing the sites can be found at the main entrance.
Milano centrale
The Milan Central Station building is stunning inside and out. It is also Europe's largest train station. If you're travelling from it, you'd better arrive early to find your train on time.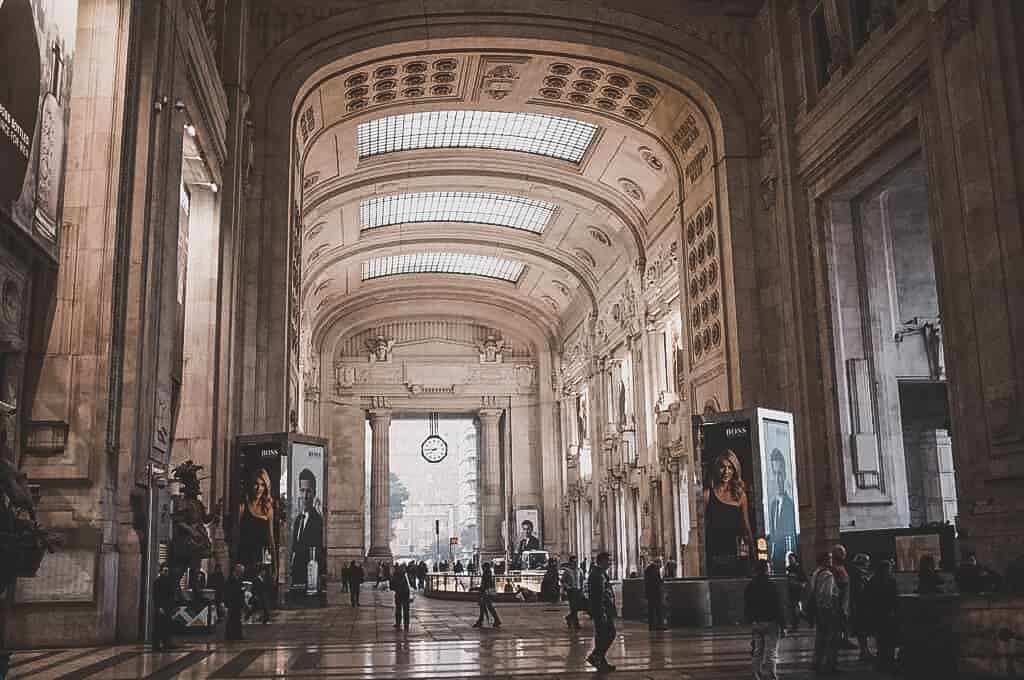 Brera neighbourhood
Brera is a beautiful Renaissance quarter east of Sempione Park. You'll recognise it by its cobbled streets, pastel-coloured houses with stained-glass shutters and lively atmosphere. You can just stroll around or sit in one of the cafes. Or admire the church of Santa Maria del Carmine.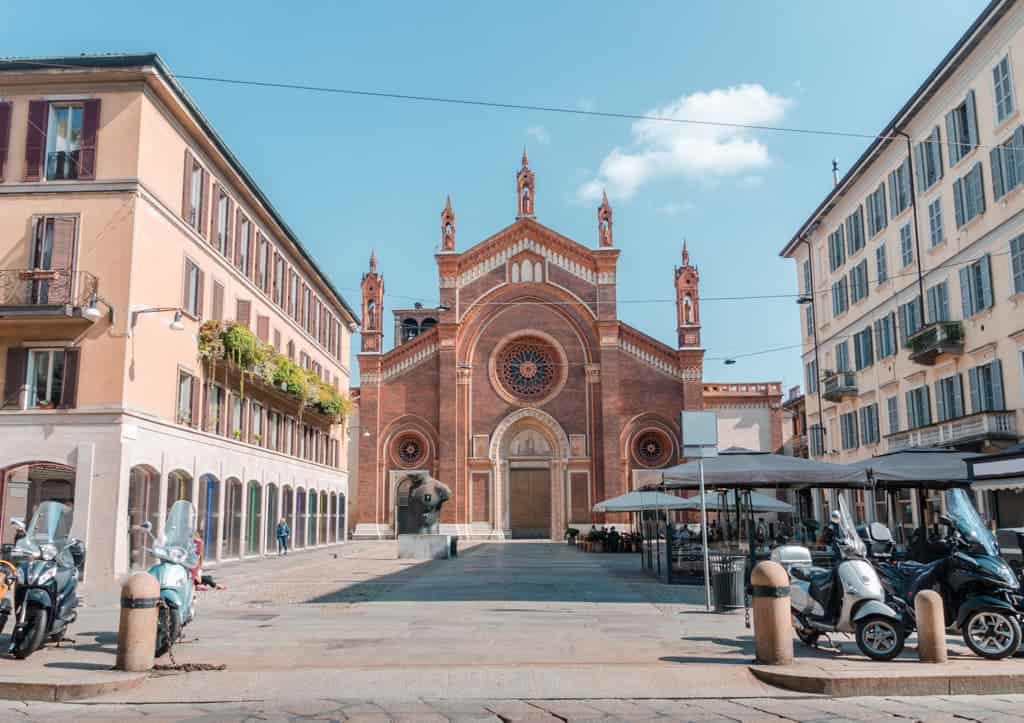 Teatro Alla Scala
Teatro Alla Scala is a world-famous opera house that has been a focal point of Milan since its foundation in 1778. Many famous opera artists from all over the world have appeared at the opera house. If you want to see the interior of La Scala, including the museum and temporary exhibition, you can buy a ticket in advance for €13.50.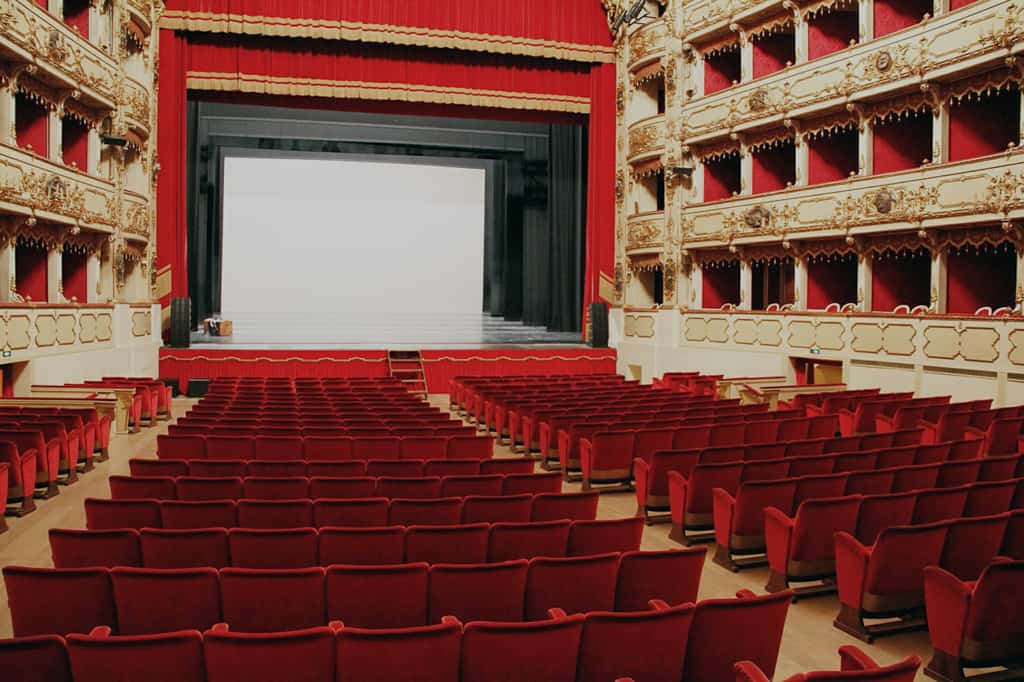 Leonardo da Vinci National Museum of Science and Technology
The National Museum of Science and Technology is the largest science and technology museum in Italy. Here you will find exhibits ranging from transport and energy to the inventions of Leonardo da Vinci, to whom the museum is dedicated. It's also a great tip for visiting with children, as it includes plenty of interactive exhibits. Admission is €10.5 and a reduced €7.90 for children and young people aged 3-26 and seniors over 65. Tickets for the Museum of Science and Technology can be ordered online.
If you order tickets to the Museum of Science and Technology online, you skip the line at the door. Tickets can be cancelled free of charge 24 hours in advance if necessary.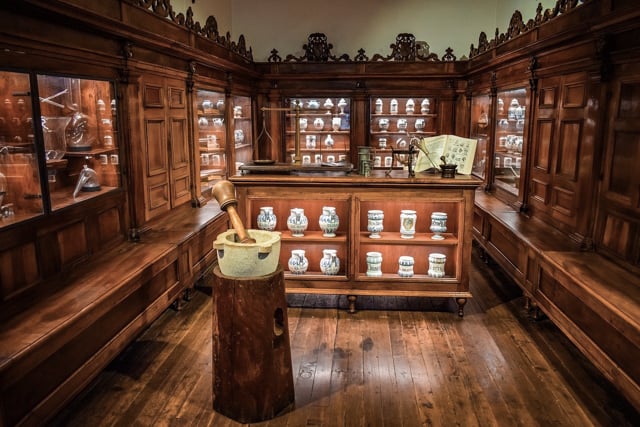 Another technical museum dedicated to Leonardo Da Vinci can be found in the square by La Scala Opera House. Both places are sure to appeal to adults and children alike. Take your pick depending on what's on your itinerary. Again, you can book your ticket easily online.
Pinacoteca di Brera Art Gallery
The famous art gallery Pinacoteca di Brera includes some of the greatest works from the 13th to the 20th century. The gallery building is a work of art in itself. In addition to the collection, you can walk through the beautiful garden full of sculptures or see for yourself how the paintings are restored. Admission to the Pinacoteda di Brera Gallery is €16.50. Tickets can be booked in advance.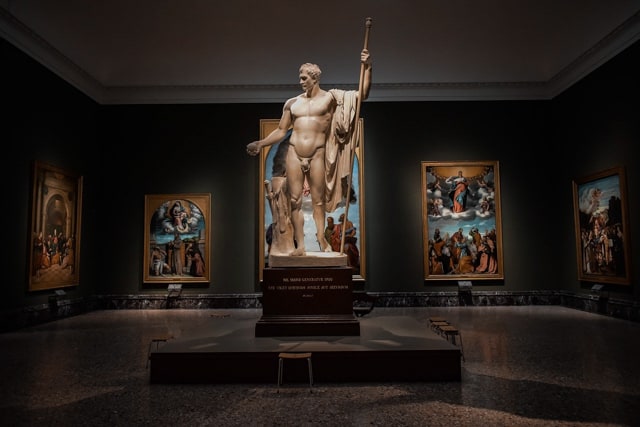 Navigli and Milan's canals
A little bit of Venice in Milan? Yes, there are canals in Milan too. There are exactly two – Navigli Grande and Navigli Pavese. Especially the Navigli Grande canal should not be missed.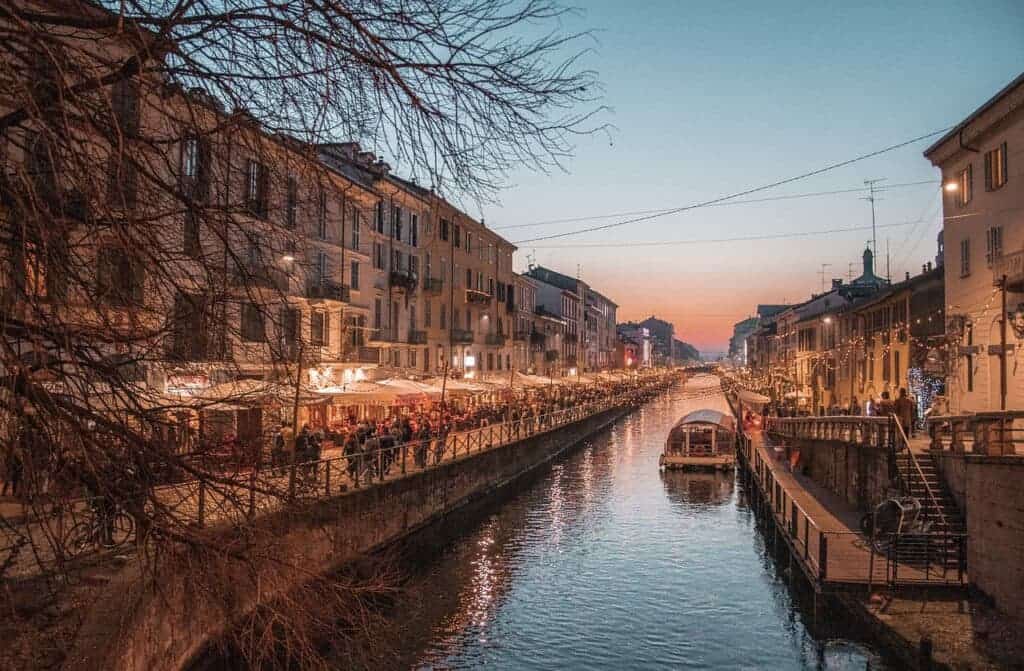 During the summer months, boats leave here at regular hourly intervals. Along the way, enjoy the magnificent villas of Robecco Sul Naviglio or the village of Boffalora Sopra Ticino, the rectory of Bernate Ticino or the staircase of Villa Clerici to Castelleto di Cuggiono. There are three routes in total. In addition to the boat trip, you can also experience a cruise in a real Venetian gondola.
The Navigli district is a young Milanese neighbourhood where it's alive. Just wander around, admire the windows of local boutiques or grab an aperitivo and blend in with the locals (it's more touristy on weekends).
Basilica di Sant'Ambrogio
The Basilica di Sant'Ambrogio is one of the oldest churches in the city, built in the 4th century by the patron saint of Milan, St. Ambrose. It is worth a visit especially for its beautiful architecture and frescoes. It is accessible free of charge.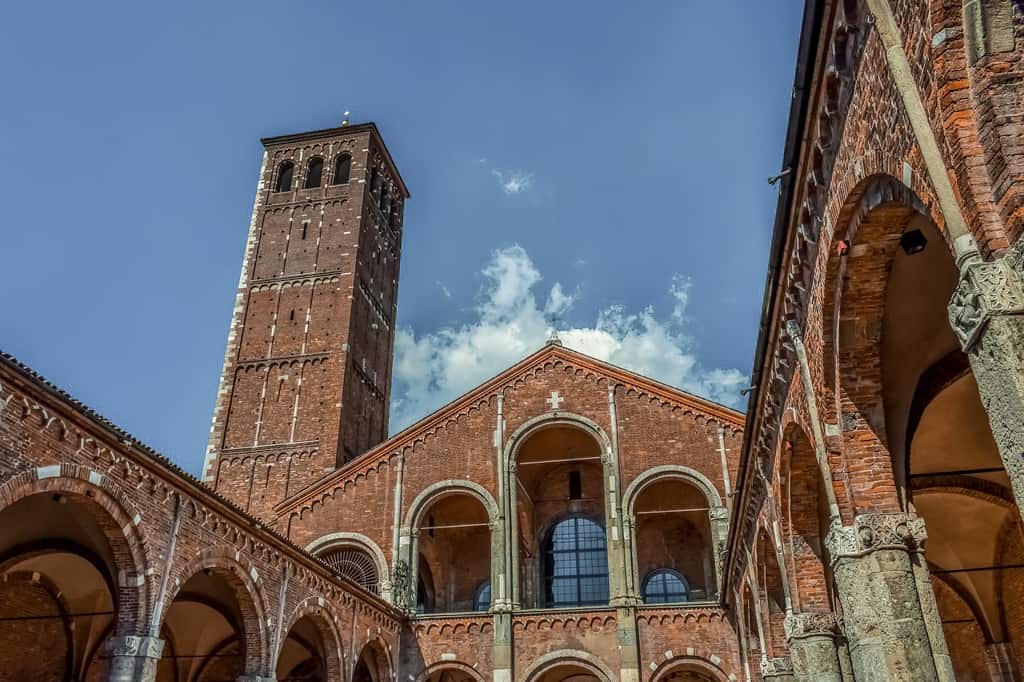 San Siro Stadium
When I asked Péti what places I should include in Milan, his first answer was "San Siro" ?. If you're a football fan, you'll probably get the same. The San Siro stadium is one of the biggest stadiums in Europe, home to both AC Milan and Inter Milan, and holds 80,000 people. Experiencing a football match in Milan is an unforgettable experience. You can also explore the stadium during regular guided audio tours.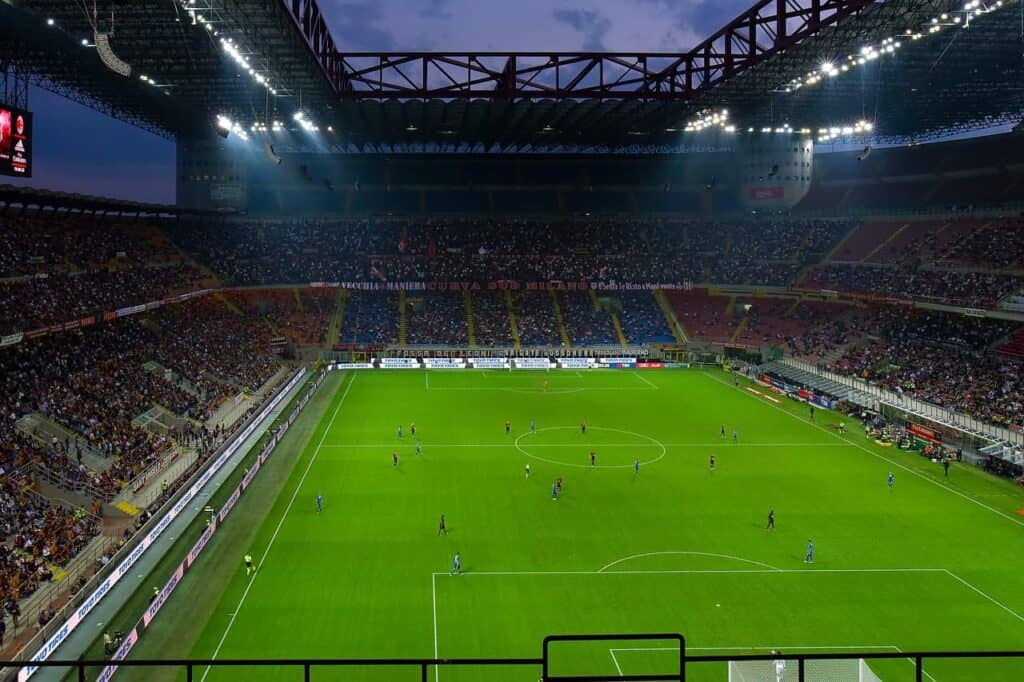 Church of San Bernardino alle Ossa
The Church of San Bernardino alle Ossa is not as spectacular as other Milanese churches, but it is still one of the most powerful experiences. It is famous for its small side chapel, whose walls are decorated with human skulls and bones. The church is a short walk from the Duomo and admission is free (they accept donations).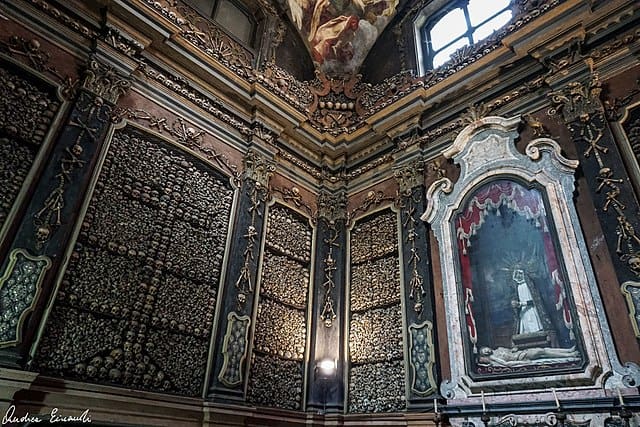 Gardens of Guastalla
The Guastalla Gardens are one of the oldest gardens in Milan, dating back to the 16th century. It is a short walk from the University of Milan and a quarter of an hour from the Duomo. The gardens are freely accessible.
Piazza Gae Aulenti
The opposite of historic Milan? This is the modern Piazza Gae Aulenti, which opened in 2012. The square is lined with skyscrapers, shops, cafes, restaurants, clubs. I recommend going here in the evening when the fountains in the square light up in different colours.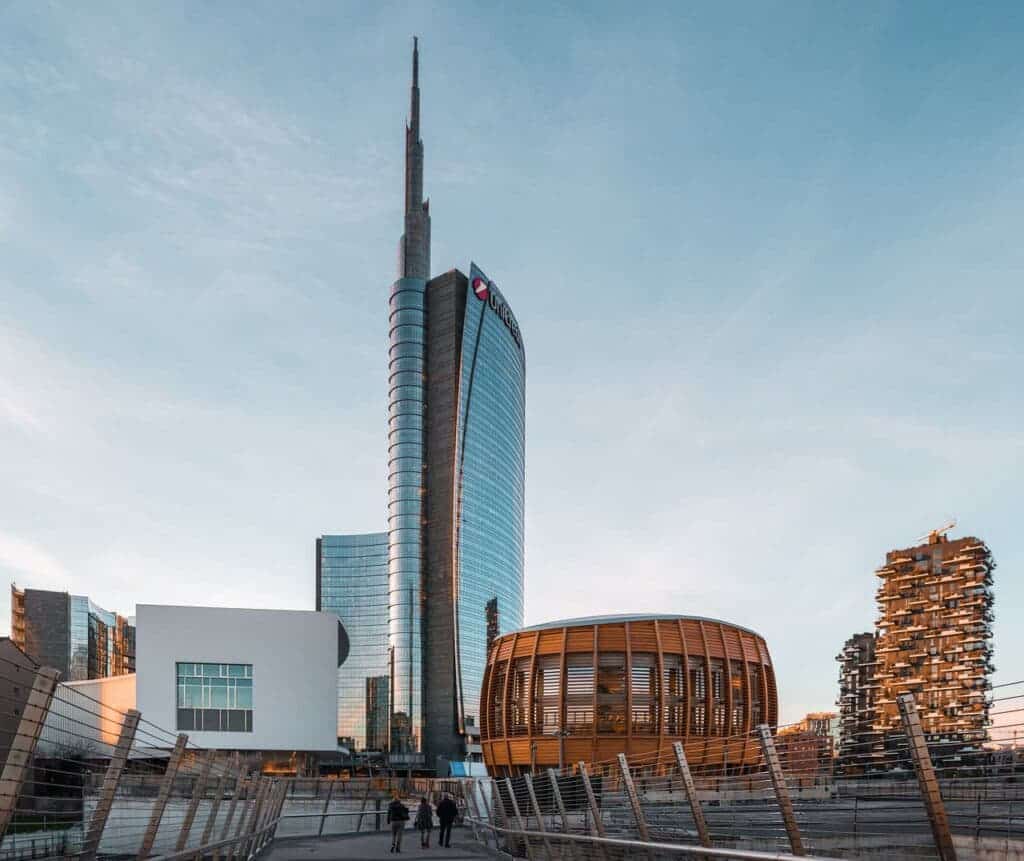 Things to see and things to do around Milan
Bergamo
In Bergamo you will find one of the airports for Milano. If you fly with Ryanair (and in most cases you do), you will arrive in Bergamo. The centre of Bergamo can be reached in a short while by public transport, so it would be a shame not to take a walk through the old town or Città Alta. It's definitely worth it. The 16th century Venetian walls, the Rocca di Bergamo fortress, the Duomo di Bergamo, the Basilica of Santa Maria Maggiore and the Cappella Colleoni church with its intricate marble facade.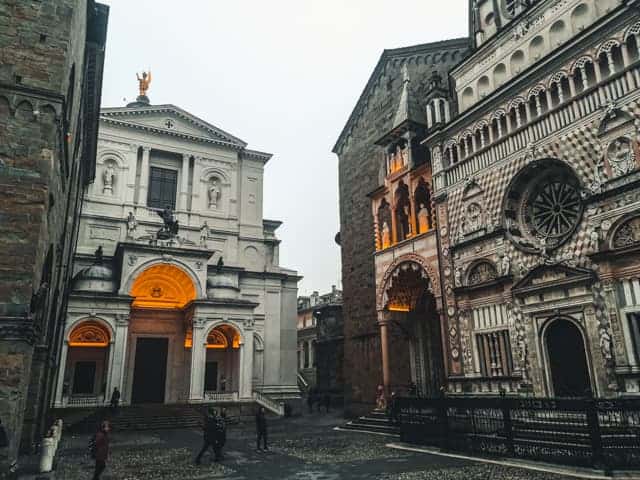 Just wander through the narrow streets with small shops and enjoy the medieval architecture and the view from the walls. Città Alta is easily walkable in a couple of hours.
Lago di Como
Lago di Como is a beautiful alpine lake that's home to many opulent villas (including George Clooney's). Its shape resembles an inverted Y and at its heart lies the famous town of Bellagio, nicknamed the "Pearl of Lago di Como".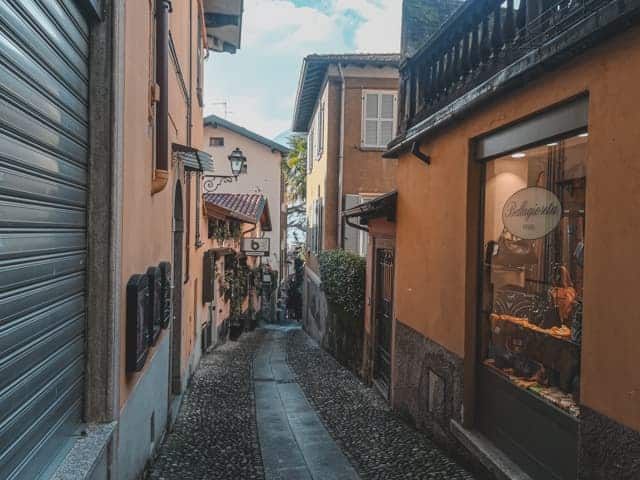 The town is definitely worth seeing, but I personally recommend visiting Varenna, a town of Roman origin. It has a quieter atmosphere and will also absolutely charm you like it did us.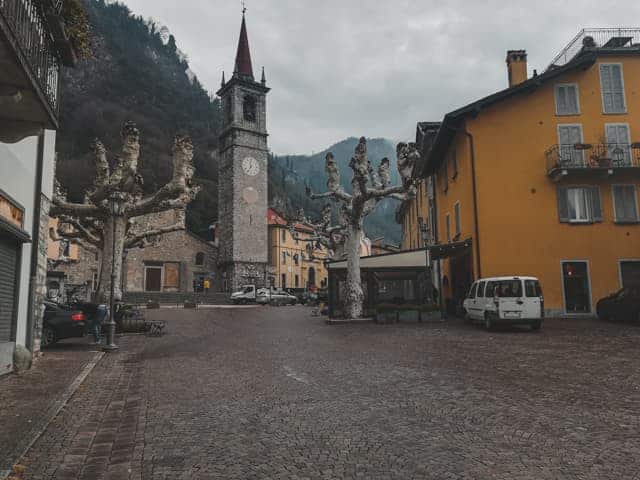 From Milan train station you can get to Como on the western end of the lake – a ticket costs €4.80 and the journey takes an hour. You can buy Milan – Lago di Como tickets online. From here, ships sail to Bellagio and Varenna. The journey takes 2 hours and the views of the lake in the grip of the Alps are breathtaking. You can book your Lago di Como boat tickets online.
For more tips on Lago di Como, see the separate article: Lago di Como.
Lago di Maggiore
Lake Maggiore is considered by many to be one of the most beautiful lakes in the world. You can find it an hour northwest of Milan. It can be reached by regular train services from Milan station. Buy a ticket for the town of Arona (towards Domodossola), which is a great starting point for exploring. A ticket from Milan to Lago di Maggiore will set you back €6.10.
In Arona you can enjoy the lake combined with the snow-capped mountain peaks and walk to the pedestrian zone with excellent restaurants and bars.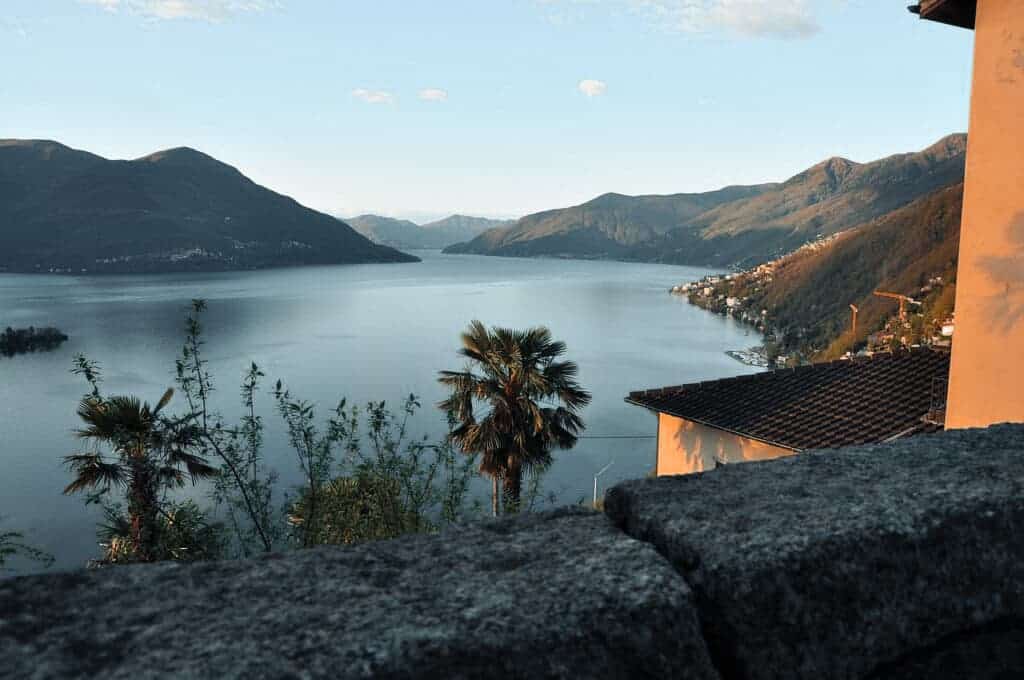 Just 5 minutes away by boat is the medieval fortress of Rocca Angera (Borromeo Castle), which you will have a great view of from Arona. You can admire the local period frescoes and the largest toy museum in Europe with an exhibition.
All Lago di Maggiore boat ferries can be booked in advance online.
From the fortress, you can take a boat back to Arona or sail to the island of Isola Bella (1 hr 20 min), which belongs to the Borromean Islands with Isola Madre and Isola dei Pescatori. Isola Bella is famous for its garden with rare exotic plants and beautiful flowers. In front of the garden is an ancient Baroque palace with works of art, tapestries, sculptures and mosaic grottoes.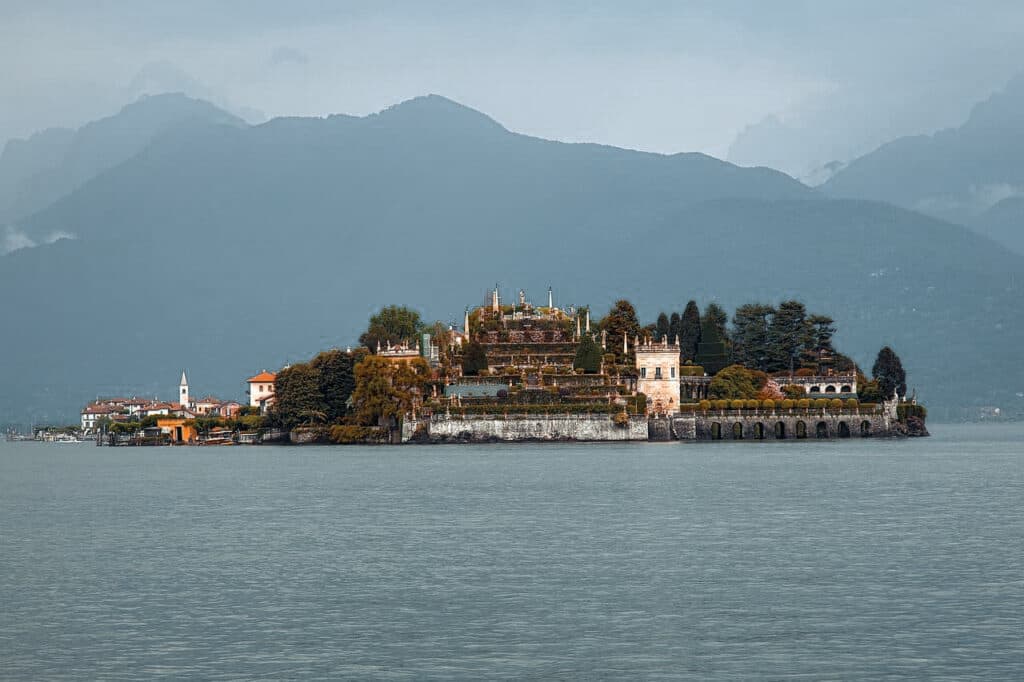 From Isola Bella you can reach Isola Madre in 25 minutes and Isola dei Pescatori in another 20 minutes. All the islands are definitely worth a visit. From Lake Isola Bella, you return to Milan via Stresa (ticket costs €9.90), which also runs in the evening.
On the way to the Borromean Islands you can get off at the monastery of Santa Caterina del Sasso, which is set right in the rock. The views of the monastery from the lake are spectacular.
Find out what else to visit around Milan in this article: Where to go in Lombardy?
What to see in Milan: MAP
An interactive map with all the interesting points to visit in and around Milan. Plan your itinerary for each day or download the map to your mobile phone.
How to get to Milan?
Milan is easily accessible by car and by air. Would you rather go by car? Check out our article on Lake Como, which is a stone's throw from Milan, for directions including tolls along the way.
By air to Milan
If you're flying into Milan, you'll arrive at one of 2 airports – Bergamo Airport (BGY) or Malpensa Airport (MXP). Bergamo is served by low-cost airline Ryanair and Malpensa is served by low-cost airlines Wizz Air and easyJet.
You can get cheap return tickets from London, Berlin, Madrid, Prague and other European cities for various dates. Flight times range from an hour and a half to 2 hours without changes.
How to get from Bergamo Airport to Milan city centre?
Bergamo Airport is located northeast of Milan on the outskirts of Bergamo. From Bergamo Orio Al Serio Airport you can get to Milan by regular bus for €8. I recommend buying your airport-Milan ticket online so you don't have to find the ticket window at the airport. You can also buy a return ticket. Once you start filling in the date, the system will automatically offer you a return ticket. You enter an approximate departure time, but it doesn't matter if you arrive later. Buses run more frequently depending on the number of flights, and if you can't fit on one, you take the next one. This is not a problem in most European cities.

You'll get off at Milano Centrale Station, where you'll board the train for your return journey to the airport. There is space for shuttle buses from airports around Milan.
How to get from Malpensa Airport to Milan city centre?
Malpensa Airport is located to the north-west of Milan and can be reached conveniently by direct buses for €10. I recommend booking tickets in advance. You don't have to look for anything on site, just scan the code and get on the bus at the exit. Just like at Bergamo Airport, you get off at Milano Centrale Station, where buses then leave back to the airport.
Transport and public transport around Milan
In Milan, you can travel by metro, tram or bus. The fastest and easiest way to get around the city is by metro. It is divided into 4 lines and 2 of them stop at the Duomo.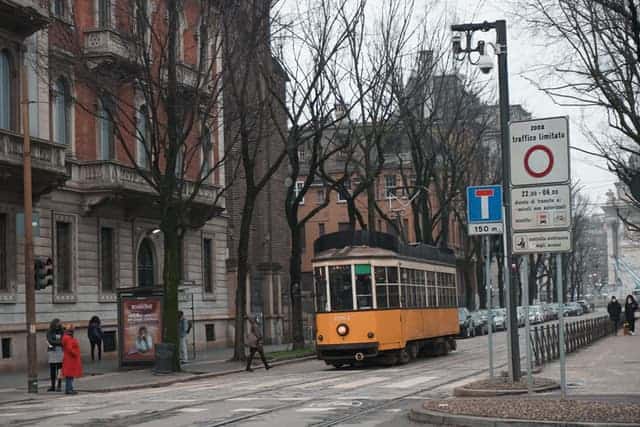 All types of transport use the same ticketing system. The whole area in and around Milan is divided into fare zones (similar to London). A basic ticket can be bought for €2 and gives you 90 minutes unlimited travel in fare zones M1-M3. This includes the whole of Milan and 21 adjacent municipalities. Children under 14 travel free of charge.
In addition to the basic ticket, you can also purchase tickets for longer periods:
1 day for 7 €
3 days for 12 €
booklet with 10 tickets for 18 €
Tickets can be purchased via the ATM app or at the metro station.
Paying by card for public transport in Milan
As in London or other cities, the public transport system in Milan allows you to pay for transport with a contactless payment card (Mastercard, Visa, Amex). That way, you only pay for what you actually drive and don't have to buy paper tickets or download an app. It's simple:
Orange turnstiles are designed for contactless card payments. You can find them on buses and in front of the metro entrance. You hold your card to the orange turnstile and it registers where you are leaving from.
When you exit, you put the card back on the orange turnstile (only at the metro) and the amount you have actually travelled is deducted. Always insert the card in the metro, even if the turnstile is free to exit.
In Milan, you can pay contactlessly on all metro lines (including non-city lines) and on the 56, 70 and 73 buses, which are equipped with contactless orange turnstiles.
Accommodation in Milan
With more than 3 million inhabitants, Milan is the second most populous city in Italy, covering an area of 181 km2. And although it has a very well and densely developed public transport system, it's better to choose accommodation close to the centre so you don't spend a lot of time commuting.
The best neighbourhoods for accommodation are Brera, San Babila or San Lorenzo. If you're looking for more nightlife, you'll love the Navigli district, which stretches along the canal.
Tips for the best accommodation in Milan:
A few minutes from the centre, Hotel Milano Castello is a modern and clean hotel where you can have breakfast in the morning in the garden. The second tip is Hotel Milano, just 5 minutes from the Duomo. Breakfast is included, as in the first case, and you can enjoy the view from the terrace upstairs. If you're looking for something really cheap, check out Hotel Bogart near Sempione Park. It has a good location and services.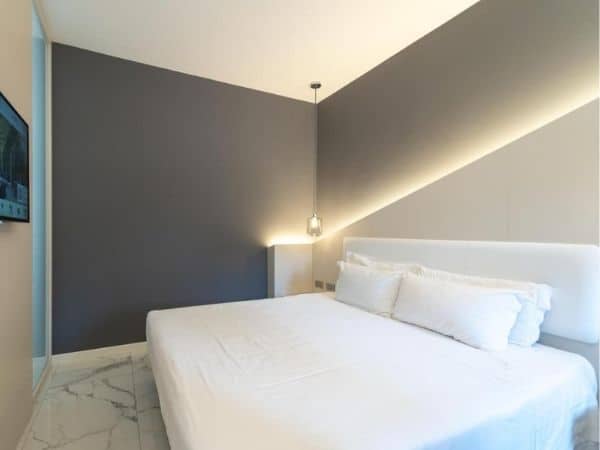 Prices and food in Milan
Prices in Milan are 40-50% higher than in Prague or Bratislava and about the same as in Berlin or London. Prices for specific foods can be found in the table below. You can shop at supermarkets such as Lidl, Penny Market and Eurospin.
In a cheaper restaurant you will pay around €15 for lunch, €1.33 for water and €5 for a domestic beer. Dinner in a restaurant then ranges from 25 – 40 €.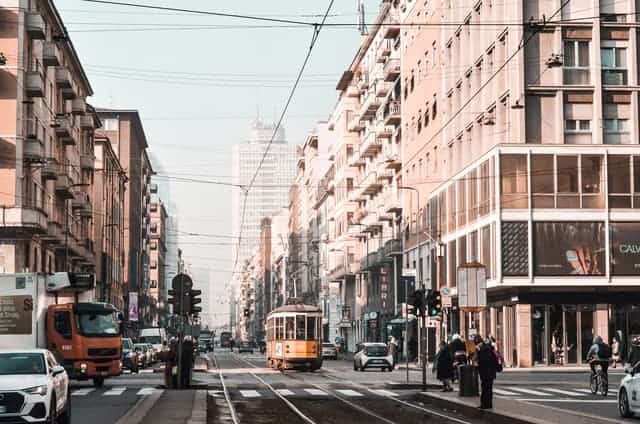 Or try the street food, which is great here – a slice of pizza will set you back around €6. The panzerotti at Luina's bakery just off the Duomo are great. The dough is reminiscent of langos and they are filled both sweet and salty. They cost 2,70 €. The best food can be found in restaurants frequented by locals. Away from the main sights in the backstreets. See our restaurant tips on the map just above.
For traditional dishes, be sure to try their Risotto Risotto alla Milanese, Cassöeula (pork with vegetables), Minestrone alla milanese vegetable soup, Costoletta alla Milanese cutlet.
There are drinking fountains all over the city, so you can refill your bottle anywhere.
Practical information about Milan
Currency: euro (EUR)
Exchange rate: €1 = CZK 24.51, €1 = £0.84 (as of 7 April 2022)
Payment: For small purchases and payments, it is smaller to have cash with you, but otherwise you will pay by card in most places. Take a look at what fees your bank charges and what exchange rates are in order not to overdo it.
In Italy they use electrical sockets type C, F and L. Types C and F are compatible with most sockets in Europe and are widely used in northern Italy (including in hotels). L sockets are mainly found in older houses. If you are travelling from the UK or Ireland, you will need a socket reducer.
Language: The official language is Italian. In addition, many Italians here in the north speak English very well. We've never had a problem getting along here.
Safety: Milan is a safe city. However, in the past this was not the case and you should be more vigilant in some places. This applies to the central station or around the San Siro stadium, and at night avoid Sempione Park or areas that are not well lit.
Be sure to take out travel insurance before you travel. It's the least you can do for yourself. Follow this link to get travel insurance from Axa at a 50% discount.
Note: All prices listed are valid as of April 2022.
---
Have a safe journey ?‍♀️?‍♂️!
More articles about Italy