If you're deciding where to stay in Milan, Italy, you have plenty of options. Large hotel chains, smaller boutique hotels or B&Bs with a family atmosphere. Choosing accommodation in Milan can be quite a challenge.
To make your decision easier, we've created a detailed guide to the best hotels and accommodation in Milan.
Read our recommendations for where to stay in Milan. We'll also add tips on why you should choose the area or accommodation, access to attractions and airport connections.
We'll show you the basic layout of Milan so you can get an idea of where the Duomo, Sforza Castle or Milano Centrale main train station is located.
Best accommodation in Milan – a quick summary
If you're short on time, take a look at a quick overview of where to stay in Milan and the best hotels depending on your budget:
Where to stay in Milan – tips
Before we talk more about accommodation in Milan, let's introduce the city itself so you can get a basic overview of Milan and choose the best hotel for your stay.
With almost 1.4 million inhabitants, Milan is the second largest city in Italy and the centre of Lombardy. It can be found in the foothills of the Alps in northern Italy.
Although Milan is considered a fashionable and industrial city, it has important historical foundations.
Practical tips before choosing your accommodation in Milan
Centro Storico
The historic centre of the city is around the Piazza del Duomo, with the famous Duomo Cathedral. From here, smaller streets branch off in all directions, with large streets joining them in concentric circles.
On the edge of the Centro Storico lies Sforza Castle to the northwest. Behind it is the vast Sempione Park with the Arco della Pace. The Church of Santa Maria delle Grazie, with its painting of the Last Supper, and the Basilica of Sant'Ambrogio are within easy walking distance of the castle, to the east of the centre.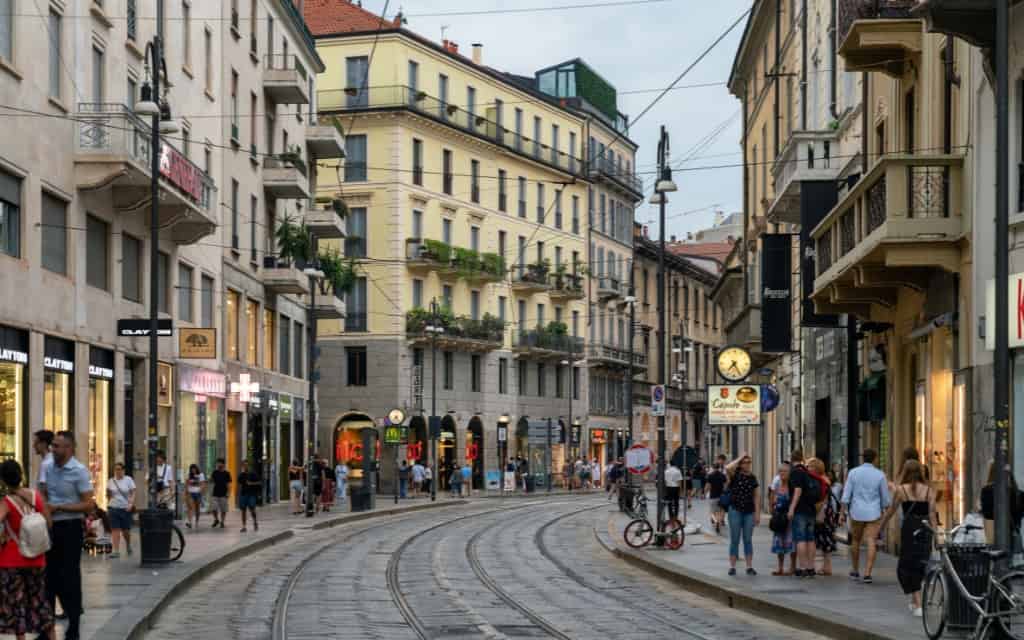 Transportation from the airport to the centre of Milan
Milano Centrale Train Station is located to the north-east of the historic centre. Buses from Linate, Malpensa and Bergamo (Orio al Serio) Airport stop at the station. From Linate and Orio al Serio airports, buses are the best way to get to central Milan.
Malpensa Airport receives the most flights, so there are more options. The best value is the €10 bus that goes to the main train station. The journey takes about an hour (slightly longer in traffic).
The fastest way to get from Malpensa Airport to central Milan is by train, the Malpensa Express. Tickets cost 13 €. You have a choice of two lines – choose according to where your accommodation is located:
Malpensa Airport to Centrale Station via Garibaldi Station – 54 minutes (a few minutes less at Garibaldi Station)
Line from Malpensa Airport to Cadorna Station – 37 minutes
You can also choose a taxi – the flat rate is 95€ (taxis are white). Uber's in Milan, too.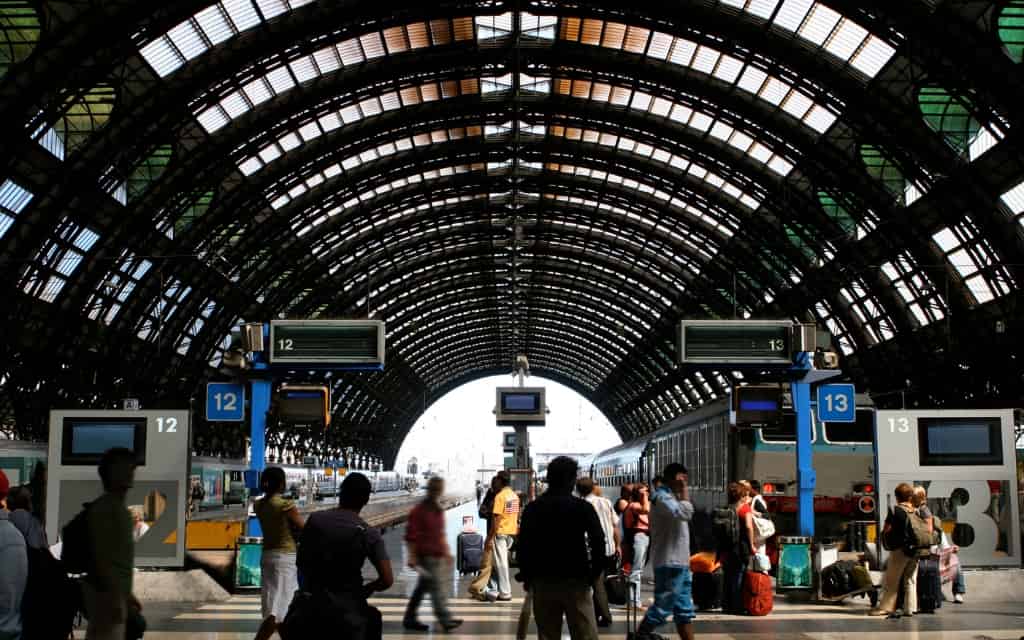 Transport and public transport
Milan is well connected by local transport (metro, buses, trams).
The metro is divided into 5 lines M1-M5. Of these, the M2 and M3 cross at Milano Centrale station (two other lines are nearby) and the M1 and M3 cross at the Duomo in the centre. From the station you are at the cathedral in 10 minutes by metro.
Where the metro doesn't reach, you can take a bus or tram.
With a basic ticket for €2.20 you get 90 minutes of unlimited travel within the city. Tickets for longer periods of time are also on sale with the possibility of unlimited travel for a pre-selected period of time – 1 day for €7.60, 3 days for €13 or a carnet of 10 tickets for €19.50.
Use your contactless card to pay for shipping (read about other options here). That way, you only pay for what you actually drive. In addition, over €7, you already ride for free that day.
It's easy to use – just attach the card to the orange turnstile (on the metro, you also attach it when you get off). One card is valid for one passenger.
Read more in our guide to Milan (what to see including entrance fees and opening times, transport, prices, food and other tips).
Where to stay in Milan?
Centrale district – the best accommodation near Central Station
As the name suggests, the Centrale district is located around the Centrale main train station. It is served by buses from Malpensa, Bergamo and Linate Airports, or by the Malpensa Express. You can also take trips around Milan from here.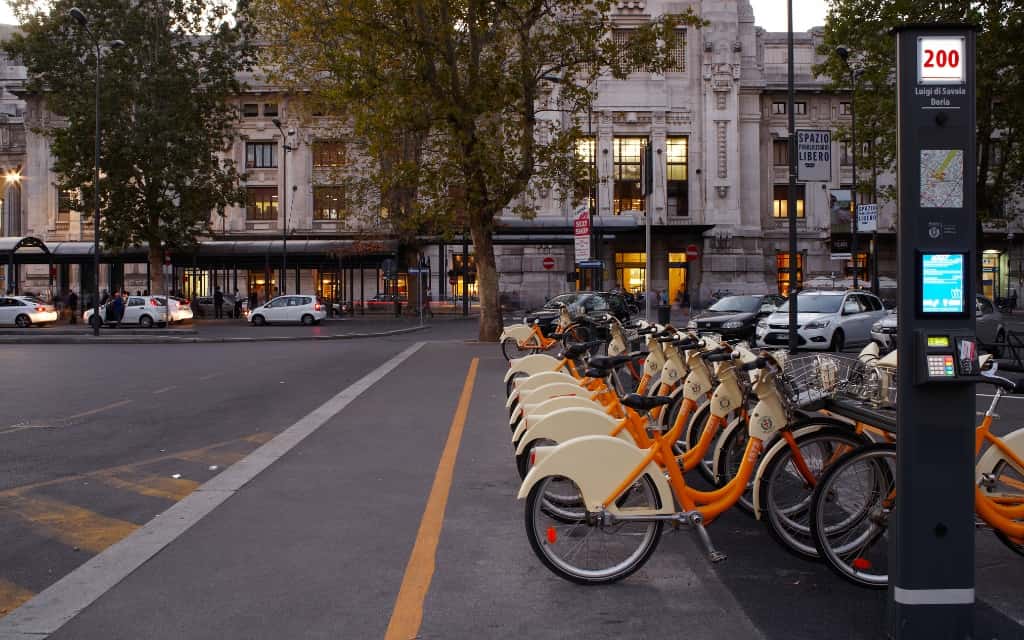 The area is well connected to the city centre – the red M1 metro line takes you to Piazza Duomo in 10 minutes, while the green line takes you to Sforza Castle. There are also plenty of restaurants and shops.
I recommend going for a meal at Mercato Centrale, which is located right at the station (on the left side; you can enter directly from the station). There is a huge selection from pizza to burgers, pastries, desserts. They operate daily from 7:00-23:00 (until 24:00 on Fridays and Saturdays).
LUXURY: Hotel Galles: A top hotel just 10 minutes walk from the station, but in a quiet location. A short walk from the M3 metro station, which takes you to the city centre in a few minutes. The hotel is clean, beautifully furnished and offers double to quadruple rooms or larger suites. There is also an indoor swimming pool, sauna, massage and gym. But the best is waiting for you in 8. floor – hotel terrace with a bar and views of the Duomo.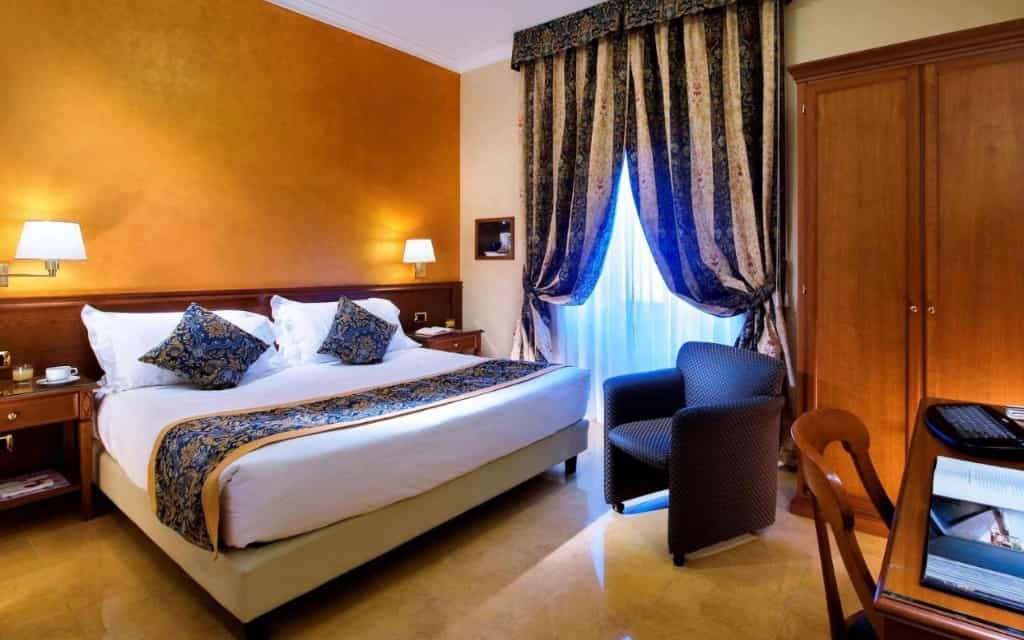 LUXURY: iH Hotels Milano Gioia: This hotel offers clean, cosy rooms with comfortable beds, en suite bathrooms and excellent breakfast. The metro stop is 10 minutes away, and there are also bus and tram stops nearby. The shop is a 4-minute walk away. Reception 24/7, luggage storage.
MIDDLE CLASS: Hotel Flora : This accommodation is located in a pleasant and quiet street just 3 minutes from the train station and a few steps from the metro station (4 stops to the Duomo). It offers smaller, comfortable rooms with private bathrooms (also family rooms), varied breakfasts, bar.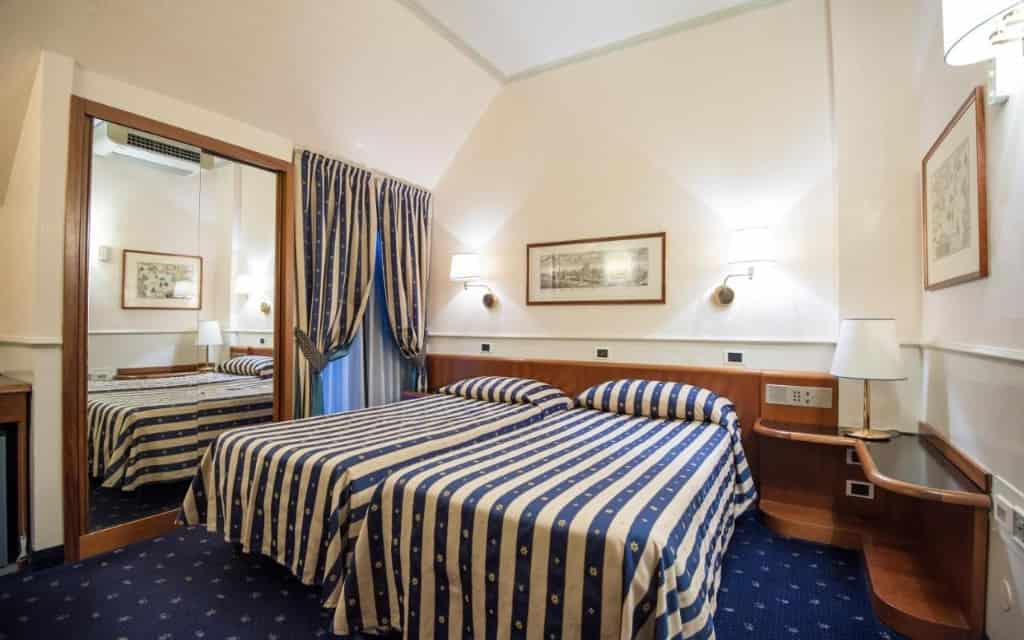 MIDDLE CLASS: B&B Antico Cortile : Do you like family and home environment? This B&B is a great choice. The friendly owner will be happy to help you with everything and even make you a coffee. The accommodation is clean, cosy with private bathroom, fridge, minibar, kettle, air conditioning and a rich breakfast.
MIDDLE CLASS: Canova hotel Description : Stylish and modern hotel in a quiet area a short walk from the train station and with good access to the centre. The hotel provides everything you need for a relaxing stay – helpful staff, well-appointed guestrooms (air conditioning, electric kettle, family room), 24-7 front desk, luggage storage, convenience store.
Centro Storico – the best place to stay in the middle of the action
The historic centre of Milan is called Centro Storico. A tourist area full of wonderful sights (the Duomo and Piazza Duomo are in the heart of it), restaurants and shops. The centre is not large and can be very well walked in an hour. And it's not hilly like Lisbon, for example.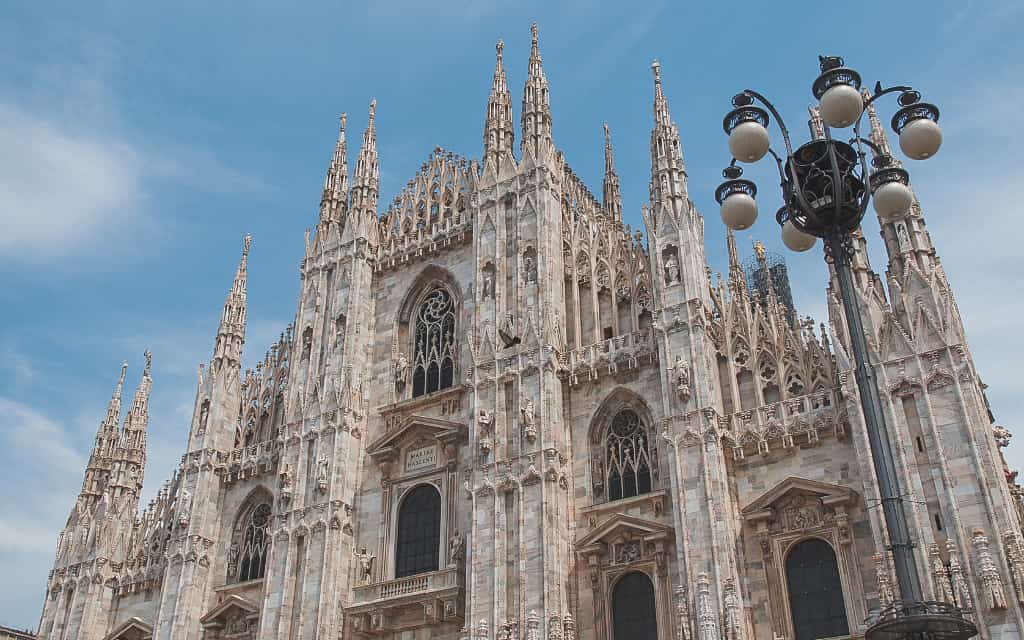 In addition to the Duomo, the Centro Storico is home to La Scala Opera House, Palazzo Reale di Milano, Piazza Mercanti and many galleries and museums, including the magnificent Vittorio Emanuele II Gallery.
LUXURY: Matilde Boutique Hotel: a gorgeous boutique hotel with a perfect location – just 2 minutes from the Duomo, but around the corner on a side street, so it's quiet. The rooms are stylishly decorated, clean and spacious with private bathrooms. Rich breakfast, 24/7 reception, luggage storage.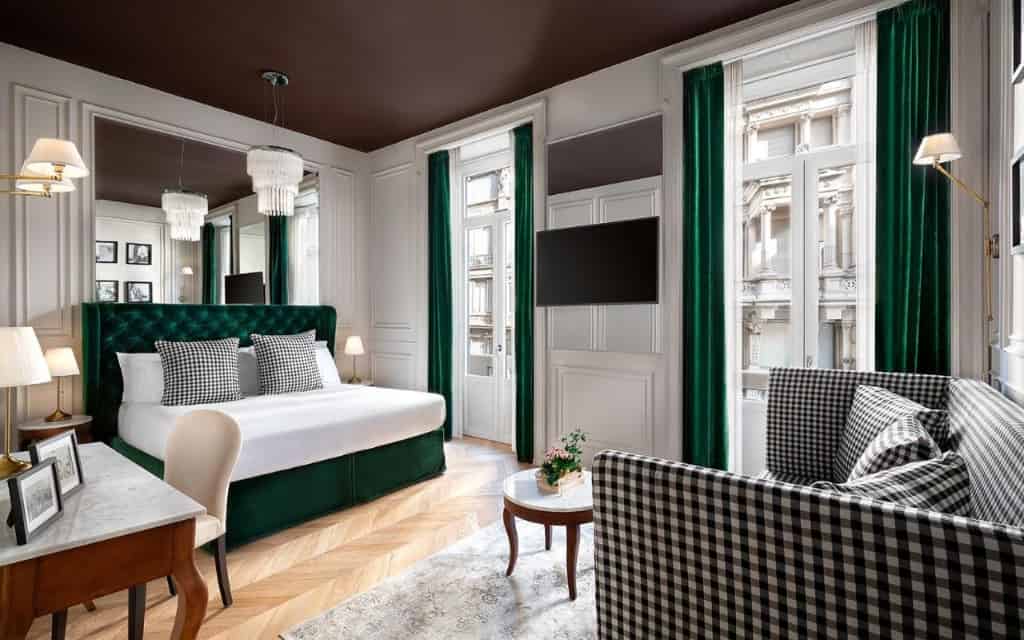 LUXURY: Hotel Dei Cavalieri: Four-star hotel decorated in a classic style. With excellent accessibility and just 5 minutes from the Duomo. Excellent breakfast and great cuisine in the local restaurant. V 10. On the 10th floor there is a roof terrace with a bar and fantastic views of Milan.
MIDDLE CLASS: Hotel Ritter Description : This hotel is located right on the popular Corso Garibaldi. Just a few steps from a metro station, but given the hotel's location, you may not even need the metro – a 10-minute walk to Garibaldi Station (for the train to Malpensa Airport), a few minutes' walk to Sforza Castle, Pinacoteca di Brera, Sempione Park or a 20-minute walk through the beautiful Brera district to the Duomo. The rooms are modern and cosy with private bathroom, fridge and balcony. Friendly staff, excellent breakfast, lots of places to eat nearby.
MIDDLE CLASS: Hotel Palazzo delle Stelline: This hotel is located in a former convent on the edge of the historic center, next to the church of Santa Maria delle Grazie with its painting of the Last Supper. The rooms (even the family rooms) are modern but cosy, with beautiful views and private bathrooms. Breakfast varied, rich, available garden, bar, reception 24/7. Lots of sights within walking distance (e.g. Duomo 15 minutes walk). Cadorna Train Station is less than 10 minutes' walk away for train connections to Malpensa Airport.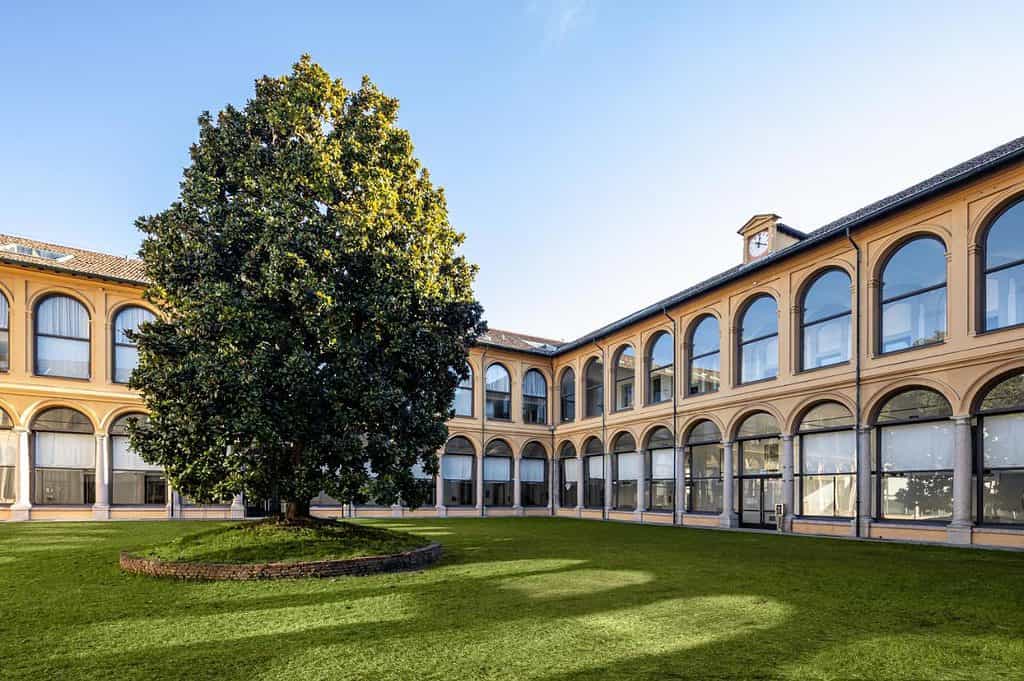 BUDGET: Hotel Nuovo: Just 200 metres from the Duomo, this hotel offers simple but clean and perfectly adequate accommodation with air conditioning, TV and private bathroom. Reception 24/7, good access to the station.
Niguarda district – quiet location with good accessibility
The Niguarda district won't wow you with its beauty, but it's still a great neighbourhood for accommodation in Milan. It is quiet, has all the amenities and above all great connections thanks to the yellow M1 metro line to Centrale station and the city centre.
Due to the location outside the centre, hotels will offer a lower price. You can get a four-star hotel here for the price of a two- or three-star hotel in the centre.
LUXURY: Acca Palace : Four-star sustainable hotel with airy and modern rooms (air conditioning, private bathroom, kettle and some rooms with extra balcony). A rich breakfast is served in the morning and the staff is attentive and friendly. A supermarket is a short walk from the hotel. Likewise the M3 metro line, which takes 7 minutes to the station and a quarter of an hour to the Duomo.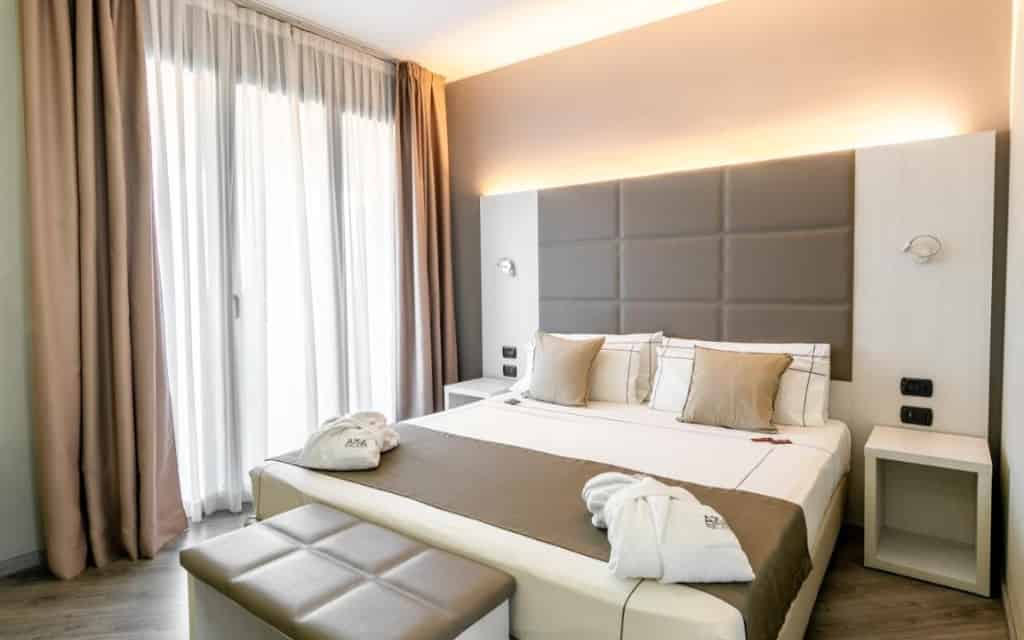 LUXURY: Hotel Da Vinci Description : An affordable hotel located next to the vast Parco Nord Milano. Accommodation is stylish, modern with spacious rooms, rich breakfasts and excellent cuisine in the local restaurant. There is a metro stop 10 minutes away (there is a bus stop right next to the hotel with regular and frequent connections to the metro if you don't want to walk).
MIDDLE CLASS: eco Hotel Milano: an eco-friendly and sustainable hotel located just a few steps from the metro station. It has great value for money. Very cosy and pleasant accommodation with rich breakfast, garden and up to four bed rooms with private bathroom. The hotel also features the BioRiso restaurant, which cooks with organic and seasonal food from local farmers.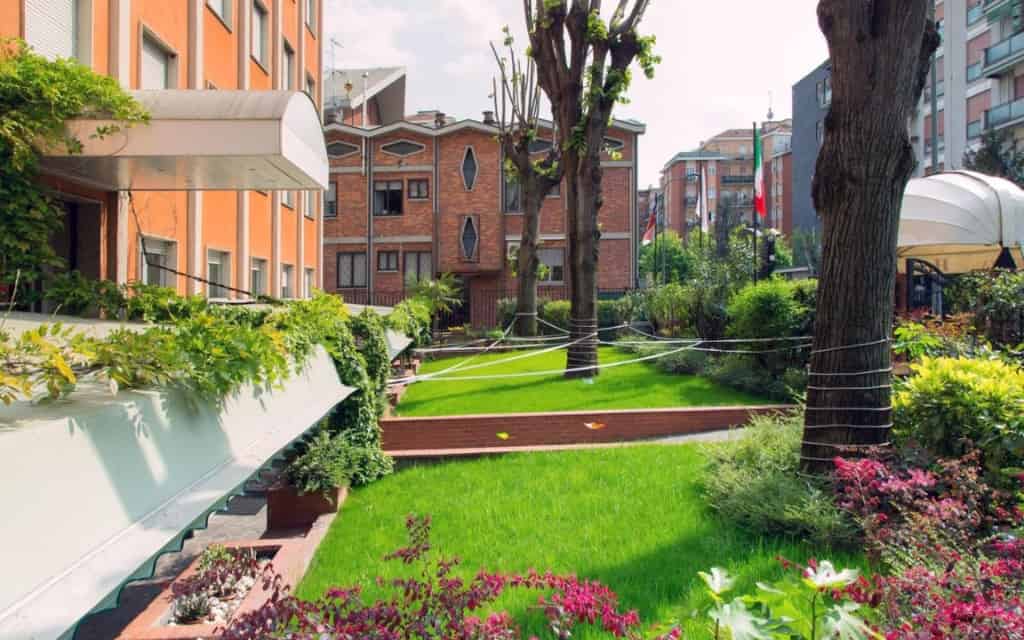 Fiera district – an area with a strategic location
The Fiera district lies to the east of the historic centre. All of Milan's popular sights and attractions – Sempione Park, Sforza Castle, Piazza Duomo, Navigli Grande and San Siro Stadium – are within walking distance or a few metro stops away.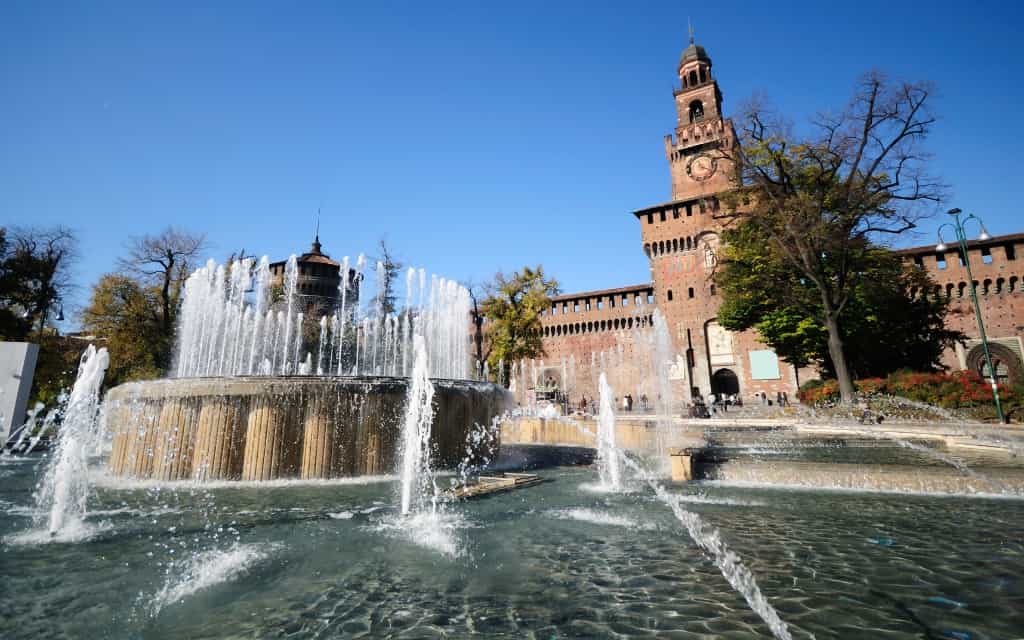 The area is also a great choice (as is the historic centre) if you are travelling from Malpensa Airport. Cadorna Train Station is a short walk away and offers a 37-minute train ride to the airport.
MIDDLE CLASS: Hotel Metrò : This hotel is located on the elegant shopping street Corso Vercelli. It is smaller, pleasant and offers cosy rooms (even family rooms) with private bathrooms. The metro station is just 2 minutes away (close to San Siro, 3 stops to the centre). The Church of Santa Maria delle Grazia with the Last Supper, Sempione Park and Arco della Pace, and the Da Vinci Science Museum are within walking distance.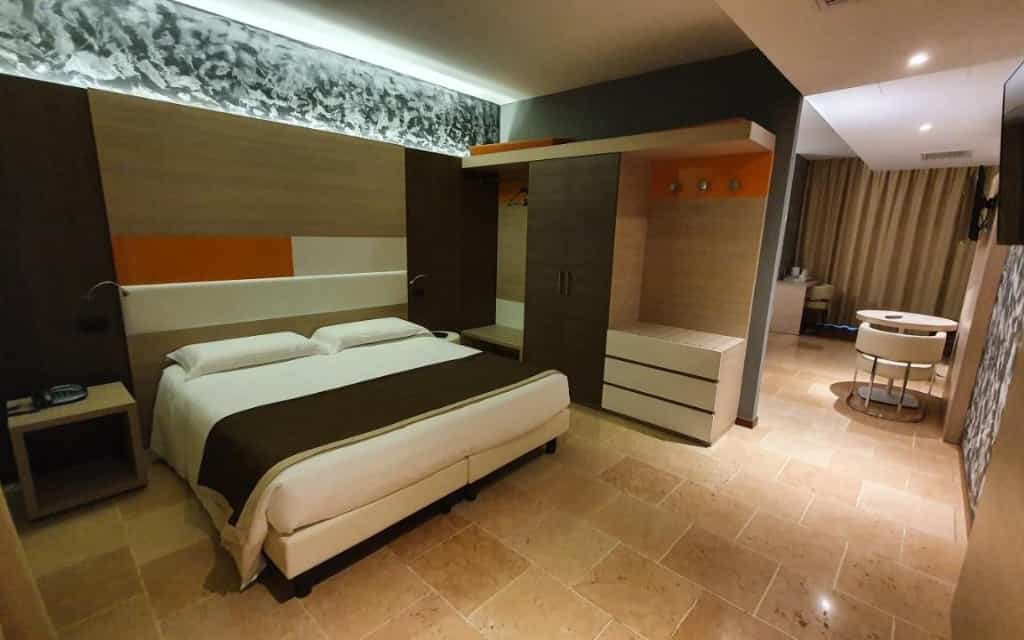 MIDDLE CLASS: Hotel Domenichino A very nice, pleasant hotel in a quiet street with an avenue of trees and benches. The shop and metro are 5 minutes away. The metro takes you to the Duomo in 10 minutes, or San Siro Stadium on the other side. You'll soon be at Sforza Castle or Sempione Park. The rooms are clean, fragrant with private bathrooms, comfortable beds and rich breakfasts. Friendly staff, bar, 24/7 reception.
Accommodation near Malpensa Airport
Staying near the airport is a great option if you're arriving late at night or leaving early in the morning (although the larger hotels in Milan have a 24-hour reception, so late night departures and arrivals aren't a problem).
LUXURY: Idea Hotel A: This hotel is located just a short walk from the airport. There is an airport transfer service for €5, which will take you directly from the hotel to the airport (operating 24 hours a day). The hotel offers comfortable and clean rooms with private bathrooms and comfortable beds, a rich breakfast and a restaurant with Italian cuisine.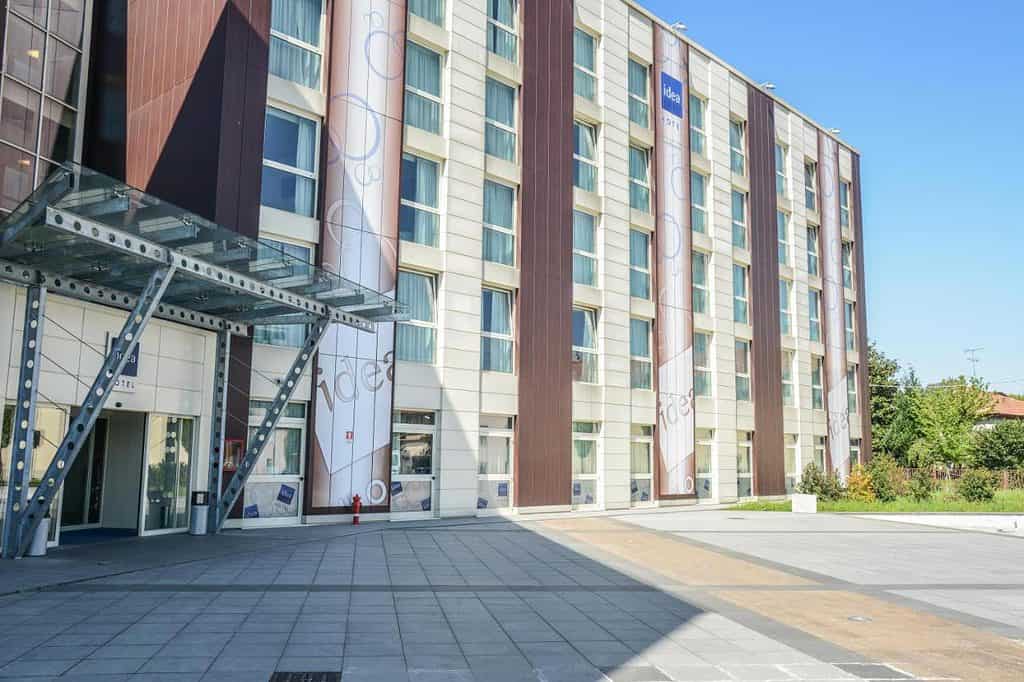 Accommodation close to Bergamo Airport (Orio al Serio)
Looking for accommodation near Orio al Serio Airport in Bergamo? I recommend staying close to Bergamo station, which can be reached from Orio al Serio airport in 20 minutes by 1A Airport bus (buy your ticket from the ticket machine or from the information desk at the terminal exit).
From Bergamo station you can then take the train to Milan (48 minutes; €5.80). Accommodation in Bergamo is cheaper than in Milan.
Hotel Città Dei Mille : Beautiful hotel decorated in traditional style, offering cosy rooms with private bathrooms. Rich breakfast, 24/7 reception, family rooms, good price and great location in the centre (10-15 minutes to the station or the other way to Citta Alta).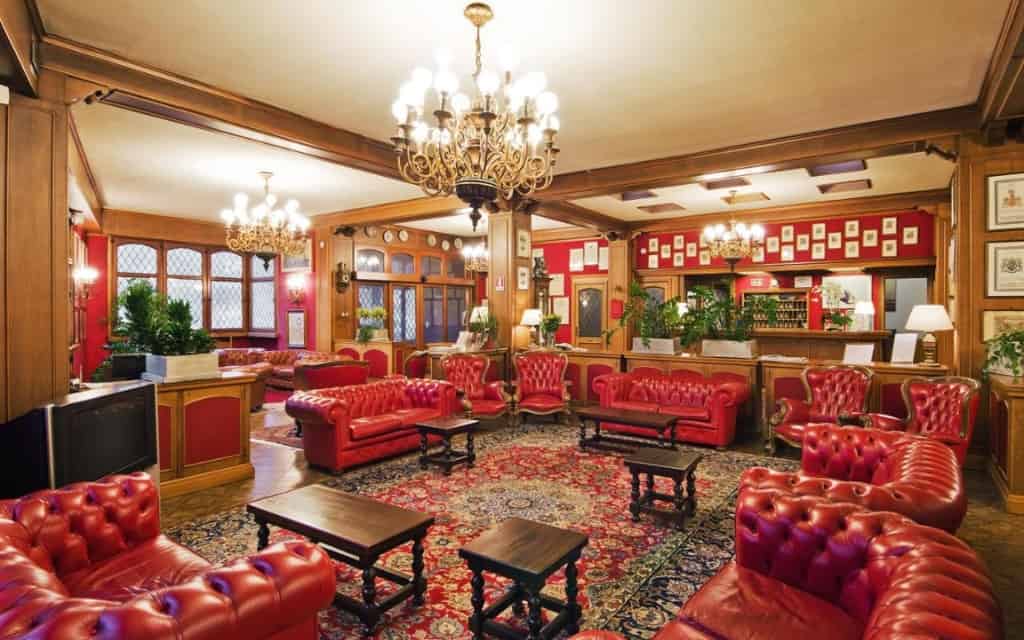 B&B Hotel Bergamo A: Modern and clean hotel with spacious rooms (including private bathrooms and private parking), located within walking distance of the old town and the train station for quick access to the airport.
Accommodation in Milan on the map
HOW TO USE THIS MAP: Above you will find a detailed map of where to stay in Milan. Click at the top left of the map to see separate layers with highlighted locations. You can hide and show the different layers or click on the icons on the map to see the names of the places I mention in my guide to accommodation in Milan. If you want to save the map, star it. For a larger version, click on the icon in the upper right corner.
The best booking resources for visiting Milan
Via Booking.com we search for all accommodation. It is the largest accommodation portal in the world and you will find everything from modern hotels, cosy guesthouses to seaside villas.
Get Your Guide is a huge booking system for buying tickets, guided tours and all sorts of activities. In one place you can read other travellers' experiences and book tickets to the Vatican Museums, a cruise on the Danube or a desert safari in Dubai.
If you are planning to rent a car in Lombardy, the best experience we have with Rentalcars.com which has the widest range at good prices. Insurance and free cancellation is a matter of course.
If you have a question about choosing accommodation in Milan, let us know in the comments below. Have a safe journey!
More information about Italy
LOMBARDY: Read on for inspiration on what to see in Milan.
In Lombardy you will find other beautiful places besides Milan. Just outside Milan is the Alpine lake Lago di Como. Or check out our 15 tips on what to see in Bergamo.
ITALY: Get inspired by the most beautiful places in Italy.
ROME: Rome is one of the most popular cities in Europe. Here's a list of the best things to see in Rome. Build your 3-day Rome itinerary and see how to save in Rome. Find out all about the Vatican Museums or the Colosseum.
VENICE: In the article What to visit in Venice we bring you tips on the most beautiful places and other useful tips.
NAPLES: Naples has one of the oldest historic centres in the world and many other beautiful places to see.
TUSCANY: Tuscany is one of the most popular parts of Italy. You can't miss Florence on your visit to Tuscany – for tips on what to see in Florence, see the separate article.
Pisa is another wonderful city to see in Tuscany.
DOLOMITES: One of the most beautiful mountain ranges in the world can be found in northern Italy. What to see in the Dolomites is in a separate article. In the Dolomites guide we share useful tips on how to plan your trip to the Dolomites.
Read even more tips on travelling in Italy.