Tips and tricks for enjoying Rome and travelling to Rome – transport, how to get to the city centre, accommodation, prices in Rome, food and restaurants and other things to do before your trip.
Updated 2. 4. 2022
Transport to Rome
The basic rule for transport in Rome is – be careful. The legendary passion and temperament of the Italians is multiplied on the road. Chaos everywhere. You're at a crosswalk, aren't you? Nobody cares.
Transport from Rome Airport to the city centre
There are 2 airports in Rome – Fiumicino (FCO) and Ciampino (CIA). Low-cost airlines fly to Ciampino. From both airports you can get to the centre by bus. You can also take the train, but it is a bit more expensive.
Fiumicino Airport is less than an hour from the centre. Ciampino Airport is a bit closer – you're at Termini Central Station in 40 minutes. You can buy a bus ticket from the airport to the centre of Rome online. The bus stops on your left a few metres from the arrivals hall. It's not signposted. You'll know it's there by the crowd of confused tourists who won't know where to wait.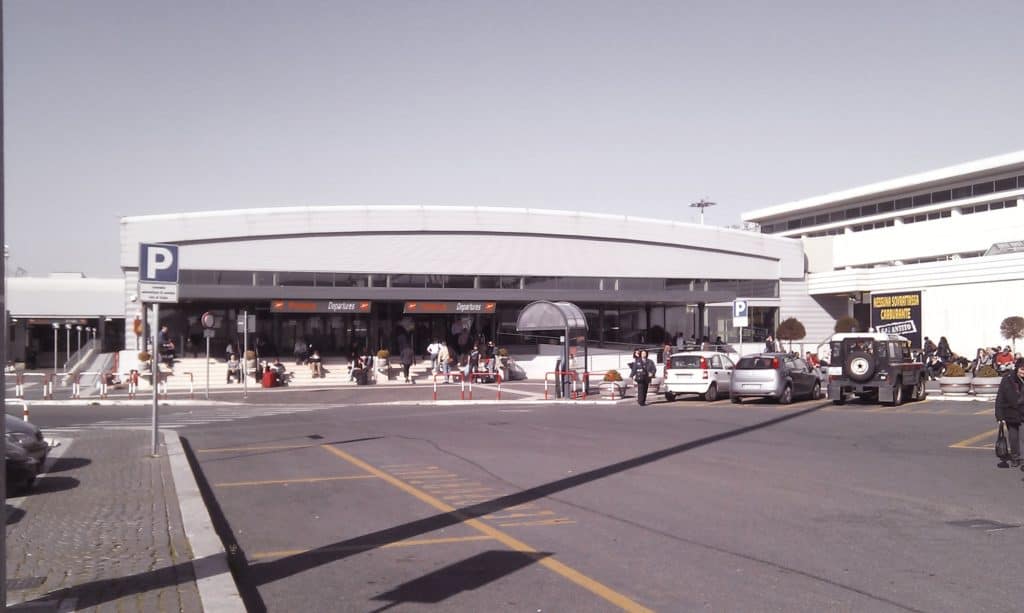 I would call the bus ride an experience. You will never forget it. And I think in Italy, it doesn't matter which driver you go with. We were almost as buzzed as the Colosseum 😃. Combination of brake and throttle took a completely different turn here, the mirror almost hit the tunnel, those who didn't hold on properly were flying. All this with icy calm. Driver. Not the passengers 😃.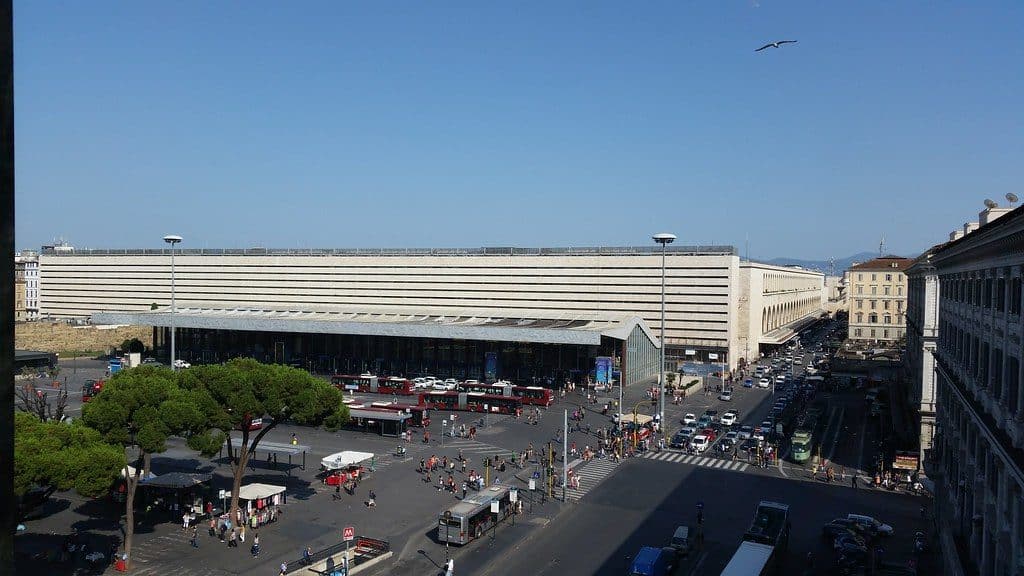 Both airports can be reached from Termini Station on the way back. Buses stop on the right side of the station (on the right side of the picture). Again, it is not signposted. When you see 2 buses in a row, you are correct – one bus to Fiumicino airport and one to Ciampino airport.
Public transport in Rome
Everything is represented here – metro, buses, trams, trolleybuses. Only the metro is reliable. Otherwise, there's not much of a schedule game. You won't even find them at the bus stops.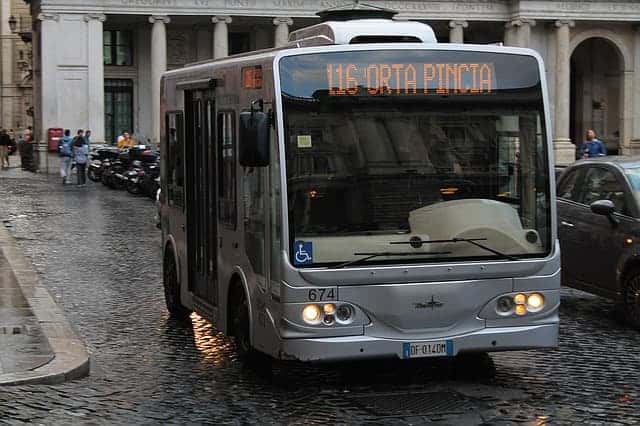 The metro system in Rome is simple – 3 lines A, B, C. If you plan to move around the centre, only lines A and B will be of interest.
Tickets in Rome
1,50 € – metro in one direction and bus connections valid for up to 100 minutes
7 € – all public transport connections valid for 24 hours
12,50 € – all public transport connections valid for 48 hours
18 € – all public transport connections valid for 72 hours
24 € – all public transport connections valid for 1 week
Public transport is free for children under 10 years of age. Tickets can be bought at newsagents, newsstands or vending machines. Be sure to mark your ticket before you ride. Even on the train. Train tickets do not have a date or time stamp. In general, this is very much guarded in Italy. Apart from public transport, you can get a ride here by classic taxi (overpriced) or Uber.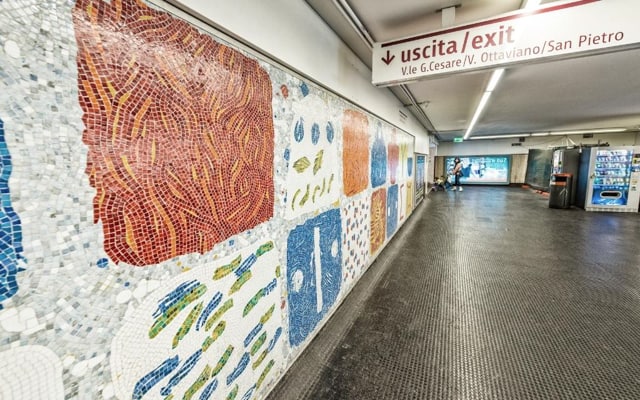 Check out more tips on how to save on transport and sightseeing in Rome.
Parking in Rome
Rome is the third busiest city in Europe. With their mood, it's probably a foregone conclusion that parking is going to be a real hassle. Avoid parking in the centre if you can. Park on the outskirts of Rome and take public transport to the centre.
There are several parking zones in Rome, all of which are colour-coded:
Blue zone – paid parking. Short-term parking is usually cheaper and, with a few exceptions, is not charged on Sundays and public holidays.
White zone – free, but for a maximum of 3 hours. Mostly located near the main hospitals and in the tariff zones of the city. Only residents with a permit are exempt from the time limit.
Yellow zone – the zone is for disabled persons and persons with disabilities.
Pink Zone – free parking for pregnant women and new mothers near outpatient and hospital facilities.
Up-to-date detailed information about parking in the centre of Rome – number of parking spaces and price.
Where to stay in Rome?
If you're visiting Rome for the first time, the best place to stay is the area between the Vatican to the west and Termini Central Station to the east. You'll be close to all the main sights such as the Colosseum, the Pantheon, the Spanish Steps, the Trevi Fountain and the aforementioned Vatican. The historic centre of Rome can be easily explored on foot. You can just wander around the narrow streets and you will always come across a gem. What's more, the centre is compact and once you've walked around a few times, you'll get the hang of it relatively quickly.
First tips on where to stay in Rome are just minutes from Termini Station, where you arrive from Fiumincino or Ciampino Airport. There are a number of good restaurants, grocery stores (Coop) and metro connections nearby. The A line will take you to the Vatican in a few minutes and the B line will take you to the Colosseum or the Caracalla Baths to the south. Some of the streets aren't the cleanest, but that's not unusual in Rome. I still remember being blown away by the huge amount of litter at the Colosseum. And now for the tips:
We're moving more towards the center. If you want to soak up the unmistakable atmosphere of Rome, a stay in the very centre is ideal. My tip is the L'antica Locanda Dell'Orso guesthouse with 2-3 bed rooms near Piazza Navona. Great value for money considering the location in the historic centre. A 10-minute walk to the Spanish Steps, Trevi Fountain, Castel Sant'Angelo and a short walk to the Vatican and even closer to the Pantheon. The Colosseum can be reached in half an hour by walking through the historic centre.
The last tip is Roma Camping In Town. The ideal place for those who spend more time in Rome and are looking for accommodation where they will have more peace and quiet outside the centre of Rome. Families with children will also love it here, as there are plenty of activities including a playground and in summer you can cool off in the pool. There is a choice of bungalows or cottages with kitchens. Even though the campsite is outside Rome, it is easy to get here by metro line A, where at Cornelia terminus you just change to a bus that will take you to the campsite in a few minutes. You'll be at the Vatican in 20 minutes and at Termini Central Station in 35 minutes.
When to go to Rome?
Most people plan their exploration of Rome for the summer season. For myself, I can recommend visiting Rome at any time of the year except the summer season. Why?
Save on flights – airlines usually run special deals for the rest of the year.
You'll also save on accommodation – hotels in Rome are up to twice as expensive in high season.
You won't be pushing through millions of tourists. In those narrow streets. In Rome, the main attractions like the Colosseum and the Trevi Fountain will still be packed with tourists. We're talking about Rome. But compared to summer…
There's no danger of not being allowed into the Vatican with your shoulders exposed or your shorts above your knees.
In August there are siestas in Italy and Italians retreat in large numbers to Sicily and Sardinia. Many shops may be closed. Not supermarkets.
The service is somehow better in the off-season.
In summer, Rome is really hot. The pavements are hot and the only place to cool off is in the parks and gardens.
What to see in Rome?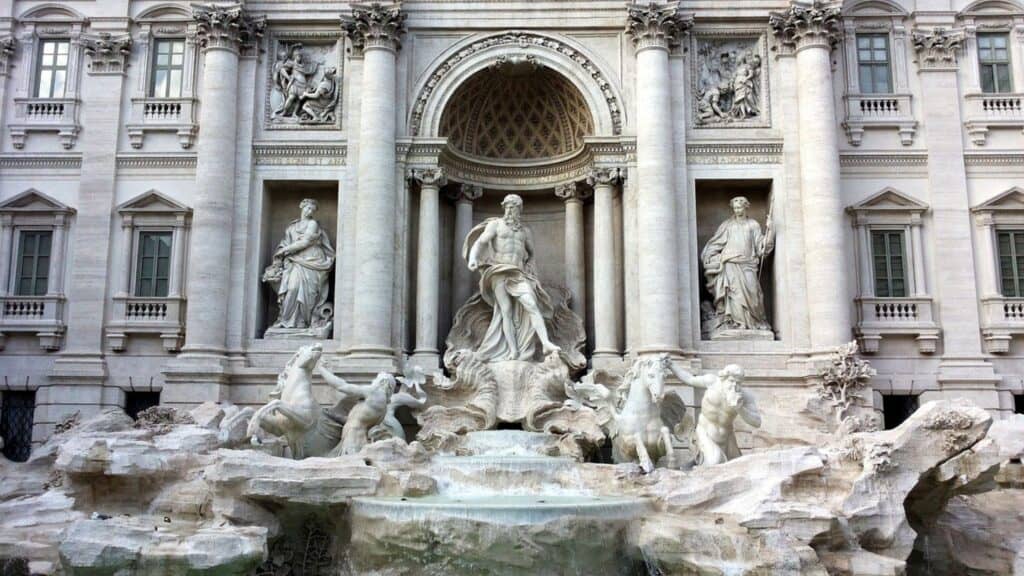 I've already devoted several articles to sightseeing in Rome, so you can get some inspiration there:
How to save money on sightseeing and transport in Rome?
It's very easy to save money in Rome with the Roma Pass. With it, you get free admission to the most famous sights and reduced admission to many other places. The card also includes unlimited travel around Rome and the use of information points with public toilets and the possibility to get a phone (this is always useful in cities, what we will talk about).
Roma Pass is available in 3 variants:
Roma Pass 48 hours – free entry to the first visited monument (I recommend choosing the Colosseum first, where you will save the most) and reduced admission to all other monuments that you visit within 48 hours. Unlimited travel for 48 hours in Rome to do so.
Roma Pass 72 hours – free admission to 2 monuments that you visit first (eg the Colosseum and the Capitoline Museums) and reduced admission to all other monuments that you visit during 72 hours. Here, too, unlimited travel is valid for the duration of the card.
Roma Pass in combination with the Omnia Card – you get the benefits of the Roma Pass for 72 hours, as well as free admission to the Vatican Museums, the Sistine Chapel and a 72-hour sightseeing bus ride that takes you around Rome's biggest attractions (you can get off and back) at any time.
I have written in this article about whether the card will pay off for you and a detailed guide.
Where to eat in Rome?
It would be a sin not to taste the local cuisine. But if you head to the first restaurant anywhere near the main tourist attractions, you might be a little disappointed and think, "Is that it?" So where to go in Rome for that great renowned cuisine? Let's take it one step at a time:
Supermarkets in Rome
Let's start with the most basic – supermarkets and food stores. In Rome you can easily shop at Lidl, LD Market, Penny Market, Eurospin, In Mercato.
Farmer's markets
Farmer's markets are a must in Rome. You can buy local ingredients and eat well.
Mercato Testaccio farmers' Market – the best of the best. You'll find it 3 km southwest of Colosseo. It's open every day except Sunday from 7am to 3:30pm.
Look for the Mercato Centrale farmers' Market right at Termini Station. They are open all year round from 8am to midnight.
The Campagna Amica farmers' market can be found west of Palatine Hill and Colosseum. Just opposite the ancient sports ground Circus Maximus. You can go here on Wednesdays and weekends from 8am to 3pm.
Campo de' Fiori farmers' market in the square of the same name, if you're looking for something more central towards the Vatican. It's open every day except Sunday from 8am to 2pm.
Fast food in Italian style
Pizza and paninis are the most common form of fast food here. In the case of pizza, it works by just showing your hands how big a slice you want. Have you heard of trapizzino? It's a stuffed pizza pocket. It has several branches in Rome. One of them is in the Testaccio district.
A famous street food place is PanDivino, for example. You can find it 600 metres from the Pantheon, if you walk towards the Vatican. Even the student district of Trastevere across the river is known for its cheap food and markets.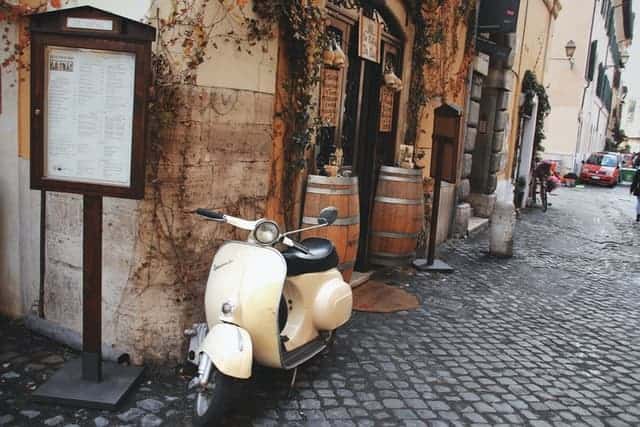 Restaurants in Rome
For typical Italian food, look outside the centre. You won't usually find it in the tourist restaurants. But you will find it in the Testaccio and Garbatella districts. South of the Colosseum. This is where it's alive. It's bustling with restaurants, bars and cultural events.
Al Ristoro degli Angeli with a lively atmosphere and friendly staff. On display here are all sorts of curiosities from the mid-20th century – an antique pizza delivery truck or Star Wars toys.
Casetta Rossa – a restaurant in a small red house, which is also a place for socializing. It's run by a group of activists. Many cultural events are held here and locals gather here during summer evenings to sit in the garden. They have a simple seasonal menu.
Flavio Al Velavevodetto is located at the foot of Mount Testaccio and across the road from the crumbling ruins of AS ROMA's first stadium.
Trattoria Zampagna opposite St Paul's Basilica – an affordable restaurant with large portions and old Roman food.
How to fit in with the Italians?
Italians are coffee lovers. They always have it AFTER they eat.
Cappuccino is only allowed until 11am for breakfast.
Fancy a latte? Then in Italy you will get a cup of hot milk. To get the classic latte as we know it, order a latte macchiato.
Want to save money when drinking espresso? Step up and it will set you back €1-2. Stay seated and you'll pay 5€.
You don't order ice cream by the scoop, but by the size of the cone.
Choose a restaurant where there is no English menu.
Ask for "vino della casa". You will get cheap but good local wine.
A typical Italian breakfast consists of coffee or cappuccino, cornetto (similar to a croissant) and orange juice. In Italy, they are not used to savoury breakfasts.
Going out to dinner? Don't be surprised if many restaurants are still closed at 6 or 7 pm. In Italy, you dine late.
Try the aperitivo. This is a kind of pre-dinner meal served between 6 and 8 p.m. You can order pizza, nuts and other snacks along with Aperol.
Tipping is not customary in Italy. At least when it comes to typical authentic restaurants outside the main centre where the locals go. Instead, you'll be automatically charged a coperto. This is a service charge for the bread that is on the table. Look for the charge on the ticket under the name servizio.
Prices in Rome
How high are food prices in Rome? The table below will give you an idea:
| | |
| --- | --- |
| Milk 1 l | 1,41 € |
| White bread 0,5 kg | 1,62 € |
| Eggs 12 pcs | 3,40 € |
| Chicken breast 1 kg | 8,31 € |
| Apples 1 kg | 2,01 € |
| Bananas 1 kg | 1,66 € |
| Tomatoes 1 kg | 2,35 € |
| Rice 1 kg | 2,09 € |
You will pay about 5-7 € for a pizza. A meal in a restaurant will cost you an average of €25 per person. In the centre, a few euros more. There is an automatic charge for coperto (Pastries, price about €3), which you can refuse.
Drinking water is free and comes from the mountains outside Rome. Drink it at the fountains, called nasoni. You squeeze the opening with your fingers from underneath and from the top you can drink comfortably through the other opening.
How to get from Rome to the sea?
From Rome you are at the sea in a few dozen minutes. If you have enough time, it would be a shame not to take advantage of it. Keep in mind that most of the beaches around Rome are private. These beaches are called stabilimenti. You will pay €10 – €30 per day. What do you get for that? A clean beach, sunbed, umbrella, changing room, outdoor shower, good access to water and toilets.
Sperlonga
Let's start with the best one. It'll take you the longest to get here of all the options, but it'll be worth it. The beach has won awards for its water quality, cleanliness and environmental friendliness. Most of the beach is private. The small town of Sperlonga with its white houses is worth a visit in itself.
How to get to Sperlonga Beach from Rome? Take the train at Termini Station and travel to Fondi-Sperlonga Station. Take the bus directly to Sperlonga.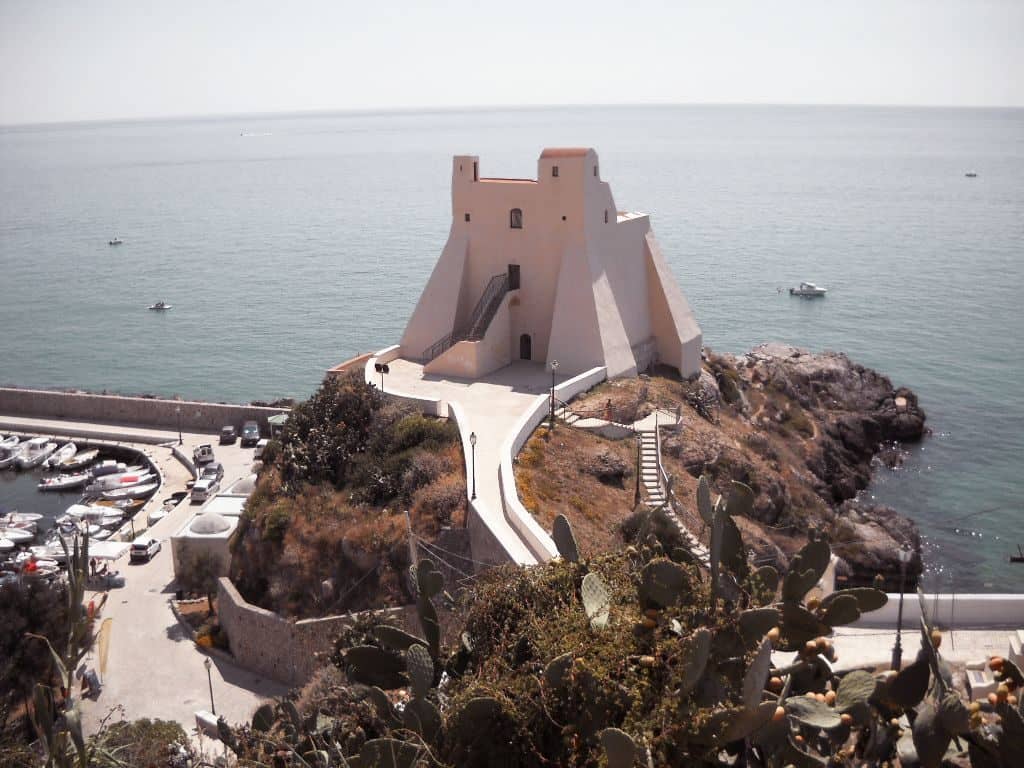 Santa Marinella
Santa Marinella is a small town north of Rome with nice sandy beaches. Both private and free access. How to get to Santa Marinella beach from Rome? The town can be reached by train from the main stations in Rome (Termini, Ostiense, Trastevere, San Pietro). You can choose from 2 to 3 connections per hour. The beach is a 5-minute walk from the station.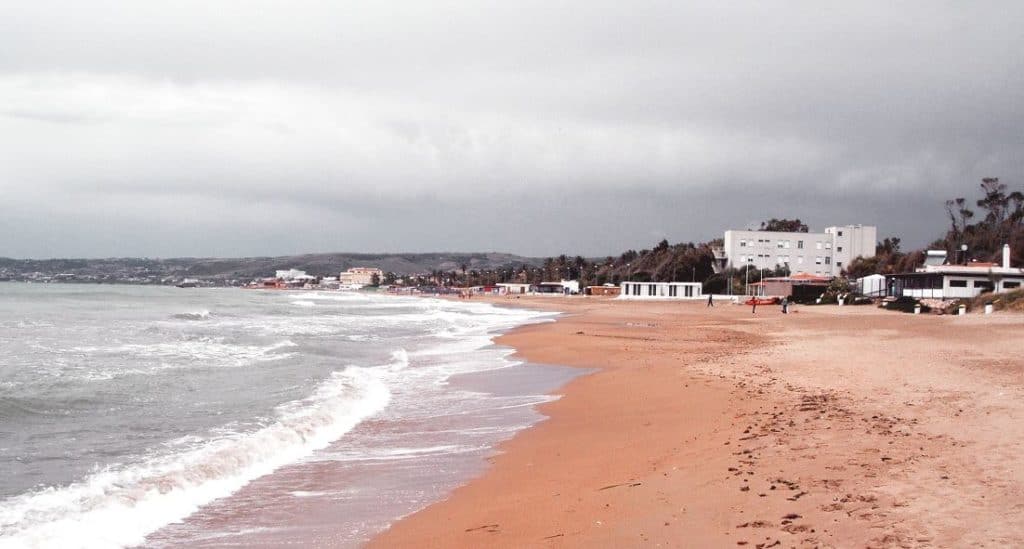 Santa Severa
Santa Severa is also north of Rome, just 1 station before Santa Marinella. From the beach, you'll be treated to an impressive castle.
How to get to Santa Severa Beach from Rome? You get on the same train as if you were going to Santa Marinella. You'll get off at Santa Severa station. The beach is a 20-minute walk away.
Ostia Lido
The closest (and most crowded) option to get wet after marathons of Roman sightseeing is the beach at Ostia Lido. You can also stretch out your towel in the public areas. The beach isn't as beautiful or the water as clear as some of the other beaches, but you'll be refreshed.
How to get to Ostia Lido from Rome? Take metro B to Piramide station. At the station, after getting off, follow the signs that lead you to the train to Roma – Lido – up the escalator and to the left. You perform at Lido Centro.
Fregene
Fregene is located north of Ostia. It is popular especially with young people, as there are plenty of bars and nightclubs. The Singita Miracle Beach Club is a famous bar, where in the evening they spread cushions all over the beach and a gong sounds at sunset.
How to reach the beach in Fregene from Rome? Take the train from Termini Station to Fregene, where you get off at Maccarese – Fregene station. From there, take the local bus, which runs at regular quarter-hourly intervals.
Anzio
Anzio is south of Rome. It's a bit further, but the journey is worth it. The clean beaches and water have won the Bandiera Blu award for quality, cleanliness and environmental friendliness. When you get tired of lounging on the beach, explore the ruins of Emperor Nero's ancient villa.
How to reach Anzio Beach from Rome? Anzio Colonia is a train ride from Termini Station. Several nice beaches are just a few steps away. Do you want more privacy on the beach? Get off at the next Nettuno station.
Sebaudia
The town of Sebaudia is located even further south of Anzio. The connection here from Rome is not ideal. That's why the beaches are not crowded.
How to get to Sebaudia Beach from Rome? At Termini Station, take the train to Priverno-Fossanova and take the COTRAL bus to Sebaudio. The beach is reached by wooden stairs.
Ladispoli
Ladispoli is a resort north of Rome with a long beach.
How to get to Ladispoli Beach from Rome? You can take a train from most stations in Rome to Cerveteri-Ladispoli. You are at the beach in 10 minutes.
More tips on how to enjoy Rome a little more
A typical very informal greeting is ciao (something like the Czech čau or German servus). In shops and older people it is better to greet more formally:
Biongiorno – Good day
Buona Sera – Good evening
Grazie – Thank you
Gelato – Ice cream
In Italy, it is customary to give 2-3 kisses on the cheek.
Don't be surprised by the afternoon siesta, the so-called riposino. Usually between 1pm and 4pm in smaller towns or smaller shops.
Carry cash, especially coins. In Rome, they'll let you use the toilet in restaurants. For a small fee.
Speaking of toilets, a lot of places don't have a toilet with a seat.
Beware of street vendors. Especially at the Colosseum. They're insistent.
Keep an eye on things. There's theft everywhere. It's just that in Rome there's a bit more theft.
Choose proper footwear. Rome is typical of its uneven cobblestone sidewalks.
Map of Rome
HOW TO USE THIS MAP: Above you will find a detailed map of Rome. Click at the top left of the map to see separate layers with highlighted locations. You can hide and show the different layers or click on the icons on the map to see the names of the places I mention in the Rome guide. If you want to save the map, star it. For a larger version, click on the icon in the upper right corner.
Have a safe journey and arrivederci 🙋‍♀️🙋‍♂️!
More articles about Rome
More guides