If you're deciding where to stay in Rome, you have plenty of options. Modern hotels, cosy guesthouses or B&Bs with a family atmosphere. Choosing accommodation in Rome can be quite a challenge.
To make your decision easier, we've created a detailed guide to the best hotels and accommodation in Rome.
We'll show you the basic layout of Rome so you can get an idea of where the Colosseum, Vatican Museums, Trevi Fountain or Pantheon are located.
Where to stay in Rome – tips
Before we talk more about accommodation in Rome, let's introduce the city itself so you can get a basic overview of Rome and choose the best hotel for your stay.
Rome is the capital of Italy. A beautiful historic city with world-famous monuments, winding streets and delicious cuisine.
Nearly 2.9 million people live here. And often very noisy residents. Rome is very much alive, with people having fun, scooters honking all the time, and often a lot of chaos around you. And a mess.
Practical tips before choosing accommodation in Rome
The main historic centre is along Via del Corso. From here, narrow cobbled streets wind down, where you keep getting lost and discovering new and new corners, squares or monuments.
The historic centre harbours places such as the Trevi Fountain, the Pantheon, Piazza Navona, Piazza Venezia and, to the very south, the Colosseum with the Forum Romanum. To the northwest, across the Tiber River, are the Castle of the Angels and the Vatican.
The historic centre is not large and is walkable. However, you can hardly do it in one day if you want to visit some places from the inside or really soak up the atmosphere. Plan your visit using our Rome itinerary planner.
Rome Airport and Central Station
Rome has 2 main airports – Ciampino to the south-east and Fiumicino to the south-west. Both airports have regular bus and train services to central Rome. For a detailed description of how to get to and from Fiumicino Airport, see the separate article.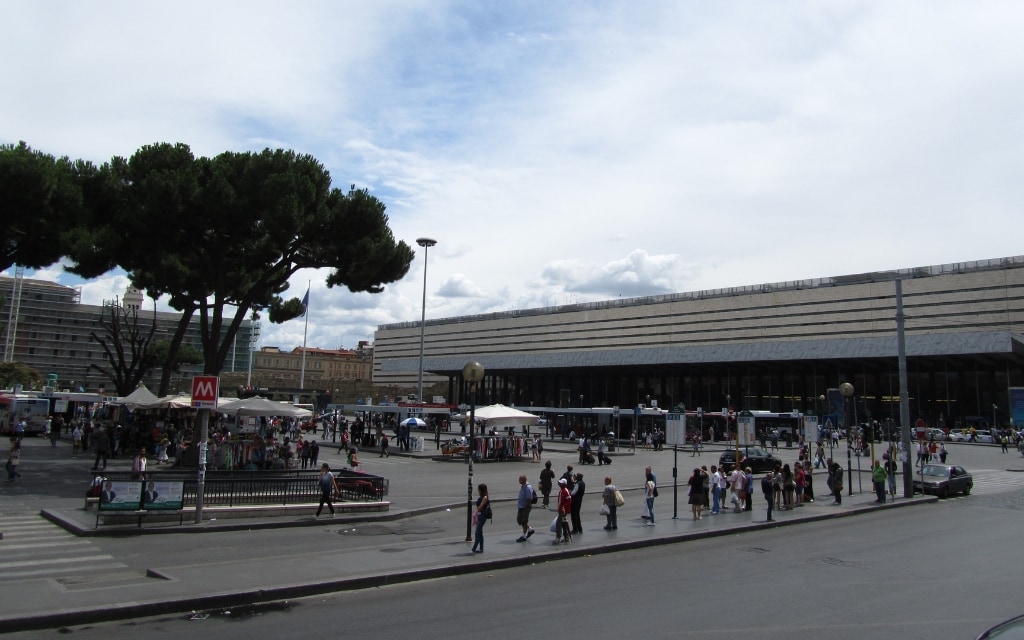 All buses and trains stop at Roma Termini Central Station, about 20 minutes east of the historic centre. At the same time, 2 metro lines and several bus and tram lines cross here.
From Termini Station, you can reach other Italian cities – for example, Florence in an hour and a half, Naples in an hour, or Naples in an hour. you can go to the sea, which is half an hour away.
How to get around Rome
The Rome area is served by atac's metro, buses and trams. As a tourist, you will be interested in the A and B metro lines.
The A line passes the Spanish Steps (a short walk from the Trevi Fountain and Pantheon), Villa Borghese, Castel Sant'Angelo and the Vatican.
Metro line B takes you to the old Rome – Colosseum, Forum Romanum, Baths of Caracalla.
Both metro lines pass through the edge of the historic centre. The centre itself and the adjacent districts (Trastevere, Borgo, etc.) are served by buses or trams.
The price of a single ticket valid for 100 minutes is € 1.50. A day ticket costs €7 and a 48-hour ticket costs €12.50. As of 2023, you don't have to buy tickets, you just have to put your contactless payment card to the turnstile. Or take advantage of unlimited transport and free admission with the Roma Pass.
Read more about transport in Rome and other useful tips.
Sojourn tax for accommodation in Rome
A sojourn tax must be added to the price. This is usually paid when you check out of the hotel, but sometimes you may be asked to pay it when you check in. You can pay by cash or card.
Taxi fares vary by accommodation type – the following prices are for 1 day:
5* hotels – 7 €
4* hotels – 6 €
3* hotels – 4 €
1* and 2* hotels – 3 €
Guest houses, B&B, apartments, resorts, holiday homes, hostels – 3,5 €
Campsites and hostels – 2 €
The sojourn tax is payable for the first 10 days, i.e. from 11. on the day of your stay, you no longer pay. Children under 10 years of age are not subject to a sojourn tax.
Useful tips for choosing accommodation in Rome
Air conditioning – if you're coming to Rome in high season, choose a hotel or guesthouse with air conditioning. The summer heat is often really oppressive and you will be grateful for the air conditioning in your room. All accommodations below include air conditioning.
In winter, make sure the property has central heating (and not just an additional one).
In August, siestas are held in Italy and some smaller shops and restaurants may be closed.
The main season runs from May to September. Accommodation prices are highest during this period. As well as near the holidays (Easter, Christmas, etc.). In November and from January to March, on the other hand, prices are lowest.
Rome is one of the most popular cities in Europe. For this reason, it is better to book accommodation in advance. Generally, prices are best about 3 months in advance. Or you can wait for last minute deals, when hotels are trying to fill vacancies.
This does not apply to budget hotels near the centre, which are often booked up quickly. In this case, do not delay and book as soon as possible. Most properties offer free cancellation if needed.
Luggage storage and 24-hour reception – many hotels in Rome offer luggage storage and 24-hour reception if you arrive early in the morning or late in the evening. You can leave your luggage at the hotel after you check out until your departure time, usually free of charge. The same applies if you arrive before your room is available.
Where to stay in Rome: Best hotels
District of Esquilino – accommodation near Termini Station
Staying near Roma Termini Central Station is a major advantage for those departing or arriving late at night or early in the morning when the metro is not yet running. Although there are night buses at night, buses are generally not the most reliable transport in Rome. At the same time, buses don't run as often.
If you stay within walking distance of the station, you don't have to rely on public transport and just walk to the station, which has excellent connections to both airports (by train and bus).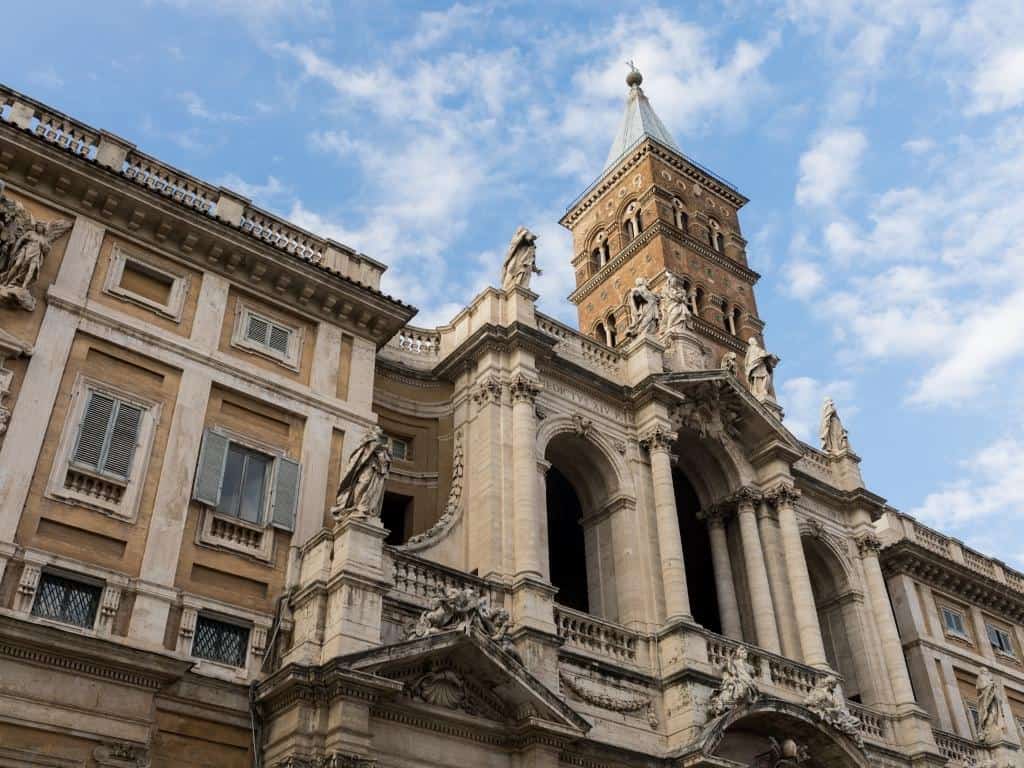 The district is also ideal for those looking for budget accommodation and who don't mind that the area around Termini is definitely not one of the most beautiful in Rome (even though the Basilica of Santa Maria Maggiore is located here).
The Esquilino district has a wide selection of hotels and restaurants. You can shop at the huge Nuovo Mercato Esquilino, where they have everything from local to exotic produce.
The most popular sights in Rome are within walking distance or just a few metro stops away.
UPPER CLASS: The Hive hotel: trendy hotel with modern and clean rooms; rooms and suites available for up to 4 people; spacious roof terrace with seating and restaurant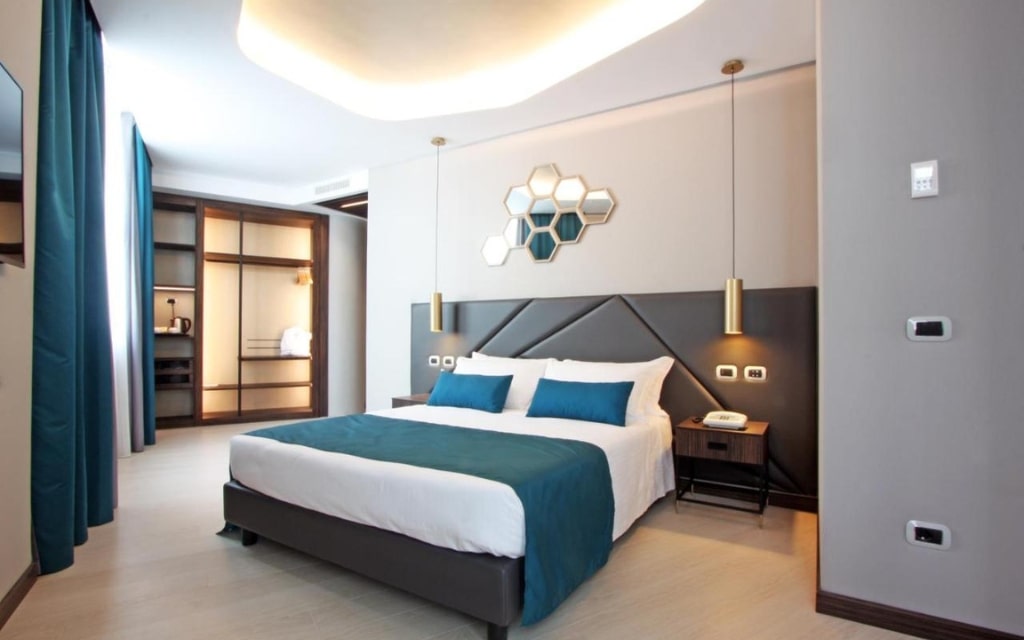 MIDDLE CLASS: La Reggia dei Principi: A pleasant guesthouse with friendly staff. The rooms are decorated in a traditional style with en suite bathrooms, air conditioning and breakfast.
MIDDLE CLASS: Hotel California: 2-4 bedded rooms with private bathroom and air conditioning; within walking distance of the main station and the historic centre
BUDGET: Hotel Impero: Cheap hotel with excellent breakfast and roof terrace; older facilities but clean and cosy; quiet at night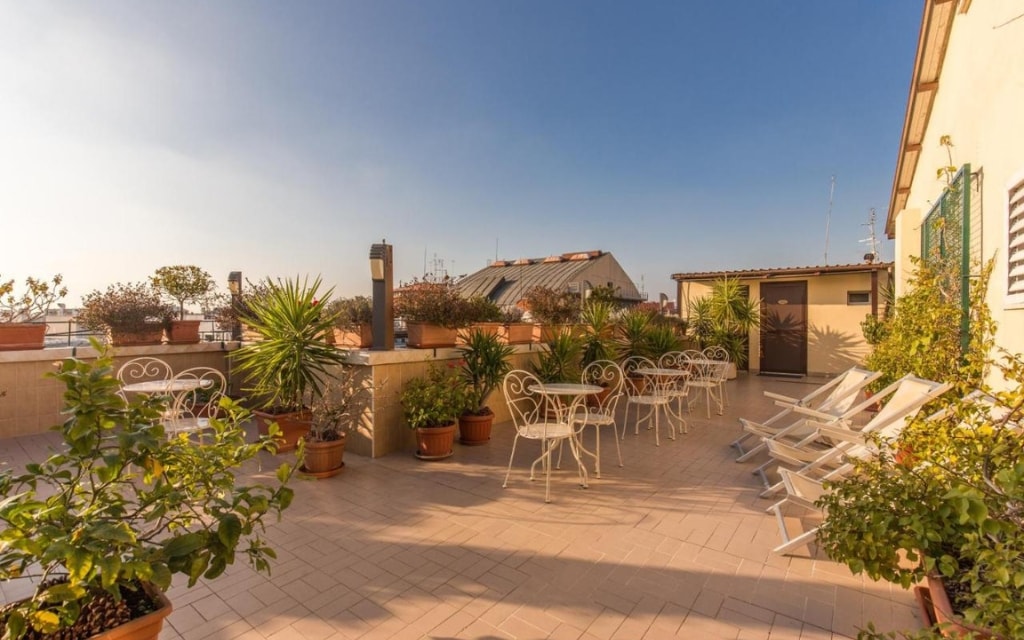 BUDGET: Ritmo Blues B&B:Simple but clean rooms with private bathroom, air conditioning, kettle and breakfast. Nice and helpful owner.
Monti – a pleasant neighbourhood with a strategic location
The Monti district is located between the Esquilino and the old Rome. This gives it excellent connections to Termini Station (one metro stop or about 10 minutes on foot). At the same time, it is just a few steps to the Colosseum, Trajan's Markets and the Forum Romanum.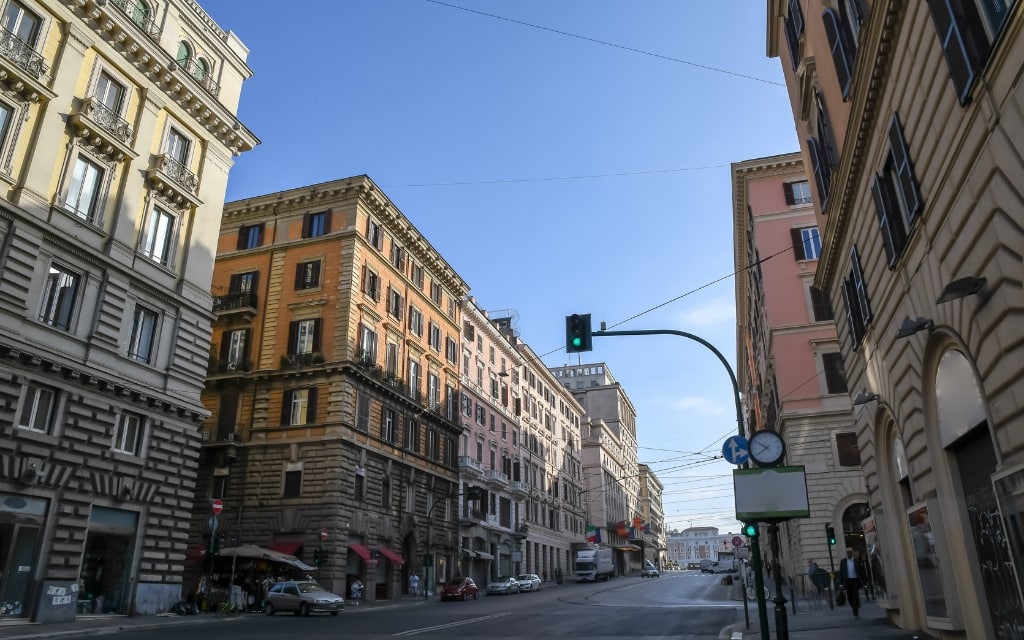 Wide avenues alternate with narrow, winding streets full of hipster atmosphere, bars, restaurants and vintage shops. The main avenue Via Cavour runs through the quarter.
LUXURY: FH55 Grand Hotel Palatino: Located a short walk from the Colosseum, this hotel offers great views of Via Cavour. It offers cosy and comfortable rooms with private bathrooms and a rich breakfast. The hotel also has a restaurant and a bar. Reception 24/7, luggage storage.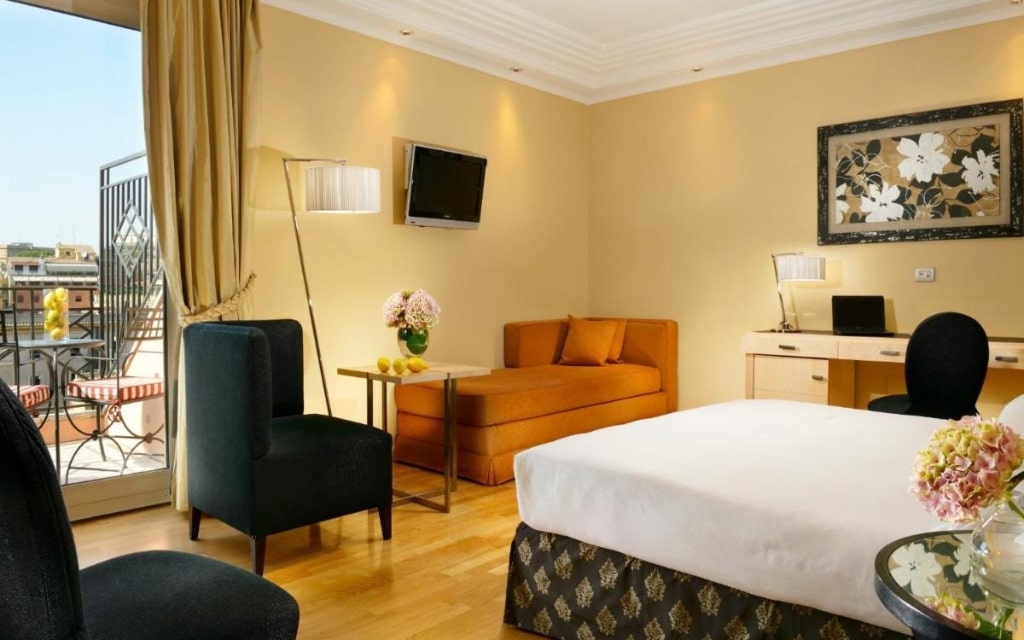 MIDDLE RANGE: Hotel Borromeo: Cosy period rooms with private bathroom and air conditioning (for 2-4 people); a few minutes from the metro and within walking distance of the historic centre; beautiful roof terrace with seating and sun loungers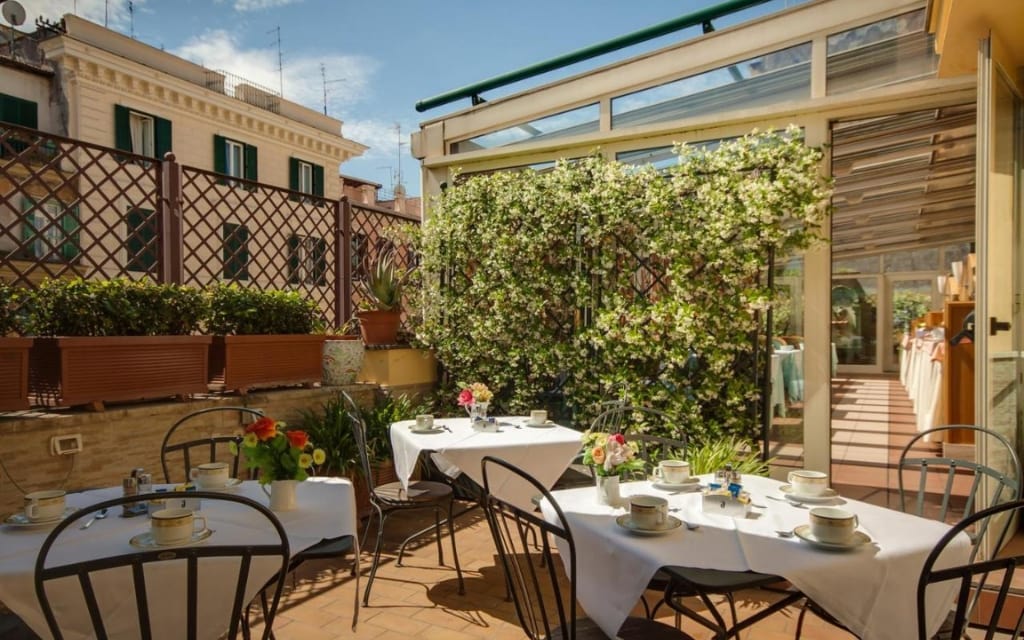 BUDGET: Hotel Labelle: 2* hotel right on Via Cavour, from where you can reach the Colosseum in 5 minutes. Rooms are decorated in a traditional style with private bathrooms, air conditioning and breakfast.
Historic centre – the best accommodation in the middle of the action
The historic centre of Rome is simply beautiful. A huge concentration of sights and attractions crammed into a small space. Narrow cobbled streets that are a joy to walk through. It's a short walk to the Pantheon, the Trevi Fountain, Piazza Navona and the Colosseum. The Vatican and Angel Castle are also within walking distance.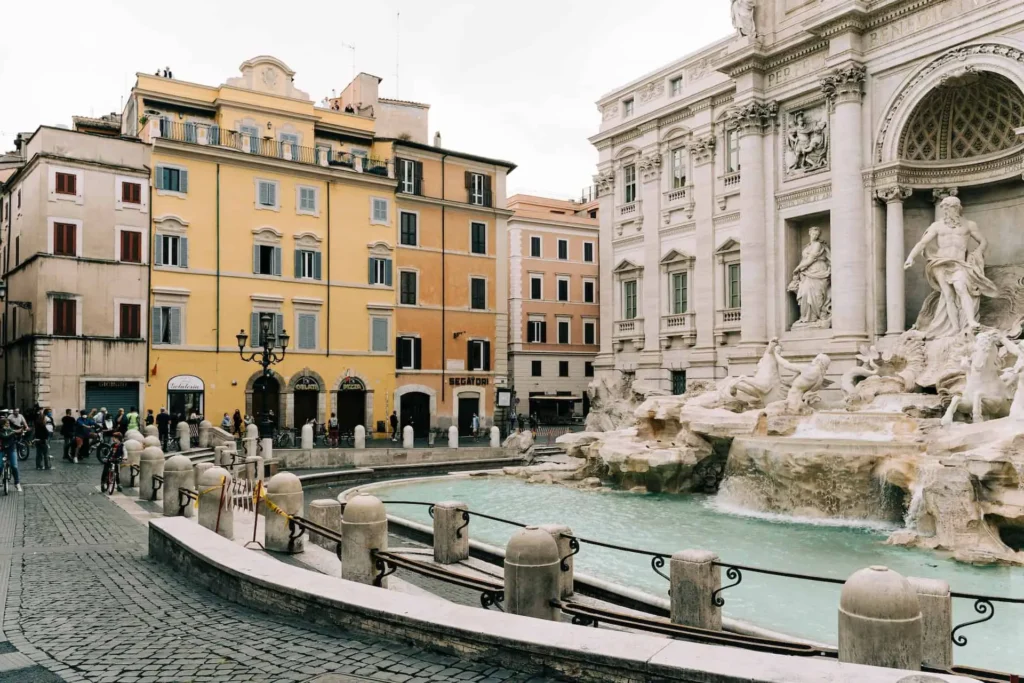 There are plenty of restaurants in the historic centre and everything is close at hand – Termini Station is about a 20-30 minute walk depending on where you live.
There is no metro through the centre itself, but you can use buses to take you to the station or wherever you need to go.
The nearest metro stations are at the Colosseum (line B) or at the Spanish Steps (line A).
UPPER CLASS: Navona Queen Rooftop: a 4-star hotel near Piazza Navona with a family atmosphere and a stunning rooftop terrace where breakfast is served. The Vatican, the Pantheon, the Colosseum and other monuments are within easy reach, or. the bus stop is in front of the hotel.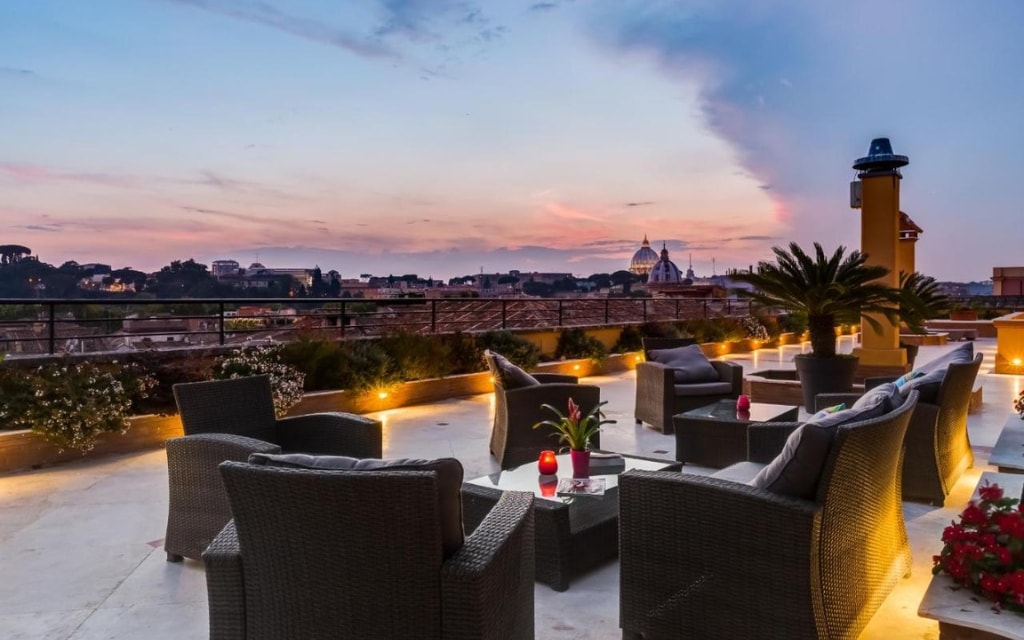 UPPER CLASS: Hotel 87 eighty-seven: A design hotel a short walk from the Trevi Fountain and the Spanish Steps. Termini Station is within walking distance. There is a roof terrace with bar, jacuzzi and view, wellness, excellent breakfast.
MIDDLE CLASS: Trevi Beau Boutique Hotel: a stylish boutique hotel steps from the Trevi Fountain and within walking distance of all the sights in Rome. Excellent breakfast, great atmosphere and 3 restaurants on the ground floor with Tuscan, Italian and Roman cuisine.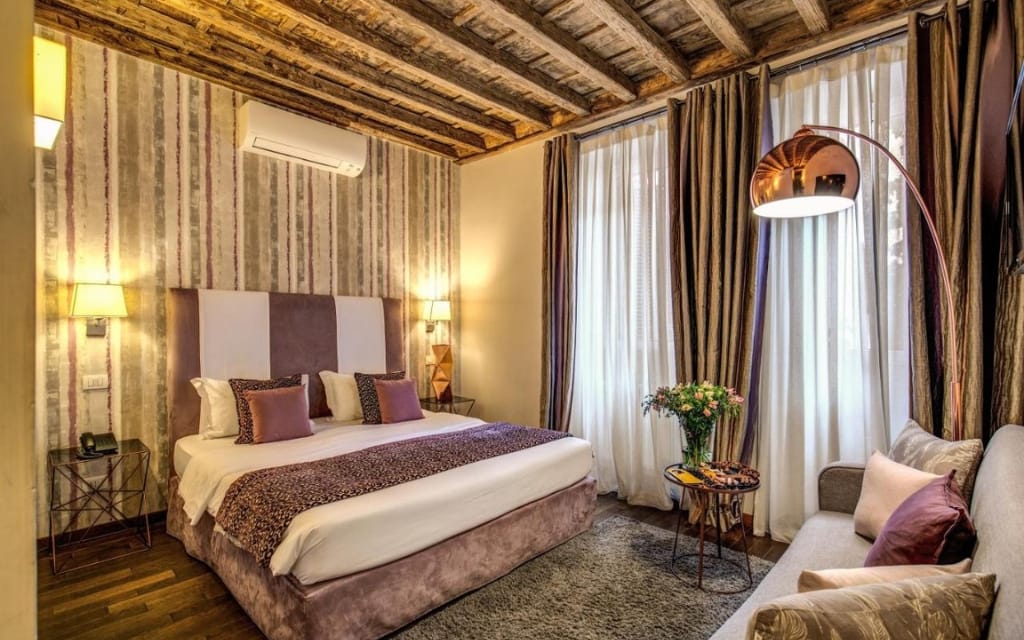 MIDDLE CLASS: L'antica Locanda Dell'Orso: Popular guesthouse with 2-3 bed rooms near Piazza Navona. Great value for money considering the location.
BUDGET: Minerva Monks Inn:This guesthouse is a good choice if you are looking for cheap accommodation in the city centre. This is a family-run guest house a short walk from the Pantheon with simple but clean rooms and breakfast included.
Trastevere – the neighbourhood with the best cuisine and atmosphere in Rome
The Trastevere district is our favourite area in Rome, located on the other side of the Tiber. This is how I imagine Rome – local atmosphere and accommodation in cozy guesthouses.
Trastevere is perfect for wandering the narrow streets lined with colourful houses with shutters and clotheslines. And excellent restaurants. If there's somewhere good to eat, it's in the Trastevere district.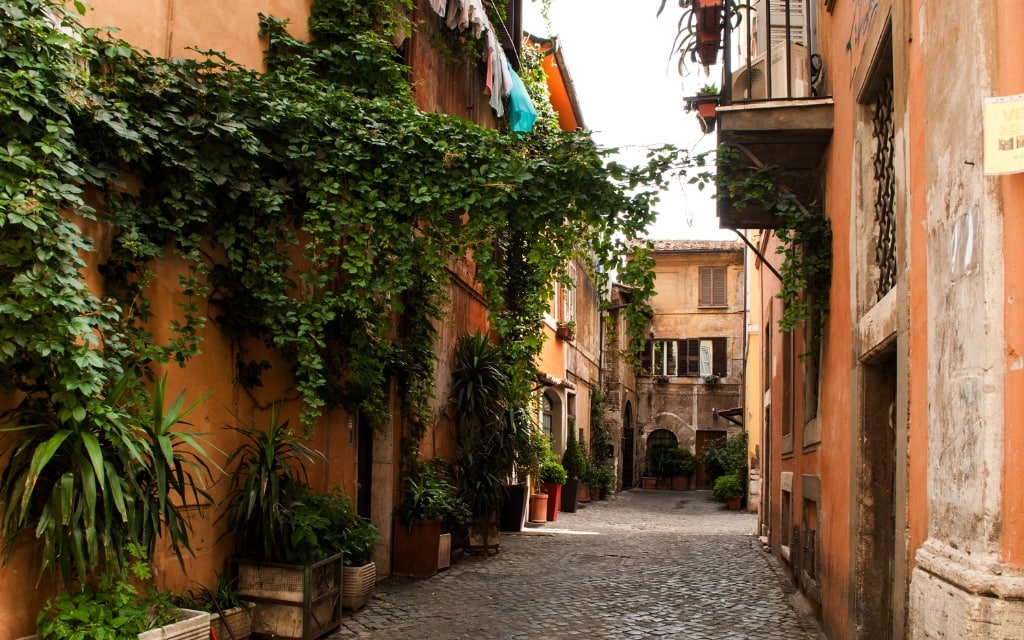 The historic centre is within walking distance on the other side of the river – you can walk to the Colosseum, Piazza Venezia or the Pantheon in 15-20 minutes. You can also take a bus or a tram.
From Fiumicino Airport, Trastevere can be reached by the FL1 regional train, which runs through Trastevere to Termini Station. For more information on how to get from the airport to Rome, see the separate article.
UPPER CLASS: Etruska Luxury Trastevere: a guest house with a family atmosphere, offering modern and spacious accommodation with air conditioning, coffee machine, private bathroom and luggage storage.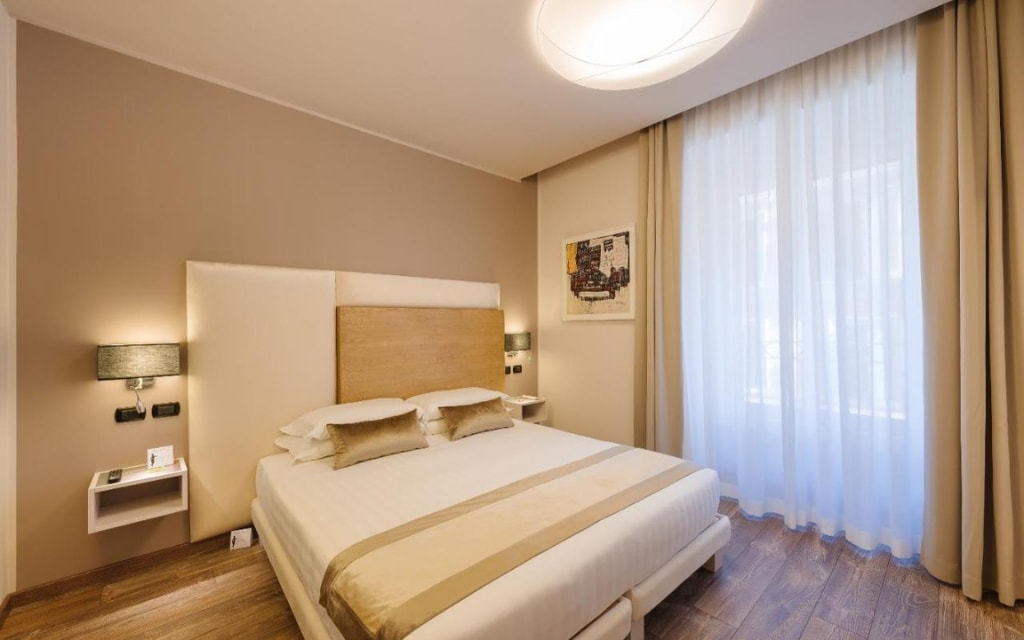 UPPER CLASS: Nikis Collection Trastevere: Newly furnished and airy apartments with kitchenette, jacuzzi and all the amenities for a relaxing holiday. Suitable for couples and families.
MIDDLE CLASS: Magenta Classic Manara 4: Guesthouse with a great local atmosphere and a helpful host. Rooms are decorated in a traditional style with air conditioning and a private bathroom. A lively area full of restaurants and bars.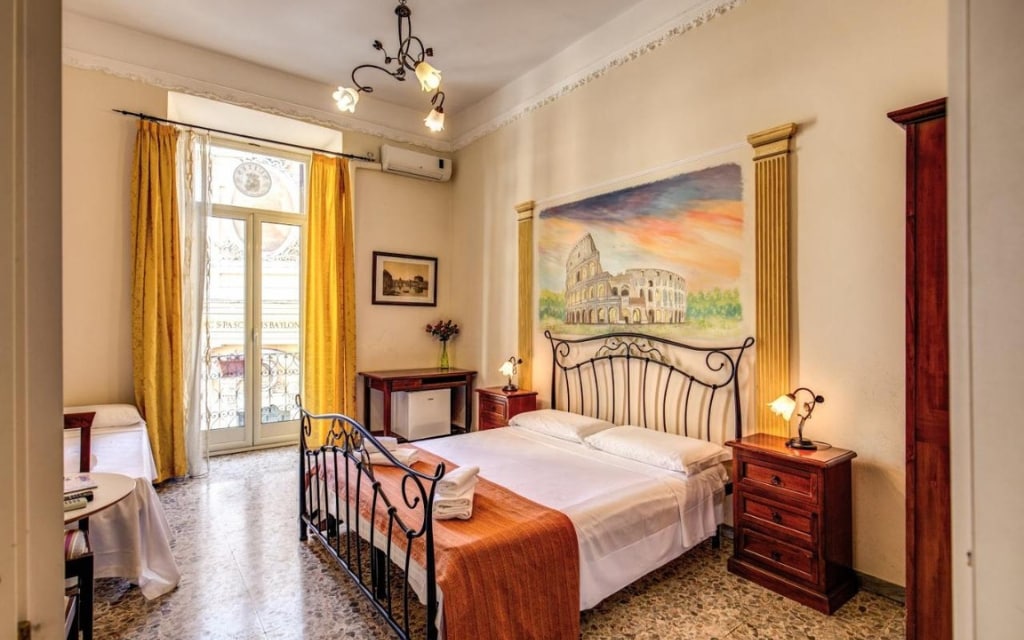 Borgo – a charming neighbourhood a short walk from the Vatican
Borgo is another neighbourhood with a strategic location. It is located between the Vatican and the Angel's Castle, and St Peter's Square is literally a few minutes' walk away. Just cross the Tiber River and you're in the historic centre, a short walk from Piazza Navona and the Pantheon.
Through the quarter runs the main Via della Conciliazione (linking the Castel Sant'Angelo with St Peter's Basilica) and the charming Borgo Po, where you'll find several excellent restaurants serving local cuisine.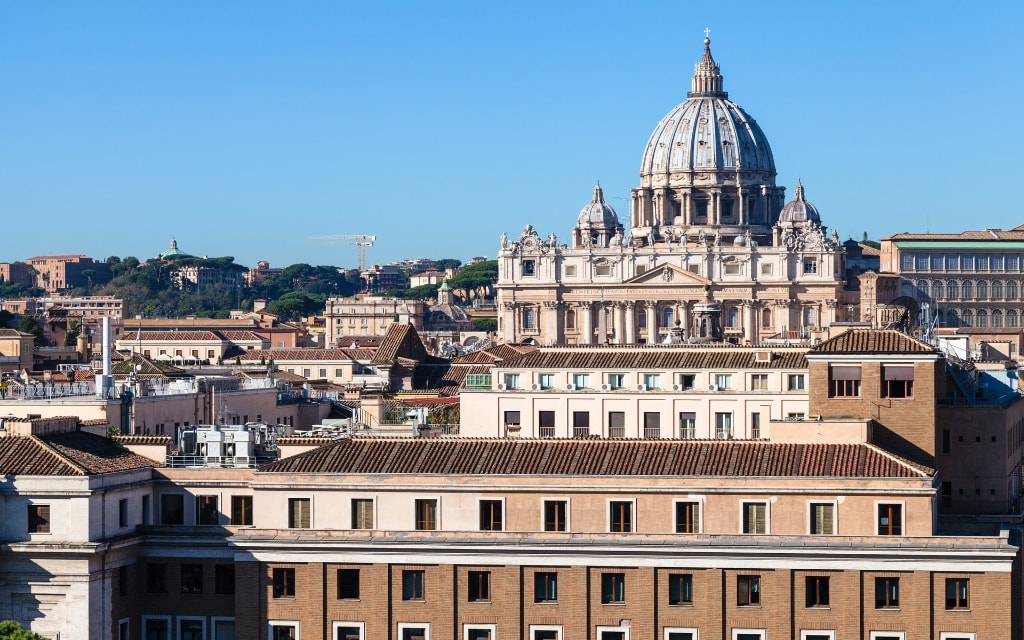 The metro stop is just a few minutes' walk away. So are the buses. The Borgo district also has excellent connections to the airport. The direct SIT Bus-Shuttle to Fiumicino Airport is a short walk away (just type via Crescenzio 2 on Google maps or check out our article).
UPPER CLASS: Domus Alberico: A modern, clean and cosy guesthouse in a quiet area where you will have plenty of privacy while being close to restaurants, shops, St.Peter's Square and the historic centre of Rome. Rooms include a private bathroom, a rich breakfast and air conditioning. There is a shared kitchen, luggage storage and a terrace.
LUXURY: Trianon Borgo Pio Aparthotel: accommodation in modern suites (for couples and larger groups) with private kitchenette and full 4* hotel amenities (rich breakfast, fitness, laundry, 24/7 reception, luggage storage). Fantastic view from the terrace.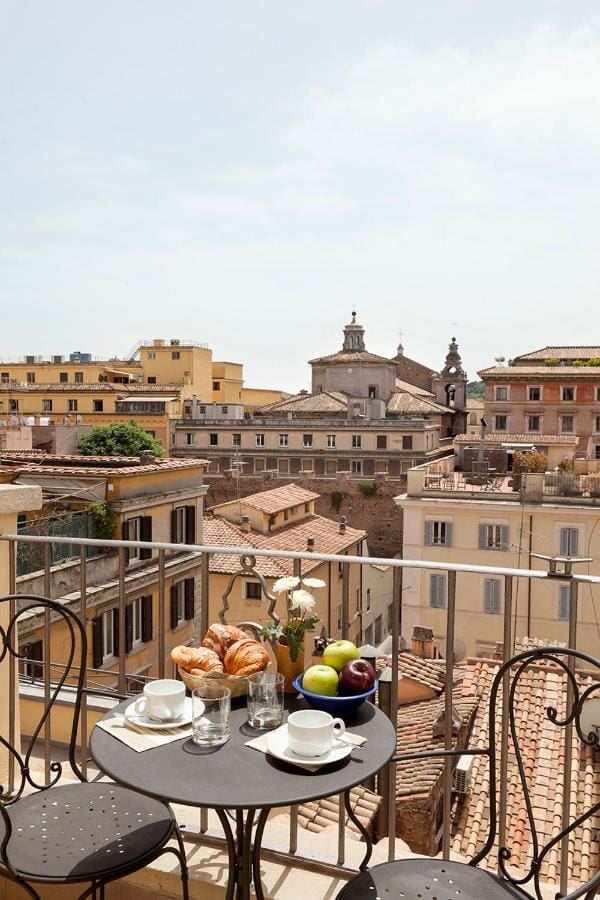 MIDDLE CLASS: Hotel S. Anna: A small, cosy hotel in a historic building. Comfortable rooms with private bathroom, electric kettle and varied breakfasts. Friendly staff, luggage storage.
Prati – an elegant and quiet neighbourhood near the Vatican
Prati is adjacent to the Borgo district. Unlike Borgo, Prati is quieter and has wide streets lined with elegant Art Nouveau houses. The main shopping street Via Cola di Rienzo runs through the quarter.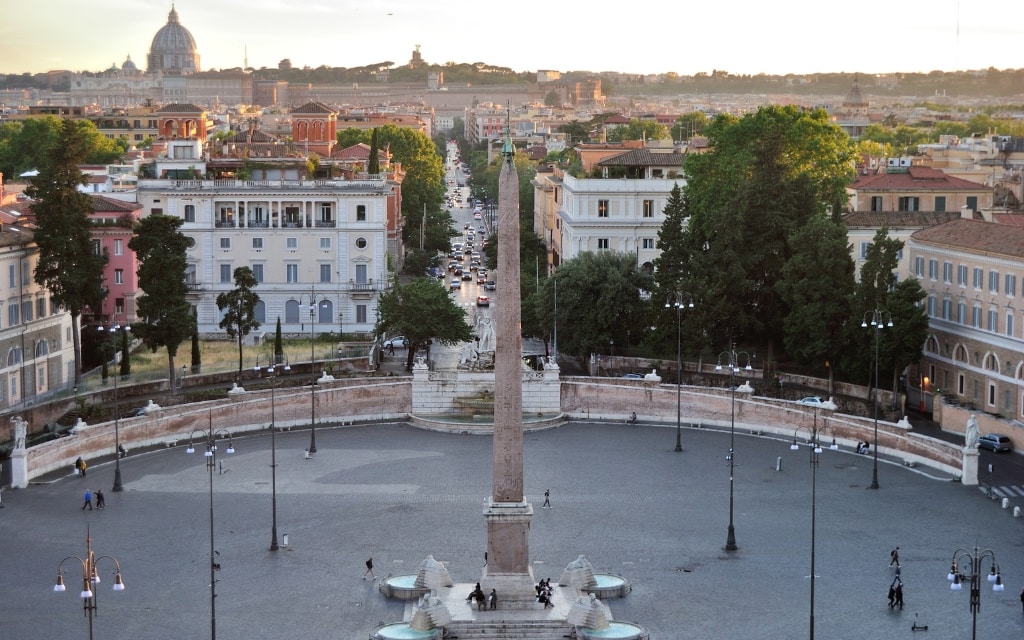 Within walking distance are the Castel Sant'Angelo, the Vatican or east across the river to Piazza del Popolo and the Villa Borghese. A leisurely walk will also take you to the centre, or you can walk to the town centre. take a few stops on the subway or bus.
Prati has excellent connections to the airport. As with the Borgo district, you are a short walk from Via Crescenzio 2, where the SIT Bus-Shuttle to Fiumicino Airport leaves from. The bus runs regularly and often until late.
LUXURY: Orazio Palace Hotel: very modern and design hotel with a fantastic roof terrace and bar. Another plus are the excellent breakfast, helpful staff and quiet location near the center.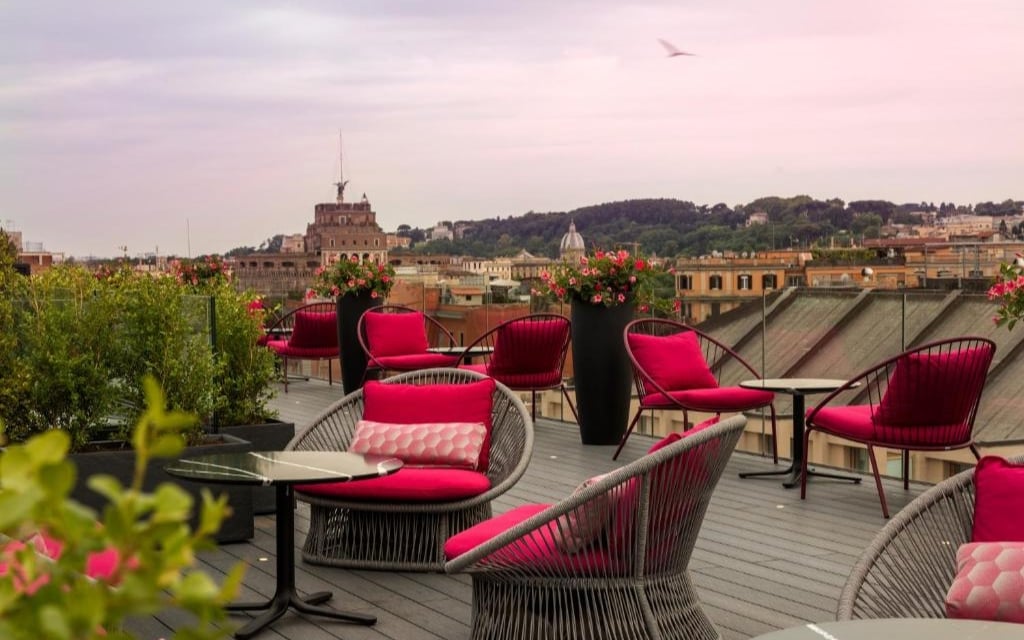 MIDDLE CLASS: Hotel Arcangelo: Elegant 3* hotel with roof garden overlooking St Peter's Basilica. There is a bar, free parking and a good breakfast.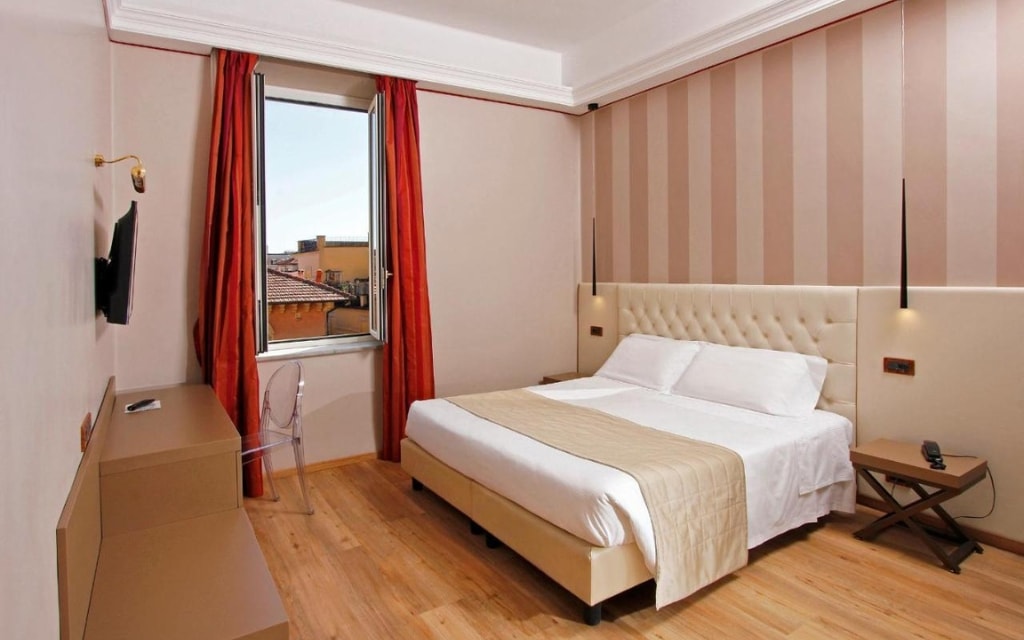 BUDGET: A Roma San Pietro Best Bed: Asmall guest house between the Borgo and Prati districts, just a short walk from the Vatican and the Castel Sant'Angelo. Rooms are comfortable with private bathrooms, breakfast and air conditioning. Friendly owner.
Accommodation in Rome with swimming pool
LUXUS: Mercure Roma Centro Colosseo: 4* hotel just 100m from the Colosseum, with a rooftop terrace with views and an outdoor pool (open May-September). Smaller but modern and practically designed rooms with air conditioning, private bathroom and breakfast.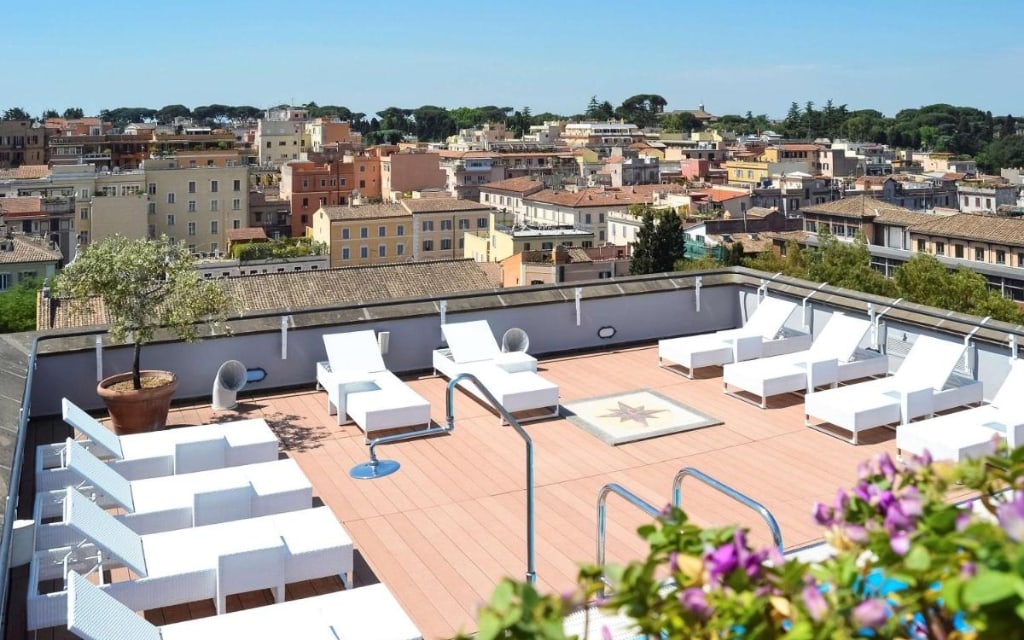 HIGHER CLASS: A.Roma Lifestyle Hotel: a pleasant wellness hotel set in beautiful surroundings. The hotel is located on the south-western outskirts of Rome and has good access to both airports (airport transfer) and the city centre (buses, tram). A rich breakfast, an open-concept restaurant with cuisine, free parking and an outdoor and indoor pool.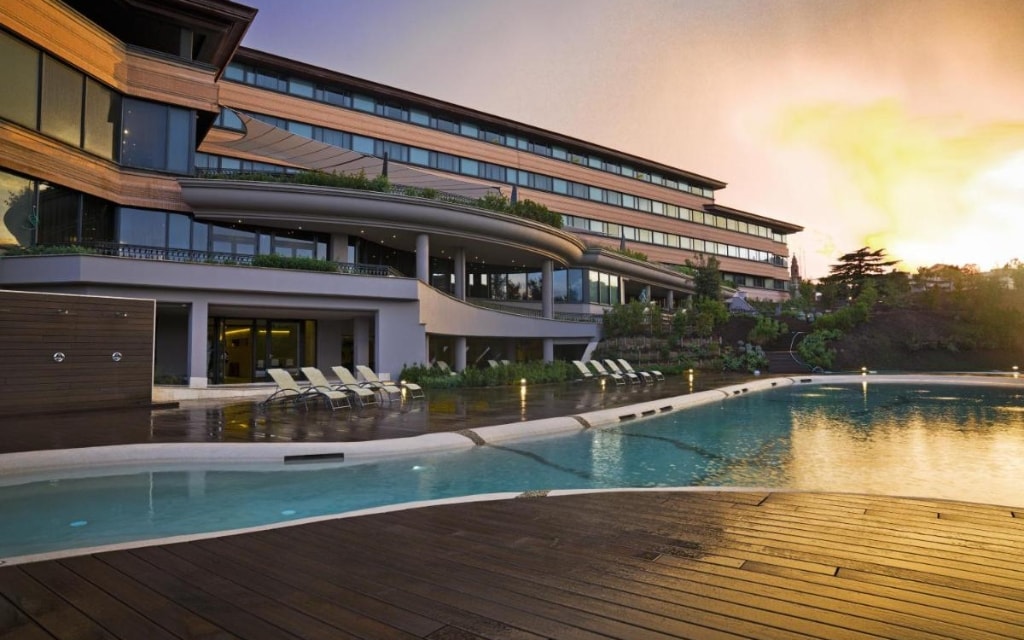 MIDDLE CLASS: Hotel Piccolo Borgo: This hotel is ideal for those arriving at Ciampino Airport. Bus 520 stops a short walk from the hotel and takes you directly to the airport (the hotel provides transport to the airport and the nearest metro station to the city centre). The accommodation is clean, air-conditioned and offers an outdoor pool (in season), an excellent restaurant and breakfast.
LEFT: hu Roma Camping in Town: Holiday resort with complete facilities – accommodation in air-conditioned bungalows or chalets, restaurant, refreshments, free parking, jacuzzi, swimming pool, bar. The bus stops at the site and takes you in a few minutes to the nearest metro station, where you can reach all the sights of Rome.
Accommodation and hotels in Rome on the map
HOW TO USE THIS MAP: Above you will find a detailed map of where to stay in Rome. Click at the top left of the map to see separate layers with highlighted locations. You can hide and show the different layers or click on the icons on the map to see the names of the places I mention in my guide to accommodation in Rome. If you want to save the map, star it. For a larger version, click on the icon in the upper right corner.
The best booking resources for visiting Rome
Via Booking.com we search for all accommodation. It is the largest accommodation portal in the world and you will find everything from modern hotels, cosy guesthouses to seaside villas.
Get Your Guide is a huge booking system for buying tickets, guided tours and all sorts of activities. In one place you can read other travellers' experiences and book tickets to the Vatican Museums, a cruise on the Danube or a desert safari in Dubai.
If you are planning to rent a car in the Rome area, the best experience we have is with Rentalcars.com, which has the widest range of cars at good prices. Insurance and free cancellation is a matter of course. Book in advance to ensure the best choice and price.
Italy has great train connections. To find the best train connections, we use the Italian carrier Trenitalia.it .
If you have a question about choosing accommodation in Rome, let us know in the comments below. We will be happy to answer any questions. Have a safe journey!
More information about Rome
THE BEST PLACES TO VISIT IN ROME: In our article on what to visit in Rome, you will find detailed descriptions of the most beautiful places, including information on admission fees and opening times. We also have special guides for the monuments of ancient Rome or the best museums in Rome.
We've created a detailed guide to the Vatican that tells you everything you need to know before your visit.
Read the guides for the Vatican Museums and the Colosseum to avoid queues on site. What not to miss in the Sistine Chapel is covered in a separate article.
ITINERARY FOR ROME: Get inspired by our itinerary for Rome in 3 days. You only have one day? Then you will find the itinerary for Rome in one day handy.
HOW TO ENJOY ROME: We've compiled all the tips for a perfect holiday in Rome in a separate article. For tips on the best things to do in Rome, check out our article on what in Rome Rome. We also share some tips on how to save in Rome. In a separate article, you can find out about all the ways to get from Fiumicino Airport to the centre of Rome.
Read even more tips on travelling in Italy.
Summary: Where to stay in Rome