Planning what to see and what sights to visit in Barcelona? Check out our 28 tips on the best places to visit in Barcelona (Sagrada Familia, Park Güell, La Pedrera and many more). We will show you the known and unknown places in Barcelona if you would like to see more of Barcelona.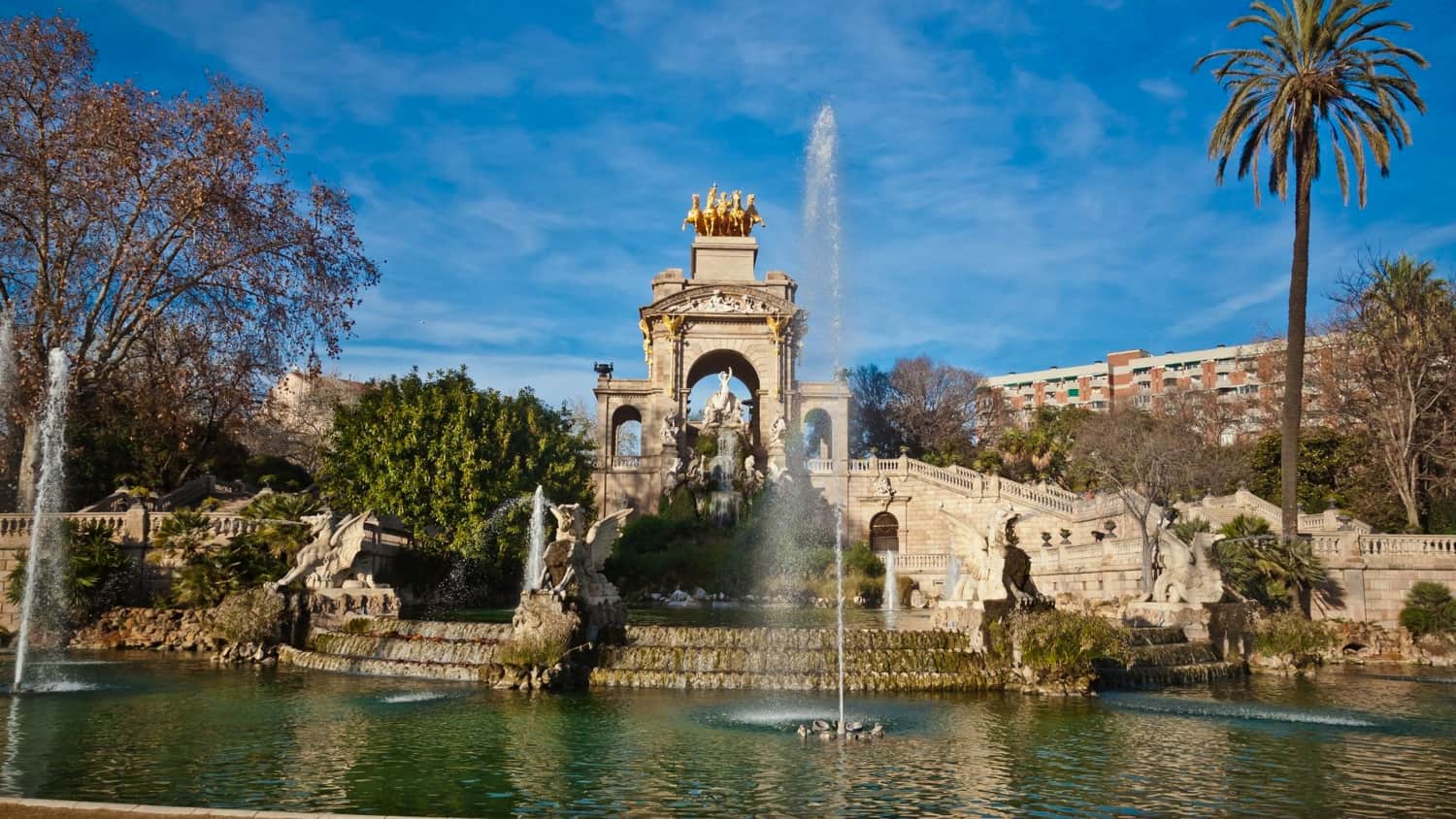 Since the 1992 Olympic Games, Barcelona has become a beautiful cosmopolitan city that is 2,500 years old. New places and attractions open every year, making Barcelona the ideal city to return to for new experiences.
And even though the city struggles with excessive tourism, you'll fall in love with it. Its history oozes from every corner. Whether in the form of the alleyways of the Gothic Quarter or the buildings in which Gaudí's handwriting has been inscribed. z 19th and 20th century.
The people are friendly and the atmosphere is neighborly and lively, although unfortunately not all locals are enthusiastic about tourists. The city, like Madrid, is awake until the early hours of the morning.
Tickets for Sights in Barcelona
Barcelona is one of the most visited cities in Europe and the queues can be really long. Booking tickets in advance eliminates time spent in queues. Plus, sometimes advance tickets are cheaper. I recommend booking tickets especially for these places:
Skip-the-line tickets: Park Guëll – Sagrada Familia – Casa Battló
If you are planning to visit more sights and places, you might find the Tourist Card useful, which gives you free entry to most of the sights in Barcelona for one price. There are two options to choose from:
Barcelona Card – Barcelona's official card, which gives you unlimited travel around Barcelona, free visits to museums and discounts to most sights. You can choose the length of validity (3, 4 or 5 days).
Barcelona Pass – A tourist card that gives you unlimited access to more than 35 sites in Barcelona. You choose the number of days or the number of attractions.
Tips on how to enjoy a holiday in Barcelona
Motel One is one of the best hotels in Barcelona – great value for money, strategically located by the Arc de Triomphe, close to the sights and the beach, and at an affordable price. If you're looking for a beachfront hotel, a great choice is Hotel Acta Voraport. As for cheap accommodation in the centre, the River Hotel you'll get good service at a low price.
Unlimited travel around Barcelona– Barcelona is a big city and it's hard to take in all the sites on foot. Transportation here is efficient and gets you everywhere you need to go. Ticket includes unlimited transportation including airport transfers.
Sightseeing bus– A simple and convenient way to get to the most popular places in Barcelona. The bus operates on 2 routes, allowing you to reach places further afield, such as Camp Nou and Park Güell.
Sights, Attractions and Things to See in Barcelona
Sagrada Familia Basilica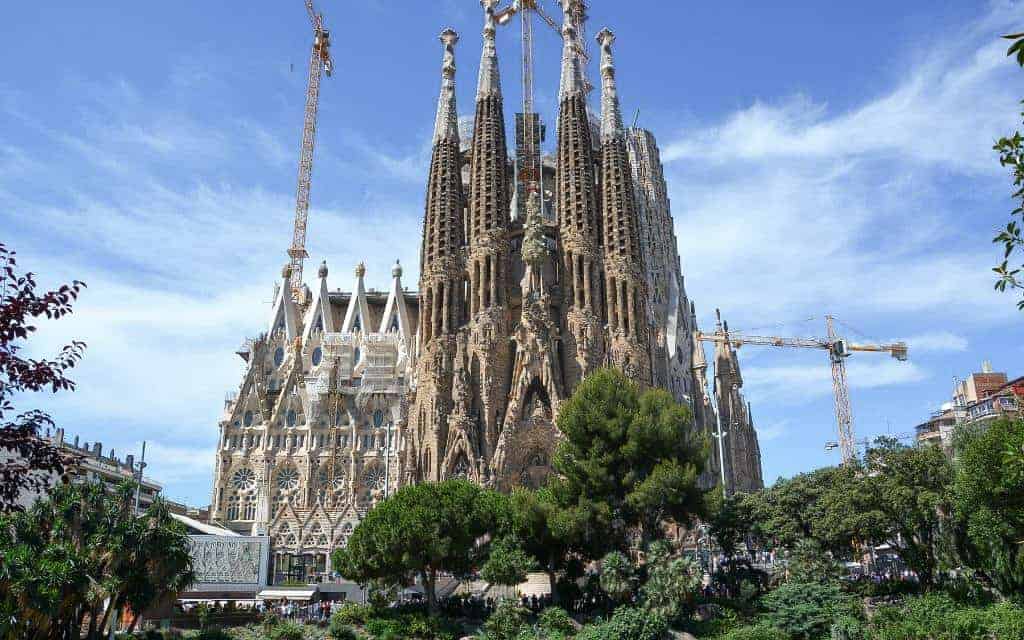 Barcelona icon. The Sagrada Familia is the masterpiece of Catalan architect Gaudí, built thanks to donations and contributions from the general public. The basilica is due to be completed in 2026 on the 100th anniversary of Gaudí's death.
If you ask most people where to go in Barcelona, most will tell you – the Sagrada Familia. After Camp Nou, it is the most visited building in Barcelona. Spaniards and football, you can't beat that :).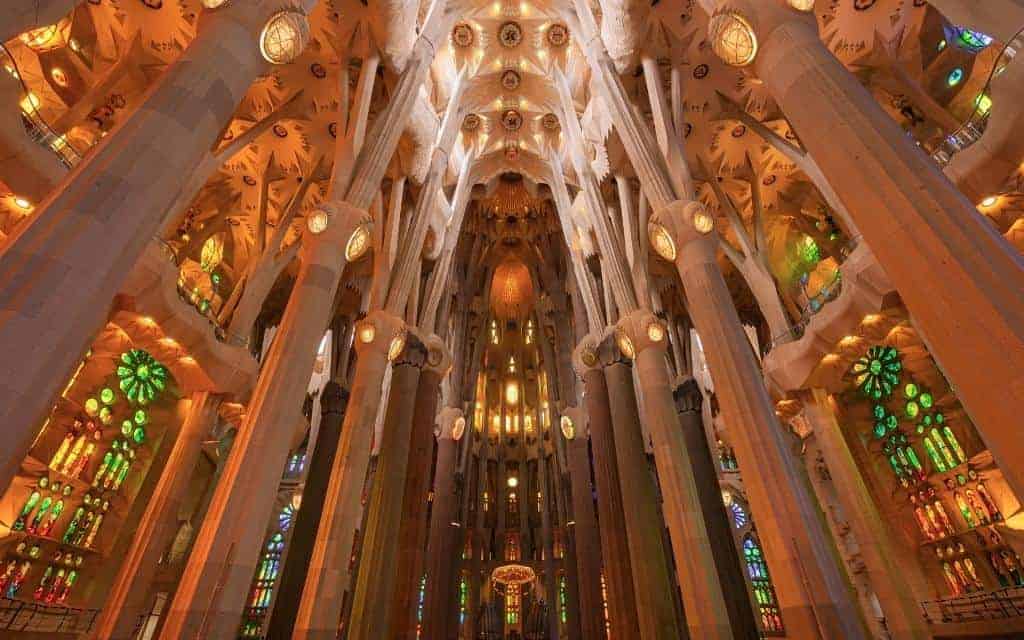 The basilica will blow you away with its exterior as well as the interior, which gives you the feeling of being in a forest. Towering columns with branches and leaves and stained glass windows filtering light across the colour spectrum.
How to avoid queues: The queues for the Sagrada Familia can be very long, even in low season. I recommend book a ticket in advance with the option to skip the line. For holidays and weekends, book even further in advance. Free cancellation 24 hours in advance.
Admission to the Sagrada Familia: adults €32.50, children 11-17 and students €31.20, seniors over 65 €27.30, children under 11 free; it is better to book in advance; For tickets click here (skip the line)
Casa Milà – La Pedrera
Casa Milà – La Pedrera is a beautiful apartment building with a waving facade inspired by Mount Montserrat, with tangled metal on the balcony up to the roof chimneys.
It is one of Gaudí's finest works, a UNESCO World Heritage Site that was originally designed for the family of the wealthy industrialist Casa Mila. The building is the second most famous structure on Passeig de Gràcia.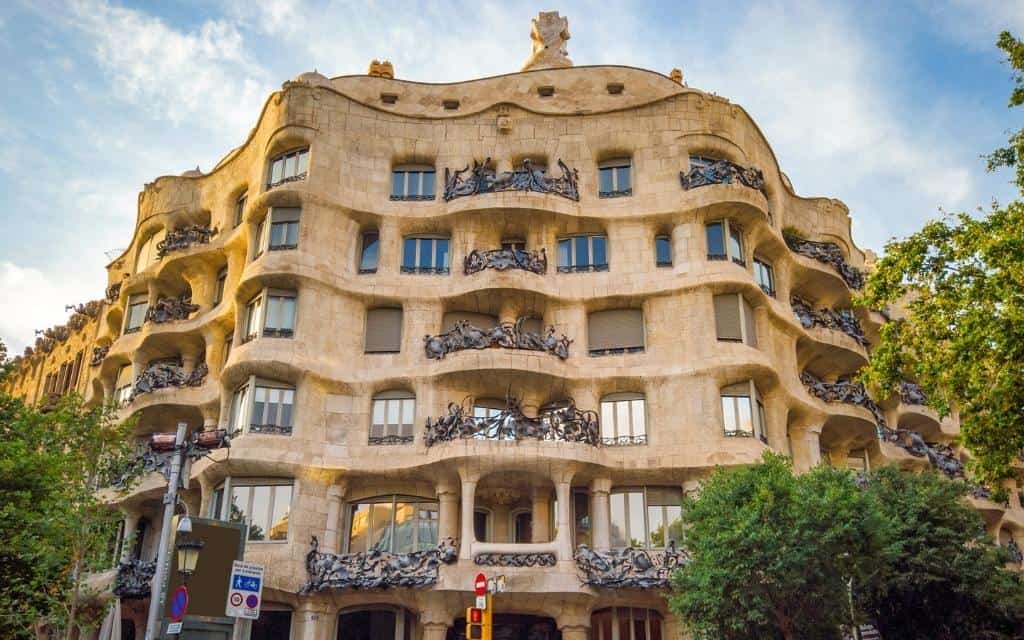 Shortly after its completion, it was declared a monument to escape demolition for exceeding the permitted size and height of the buildings on Passeig de Gracia. Even though it is one of the most visited monuments in Barcelona, it is still an apartment building inhabited by people who pay low rents because of the old law. This prevents their owners from raising the rent or evicting them.
During your visit, don't miss the view from the rooftop, where you can see all the way to the sea.
Tip: If you buy Tickets in advance, you'll save money.
Admission: on the spot – adults 27 €, children 7-12 years 15 €, students and seniors over 65 years 21,5 €; online – adults 25 €, children 7-12 years 12,50 €, students and seniors over 65 years 19 €; BUY TICKETS (skip-the-line)
Casa Vicens
Casa Vicens is Gaudí's first work. The building is located in the Garcia district. It was privately owned until 2007 and opened to the public in 2019.
It differs from Gaudí's later works, which are characterised by distinctive wavy lines. Casa Vicens shows a strong Moorish influence. The place is playful and rich with mosaic floors, colourful tiles and stained glass windows. The building was originally designed as a summer garden house for the Vicens family, but was later extended and a garden was added as the last addition.
Admission: adults €18, students over 12 and seniors over 65 €16, children 11 and under free; €2 more on the spot; advance booking recommended; BUY TICKETS
Casa Batlló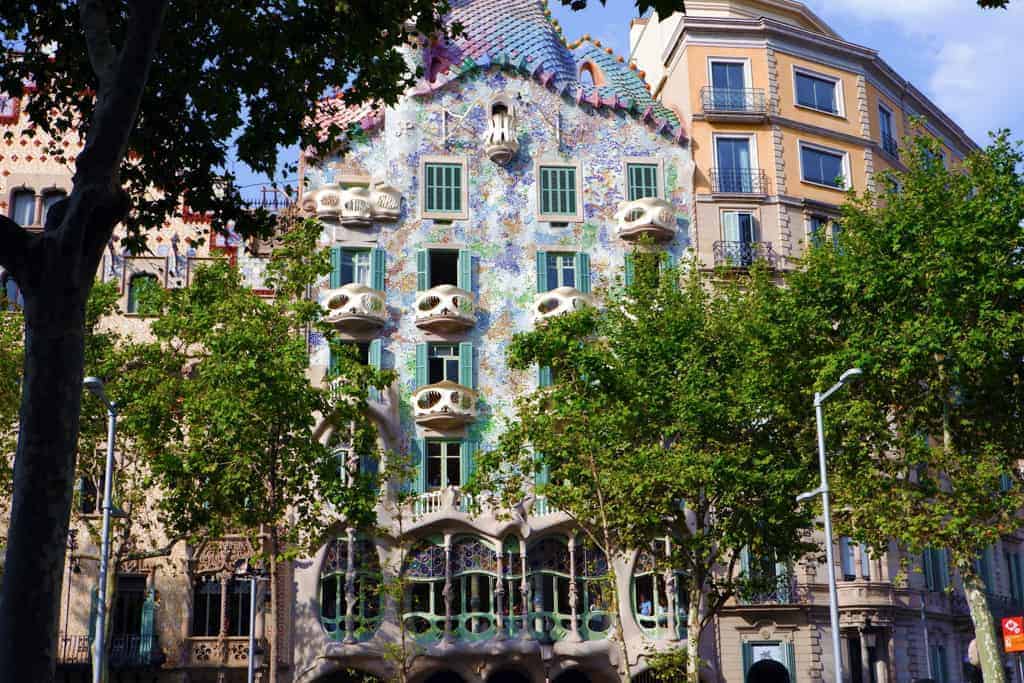 At the end of 19th century, Gaudí was hired to revive a boring apartment building. The result was the architectural masterpiece Casa Batlló, with its undulating façade, mosaic glass, ceramic panels, stone columns in the shape of bones and a roof symbolizing the back of the dragon, which according to legend was slain by Saint George.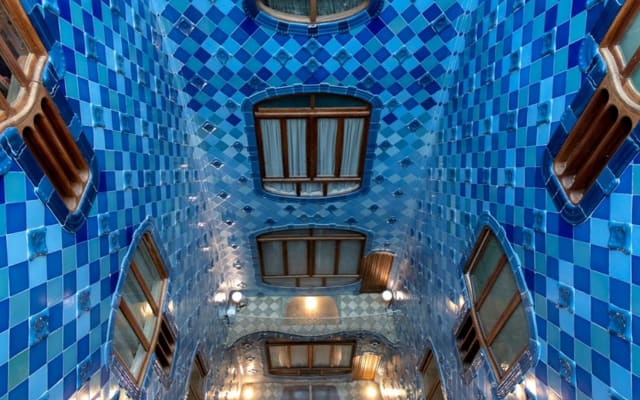 Even inside, you'll feel like you're in another world. In the underwater, where fish and other creatures from the deep come to life around you, rippling walls, ceiling patterns resembling seashells, and undulating railings of polished wood.
The roof terrace shimmers beautifully with kaleidoscopic patterns of broken ceramic tiles and glass covering the undulating chimneys representing the spine of a slain dragon. All this is complemented by 10D, which combines artificial intelligence, augmented reality and machine learning.
Admission: adults 35 €, children 12-17 years and students 29 €, seniors over 65 years 32 €, children under 11 years free; BUY TICKETS (with skip the line)
Casa Amatller
Casa Amatller is a historic Catalan house next to Casa Batlló. And this is exactly the reason why far fewer tourists come here. The building was designed by the architect Josef Puig, who was inspired by houses in the Netherlands.
Casa Amatller reflects many architectural elements from Barcelona's past, from the Middle Ages to the Gothic period. Note the medieval towers and branches of the mandolin trees on the facade, as the name Amatller means mandolin in Catalan.
Inside the building you will feel like you are in the Gothic Quarter with its vaulted courtyard.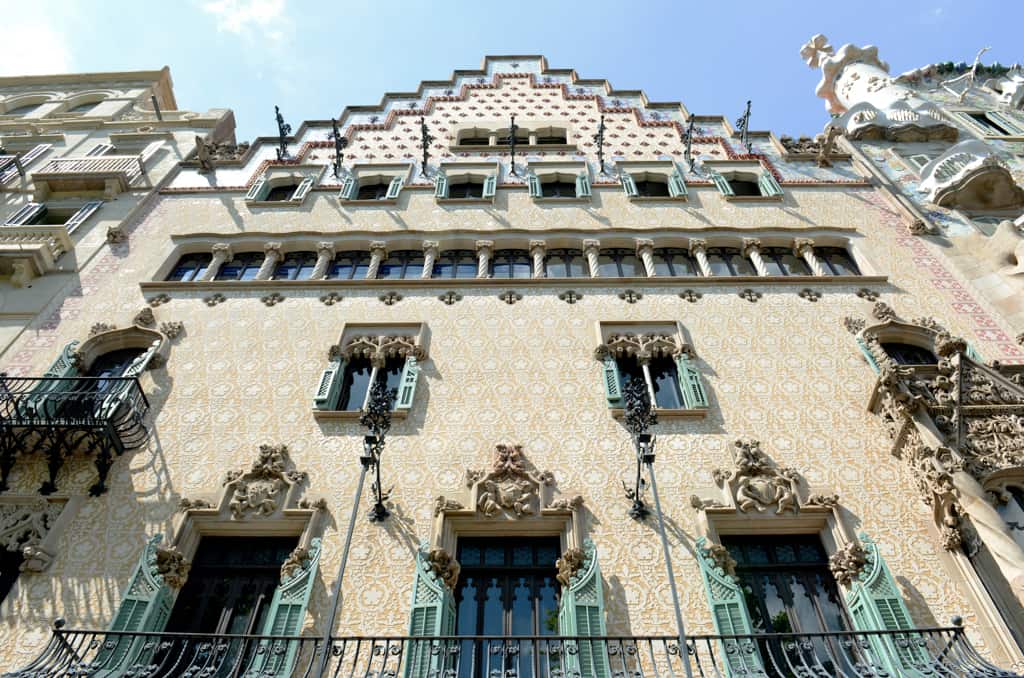 The Amatller family was in the 18th century. century known for chocolate production. On the ground floor of the houses there is a Faborit chocolate shop where you can have Amatller hot chocolate with churros and melindros (and other snacks).
The shop preserves the building's original kitchen as a decorative element and sells chocolate products wrapped in the original Art Nouveau packaging that made the brand famous. If you want to bring back something good from Barcelona, go here.
Admission: full admission over 8 years €24 – now on sale for €12; book in advance for a specific time with an audio guide; BUY TICKETS
Poble Espanyol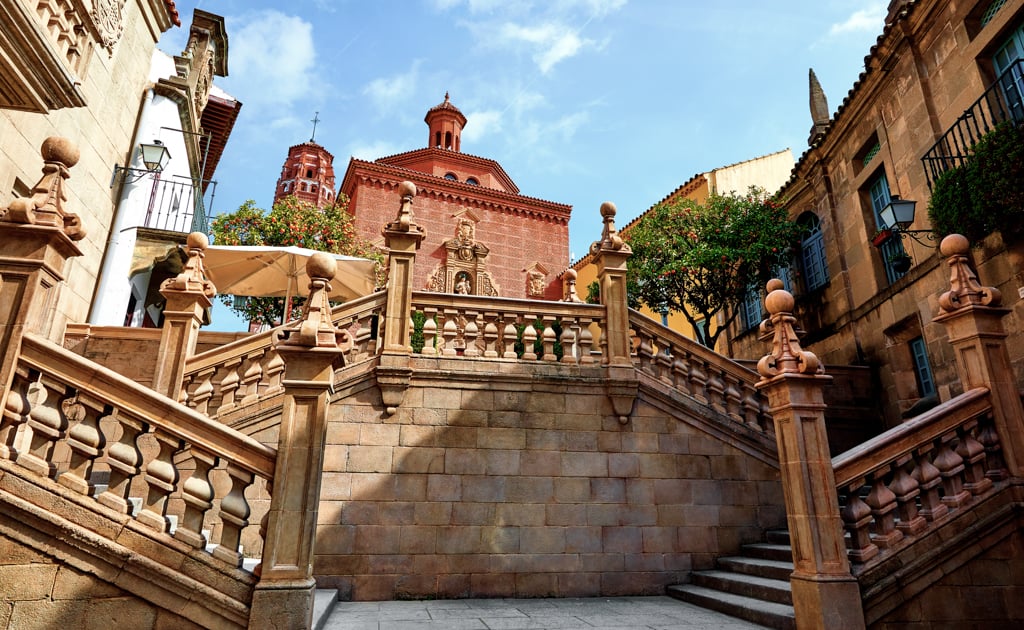 Poble Espanyol is an architectural museum and open-air museum that represents a typical Spanish village of 117 of the most famous Spanish monuments. It was created for the International Exhibition in Barcelona in 1929. The aim was to build an ideal model of an Iberian village.
The place became so popular that it was preserved. Its resemblance to real monuments is so accurate that they have been used as backdrops for several films, including Perfume.
Poble Espanyol is the perfect place for fun, parties, summer concerts or the craziest New Year's Eve party in Barcelona. You can take part in a treasure hunt with your children.
Admission: full over 13 years 11,20 €, children 4-12 years 9 €; discount for advance booking; BUY TICKETS (with skip the line)
Hospital Sant Pau
The former Sant Pau Public Hospital (Recinte Modernista Sant Pau) is an extravagant Art Nouveau complex with lots of ironwork, mosaics, stained glass and statues. The 27 pavilions topped with golden domes now function as a museum and cultural centre, but you can just wander around and admire the magnificent decorations.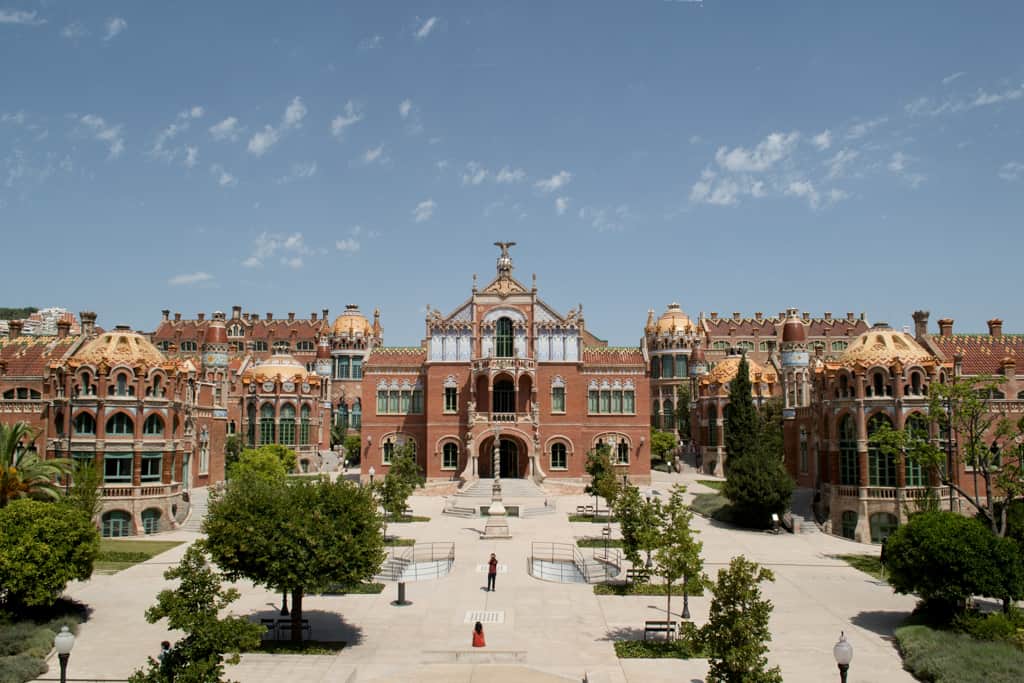 The Hospital de la Santa Creu i Sant Pau is the masterpiece of Lluís Domènech i Montaner and became one of the first UNESCO World Heritage Sites. The hospital was financed by a merchant who, after his death, stipulated in his will that his estate be used to build a larger hospital in honour of St Paul.
This was to replace the ageing Holy Cross Hospital in the centre of Barcelona. Sant Pau operated as a medical institution from 1902 until 2009. The buildings have since undergone extensive renovation and can now be visited independently or with a guide.
Admission: adults 30-64 years 16 €, youth 12-29 years and seniors over 65 years 11,20 €, children under 11 years free; BUY TICKETS
Park Guell
On the northern outskirts of Barcelona you will find one of Gaudí's most famous and ambitious works – Park Güell. It was originally built for the Guell family as their home and a real estate complex for several other families.
However, it was never completed and ended in a fiasco because Barcelona's elite did not want to move out of the centre of Barcelona. In 1922, Park Güell was opened to the public.
The park has become so popular in recent years that since 2013, entry to the most popular parts of the park has been charged. Once you've explored the toll section, you can walk through the rest of the park in peace, including the famous lizard statue at the entrance.
Tickets often sell out a few days in advance – book early (with cancellation up to 24 hours before free).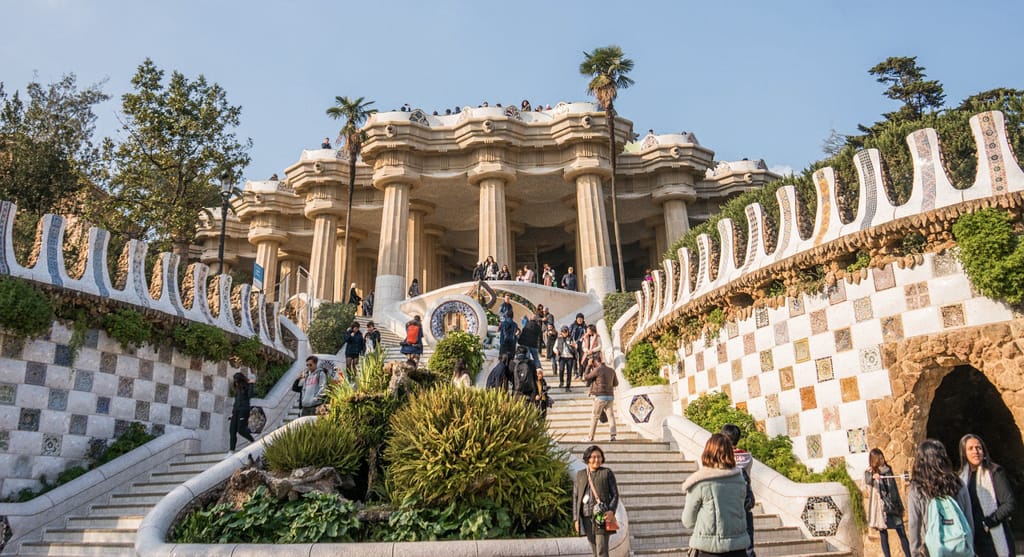 Among the main attractions of the park are two gingerbread houses just outside the main entrance, a dragon staircase, a huge hall of columns resembling a petrified forest and a terrace with benches covered with colourful mosaics.
The terrace at the top of the columned hall is flanked by sinuous ceramic benches covered with a colourful mosaic of broken tiles and glass. It has a great view of the city. Make a stop at the pink Gaudí house in the middle of the park where Gaudí once lived.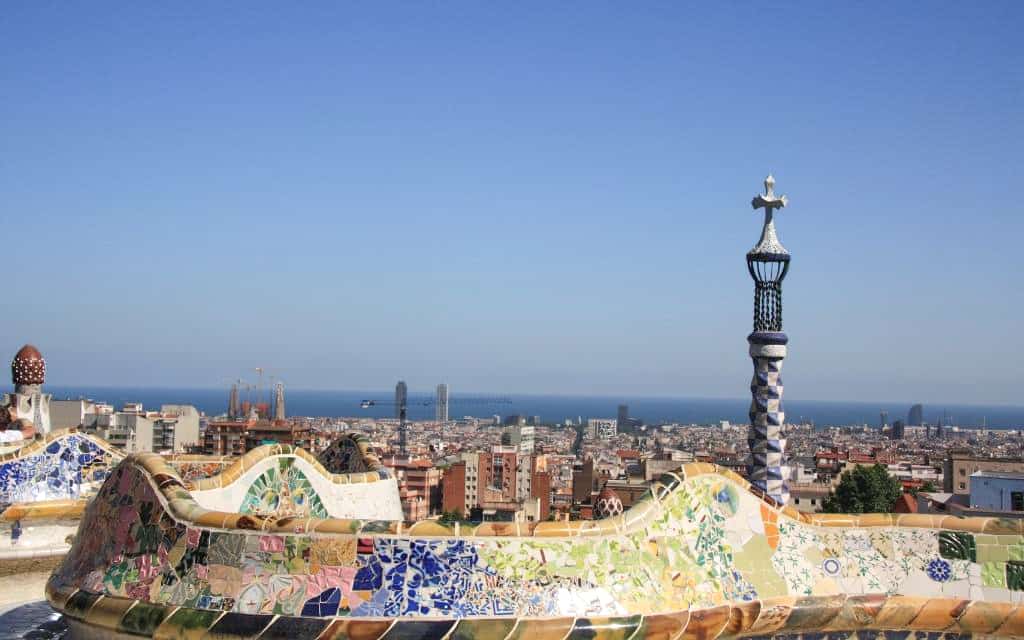 Admission: adults 13 €, children 7-12 years and seniors over 65 years 9,50 €, children under 6 years free; long queues and limited number of visitors at the venue; tickets sold out even several days in advance; BUY TICKETS with skip the line
Planning to visit more paid sights, museums and attractions? Get Barcelona Pass. This is a tourist card that gives you free entry to over 35 sites in Barcelona including the Sagrada Familia, Park Güell, Casa Batlló, La Pedrera or Camp Nou. In the itinerary of what to visit in Barcelona, I noted for each place whether it is part of the Barcelona Pass to make it easier to see what all the card includes. More information about Barcelona Pass can be found in a separate article.
Montjuïc Mountain and Fortress
Above Barcelona's harbour is the steep hill of Montjuïc, translated as the Mountain of the Jews after the small Jewish community that once lived on its slopes.
There are many interesting places on the hill, including large gardens where you can stroll around. The northern slopes are occupied by terraces, fountains and neoclassical buildings from the 1929 International Exhibition.
Montjuïc is also home to the Olympic Stadium and two major art galleries – the Museu Nacional d'Art de Catalunya, a museum of Catalan and Romanesque art, and the Fundació Joan Miró, a museum of modern art.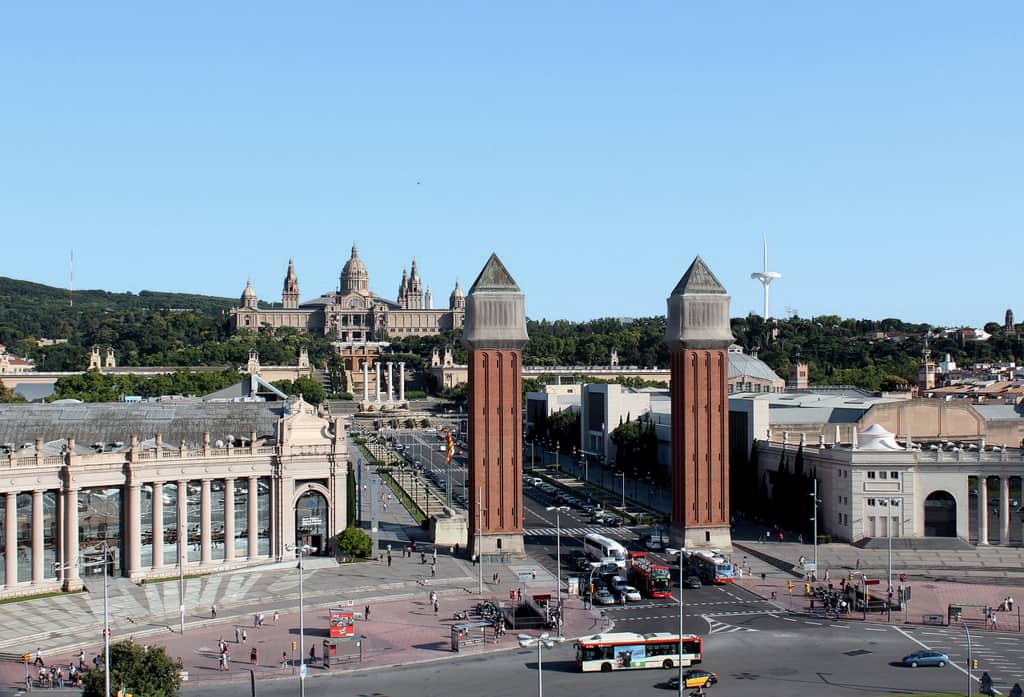 Montjuïc was almost uninhabited and unused until the 17th century, when a small fortress and a watchtower were built here as a defence mechanism for the town. Centuries later, after the War of Succession, it was rebuilt into a stronger fortress and Montjuïc Castle was created in its present form.
After the outbreak of the Civil War, Catalan President Lluis Companys raised the Catalan flag and the castle took on a political role, becoming a military prison where the Republican Party imprisoned and tried traitors.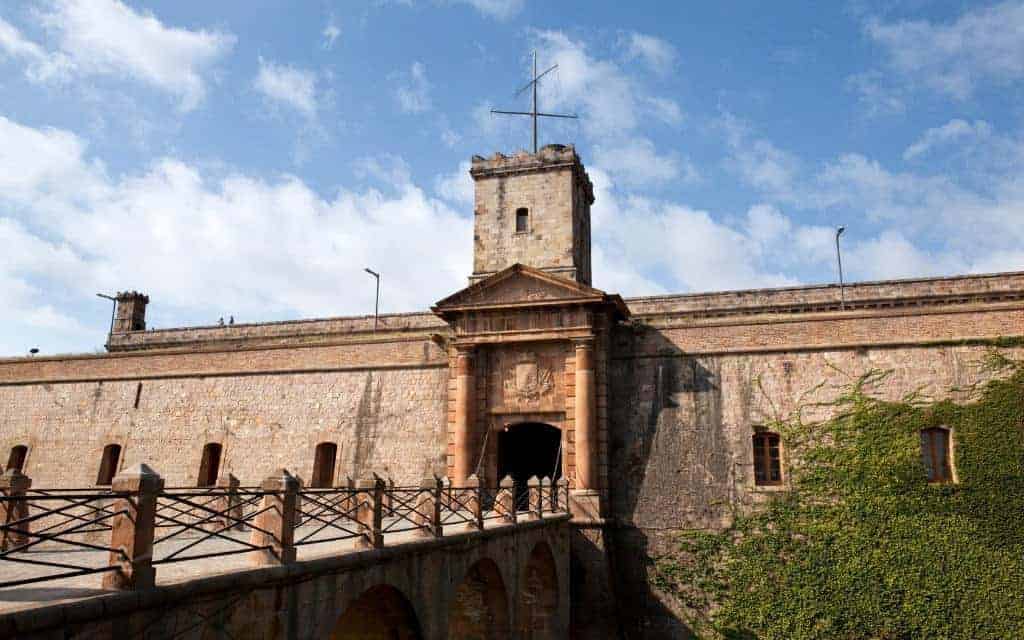 But when the national forces entered Barcelona, they used the castle as a prison for Republican prisoners. War tribunals were held here and convicts were executed, including Lluis Company himself. Every year, commemorative events are held here to mark his death. The Catalan flag was raised again in 2011.
From the castle you can enjoy, among other things, a magnificent view of Barcelona and the harbour.
Admission to Montjüic Fortress: full admission 5 €, reduced admission 3 €, free for under 16s, first Sunday of the month and every Sunday after 3 p.m.
Cable car to Monjuïc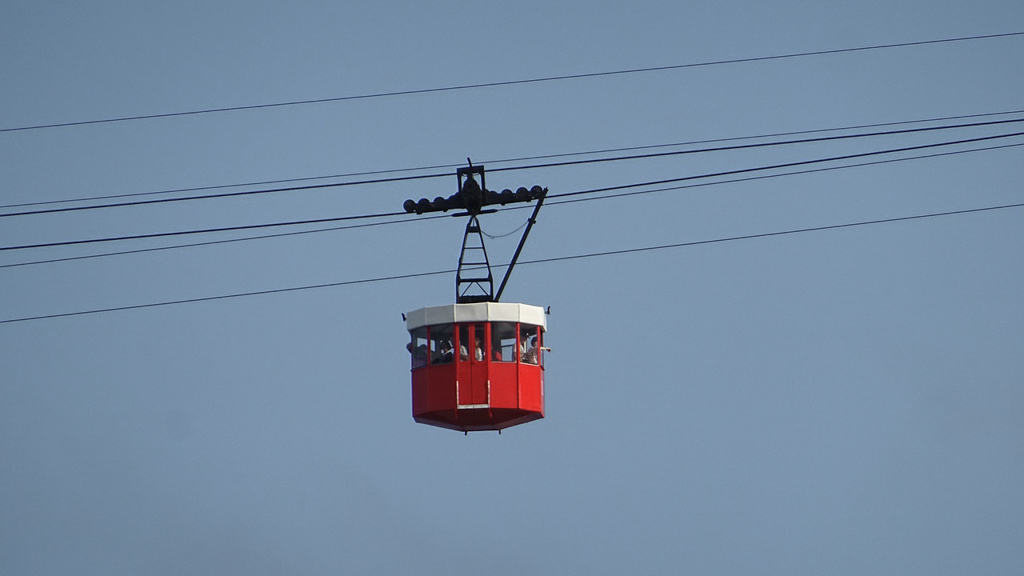 A breathtaking experience for anyone who wants to see Barcelona from a bird's eye view. You can choose between 2 cable cars:
An older cable car (Telefèric del Puerto; see photo above) that starts at San Sebastián Tower on La Barcelonata beach and ends at Miramar station. From here, you still have most of Montjuïc to climb, but the views of the sea, harbour and city are worth it.
Tickets can be bought on the spot – a one-way ride costs €11 and a return ticket €16.50. I recommend going in the morning/afternoon when it is least crowded. The old cable car is a popular attraction and the queues here can be over an hour long.
Opening hours of the old cable car:
1 January – 28 February 11:00am-5:30pm
1 March – 31 May 10:30am-7pm
1 June – 11 September 10:30am-8:00pm
12 September – 27 October 10:30am-7:00pm
28 October – 31 December 11:00am-5:30pm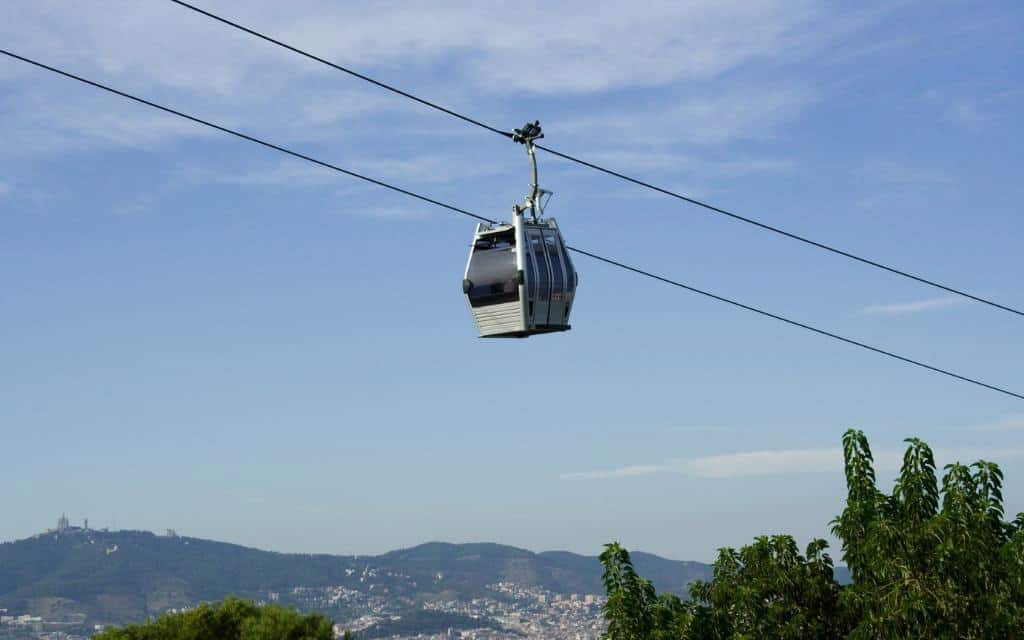 The new cable car (Telefèric de Montjuïc) starts at the Parc Monjuïc station and takes you to the Monjuïc Fortress with views of the city. It doesn't stop upwards, but you can get off at 2 more stops on the way down.
A one-way ticket costs €9.40 (€7.50 for children aged 4-12) and a return ticket costs €14.20 (€10.20 for children aged 4-12). You can buy tickets buy at this link.
Opening hours of the new cable car:
January-February 10:00-18:00
March-May 10:00-19:00
June-September 10:00-21:00
October 10:00-19:00
November-December 10:00-18:00
MNAC – Museu Nacional d´art de Catalunya
Montjuïc Hill is dominated by one of Barcelona's best museums, Museu Nacional d'Art de Catalunya, or MNAC for short. This must be on the list of anyone who wants to learn more about Catalan history and admire one of the largest Romanesque collections in the world.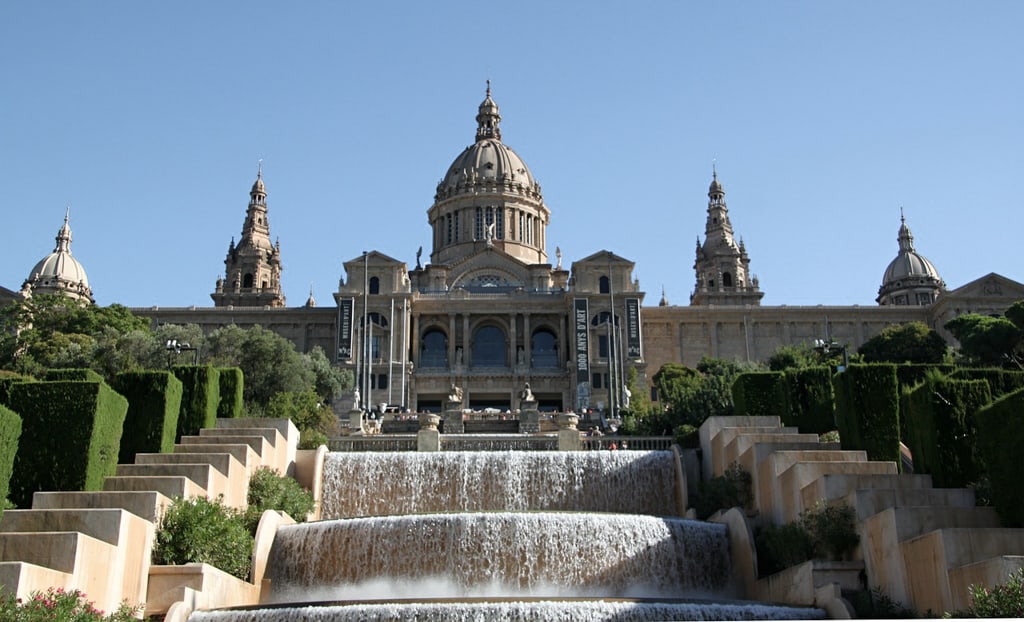 The museum is housed in the Palau Nacional de Montjuïc, which was built for the 1929 World's Fair. The MNAC preserves most of the Catalan art that is not in private hands, from the Middle Ages to the Renaissance, Baroque and Modern.
It also exhibits artworks from Andorran Romanesque churches and works by Spanish artists such as Velazquez.
Admission: basic including terrace 12 €, only access to the palace and terrace without the museum 2 €, under 16 and over 65 free; BUY TICKETS
Fundació Joan Miró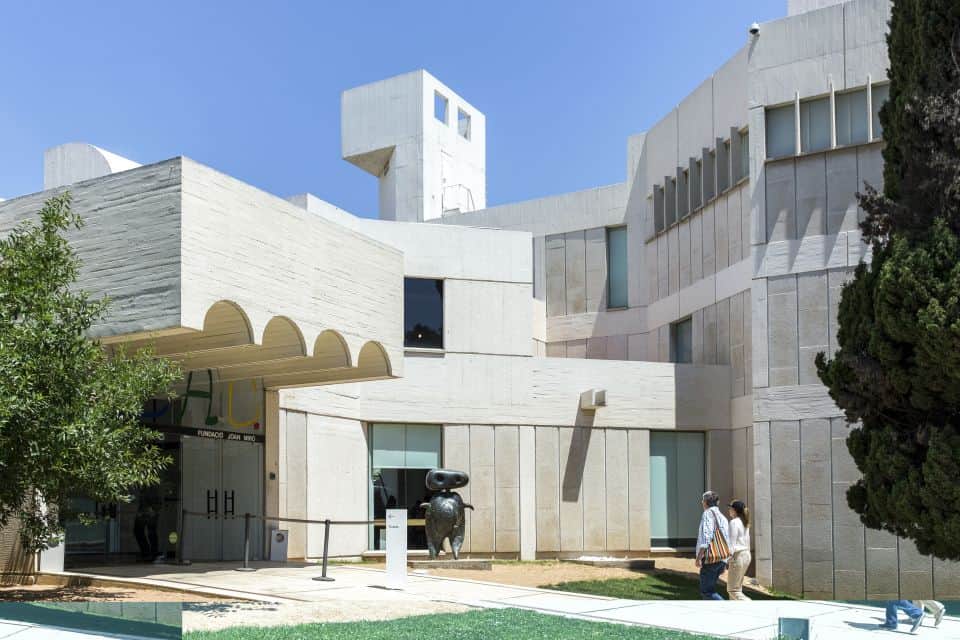 Fundació Joan Miró is another popular gallery on Montjuïc Hill. It is dedicated to the artist Joan Miró. The use of primary colours and wavy strokes in black is specific to his works. The artist created his own art movement and subsequently founded his own foundation and the aforementioned museum in 1975, where he promoted contemporary art and exhibited his works.
The white modernist building alone is worth seeing. Don't miss the Tapis de la Fundacio tapestry, which measures 7.5m2 and weighs a ton.
Admission: adults over 15 years 13 €, children under 14 years free; BUY TICKETS (with skip the line)
Parc de la Ciutadella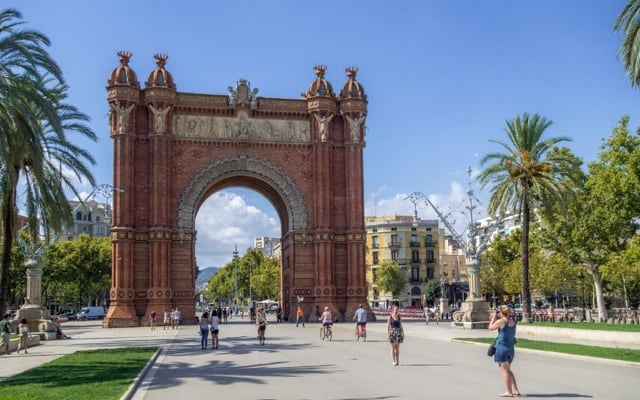 Parc de la Ciutadella is the perfect place to take a break from the hustle and bustle of the city. Barcelona's largest park, also home to a popular zoo. The park can be reached through the large Arc de Triomphe.
You can stroll around, watch street artists or admire several beautiful buildings, including the Catalan Parliament building in the centre of the park.
To the north-west, you'll reach the castle-like, modernist Castell dels Tres Dragons. In the northeast corner you can admire the Baroque fountain designed by Josep Fontseré and Mestrès, assisted by the young Gaudí (see photo on the right).
Barcelona Cathedral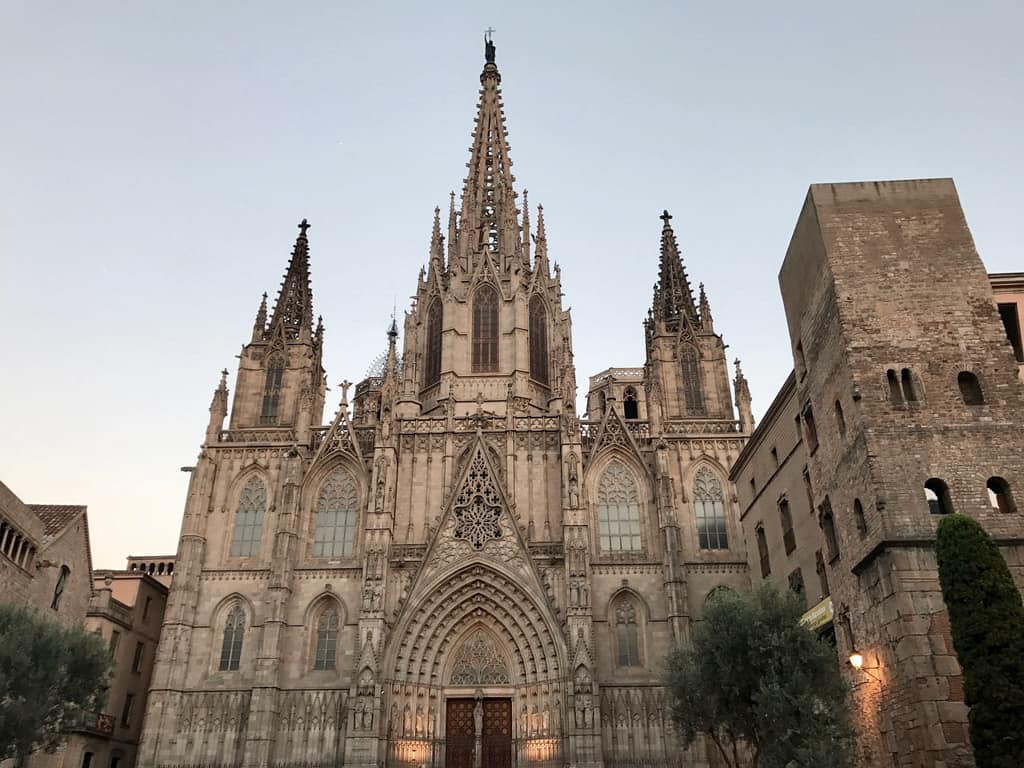 The oldest part of Barcelona, the Gothic Quarter, which used to be surrounded by city walls, is dominated by Barcelona Cathedral. The religious heart of the Barcelona diocese and the seat of the Archbishop, from which the cathedral takes its name. There are many basilicas in and around Barcelona, but only one cathedral.
Its construction began as early as 4th century and continued until the 13th century. century, so there is a mixture of several styles, from paleo-Christian foundations, to Romanesque elements and a Gothic facade with 8 stained glass windows, some modernist and others Renaissance.
Admission: 9 € over 12 years; BUY TICKETS
Placa del Rei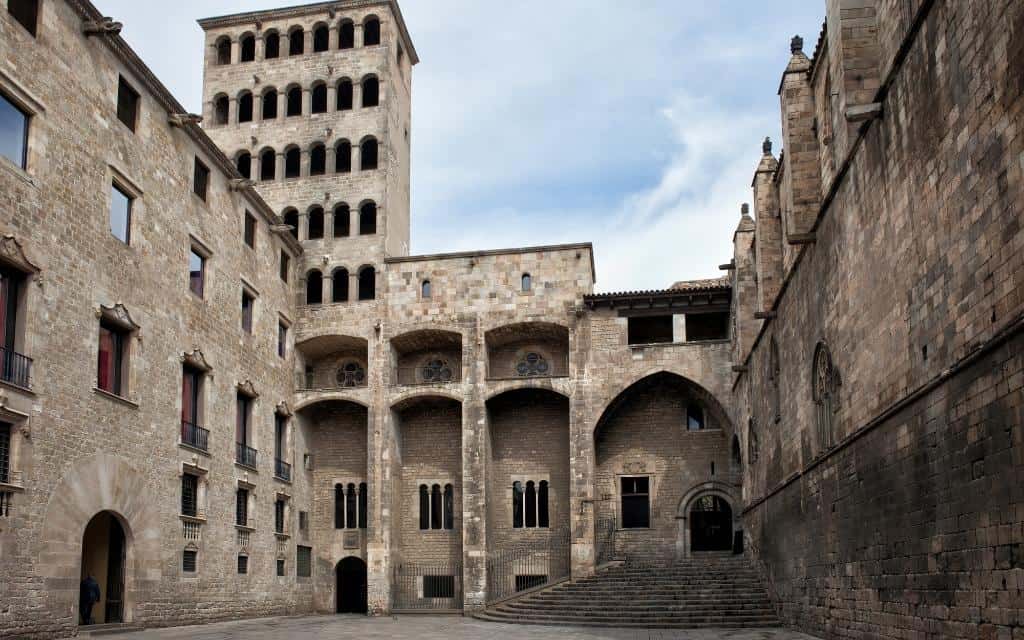 The Royal Square, or Place del Rei, is right in front of Barcelona Cathedral. It is said that the square was the place where the Catholic King and Queen Fernando and Isabella received Christopher Columbus after his return from the discovery of the New World.
The square is surrounded by a series of monumental buildings from the Palau Reial Major, which was the seat of the royal family, to the magnificent Saló del Tinell feast hall and watchtower, the Lieutenant's Palace and the Chapel of Saint Agatha. Only the Royal Palace is accessible with a ticket to MUHBA (see below).
MUHBA – Museu d'Historia de Barcelona
Did you know that the Roman city of Barcina, built by the Emperor Augustus, once stood on the site of Barcelona? And it is at Museu d'Historia de Barcelona in Placa del Rei, next to the cathedral, that you can find out more.
Descend through the Royal Palace to the underground, where the preserved Roman city is hidden. It was discovered during archaeological excavations preserved for centuries under layers of soil.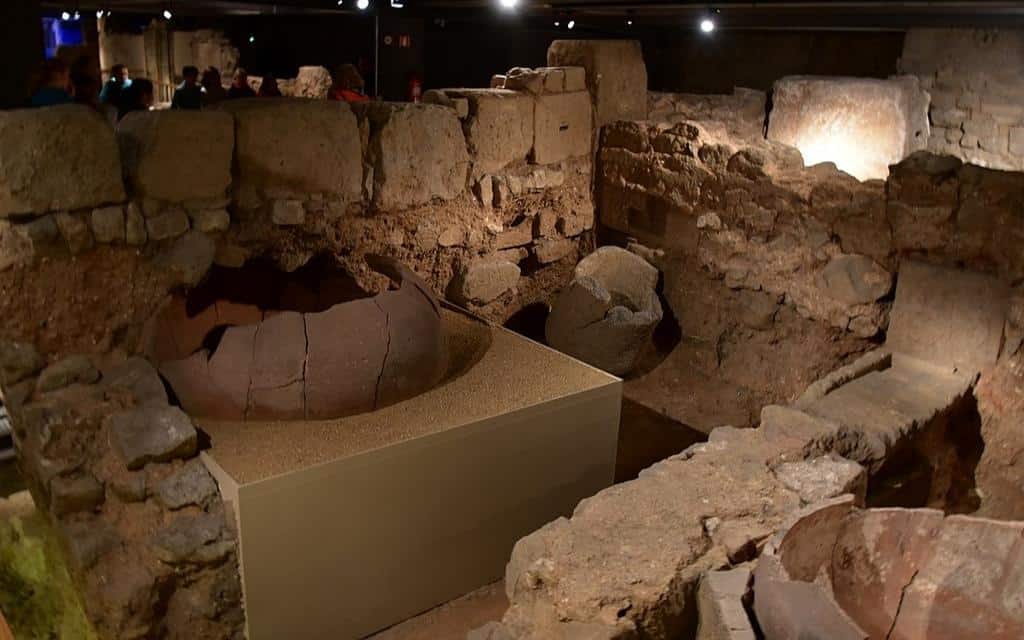 The museum allows you to walk through underground suspended walkways above the foundation and floor mosaics of ancient houses. There are also several other monuments in the city that refer to Roman and Greek origins. But you shouldn't miss this one on Placa del Rei in particular.
Admission: adults 7 €, youth 16-29 years and seniors over 65 years 5 €
The MUHBA Museum, like many other sights in Barcelona, is part of the card Barcelona Card which also gives you unlimited travel around Barcelona. You can choose a card for 3, 4 or 5 days.
Picasso Museum (Museu Picasso)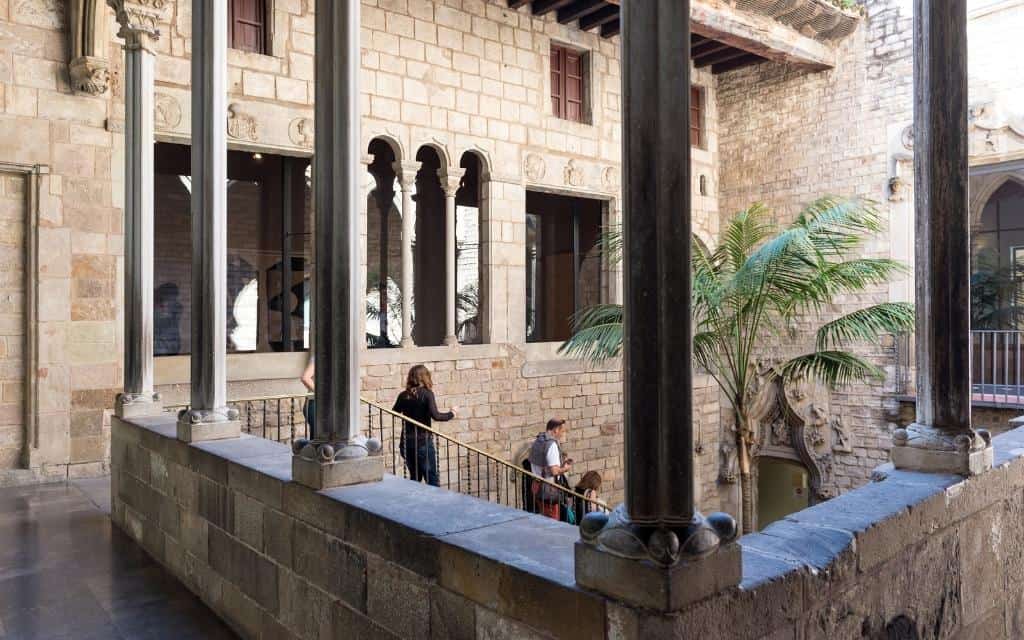 Picasso was one of the greatest Spanish artists of the 20th century, and Museo Picasso houses an extensive collection that traces his artistic development from his childhood years to his final works from Provence and the French Riviera.
Picasso was not originally from Barcelona. He moved here with his parents from Malaga in 1895 and stayed until 1904, when he moved to Paris. Nevertheless, he maintained contact with the town by regular visits. His museum was opened in 1963 in the Berenguer d'Aguilar Palace in the district where he lived.
Admission: adults 12 €, youth 18-25 years and seniors over 65 years 7 €; tickets 1 € more at the door; free 1. Sunday of the month and every Thursday after 5 pm; limited capacity – advance booking is recommended, even on free days; BUY TICKETS
La Rambla
La Rambla is a 1.2 km long avenue that connects Placa de Catalunya to the port and separates the Gothic Quarter from the Raval. The street was built in 1733 along the former medieval city walls.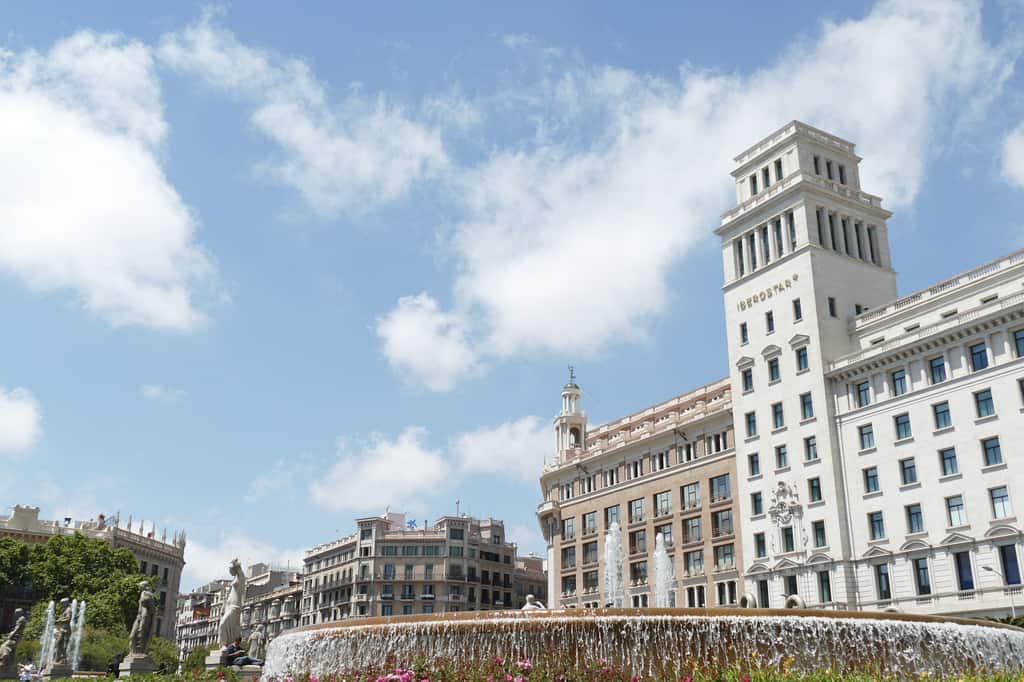 The best way to get around the boulevard is to walk from top to bottom and come across a number of Barcelona's attractions – the Gran Teatre del Liceu, La Boqueria market and Casa Beethoven, a music score shop.
FC Barcelona fans can't miss the Canaletes fountain, where Barca fans used to gather in front of the former El Sol newspaper during matches, as the newspaper used to post the results on the main board.
The tradition remains to this day and whenever Barca win a big game, the fans come here to celebrate.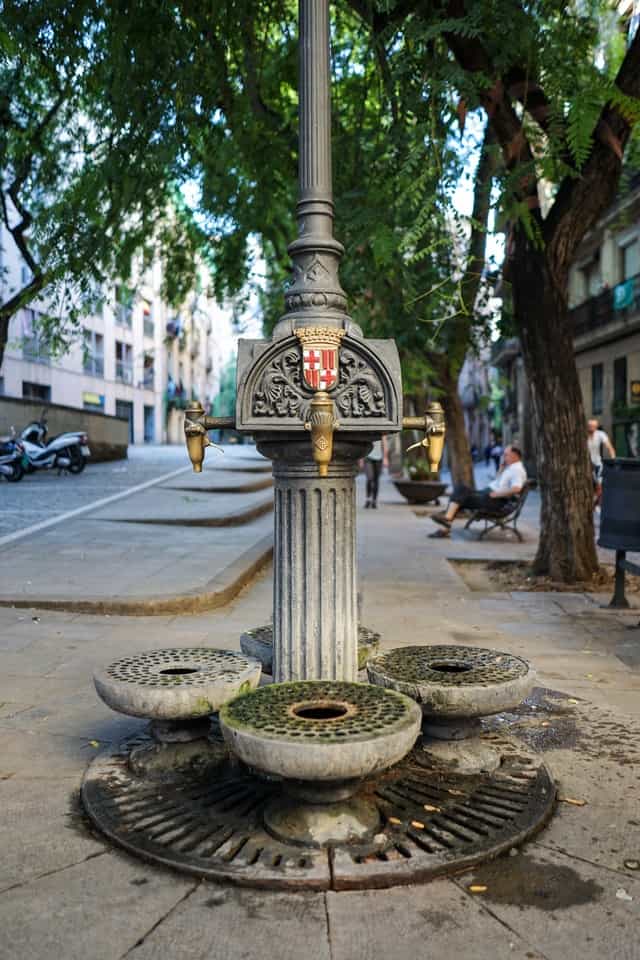 La Rambla is one of the busiest and most touristy areas in Barcelona, so make sure to keep an eye on your belongings. Pickpockets and petty theft are quite common here.
Another tip: Don't put food in here. It's overpriced and definitely not up to par in quality. For food, head to one of the narrow medieval streets around La Rambla.
Columbus Monument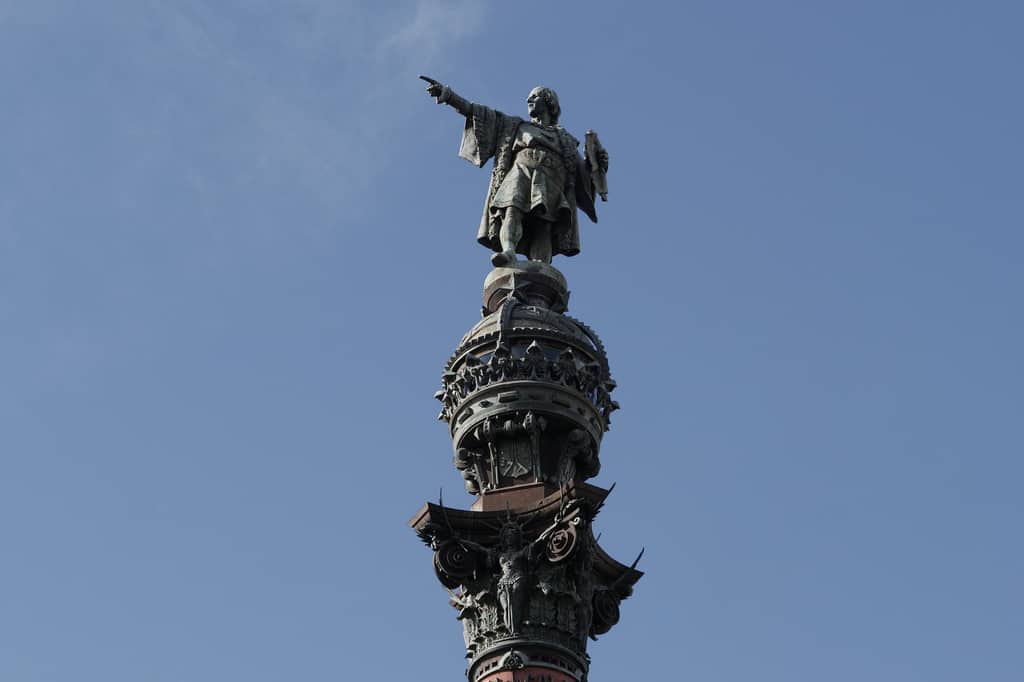 At the end of La Rambla is the Columbus Monument with a view, erected here in 1888 because Columbus decided to return to Barcelona after discovering America. His finger points to America. The viewing platform is 51 metres high and offers great views of La Rambla and the port. On the ground floor there is a wine cellar where wine tastings are held.
Maritime Museum
In the Gothic royal shipyard from 14. century houses the Maritime Museum, which tells the story of the rich heritage and tradition of shipbuilding. Here you can find artefacts, exhibits and documentation and see the Santa Eulalia ship. The Maritime Museum is located right by the harbour, from where it is only a short walk to Maremagnum.
Maremagnum and Rambla de Mar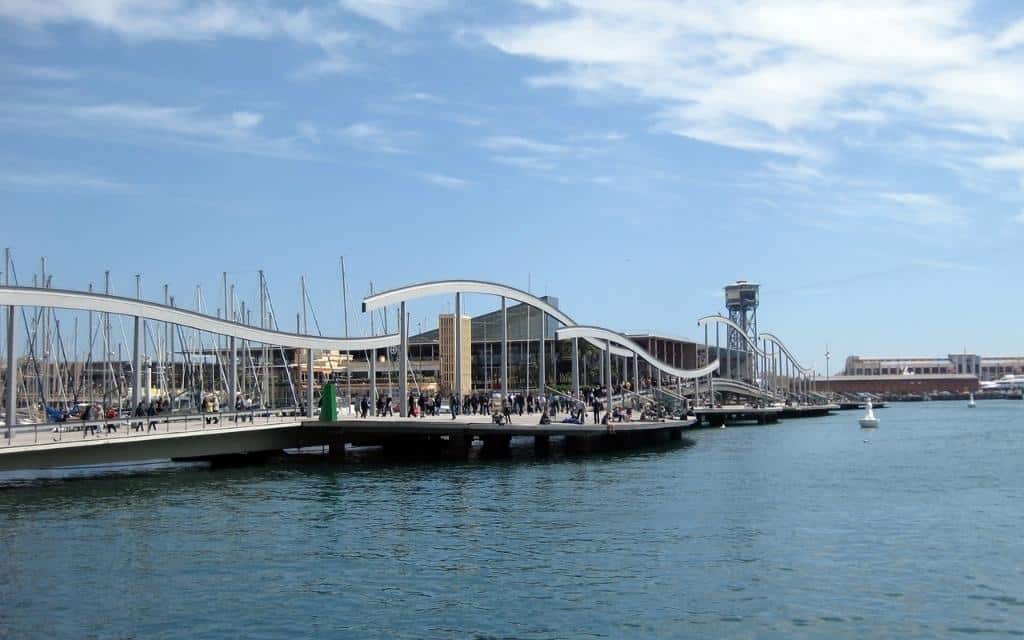 Maremagnum is a place by the water where you can eat well, among other things. It consists of several floors of shops, restaurants, bars and clubs. But even more worth a visit is the wooden promenade of the Rambla de Mar, where you can see fishing boats and yachts.
Basilica of Santa Maria del Mar
The Gothic Basilica of Santa Mara del Mar is the second most important basilica in Barcelona. You will find it in the El Born district. Unlike other large religious buildings, it was built by locals and what it lacks in size it makes up for in detail.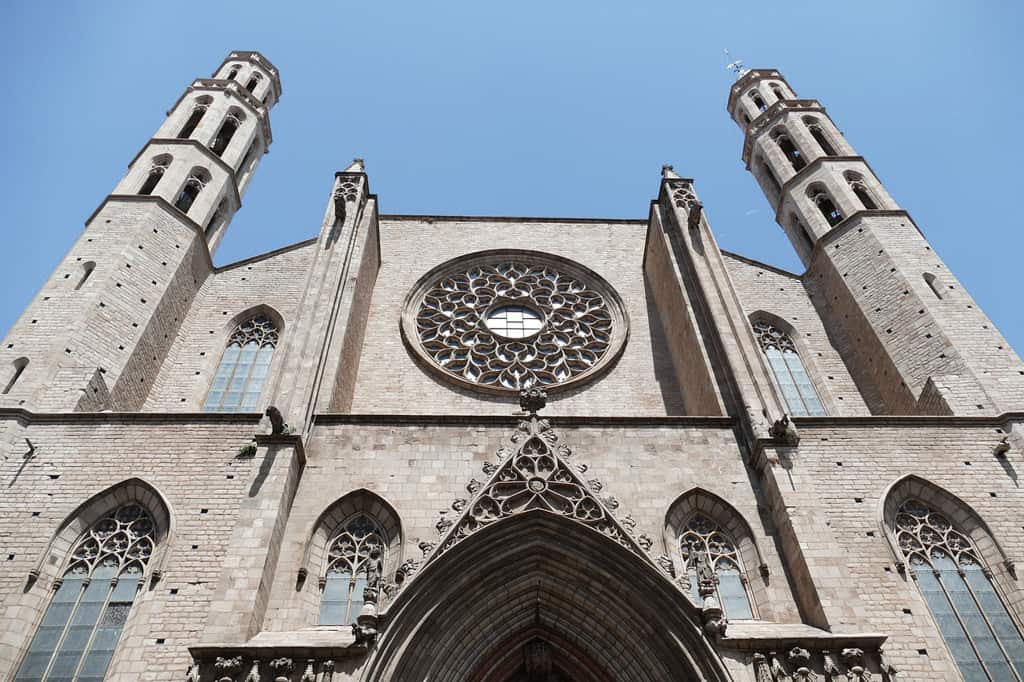 Walk around the back of the basilica to the site of the former medieval market , Passeig del Born. A pedestrian avenue surrounded by two narrow streets and lined with trees, where medieval knights fought duels. That is why today this part of Barcelona is called El Born.
Today, the area is full of great restaurants where you can sit in the outdoor garden and watch the surroundings.
Palau de la Música Catalana
The modernist Palau de la Música is home to the Orfeó Català Choral Association and is a fully functioning concert hall with a regular programme. It is best known for its interior with its magnificent stained glass windows and the teardrop-shaped skylight of the main auditorium, which uses all the colours of the rainbow to let in daylight.
However, the building will also attract you from the outside with its façade with elements of ceramics, red brick and stucco.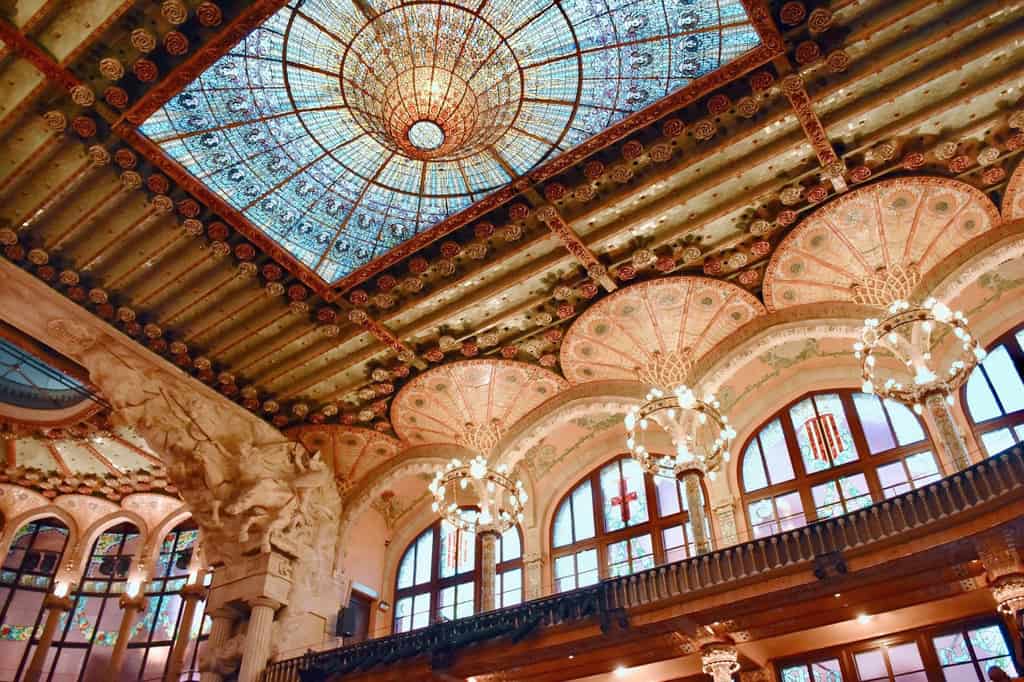 Photography inside is forbidden – only with permission. Want to avoid the crowds? Visit the place first thing in the morning. Early in the morning you also have the opportunity viewed the concert hall without a guide.
Barcelonata and Marina
Barcelona is one of the few major cities in Europe with access to the sea, with long stretches of beaches and a long maritime history.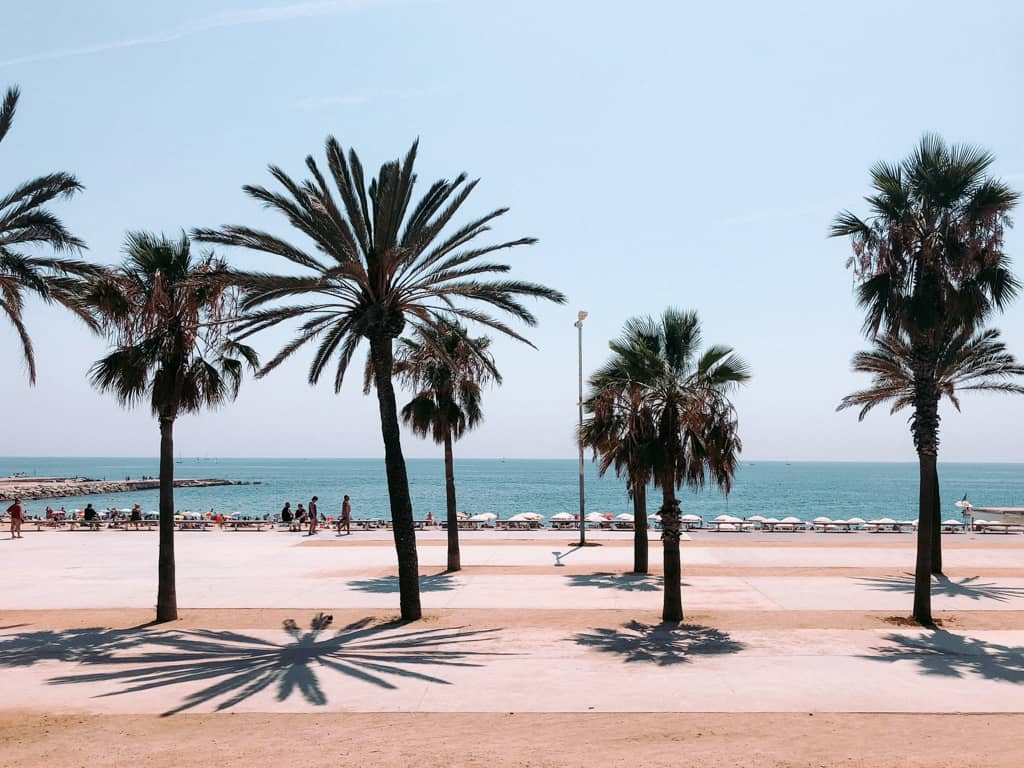 But Barcelona used to not be a beach town. You had to go north or south of town to get to the water. This changed after the Olympic Games, when the waterfront was reconstructed and the Olympic Village was built along today's Barcelonata and Marina.
Barcelonata was once a fishing village and the Marina is a new development. Both areas have great access to the sea.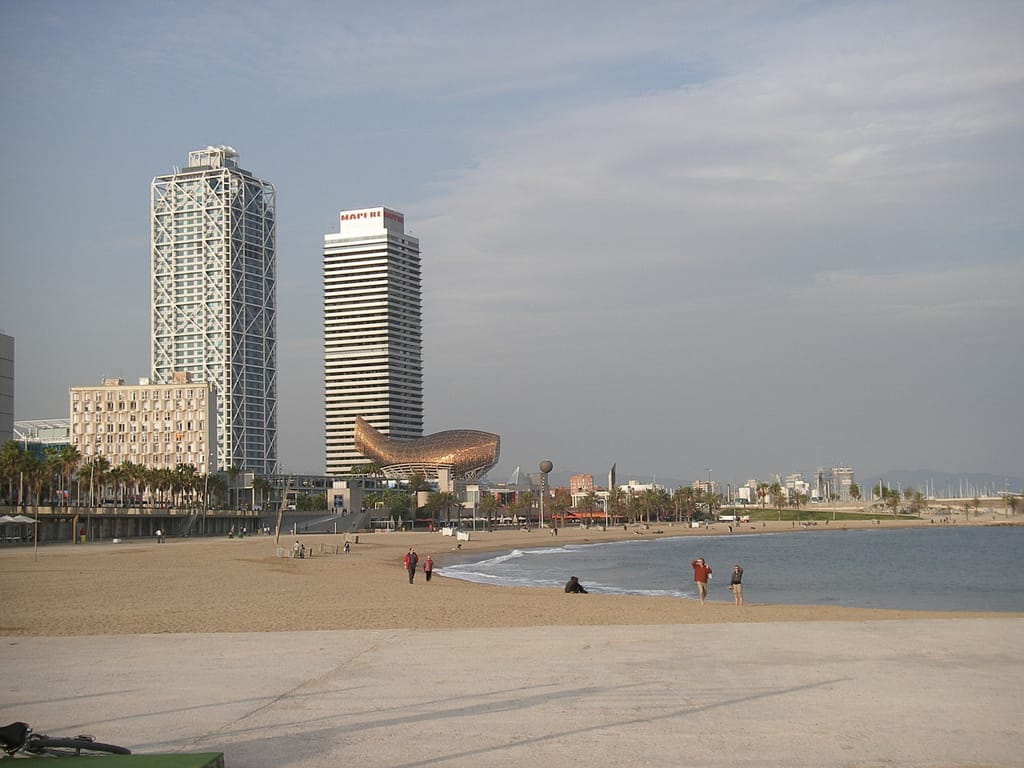 Tibidabo
Tibidabo Hill is home to the Tibidabo theme park of the same name, which opened here in 1905. It is the second oldest park in Europe. In addition to the iconic colour wheel, you'll enjoy spectacular views of the city from the Talaia attraction or the cable car, which was the first major attraction.
The Hall of Mirrors is also worth a visit, as is the Automation Museum with its slot machines, which Walt Disney tried to buy in the 1950s. years of the last century.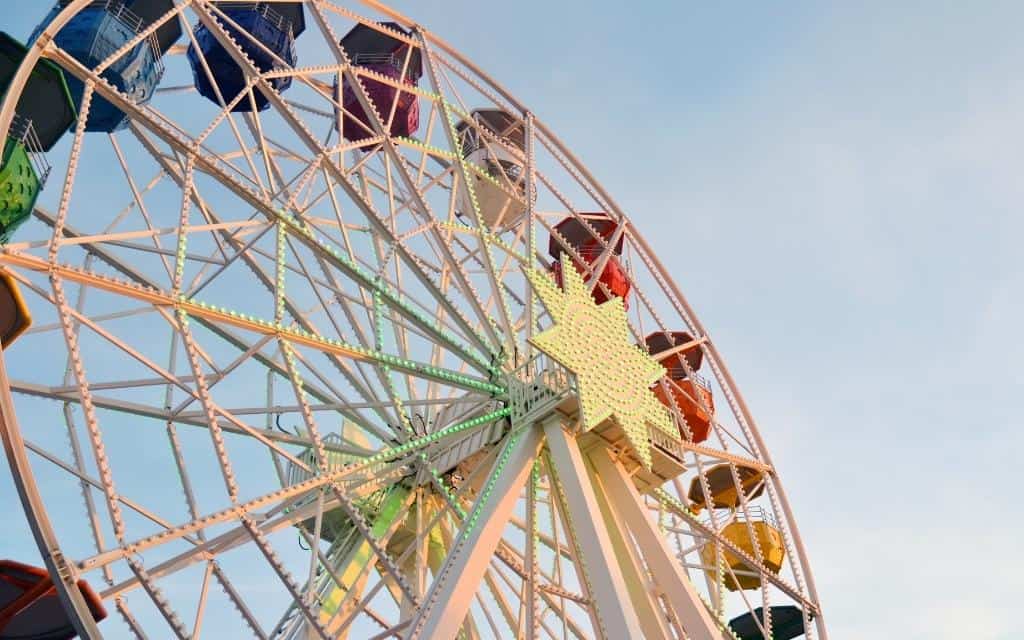 On Tibidabo you will be treated to the magnificent neo-Gothic Temple of the Sacred Heart, whose intricate facade has become a symbol of Mount Tibidabo.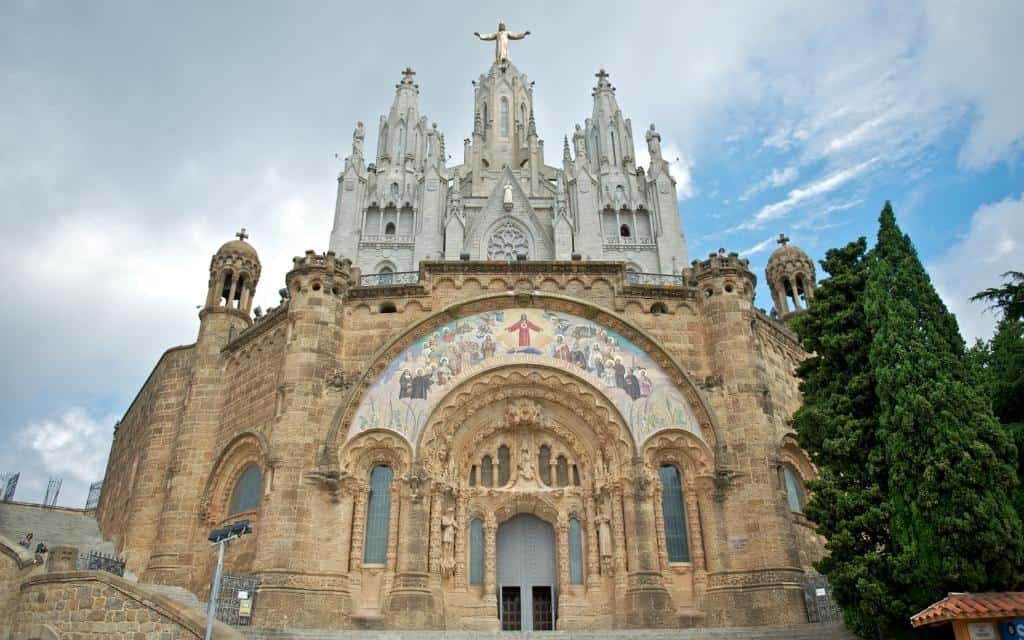 The mountain can be reached by cable car from Plaça Doctor Andreu, which takes 7 minutes and covers an elevation of 250 metres. The timetables can be found here. The price of the cable car is included in the price of the theme park ticket. More on the official website.
Where to go in Barcelona: FOOD
La Boqueria
And we'll start with the most touristy place you'll find on La Rambla. La Boqueria is the city's most famous market, which has transformed into an attraction in recent years. However, you can still find authentic vendors and learn more about local produce.
A popular lunch stand is Pinoccio, where you will be served by the owner with a bow tie. It tends to get busy early, so you want to get there early. Cooked food is only served over lunch, but you can come from 8am when it's least crowded.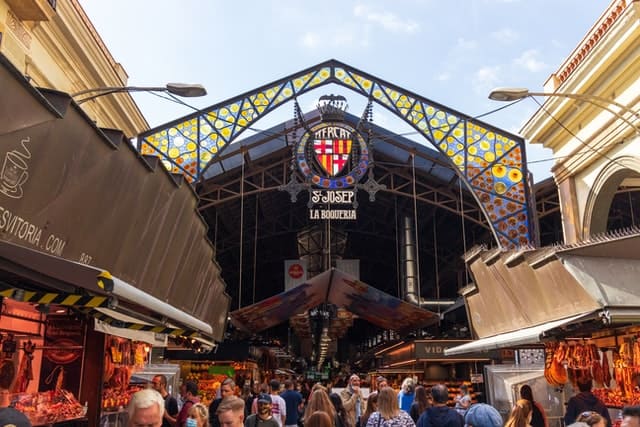 Santa Catarina Market
Is La Boqueria too touristy for you? Try the Santa Caterina market, which has been operating in Barcelona since 1844. It became the first indoor market in the city. There are several restaurants serving traditional Catalan food right at the entrance.
The market is open daily from 7:30 am except Sundays. It closes at 15:30 on Mondays, Wednesdays and Saturdays and at 20:30 on other days.
Café in Palau de la Musica
If you're in the El Born district, head to the Palau de la Musica for a meal (and to admire the concert hall itself). You can get a convenient daily menu consisting of starter, main course, dessert and drink.
Maremagnum
To visit Barcelona and not go to the sea would be a sin. There are also several places where you can have a great time. And you can eat at Maremagnum. A 4-storey department store where you have a great choice of international cuisine. For one price you get the opportunity to taste as much as you want from different parts of the world.
Tips on the best places to see in Barcelona: MAP
HOW TO USE THIS MAP: Above you will find a detailed map of Barcelona with tips on the most beautiful places and sights to visit. Click at the top left of the map to see separate layers with highlighted locations. You can hide and show the different layers or click on the icons on the map to see the names of the places I mention in the guide of what to see in Barcelona. If you want to save the map, star it. For a larger version, click on the icon in the upper right corner.
Where to stay in Barcelona?
Motel One Barcelona-Ciutadella – one of the best hotels in Barcelona and at a good price; strategic location near the Arc de Triomphe and Ciutadella Park
Residencia Universitaria Campus del Mar – apartments including a kitchenette a short walk from La Barcelonata beach
Hotel River – cheap hotel a short walk from La Rambla
Hotel Ronda House – cosy and modern hotel with good quality service and just 10 minutes from La Rambla
Hotel Medicis – cosy hotel next to the Art Nouveau Sant Pau Hospital and 5 minutes from the Sagrada Familia
Hotel ibis Stylesgreat value for money; ideal accommodation for couples and families with children (family rooms and children's play area)
Hotel Acta Voraport – modern and newly furnished hotel a short walk from Bogatell beach
Hotel Arya Stadium – Clean and modern hotel with an outdoor pool a short walk from Camp Nou Stadium
For accommodation in Barcelona, I've put together a detailed guide with tips on the best areas and hotels in Barcelona.
How to enjoy Barcelona?
Book your tickets for the most visited places. Lines can be really long in Barcelona (even for the cable car from the port you can wait over an hour) and some places can sell out in advance. For example, at Park Güell you can see tourists turning around and not getting in. Information on where you need to book tickets in advance can be found at each venue.
Barcelona Card – Barcelona's official card, which gives you unlimited travel around Barcelona, free visits to museums and discounts to most sights. You can choose the length of validity (3, 4 or 5 days).
Barcelona Pass – A tourist card that gives you unlimited access to more than 35 sites in Barcelona. You choose the number of days or the number of attractions.
Unlimited travel around Barcelona – Barcelona is a big city and it's hard to take in all the sites on foot. Transportation here is efficient and gets you everywhere you need to go. Ticket includes unlimited transportation including airport transfers.
Sightseeing bus – A simple and convenient way to get to the most popular places in Barcelona. The bus operates on 2 routes, allowing you to reach places further afield, such as Camp Nou and Park Güell.
These were our 28 tips for sights to visit in Barcelona. Do you have a question? We'll be happy to answer it in the comments below. Have a safe journey!
More information about Barcelona
BARCELONA ITINERARY: Plan your trip with our 3-day itinerary for Barcelona. In a separate article, you can find out what the entrance fees are for sightseeing in Barcelona.
We have also prepared a separate article on how to visit the Sagrada Familia (attractions, how to avoid queues, entrance fees, etc.)
BARCELONA GUIDE: Check out our complete guide to Barcelona (transport, public transport and other practical tips).
BARCELONA ACCOMMODATION: Where to stay we've written down tips on the best accommodation in Barcelona (best areas and hotels).
HOW TO SAVE IN BARCELONA: In the next article we share tips on how to save in Barcelona.
BARCELONA WITH CHILDREN: In a separate article, we share tips on what to do in Barcelona with children.
Article summary with tips on sights to visit in Barcelona
What sights to visit in Barcelona?
The most beautiful and famous sights in Barcelona include the Sagrada Familia, Barcelona Cathedral, Park Güell, La Pedrera and many more. Barcelona has many wonderful places to see. In this article you will find a detailed list of the best places to visit in Barcelona, which you can use to build your itinerary.
Do I need advance reservations for sightseeing in Barcelona?
For some sights, attractions and museums in Barcelona, it is better to make reservations in advance to avoid queues on site. These include the Sagrada Familia, Park Güell and Casa Batlló. For specific booking information, please refer to the individual locations in the article.
Where are the best views in Barcelona?
Climb one of the Sagrada Familia towers and enjoy views of the whole city. Or enjoy the view from the cable car to Montjuïc. The Tibidabo or the Columbus Monument, from which you can see the promenade and the pedestrianised La Rambla, also offer great views.