Thanks to its long history, crystal clear sea and developing gastronomy, Split is an ideal destination for sightseers, sun worshippers and gourmets. In this guide we will share our tips for visiting and having a perfect holiday in Split and present the most beautiful places, beaches and things to do and see in Split, Croatia.
Things to do and see in Split, Croatia
The heart of Split: the Diocletian's Palace
No trip to Split, Croatia would be complete without a visit to Diocletian's Palace, a UNESCO World Heritage Site in Split.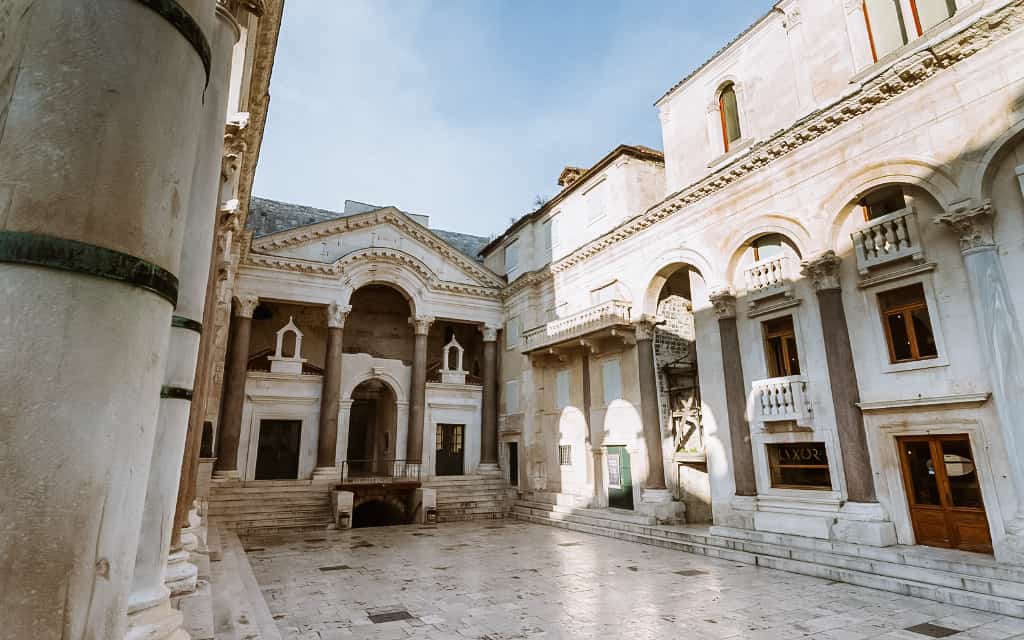 The imposing palace complex of Diocletian's Palace was built in the 3rd century AD and covers an area of approximately 31 000 square metres. It is one of the best preserved examples of Roman architecture in the world.
Inside its walls, you can wander through a labyrinth of narrow streets, courtyards and historic buildings that house shops, restaurants and bars. You enter the complex through one of four gates – the Iron, Copper, Gold or Silver Gate.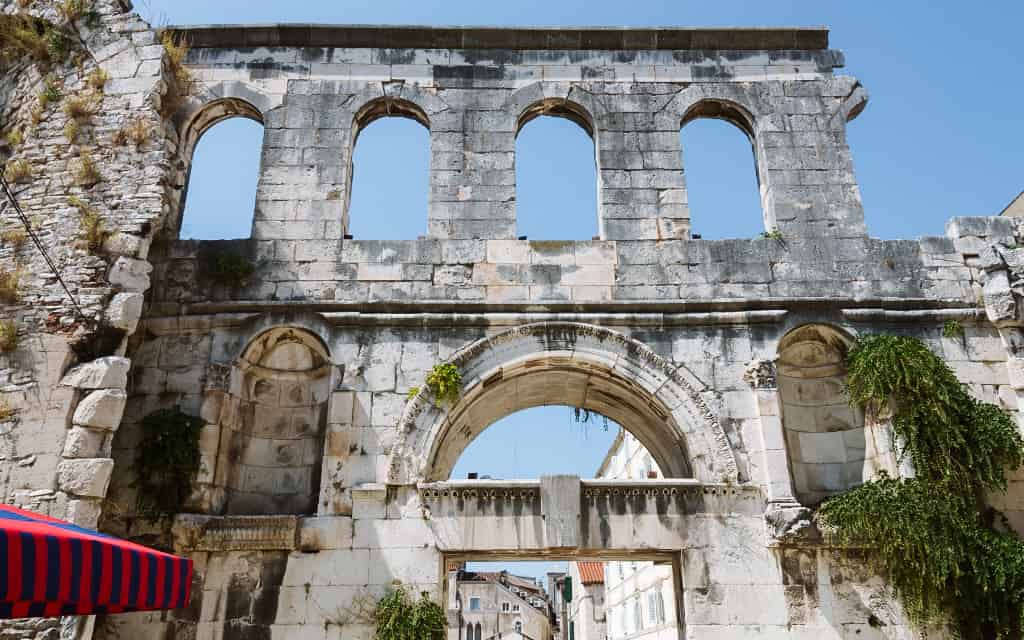 You can also visit the underground halls beneath the palace to see the ancient foundations and learn more.
The most interesting part of Diocletian's Palace is the Peristil, the central square surrounded by colonnades, which in the past served as the main entrance to the imperial apartments.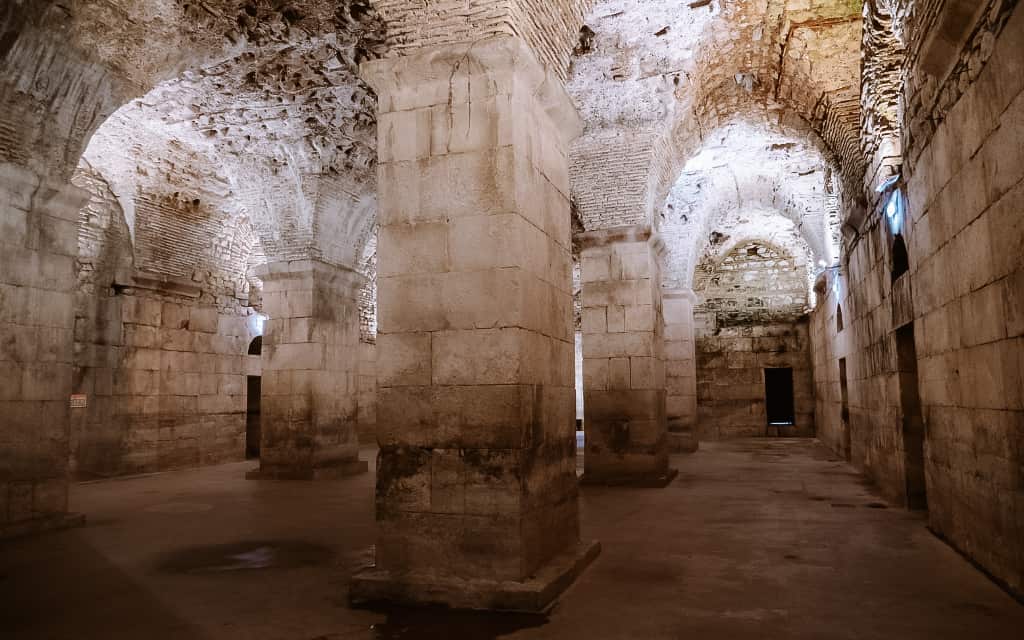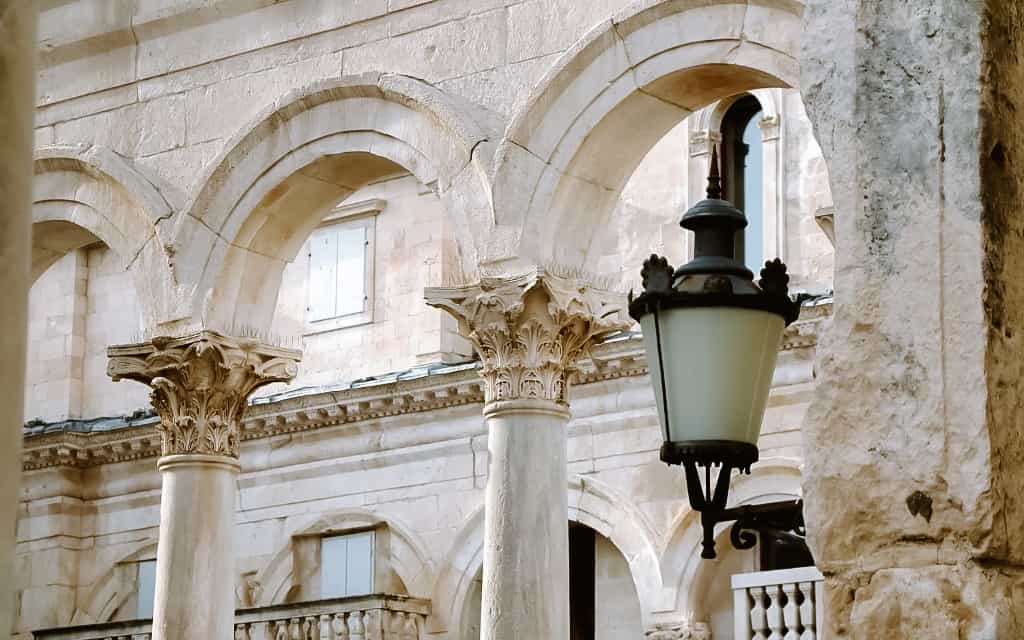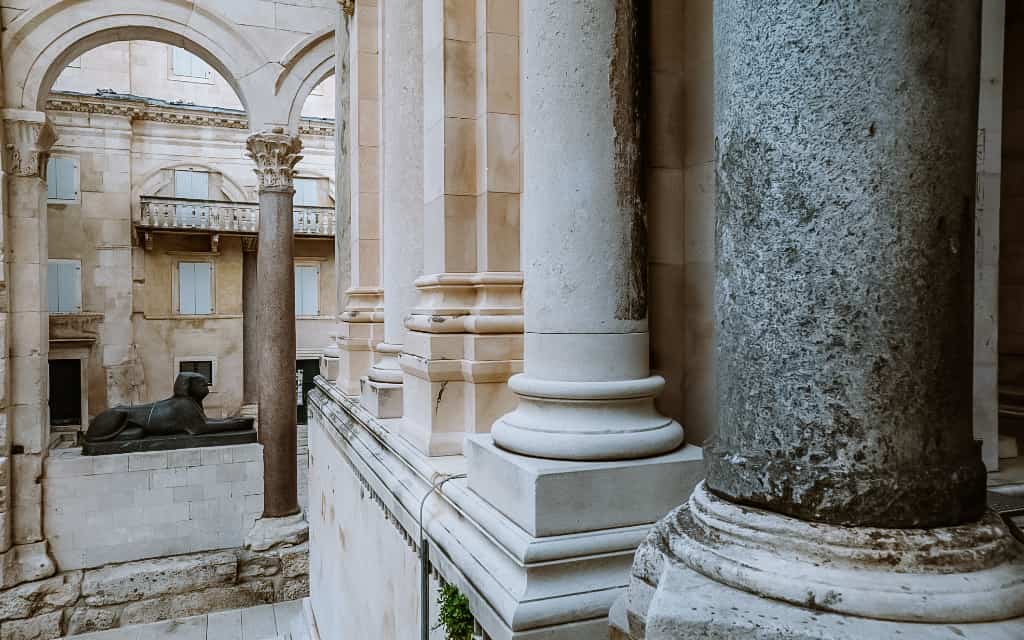 Admission to Diocletian's Palace in Split
Admission to Diocletian's Palace is free. You can walk freely in the streets that represent the old town of Split. And this all day and night.
Count on the fact that in high season there are a lot of tourists. Even in the late hours, when the central part of the palace is beautifully lit. If you want to enjoy the place without tourists, come early in the morning.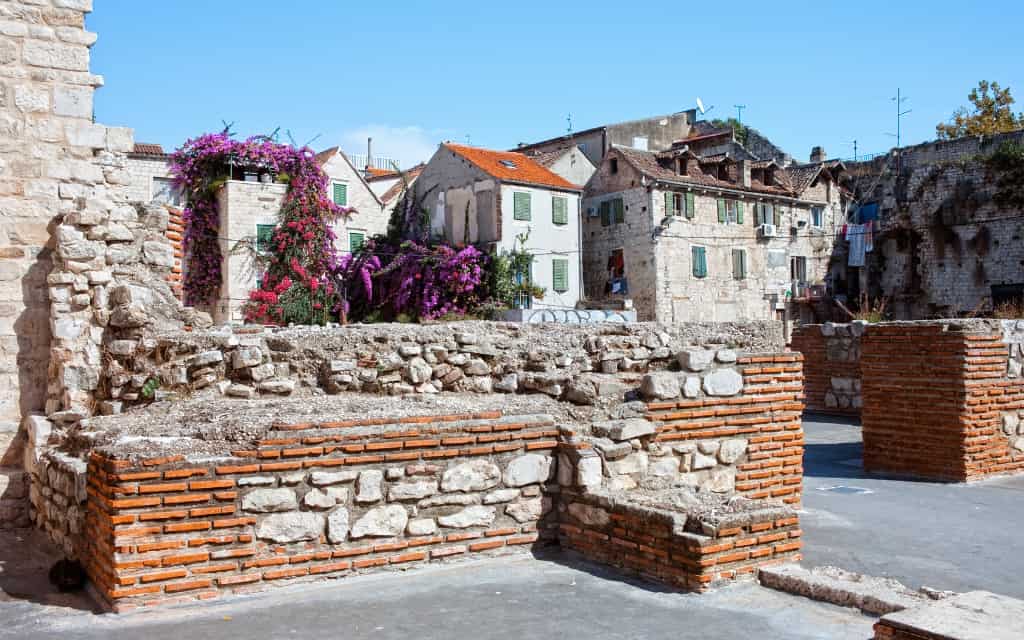 The entrance fee is payable upon entering the Cathedral of St. Domnius, the Bell Tower or the Temple of Jupiter (see other tips for sightseeing in Split). You can buy tickets separately for individual seats or choose a combined ticket.
Combination tickets are colour coded (blue, red, green, purple) and include different combinations of seats in Diocletian's Palace. I recommend choosing the green or purple ticket, as both include the bell tower, which is one of the biggest attractions in Split. The purple ticket includes the most seats and will set you back 100 kn (around €13).
Tickets can be bought at the ticket office opposite the cathedral.
Cathedral of St. Domnius
The Cathedral of Saint Domnius is part of Diocletian's Palace and forms the focal point of Peristil Square. It was originally built as the mausoleum of Emperor Diocletian and later converted into a church.
Entrance to the cathedral is chargeable – see above for information on admission to Diocletian's Palace.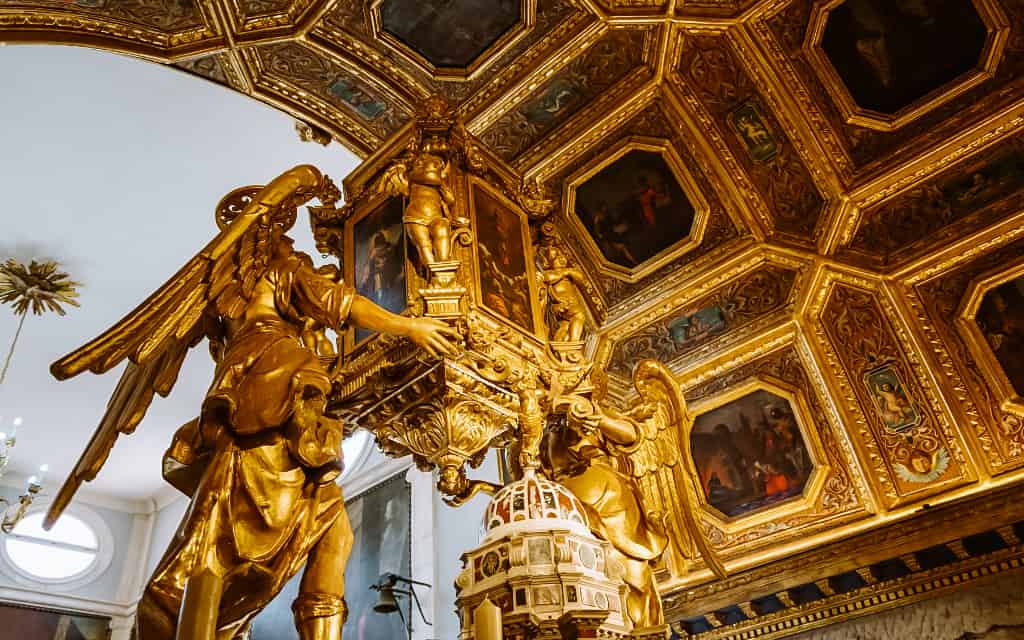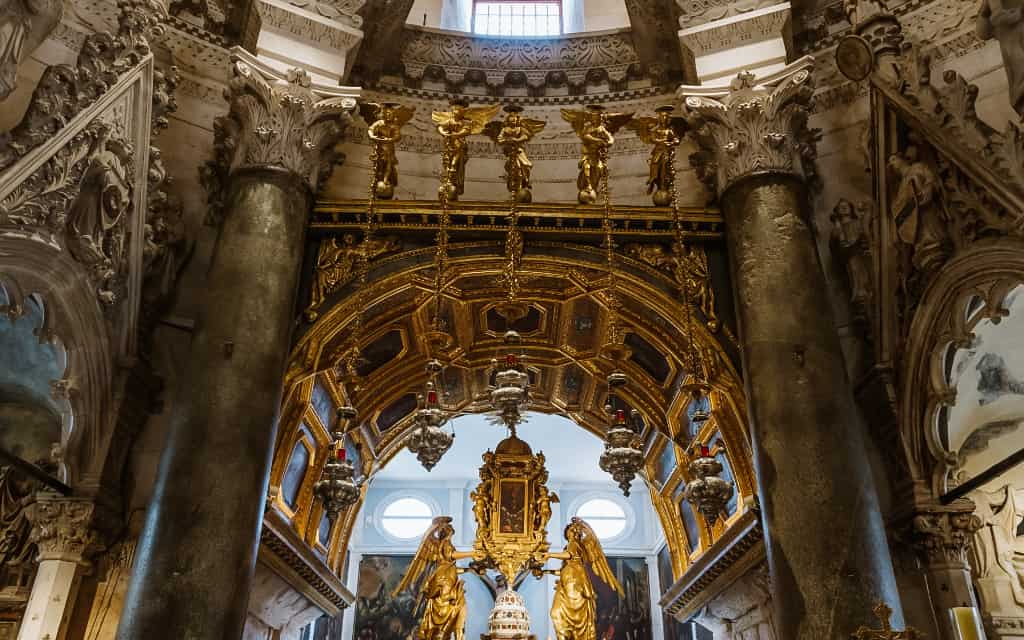 Bell tower – view of Split
The Bell Tower is one of the best places to visit in Split. You will find it again in Diocletian's Palace. Admission to the bell tower alone is 40 kn (in 2022).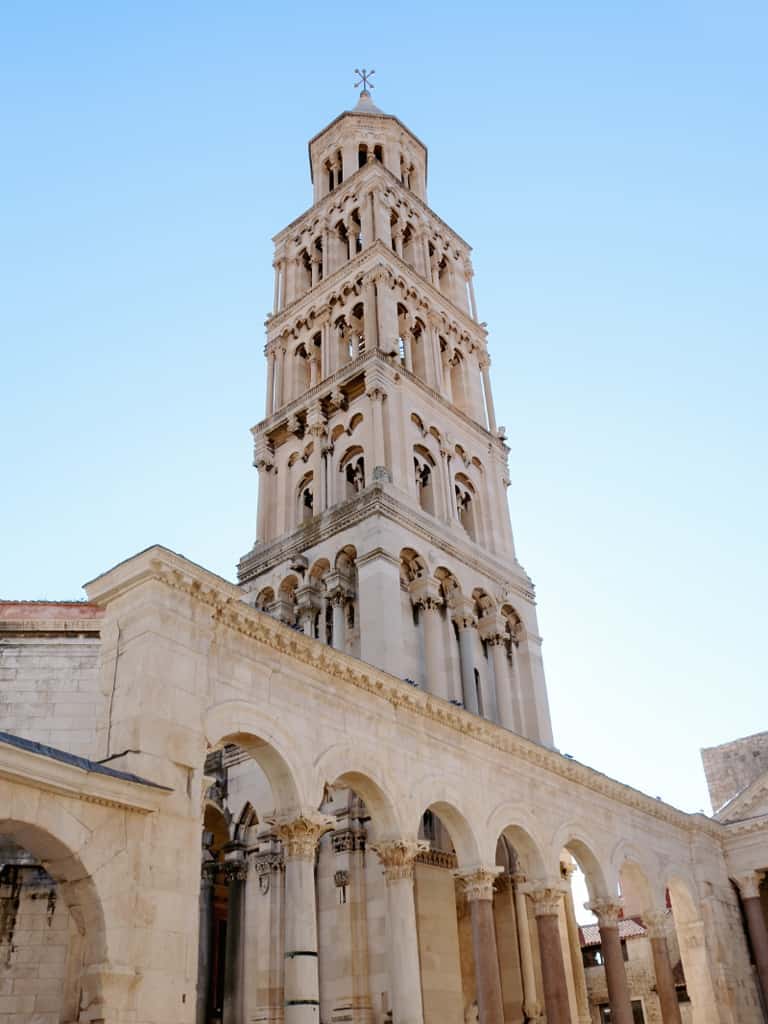 The access to the top can be challenging for some and I would not recommend it for young children or those who are afraid of heights or tight spaces. The stairs are steel, newly renovated, but can be narrow and relatively high.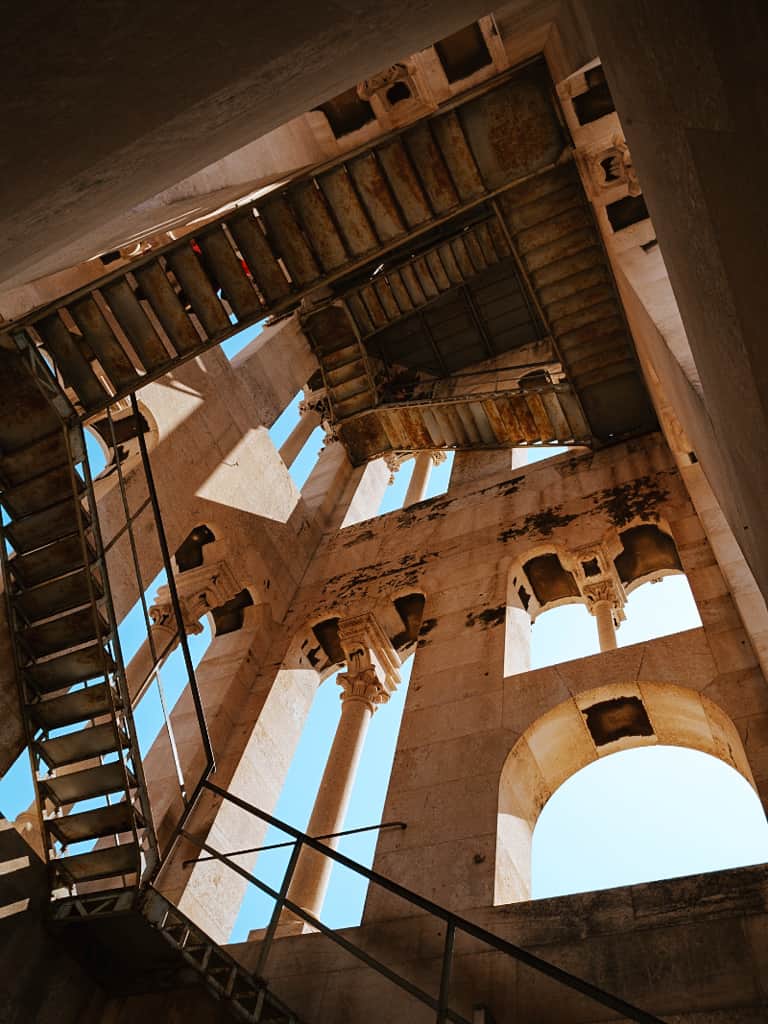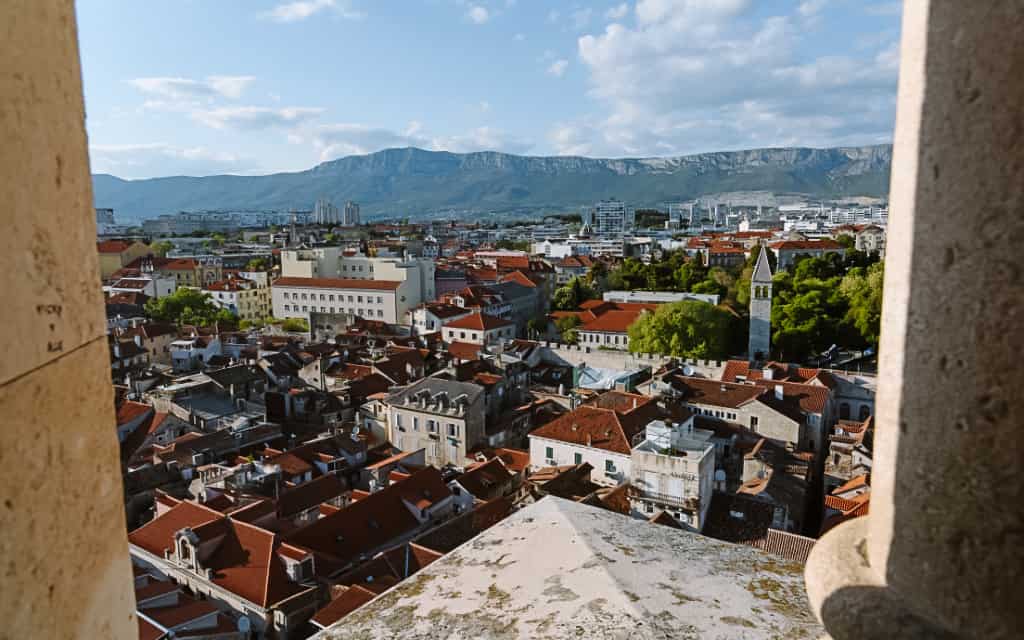 Temple of Jupiter
The Temple of Jupiter is another interesting place in the Diocletian's Palace complex. A well-preserved Roman temple dedicated to the king of the gods. You can also visit the underground halls beneath the palace to see the ancient foundations and learn more.
If you are interested in the ancient period around Split, don't miss a visit to the Archaeological Museum. It is the oldest museum in Croatia, exhibiting artefacts from the prehistoric, Greek and Roman periods.
Riva Promenade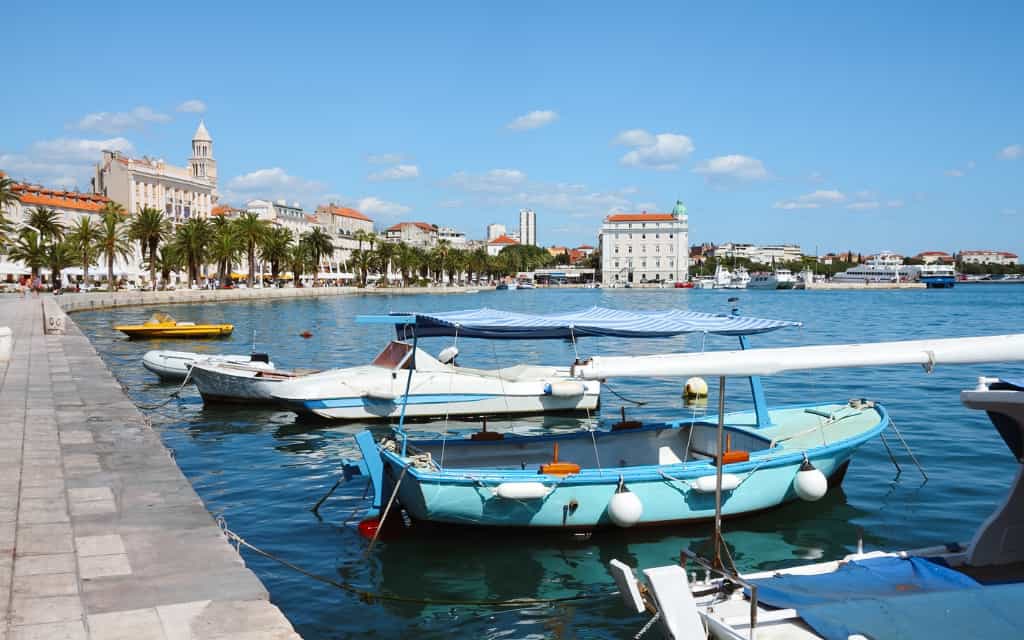 We move beyond the walls of Diocletian's Palace. The Riva is the city's waterfront promenade, which stretches from Diocletian's Palace to the Matejuška harbour. It is full of tourists, but on the other hand it offers a great view of the Adriatic Sea and the nearby islands.
The Riva is lined with cafés and bars where you can soak up the local atmosphere with a drink in hand.
If you are looking for private accommodation, take a look at the apartments on offer here .
Republic Square
Trg Republike is a beautiful, open square that opens onto the Riva promenade. It is lined with colourful houses with arcades, where restaurants and hotels are located.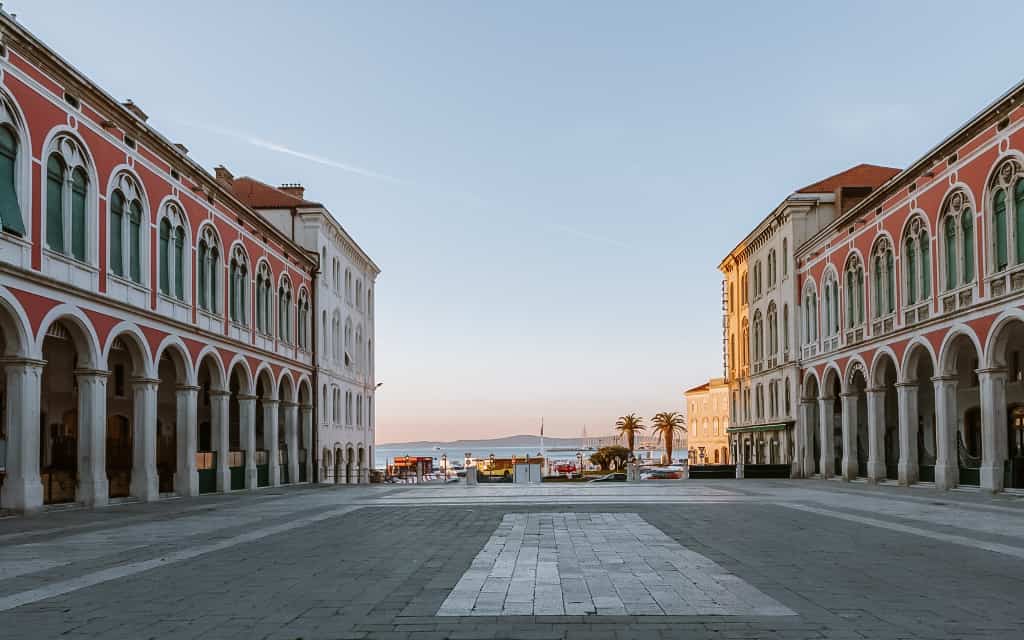 Old Town
Wander the streets of the old town, which includes both Diocletian's Palace and the part of Split west of the palace. The centre is Narodni trg Square with the Town Hall from the 15th century and a bell tower with a clock.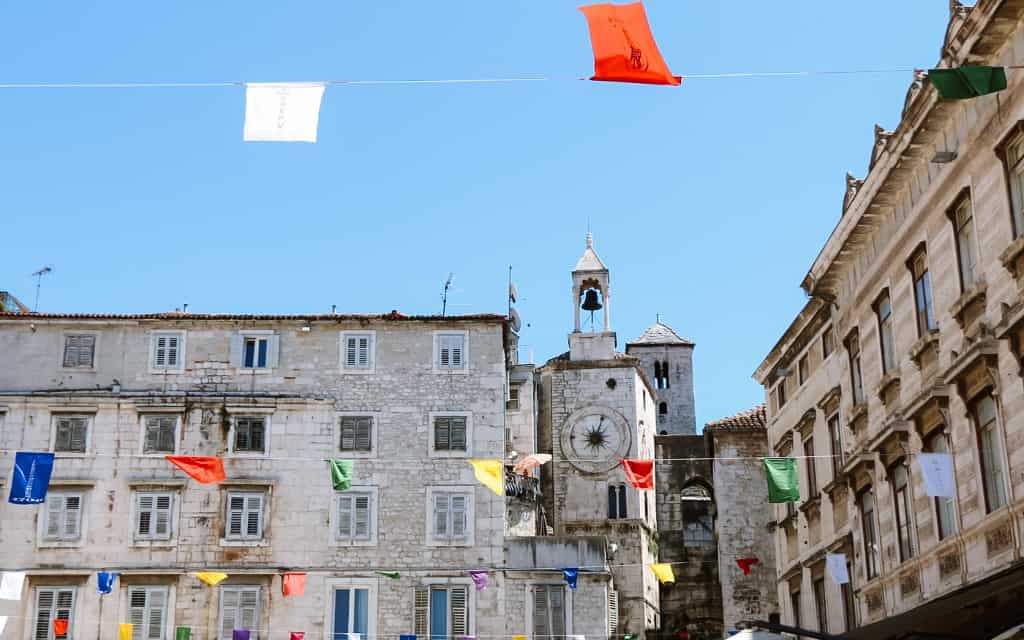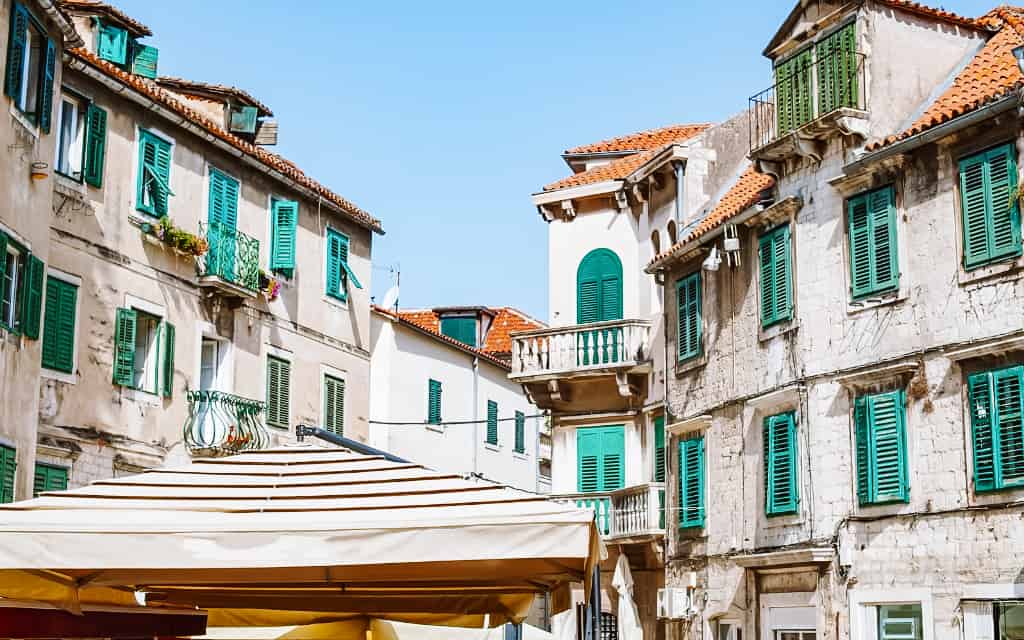 Marjan Park – view of Split
What are we going to say – the old town of Split is beautiful, but as beautiful as it is, it is full of tourists. On Marjan Hill you can take a break from the bustling city.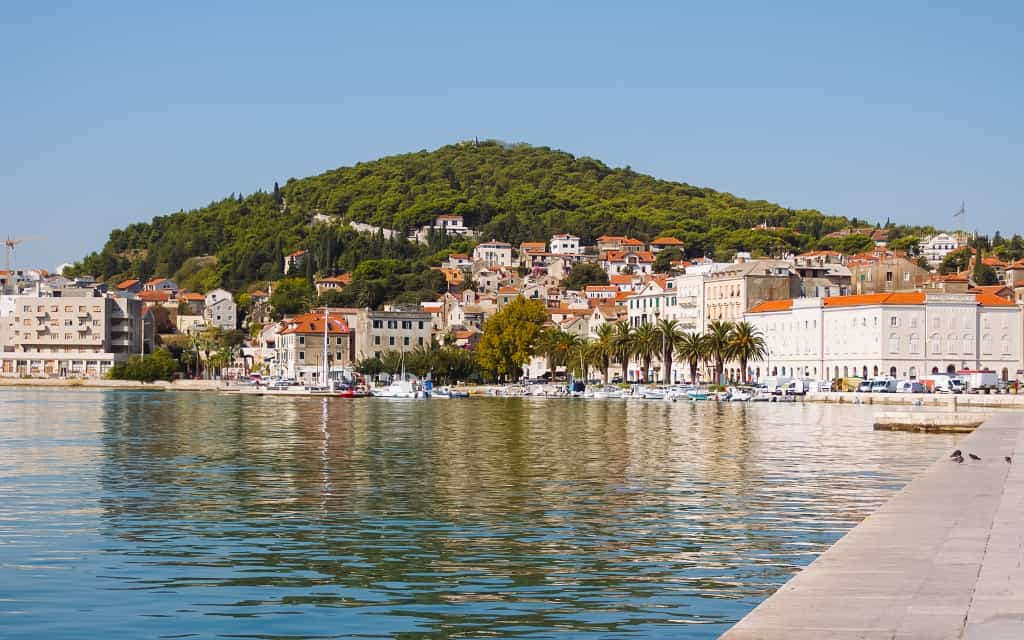 It is a wooded park on the western edge of Split, just a short walk from the old town. A green oasis with walking trails and panoramic views of the city and coastline.
The first one, called Prva vidilica na Marjana, is a popular viewpoint. You have to climb 300 steps to reach it and the views are good, although they are somewhat obscured by the growing trees. The higher you go, the better the views will be. And the best of all will be at the highest point of the Telegrin summit, where there is a neat cobbled lookout with a cross.
There are smaller churches in the park and one is even built into the rock.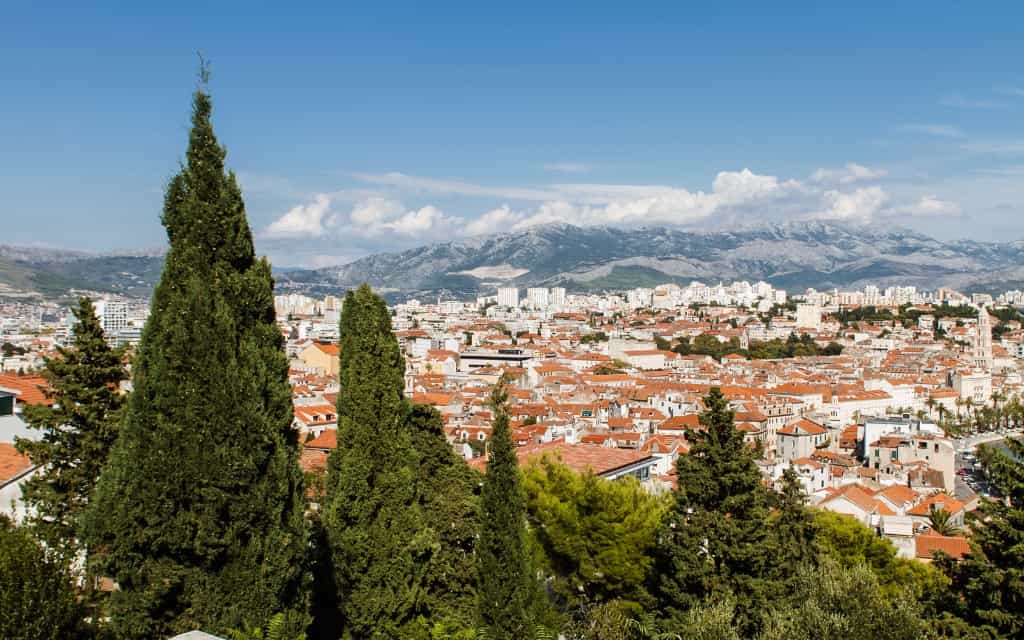 Salon
Salona represents the remains of a Roman city that was located here 2000 years ago. You can walk freely among the excavations and ruins, not many people visit here.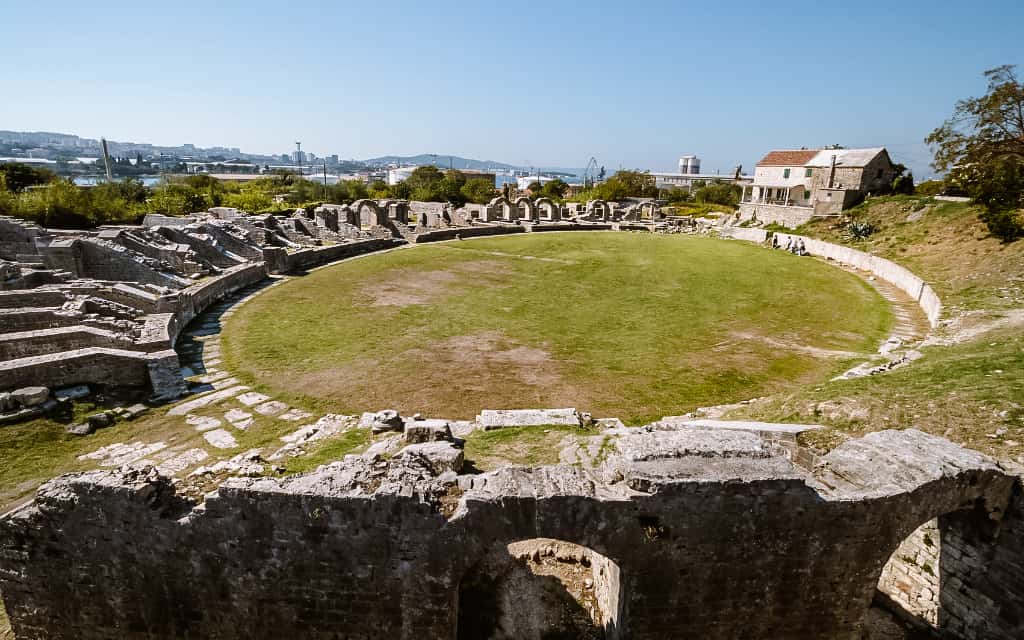 Salona is located about a quarter of an hour from Split in Solin, which can be reached by bus or car. It is located just off the main road to Trogir and you can park for free right next to the Salona.
Admission is 40 kn (20 kn for children), but it is possible that no one will ask you to pay.
See the complete offer accommodation in Split .
Split beaches
Thanks to its location on the Adriatic coast, Split offers beautiful beaches with crystal clear water. There is parking at all of them, but you can also get here by bus from the centre of Split.
Check out the best beaches in Split:
Pebble beach Žnjan
The popular Znjan town beach is ideal for those looking for a complete backdrop. You'll find everything here – cafes, bars, water sports and attractions, changing rooms, toilets and a large enough free car park. There are also several apartments and hotels near the beach.
The beach is quite large and despite its location it is not overcrowded. It is suitable for families with children.
Sandy beach Bačvice
Bačvice beach is just a short walk from the town centre. The only sandy beach with shallow sea and a lively atmosphere, where you can find beach bars, restaurants and water sports facilities.
The beach is one of the most popular beaches in Split, so it's best to arrive early to secure the best spot.
And what makes Bačvice beach unique? It was here that the game of picigin originated. This is played in shallow water, where you and the other players try to keep the ball in the air without using your hands.
If you are looking for private accommodation, take a look at the apartments on offer here .
Pebble beaches Obojena, Kaštelet and Ježinac
About a 25-minute walk from the centre of Split, the smaller pebble beaches of Obojena, Kaštelet and Ježinac are located in two bays. They don't have as good facilities as the beaches in the centre, but there is a beach bar and showers. There are sharp rocks at the entrance, so I do not recommend the beach with small children.
The beaches can be reached from the centre by a pleasant walk or by car (there is a larger free parking lot). The advantage is that the beaches are not overcrowded.
Kašjuni pebble beach – the best beach in Split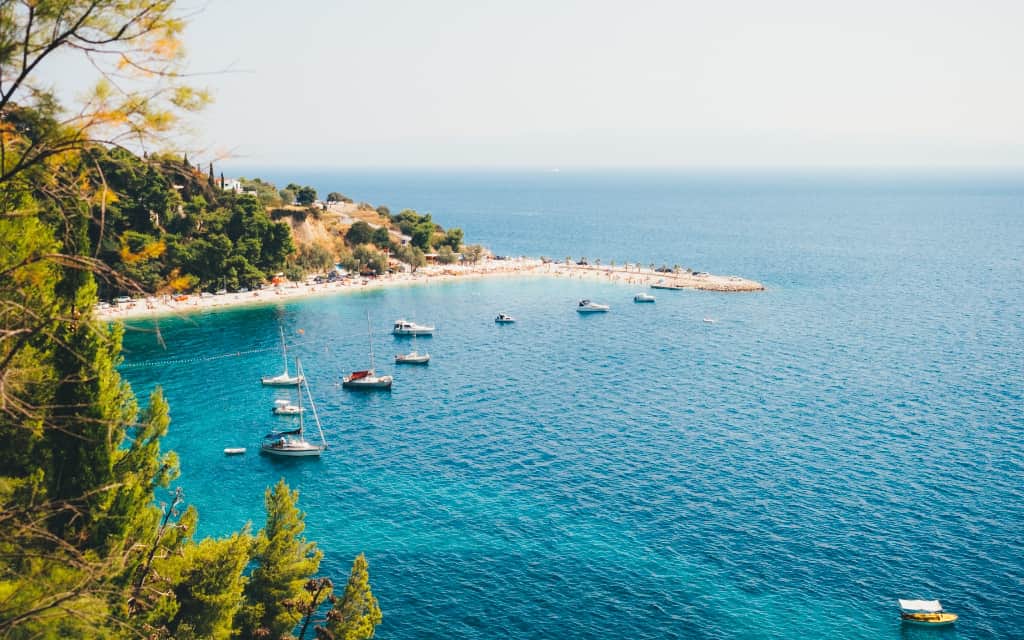 Kašjuni beach is situated in a bay with beautifully clear water. It is further away from the centre, but again it is easily accessible by car, bus or bike. The beach is very popular, so you need to arrive in the morning to have somewhere to park.
At Kašjuni beach you will find all the facilities – refreshments, toilets and you can also rent a deck chair.
Day trips around Split
Take a boat trip to the surrounding islands, walk around the waterfalls or visit the historic towns. Split is a great base for exploring the beautiful surroundings.
Island of Brac and Zlatni rat beach
Catamarans and ferries regularly sail from Split to the island of Brac, which is famous for its pebble beach Zlatni rat. It is unique in that it is constantly changing shape due to the local wind.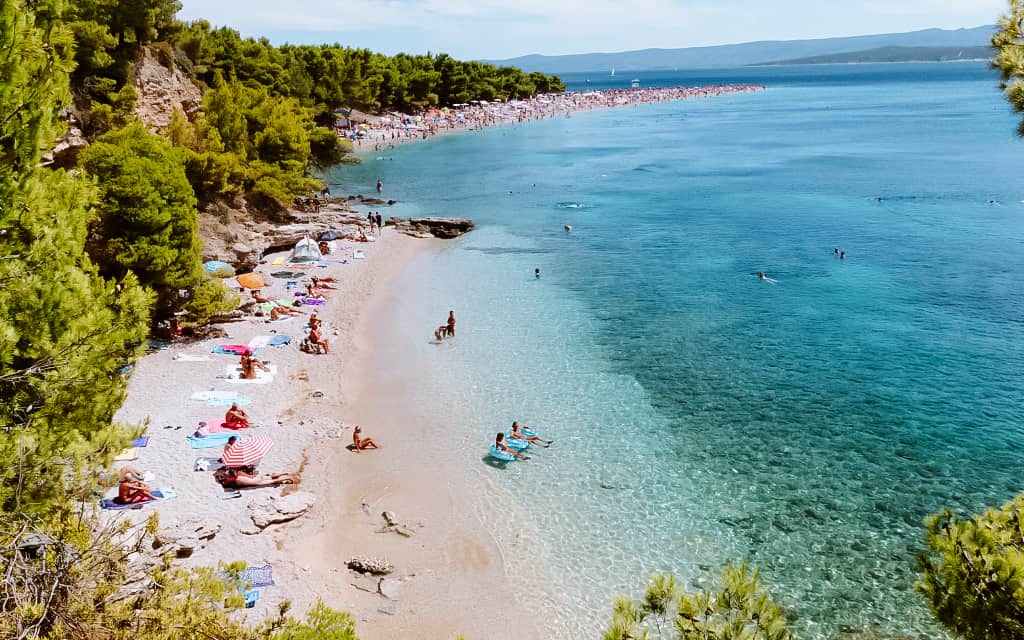 In high season, expect the place to be really crowded and prices to be inflated. If you want to enjoy a place without people, arrive early in the morning.
Fortress Klis
From where to enjoy the breathtaking view of Split and the Adriatic Sea that envelops it? Klis Fortress is located on a mountainside just 12 km from Split and the views are some of the best.
If you're a fan of Game of Thrones, you might find the fort familiar. I'll give you a hint – Denerys showed up with her army in the fourth row.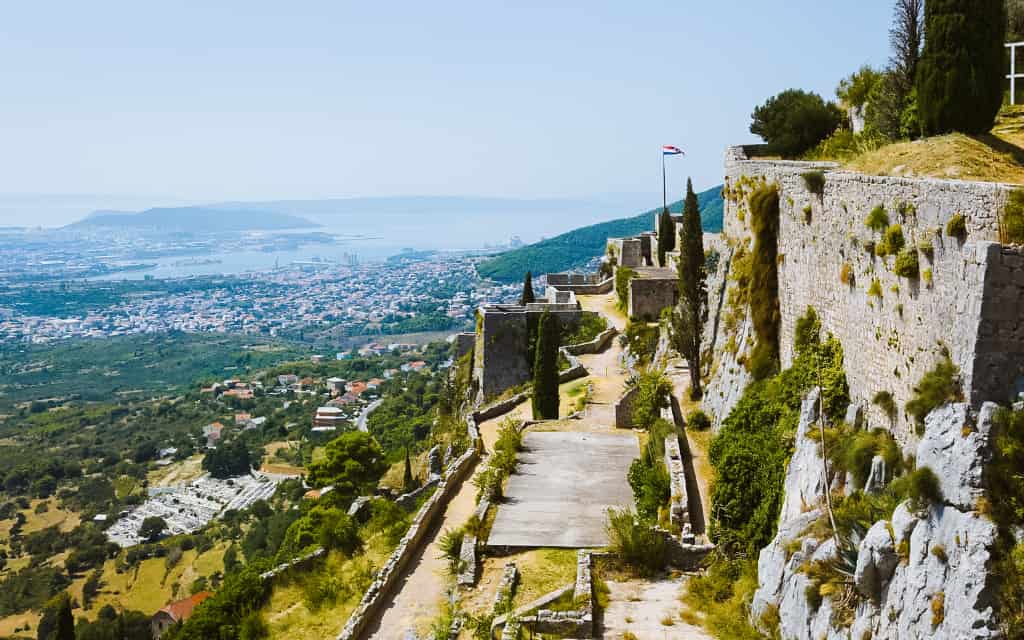 Admission to the fortress is 10 € and it is open daily from 9:00-19:00. Check the official website for up-to-date information before you visit.
Tip: Near the Klis Fortress there is a Dalmatian restaurant called Perlica. Excellent food (especially the lamb) and cosy atmosphere.
Blue cave on the island of Bišovo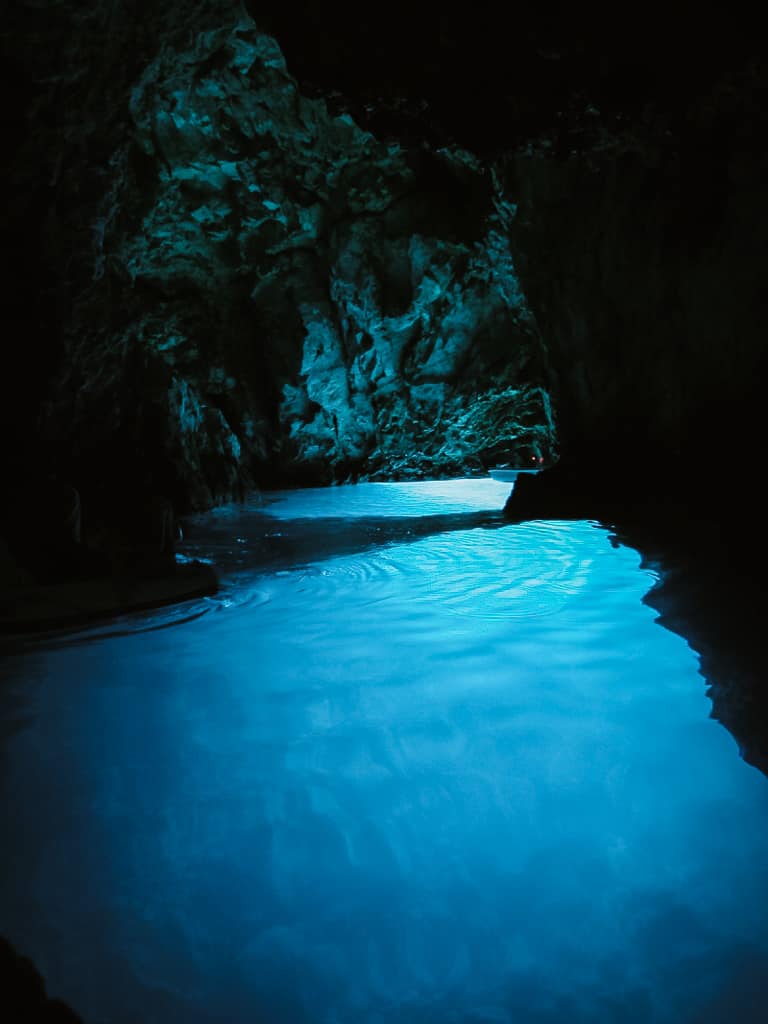 One of the most beautiful places around Split is the Blue Cave (Modra Špilja) on the almost uninhabited island of Bišovo.
It's an amazing experience, to take a guided boat ride into the cave . The trip will take half a day to a day depending on whether you plan to visit other islands around Split.
Historical town of Trogir – excursions from Split
Trogir is a beautiful historic town, located just half an hour from Split (by car or direct bus). Visit the fortified castle from the 15th century Kaštel Kamerlengo, walk the cobbled streets of the old town and discover why Trogir has earned its UNESCO World Heritage Site status.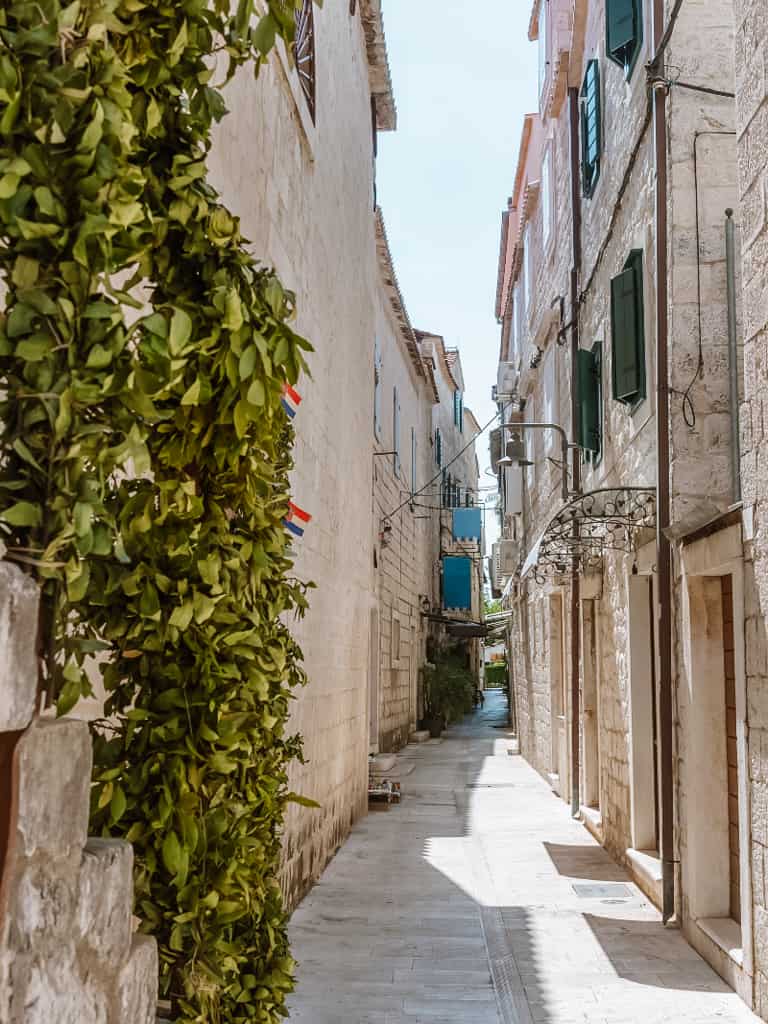 Krka National Park
Would you like to visit the Plitvice Lakes, but they seem too out of hand? Krka National Park is a great alternative. Walk along the wooden walkways around the main waterfalls of Skradinski Buk and enjoy the view of the lake and the lush nature in the surroundings. And where you can't get on the sidewalk, you take a boat.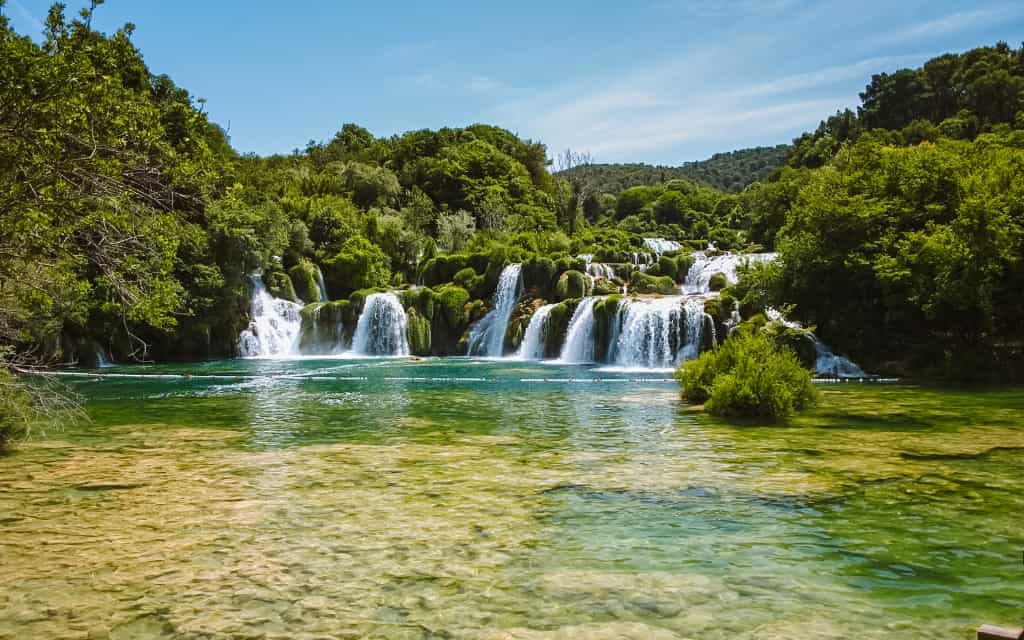 The easiest way to visit Krka National Park is to join the a day trip from Split . Excursions are organised by local agencies, which can take you to other places around Split or give you a taste of the local cuisine.
Food and drink: what to taste in Split?
Split cuisine is a combination of traditional Dalmatian cuisine and modern gastronomy. Fresh, locally sourced ingredients such as seafood, olive oil and seasonal produce are the basis.
Try traditional dishes such as pašticada (slow-cooked beef in a rich sauce), crni risotto (black risotto with calamari) or peka (meat and vegetables cooked under a bell-shaped lid over hot coals).
For the best dining experience in Split, I recommend visiting one of Split's konobas, traditional taverns serving homemade food in a cosy atmosphere. There's an excellent Laganini in the centre, but if you walk along Ulica ban Mladenova west of the old town, you'll come across several others (and not only here).
If you prefer a more modern take on traditional cuisine, visit Bokeria Kitchen & Wine Bar or Zinfandel Food & Wine Bar for a taste of contemporary Croatian cuisine.
With meals, you can sample some of the Croatian wines produced in the nearby Dalmatian hinterland and islands. Popular wines include the red wines Plavac Mali and Dingač, as well as the white wines Pošip and Grk.
Do you like markets with local vendors where you can buy fresh fruit, vegetables and local produce? Visit the Green Market (Pazar) east of the old town or the Fish Market (Peskarija) west of the old town.
See the complete offer accommodation in Split .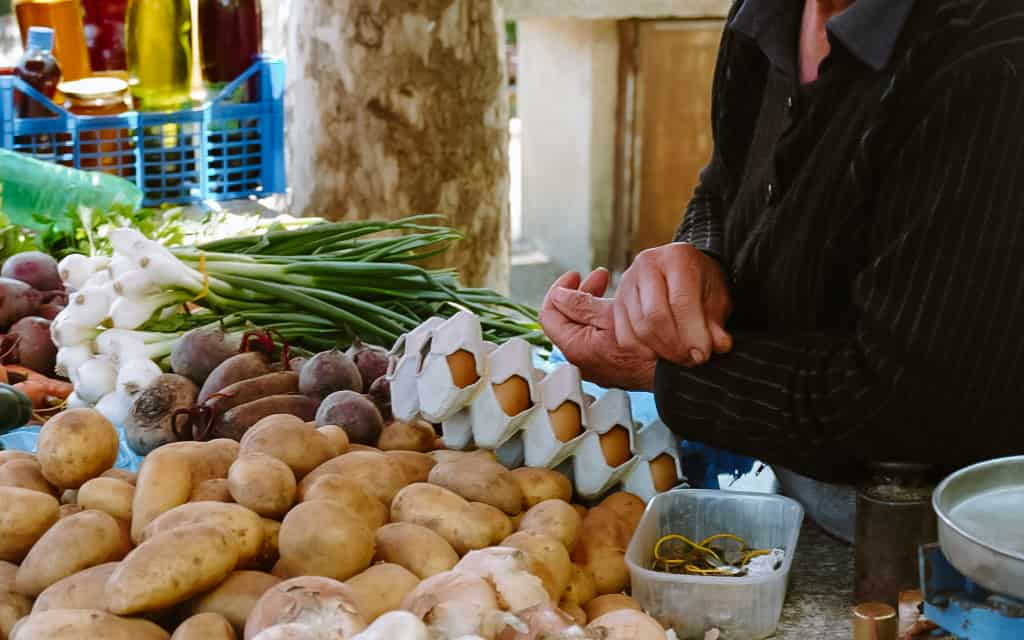 How to get to Split, Croatia?
By air to Split
arrival by airport Split
Split Airport (SPU), also known as Resnik Airport, is the main gateway for international and domestic flights into the city.
It is located about 20 km west of Split, at the exit of the town of Kaštela.
Major airlines such as Croatia Airlines, Lufthansa, easyJet and Ryanair fly to Split from some European cities (Vienna, London, Berlin and others). In the main tourist season (May to October), the connections are more frequent. See the current flights to Split here .
Upon arrival at Split Airport, the city centre can be reached by airport bus, local bus, taxi or rental car. The price for a direct bus from the airport to Split is 60 kn. Buses stop at stop no. 1 in front of the terminal. More information about the airport bus to Split can be found here.
Arrival by airport Zadar
The second option is the airport near Zadar, where airlines fly from Prague or Nuremberg (especially in high season). Check out the current flights to Zadar here .
From the airport you can then take the airport bus to the bus station in 20 minutes (cost less than €5 or 35 kn in 2023).
Buses run from the station to Split several times a day. The trip takes about 3 hours and costs around 16 €. See here for current prices and timetables for buses Zadar-Split.
A quicker option is to rent a car directly at Zadar airport. You can pick up your car right at the airport. You can book here to get the best price.
All insurance is included, so there are no unpleasant surprises on the spot. The drive from Zadar Airport to Split takes 1.5 hours.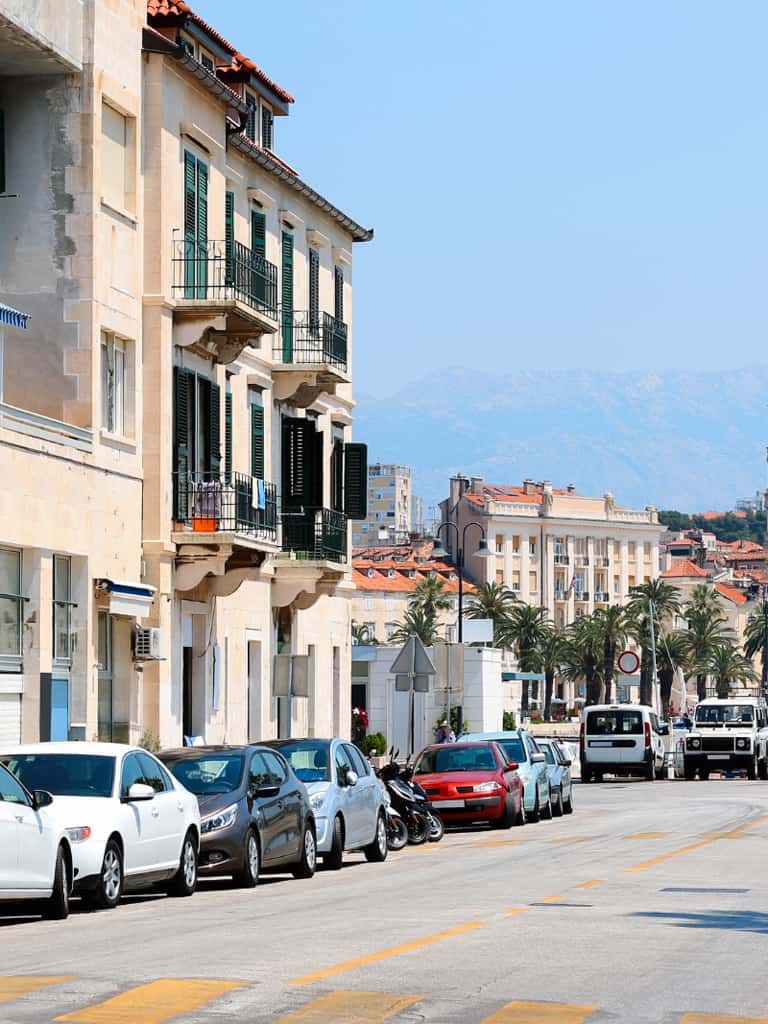 By car to Split, Croatia
Roads in Croatia are generally well maintained and well signposted. In high season, be prepared for possible traffic jams.
Petrol and diesel prices vary from country to country. The current fuel prices can be found at this link.
Toll in Croatia
Croatia has a toll system on its motorways, operated by Hrvatske Autoceste and Autocesta Rijeka-Zagreb (ARZ). Here is a map of the toll sections where you can calculate the toll.
Tolls are calculated based on the distance travelled and the category of vehicle. Payment can be made in cash (Croatian kuna), by credit/debit card or through the Electronic Toll Collection (ETC, ENC in Croatian).
If you are using an electronic toll collection system, just drive through the marked ENC lane and the toll will be automatically deducted from your account. To use electronic toll collection, you must purchase an ENC device – here is a list of the points of sale.
The advantage is that you don't have to wait at the toll gate. Plus, you'll get a discount on tolls.
Speed limits on roads in Croatia
In built-up areas, the speed limit is usually 50 km/h.
On open roads outside urban areas, the maximum speed is 90 km/h.
On expressways (two-lane roads with off-ramps), the maximum speed limit is 110 km/h.
The speed limit on motorways is 130 km/h.
Split parking
If you're driving or renting a car, you're probably wondering where to park in Split (unless you're staying here). Parking in the city centre is very limited, especially in high season. In addition, much of the old town is pedestrian only.
This car park is located close to the centre:
See a clear map of where to park in Split. Just enter your city and parking options will come up, including approximate prices.
You can pay for parking with cash, card (not all machines allow this – check) or the Parking M-Split mobile app.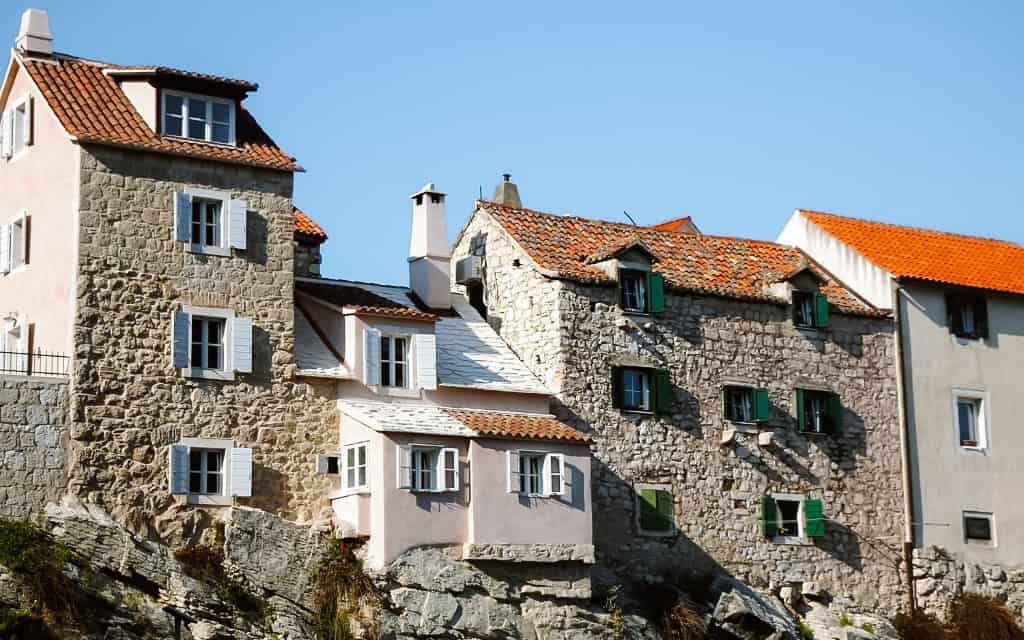 Transportation in Split and surroundings
Split is a compact and pedestrian-friendly city where most of the main sights are within walking distance. The historic centre, including Diocletian's Palace, is a car-free zone, making it a pleasure to explore on foot.
The most common type of transport in Split and its surroundings is buses. These are complemented by taxis, Uber and bike rental companies.
Buses
For more distant places, such as Marjan Hill or the beaches, you can use the city buses that connect the centre with the various neighbourhoods and suburbs.
Split and its surroundings are divided into zones for bus transport purposes (see picture). The town itself falls within Zone 1.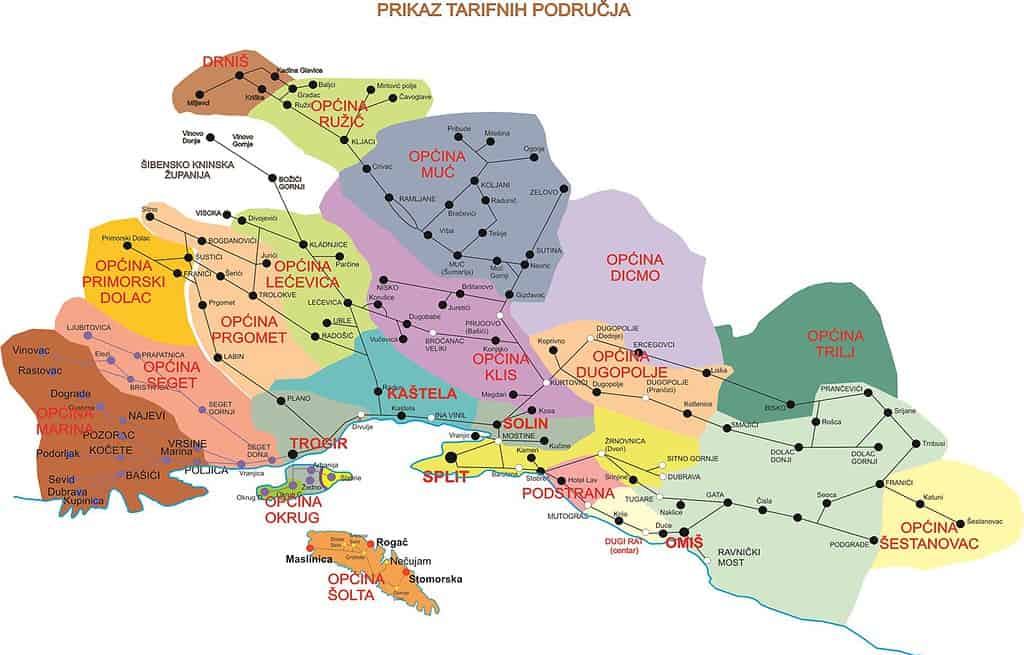 A one-way ticket in Split with a validity of 60 minutes costs approximately 7.5 kn (1 €) and a driver's ticket costs 15 kn (2 €). Prices are half price for children 6-10 years old and are valid for up to 135 minutes. You can buy tickets from ticket machines, newsagents or shops at the station.
Tickets are also available for 24 hours, 48 hours or 168 hours (7 days). With these you can travel without limitations. The prices then vary depending on whether you plan to ride only in 1 zone (i.e. in one city or area – see colour-coded in the picture above) or in all zones (e.g. planning trips from Split to Omis, Trogir or Solin).
For 2023, the prices for multi-day tickets are as follows:
24 hours for 1 zone for 4 € and for all zones 8 €
48 hours for 1 zone for 10 € and for all zones 20 €
168 hours for 1 zone for 20 € and for all zones 40 €
You can also use buses when travelling around Split – frequent bus services connect Split with cities such as Zagreb, Dubrovnik, Zadar and Sibenik, as well as international cities such as Mostar (Bosnia and Herzegovina) and Belgrade (Serbia).
Bus travel is affordable and many buses also offer air conditioning and free WIFI.
The central bus station is located a short walk from the centre by the port of Split. Buses from Split airport also stop here. For information on bus connections and timetables from Split, see here.
Rent a bike
The bike is a great way to enjoy Split from a different angle. You can go around the harbour, coastal promenades up to the Marjan peninsula.
There are many stations around Split where you can rent a bike. See the map and more information about prices and how to rent a bike in Split.
Trains
Split is connected to the Croatian rail network, but train travel to the city is generally slower and less frequent than bus travel. The main train line connects Split with the Croatian capital Zagreb, and several daily services take approximately 6 hours.
The train station is located next to the central bus station a short walk from the port.
Ferries from Split
From the port of Split, you can also reach other areas around the city – the islands of Hvar, Vis, Brac or Zadar and Dubrovnik in the south of Croatia. The ferry station is located in the port of Split, near the city centre and Diocletian's Palace.
There are several companies operating here, but Jadrolinija offers the most connections. On their website, you can see where to go from Split, including timetables, prices and how to buy tickets online (or you can buy tickets on the spot). Jadrolinija is complemented by other companies.
There are ferries, which are also used for transporting vehicles, and catamarans for transporting people.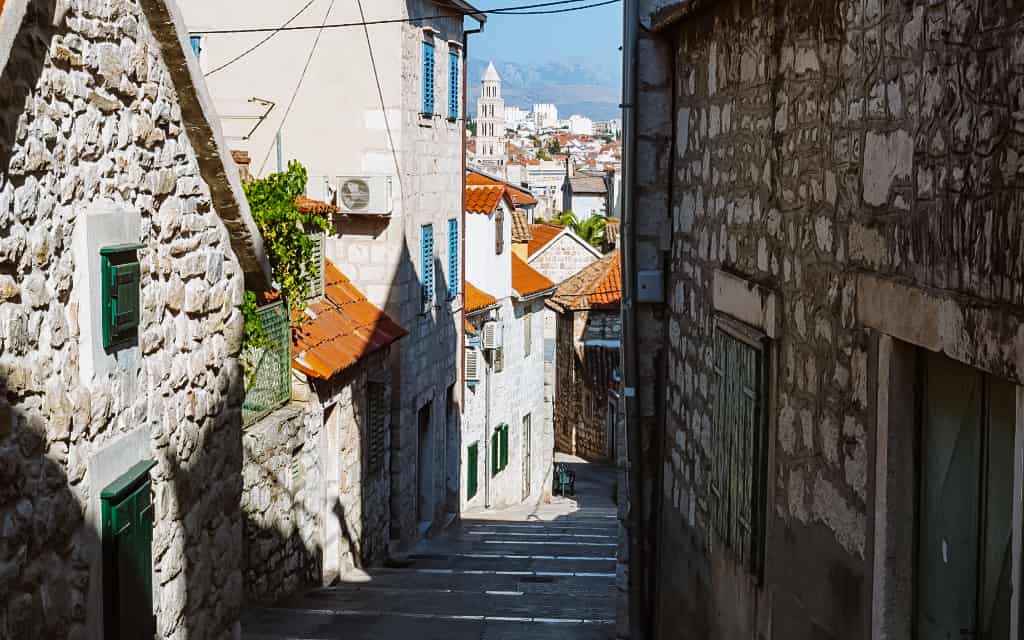 Where to stay in Split, Croatia
If you are looking for private accommodation, take a look at the apartments on offer here .
Split prices
Split is an affordable destination, especially compared to some other European cities. However, prices can still vary depending on the time of year and location.
Below are indicative prices you can expect in Split:
Accommodation: prices in shared rooms in hostels start at around 100 kn (€14) per night, while budget hotels or guesthouses can cost 200-400 kn (€27-54) per night in a double room.
Mid-range hotels and private apartments typically range from 400-800 kn (€54-108) per night, while luxury hotels and luxury vacation rentals can cost up to 1,000 kn (€135) per night.
Food: Eating out in Split can be quite affordable and offers a wide range of options, with something to suit everyone's budget.
A meal in a cheap restaurant or fast food costs around 40-70 kn (5-10 €). Mid-range restaurants usually charge 80-200 kn (€11-27) for a three-course meal per person. In upscale restaurants and fine dining establishments, prices exceed 250 kn (€34) per person. If you're travelling on a budget, you can shop at local markets for good prices.
Split map
HOW TO USE THIS MAP: Above you will find a detailed map with the best things to do in Split, Croatia. Click at the top left of the map to see separate layers with highlighted locations. You can hide and show the different layers or click on the icons on the map to see the names of the places I mention in the guide. If you want to save the map, star it. For a larger version, click on the icon in the upper right corner.
Split, Croatia: What is the weather and when to visit?
Split has a Mediterranean climate, with hot, dry summers and mild, wet winters. If you're looking for warm, sunny weather, Split is the place to be.
Let's take a look at what weather you can expect in Split throughout the year:
Summer (June to August): summer in Split is hot and sunny, with average temperatures ranging from 24 °C to 30 °C. During the peak summer months, temperatures can occasionally rise above 30 °C. Precipitation is scarce during this period, with July usually being the driest month.
Summer is also the main season in Split. The beaches and the centre are crowded and prices are rising.
Autumn (September to November): autumn in Split is generally mild and pleasant, with average temperatures ranging from 14°C to 24°C (you can still enjoy swimming temperatures in early September). It rains more often during this period (November is the rainiest month).
In autumn, the number of tourists decreases and you can enjoy the streets of the old town without crowds. Autumn is also an ideal time for excursions around Split (just watch out for ferry and catamaran schedules, which don't run that often).
Winter (December to February): winters in Split are mild and wet, with average temperatures ranging from 7°C to 13°C. Snowfalls are rare, and it usually rains more often in the city during this period.
Spring (March to May): spring in Split is characterized by gradually rising temperatures and increasing sunshine. Average temperatures range from 10°C to 20°C, making it a pleasant time to explore the city and its surroundings. Rainfall decreases during this period and May is generally the sunniest month.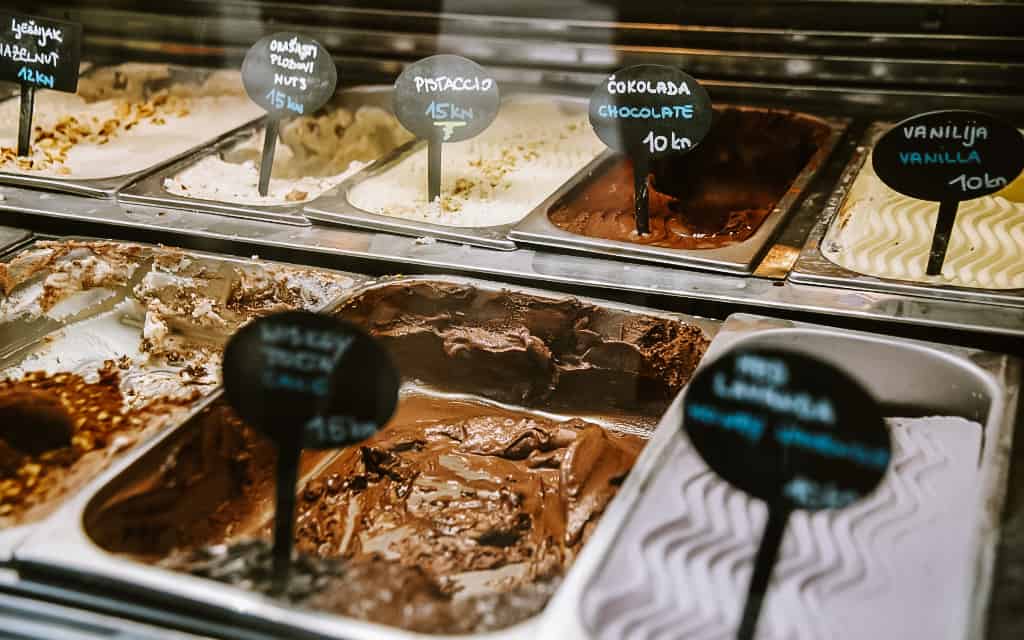 Tips on how to enjoy Split
Wear comfortable shoes: cobbled streets and uneven surfaces are typical of Split's old town.
Use public transport: Split's public transport, mainly buses, is reliable and affordable. You can also take the bus to the more distant beaches and you don't have to deal with the fast-filling car parks.
Explore at least one island in the area: Hvar, Brac, Vis, each of the nearby islands offers something a little different. But they all have beautiful beaches and charming towns in common.
Book accommodation well in advance: during high season, accommodation in Split fills up quickly, especially in popular areas such as the old town or near popular beaches. You can also secure a better price by booking in advance.
Try the local cuisine: Croatian cuisine is a blend of Mediterranean and Balkan flavours. Be sure to try local specialities such as peka, pasticada and black risotto, as well as fresh seafood and local wine.
Bring cash: while most businesses in Split accept credit cards, some smaller businesses and market vendors can only accept cash.
Croatians are known for their hospitality and warmth. They are generally welcoming and friendly to guests and may even invite you into their homes for a meal or a drink (this is usually not the case in tourist areas and larger cities).
Learn a few Croatian phrases. The locals always appreciate it, wherever you are in the world.

Hello – Dobar dan
Goodbye – Goodbye
Please – I pray
Thank you – Thank you
This has been our detailed guide to Split, Croatia and the best things to do and see in Split. Do you have a question? We'll be happy to answer it in the comments below. Have a safe journey!
More information about Croatia
CROATIA: Take a look at the best places to go to the sea in Croatia.
The Makarska Riviera has some of the most beautiful beaches in Croatia and there are so many great things to do in Makarska.
GREECE: Or are you more interested in Greece? Where to go to the sea in Greece we share in the next article.
ITALY: There are so many beautiful places in Italy – we've listed the most beautiful places in Italy in a separate article.
SPAIN: Get inspired with tips on places to visit in Spain. From beaches, historic towns to beautiful nature. Mallorca is one of the most beautiful islands in Spain – see photos and tips on what to see in Mallorca.