With its blue-domed churches, white-painted houses, unique landscapes and dramatic cliffs, Santorini is one of the most beautiful islands in Greece. It is part of the Cyclades Islands, which are located in the Aegean Sea. Here's a list of the most beautiful places to visit and the best things to do in Santorini, Greece.
If you're looking forward to a holiday in Santorini, this guide to Santorini will help you plan it. We'll cover practical information – how to get to Santorini, airports, ferries, where to stay, what food to try, prices and other useful tips.
To help you plan your holiday to Santorini without a tour operator, you can also use the map where all the places to see in Santorini are marked.
Santorini, Greece
Santorini is a volcanic island in the heart of the Aegean Sea that has long been a popular destination. A crescent-shaped island formed by a massive volcanic eruption approximately 3 600 years ago.
It left behind a caldera – a large crater filled with water – and a series of smaller islands. This eruption, called. a Minoan eruption, is said to have inspired the legend of Atlantis.
Best Things to do in Santorini – map
HOW TO USE THIS MAP: Above you will find a detailed map with things to do in Santorini, Greece. Click at the top left of the map to see separate layers with highlighted locations. You can hide and show the different layers or click on the icons on the map to see the names of the places mentioned in the Santorini guide. If you want to save the map, star it. For a larger version, click on the icon in the upper right corner.
Things to do in Santorini, Greece: Must-see Places
Santorini is a beautiful island with many interesting places to visit. Check out the best things to do and see in Santorini.
Oia
No trip to Santorini is complete without a visit to Oia, the island's most famous village. Oia is famous for its postcard-perfect scenery, including the famous blue-domed churches and traditional white cave houses that cling to the caldera cliffs.
In Oia, you can walk for hours and constantly discover new hidden alleys and nooks in pastel colours.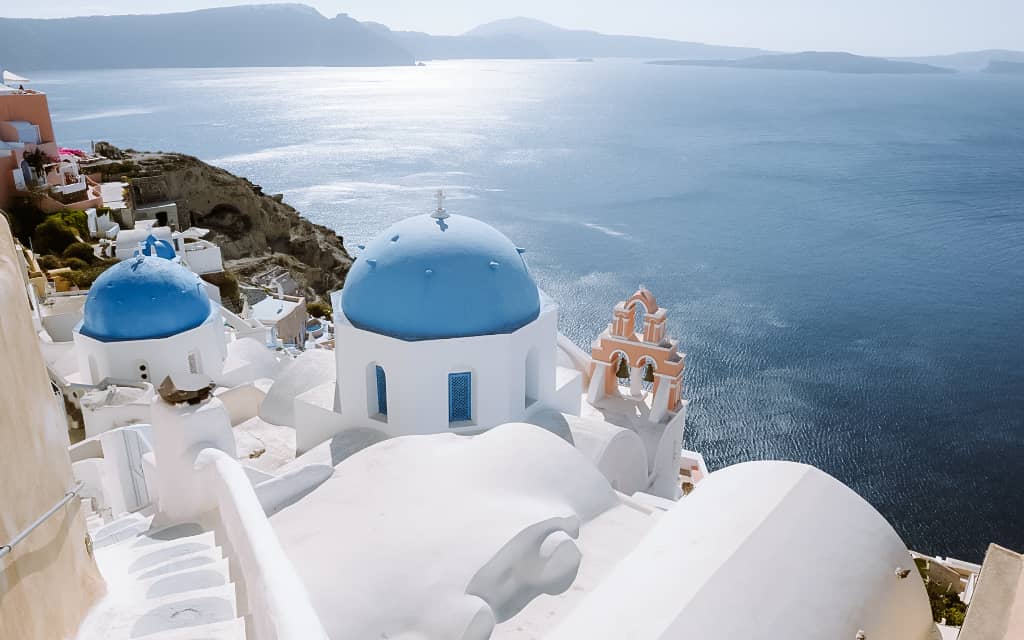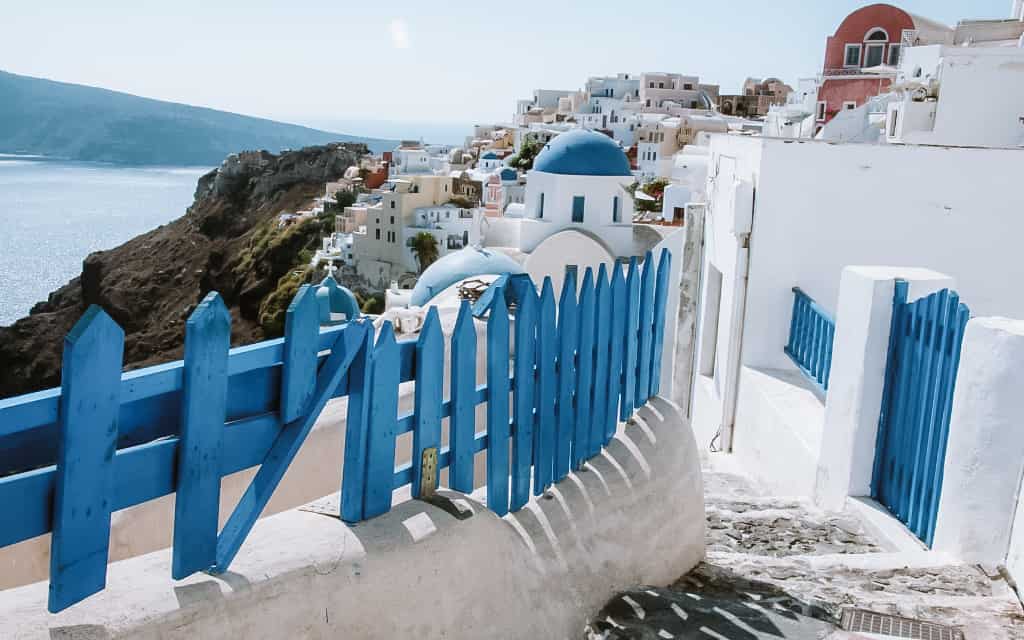 It is from here that you can watch the most beautiful sunsets on Santorini. One of the best views of the sunset and the village of Oia is at Oia Castle. But count on the fact that there will be many other people waiting with you.
While you're here, don't miss the old harbour at Ammoudi Bay, where you can enjoy the view of the bay and a delicious meal in one of the tavernas.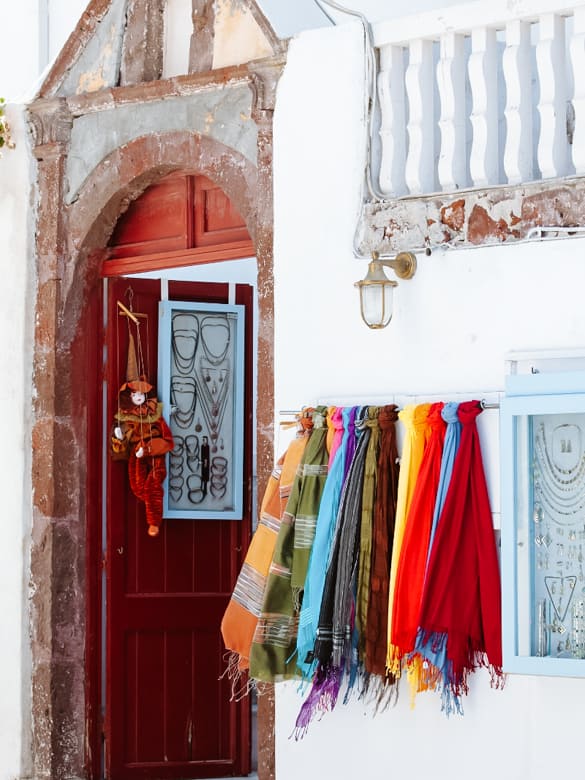 See the complete offer accommodation in Santorini .
Fira
Perched atop the cliffs of the caldera, Fira is the bustling capital of Santorini. This picturesque town is characterised by its labyrinthine streets, whitewashed buildings and shining churches with blue domes.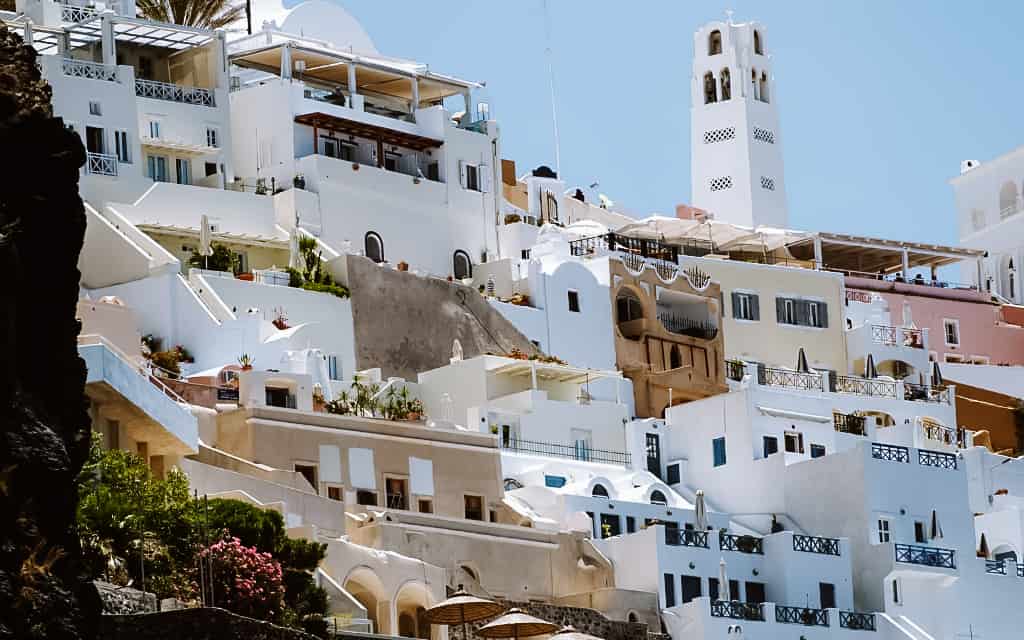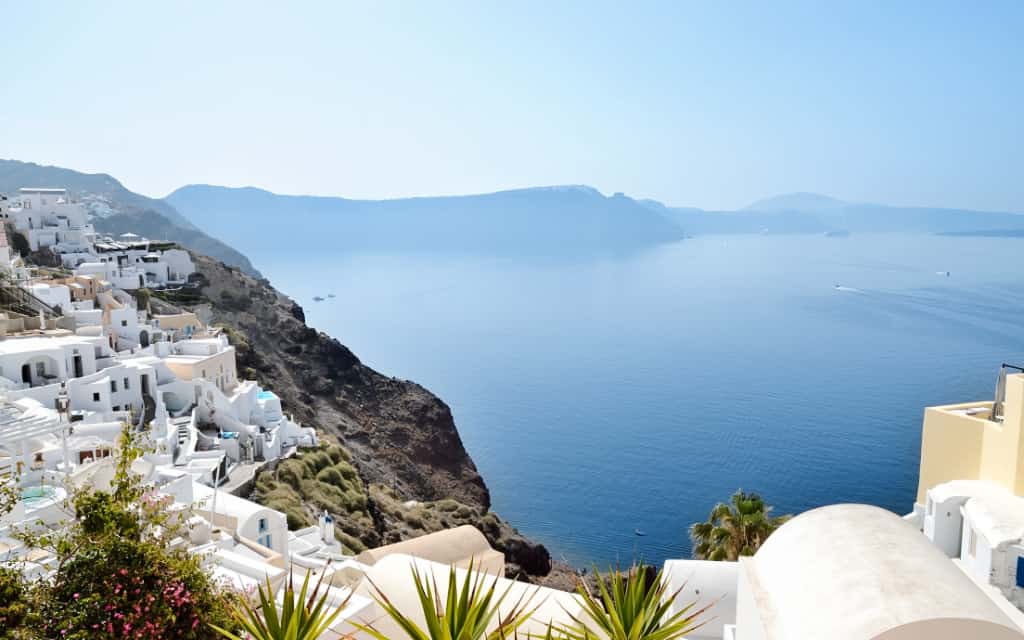 Stroll through the narrow streets and admire the traditional Cycladic architecture. Or visit the Museum of Prehistoric Thira, which houses artefacts from the ancient Minoan city of Akrotiri, and the Archaeological Museum, which showcases finds from the wider region.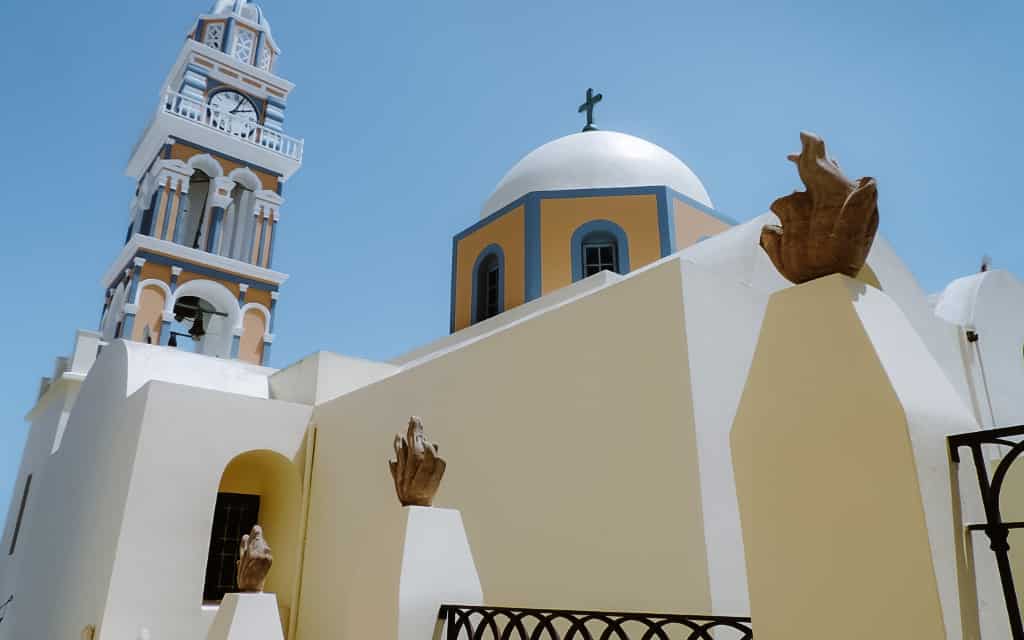 From Fira, you can walk down 587 steps to the old harbour, where you can enjoy nice views, stroll along the promenade or sit in one of the cafes. Some cruise ships also sail from here around the area. You can get back up by walking, by cable car for 6€ or by donkey ride, which we don't agree with.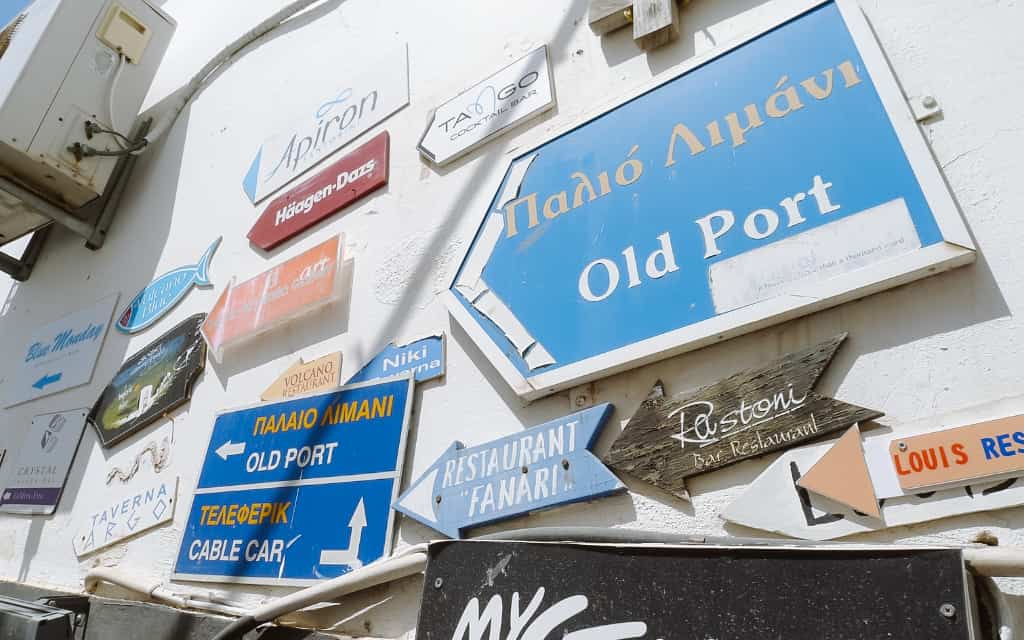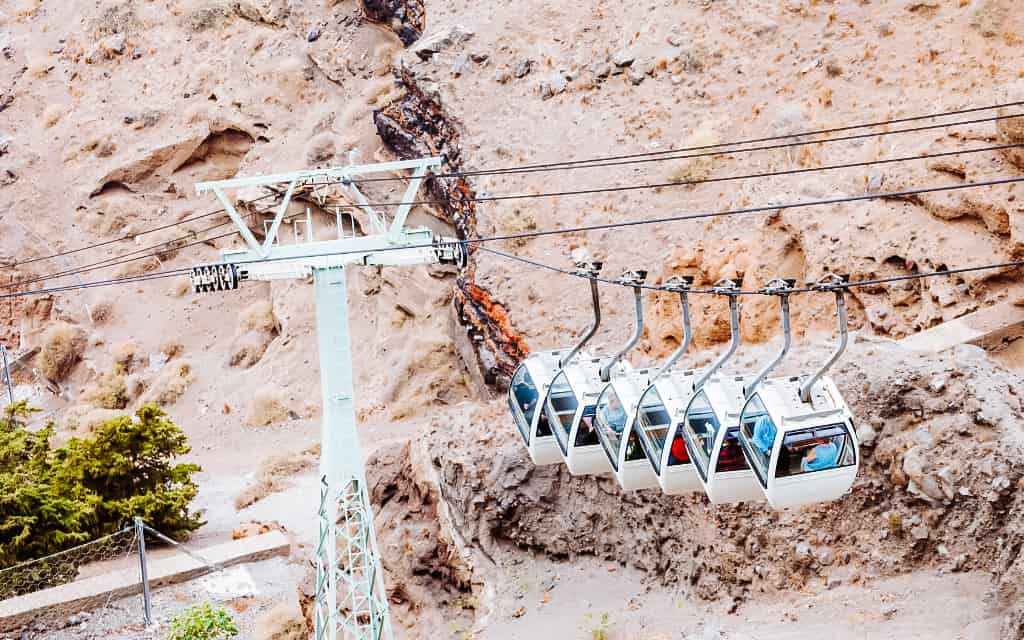 Imerovigli
Imerovigli is located between Oia and Fira. It is called the "balcony of the Aegean" because of its elevated position, which offers a fantastic view of the caldera, the neighbouring volcanic islands and the deep sea.
Here too you will enjoy walking among the traditional Cycladic architecture with its whitewashed houses, blue-domed churches and narrow winding paths.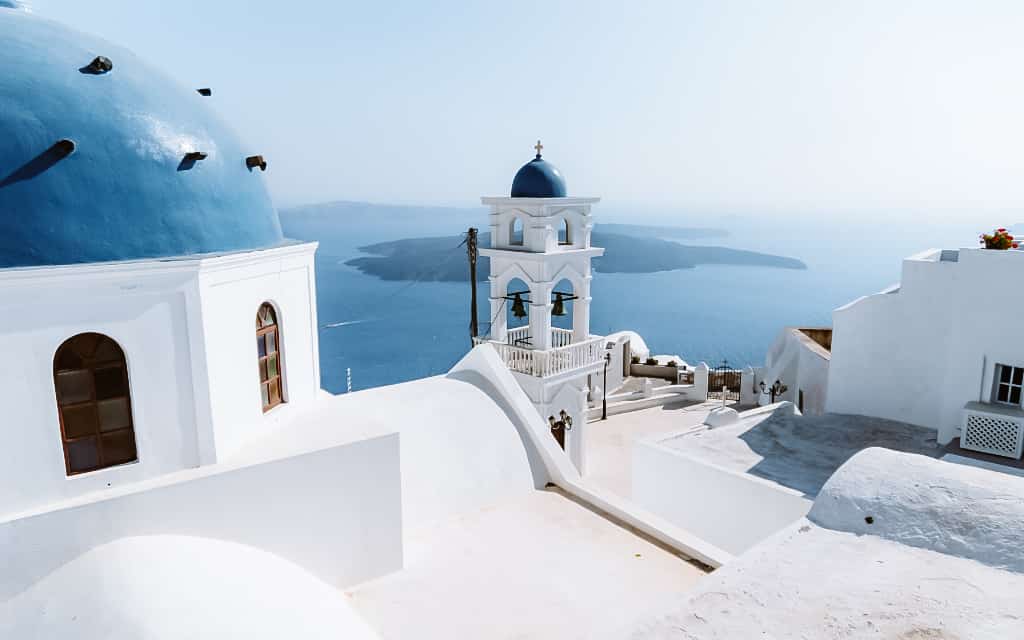 Skaros Rock
Skaros Rock is located in Imerovigli. It is a rocky outcropping on which there was once a medieval castle, which was built here in the 13th century. century Venetians. But it was destroyed in 19. century due to an earthquake.
If you want to experience a fantastic view of the caldera and the surrounding villages, don't miss Skaros Rock.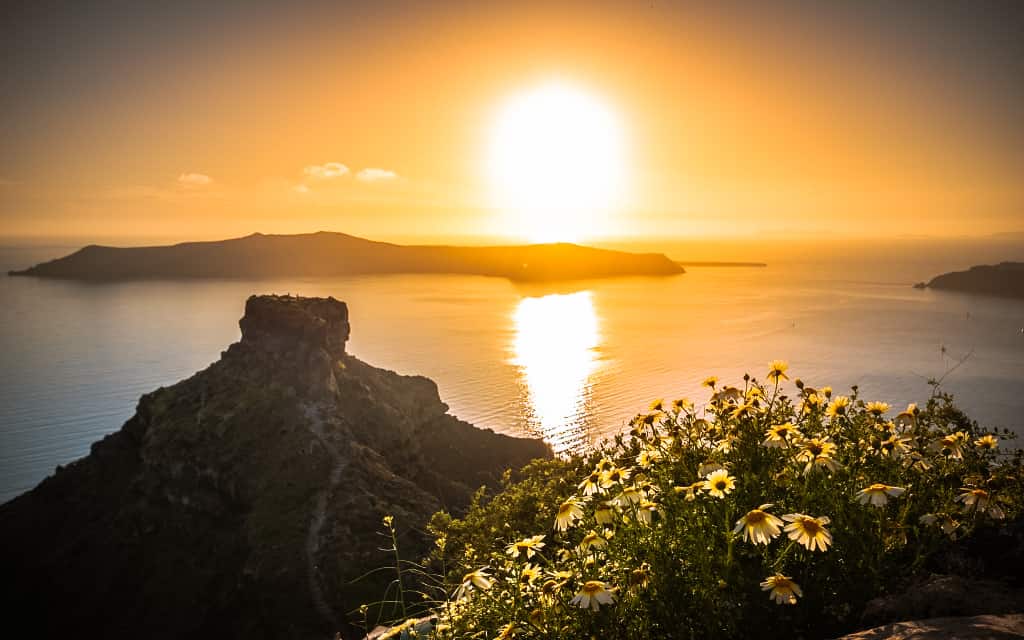 Trail along the caldera
The trail along the caldera is one of the best things to do in Santorini. It will take you half a day and you will enjoy the beautiful views of the west coast.
The route starts in Fira, from where you head north to Firostefani, then Imerovigli to Oia, where the route ends.
The path is not marked, but it is intuitive and easily guides you in the right direction.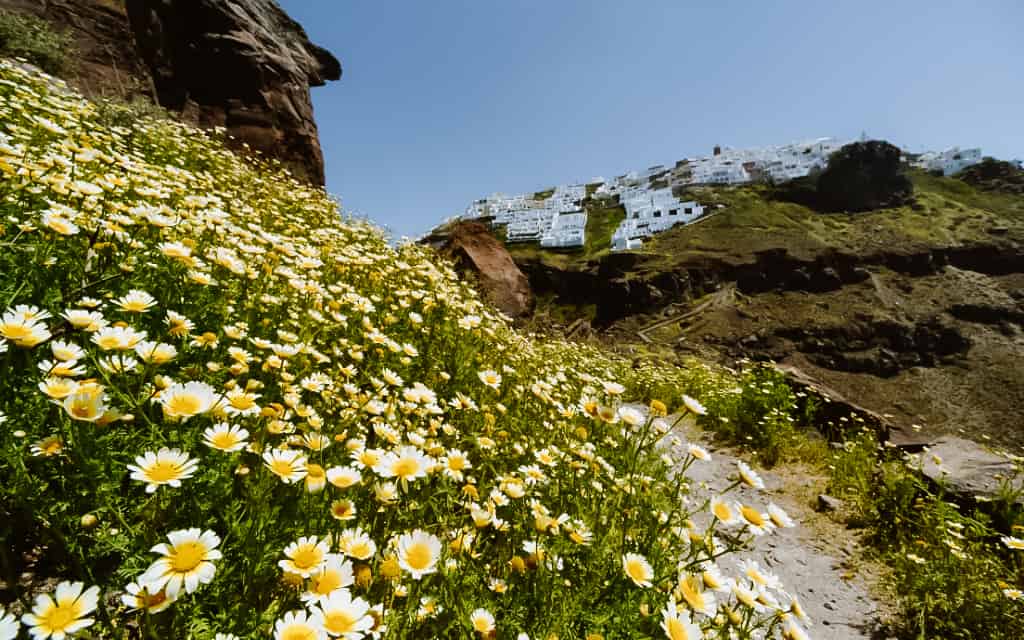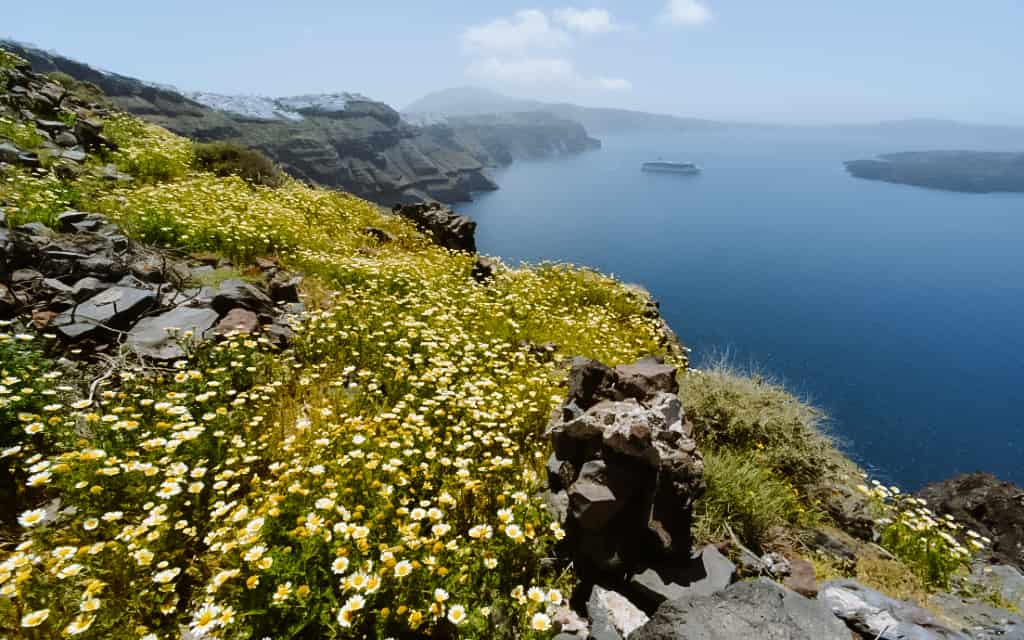 Akrotiri Archaeological Site
Take a tour of the ancient Minoan settlement of Akrotiri, which was buried under volcanic ash during the catastrophic eruption of Theran volcano some 3,600 years ago.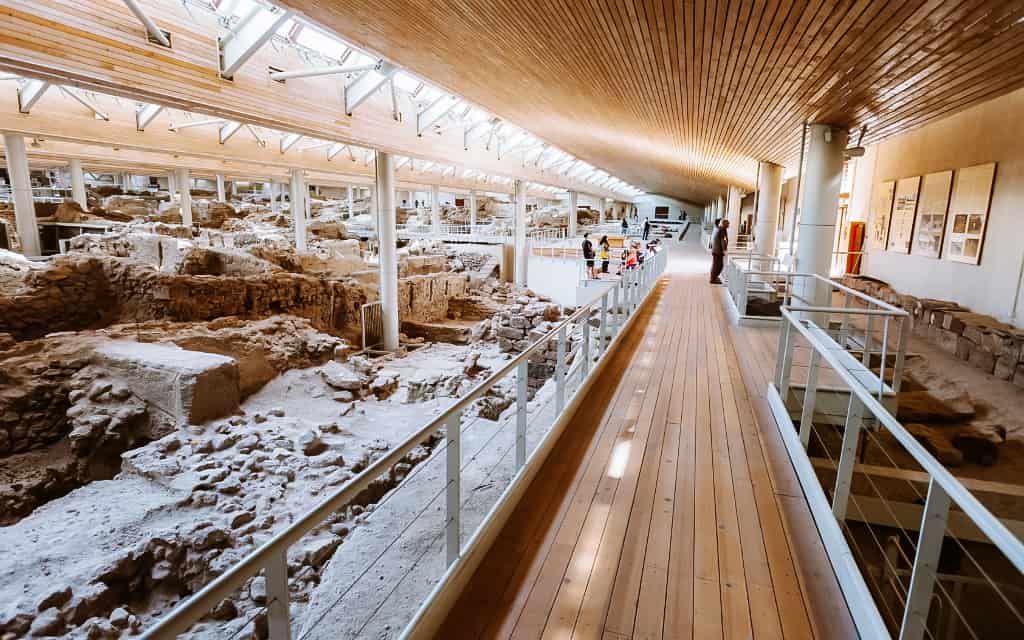 The ash has preserved the city in a very good condition and has allowed archaeologists to uncover a wealth of artefacts, frescoes and buildings that offer a rare insight into the daily life of the Minoans.
You can walk along the promenades between the preserved ruins and admire the intricate frescoes and advanced architecture, such as multi-storey houses and complex drainage systems.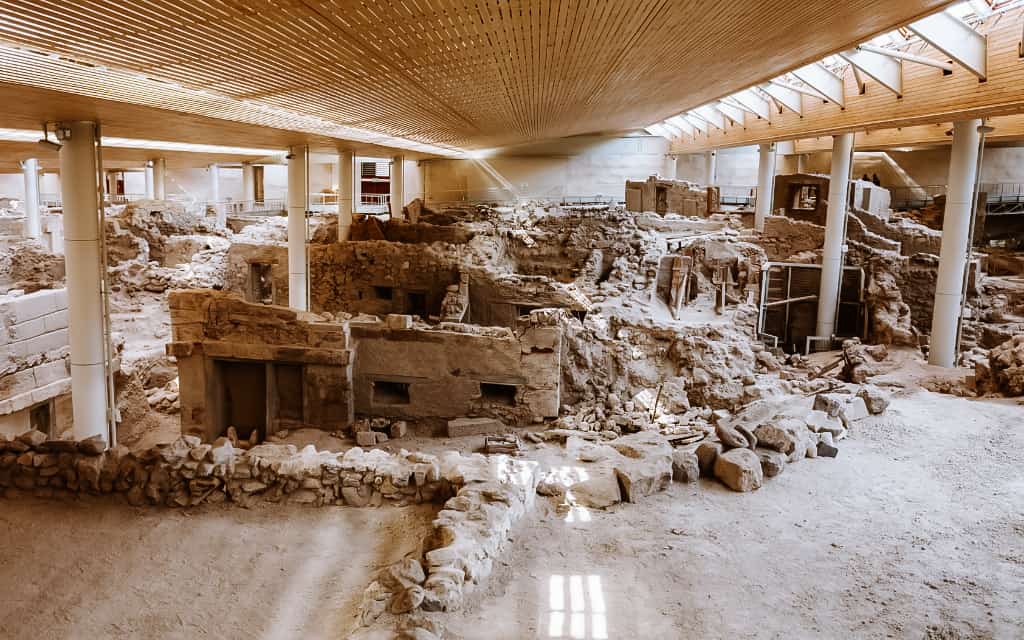 Admission to the Akrotiri Museum is €12 and a reduced rate of €6. In the summer it is open on Mondays and Thursdays from 8:30-15:30 and other days from 8:00-20:00.
You can park directly at the archaeological site, where there is a paid parking lot, or you can park for free a short distance away.
Ancient Thera
Thera represents the ruins of an ancient city located on a hill between Kamari and Perissa. Explore the remains of temples, houses and public buildings while enjoying panoramic views of the island.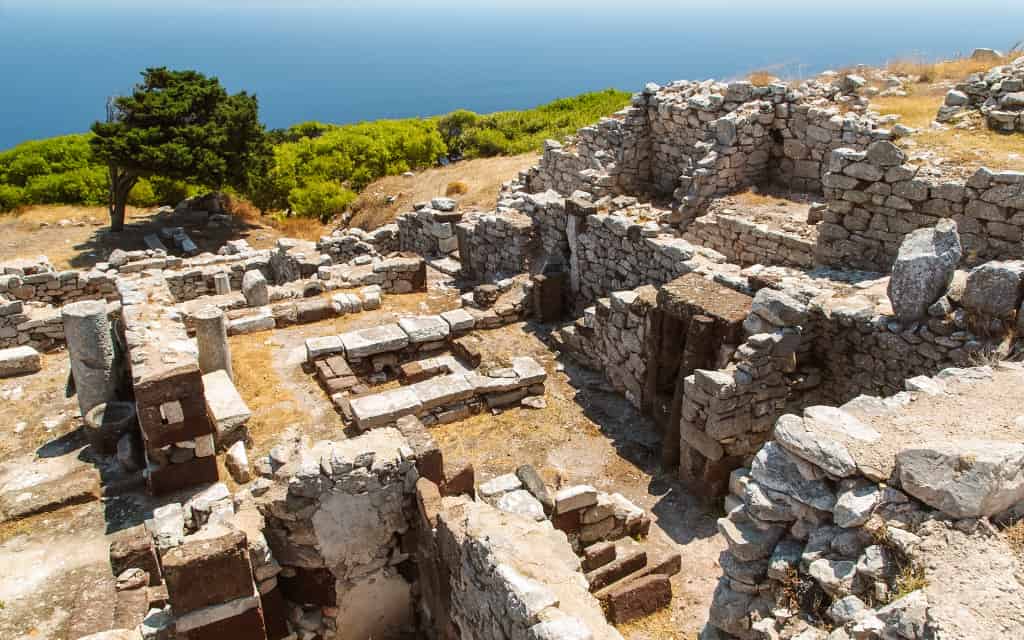 See the complete offer accommodation in Santorini .
Pyrgos
Pyrgos, an authentic village in the interior of Santorini, is situated on one of the highest points on the island. Climb to the top of the village, visit the castle and enjoy panoramic views of the island.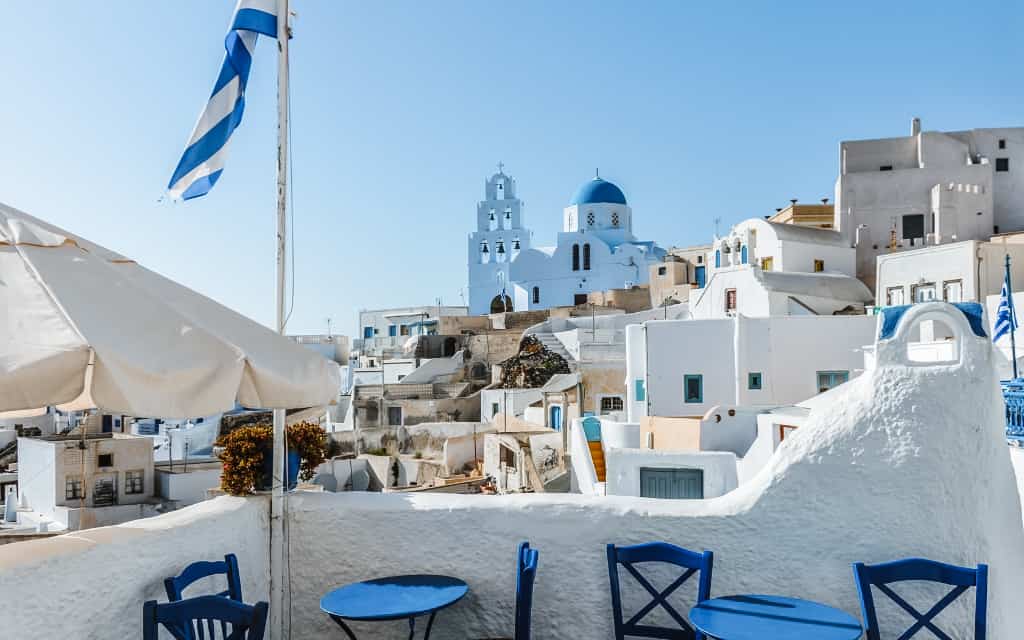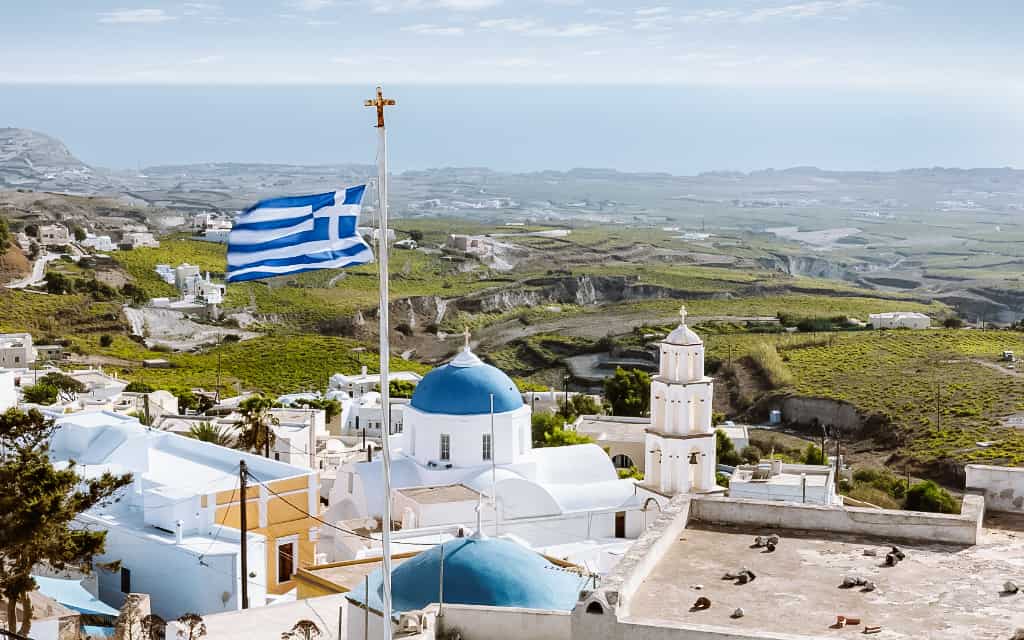 Catamaran cruise
A catamaran cruise is the best way to explore the Aegean Sea and discover the hidden gems of Santorini. Take a catamaran to the secluded beaches and explore Santorini from a different perspective.
Here is a link to the catamaran cruise booking system . Also included is a lunch/dinner and wine tasting of local cuisine. A minibus will pick you up at the hotel and take you back after the cruise.
Or enjoy kayaking which will take you to the most beautiful beaches and caves. If you're attracted to the underwater world, when diving you'll discover volcanic formations beneath the sea's surface.
Wine tasting
Thanks to its volcanic soil and unique climate, Santorini has developed a thriving wine industry. Its history goes back more than 3,000 years. The island is famous for its distinctive wines, including the fresh, mineral Assyrtiko and the juicy, sun-dried Vinsanto.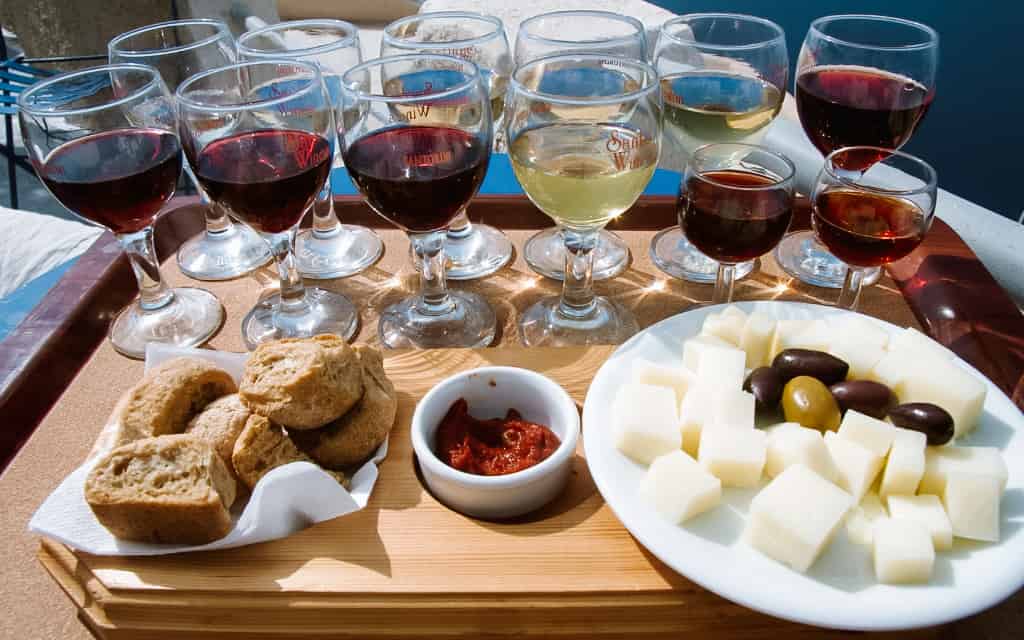 Santorini's vineyards are unlike any other. The vines are grown here in low baskets, which protect the grapes from strong winds and make it easier for them to absorb moisture from the volcanic soil.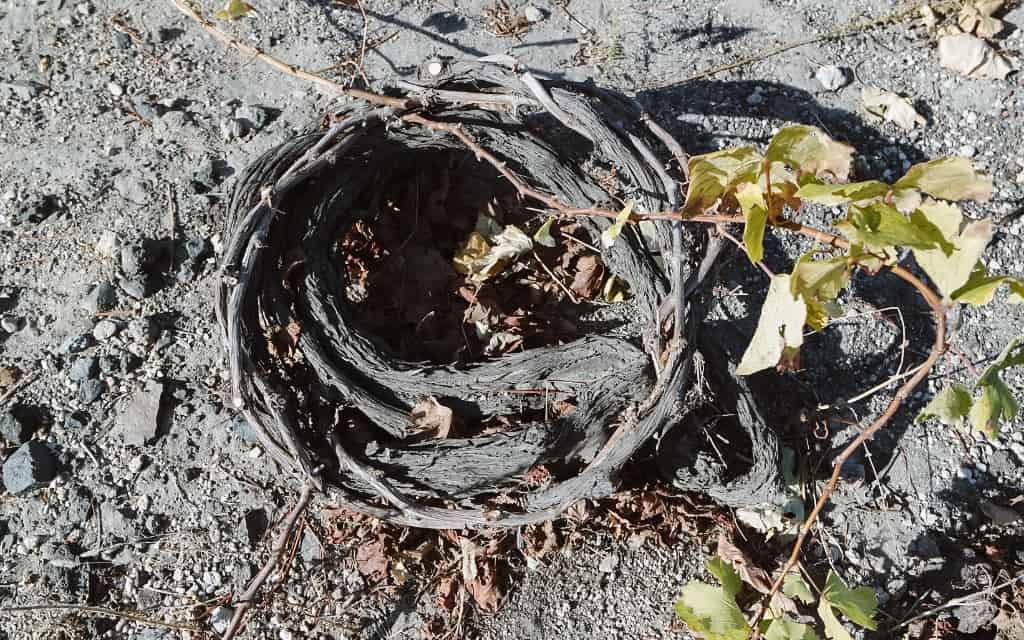 Take a tour of the island's many wineries, each with its own unique character and offerings – among the best are Santo Wines, Domaine Sigalas, Venetsanos Winery and Estate Argyros. Many wineries offer guided tours and tastings.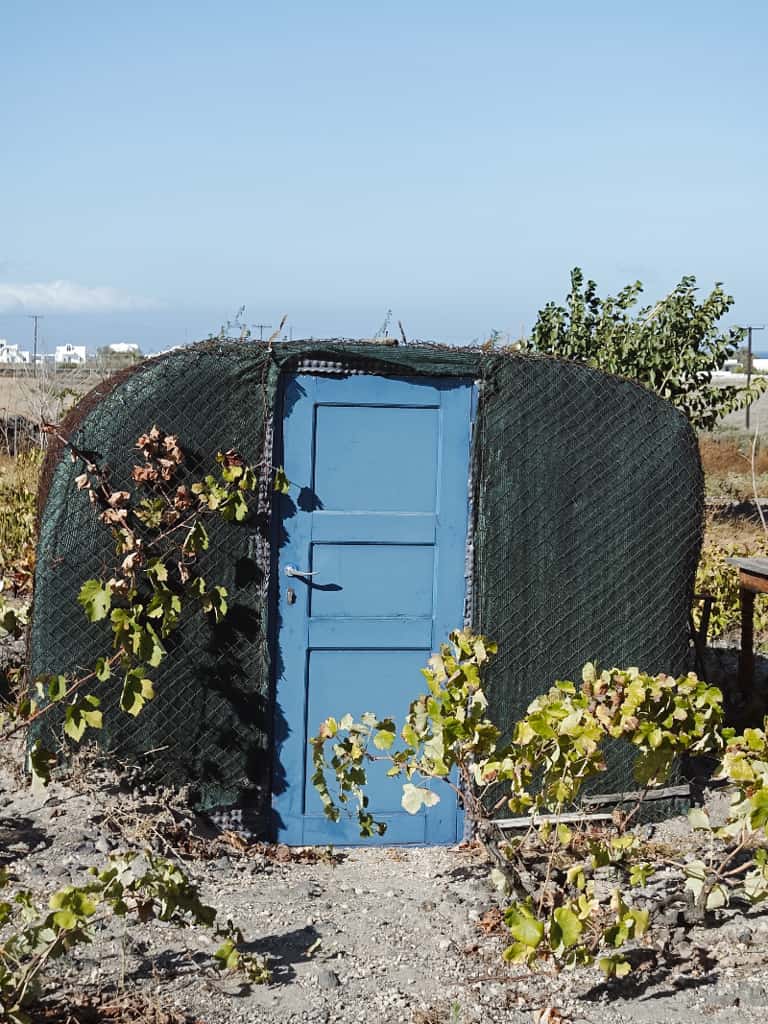 Nea Kameni and Palea Kameni
Nea Kameni and Palea Kameni are small volcanic islands in the caldera of the Aegean Sea, west of Santorini.
The name Palea Kameni means "Old Burning Ground", while Nea Kameni means "New Burning Ground". The islands were formed by a series of volcanic eruptions that took place over a period of time, with the oldest documented eruptions dating back to around 197 BC.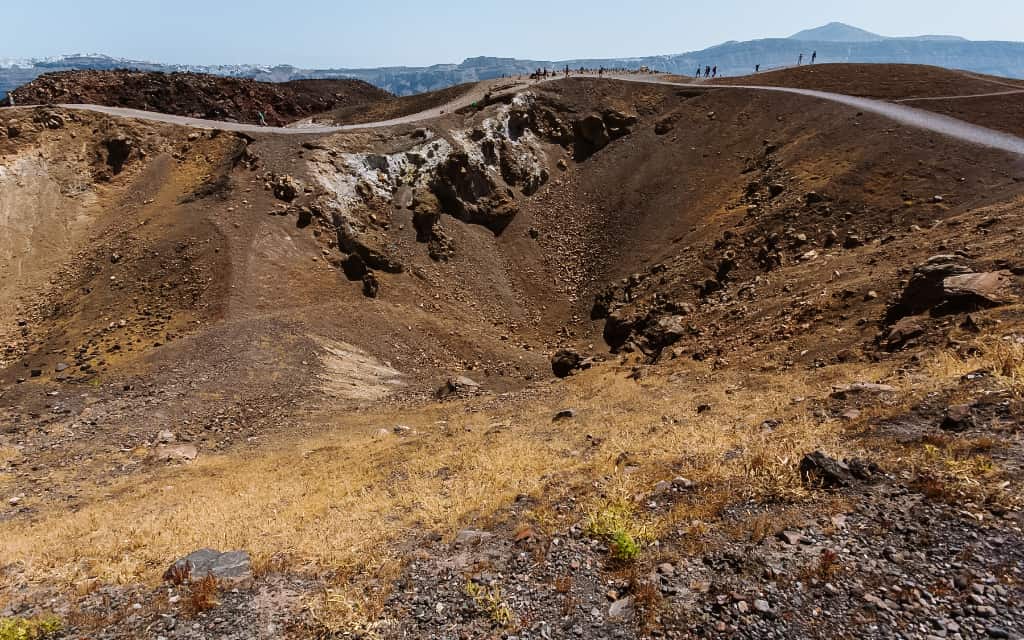 The last significant volcanic activity in the area occurred in 1950. Since then, there have been minor eruptions and seismic events. The complex is still considered active, although scientists are monitoring it closely.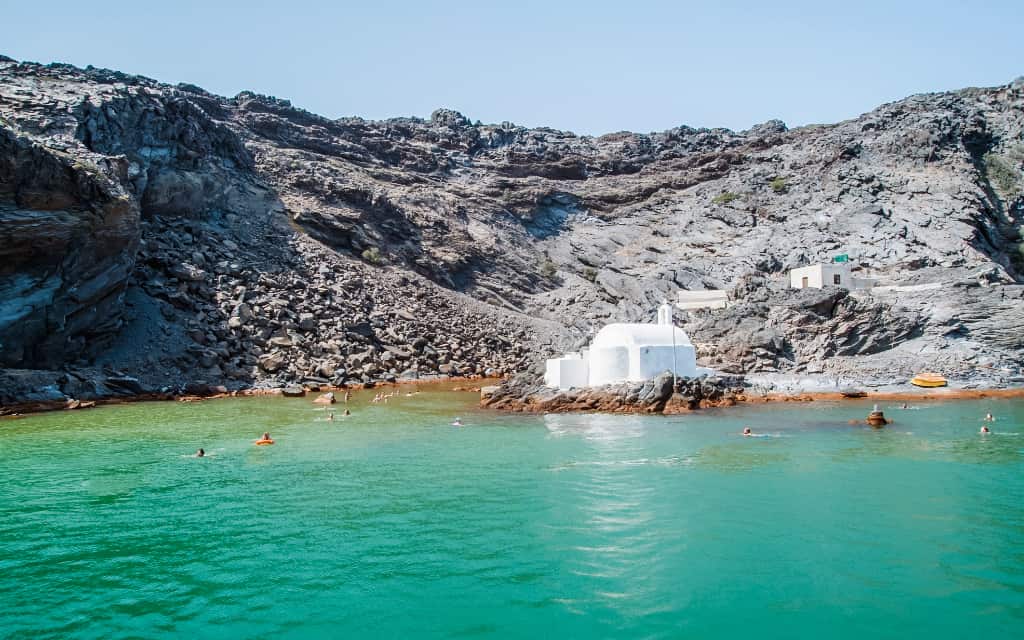 And you can see inside the crater of an active volcano on a cruise from Santorini, which also includes a tour of the volcanic islands. In addition, you can enjoy the hot springs on the second island of Palea Kameni, where you can bathe in warm sulphur water. The springs are said to have healing effects due to their high mineral content.
Here is a link to the booking system for a volcanic island cruise with a visit to the hot springs. As part of the trip you will also visit the island of Thirasia and an optional sunset in Oia. The boats depart from the port of Athinios and if necessary you can choose to be picked up at the hotel.
Emporio
Emporio is another beautiful village located in the south of the island. It is one of the largest and best preserved traditional villages on the island and offers an authentic insight into the daily life of the locals away from the tourist crowds.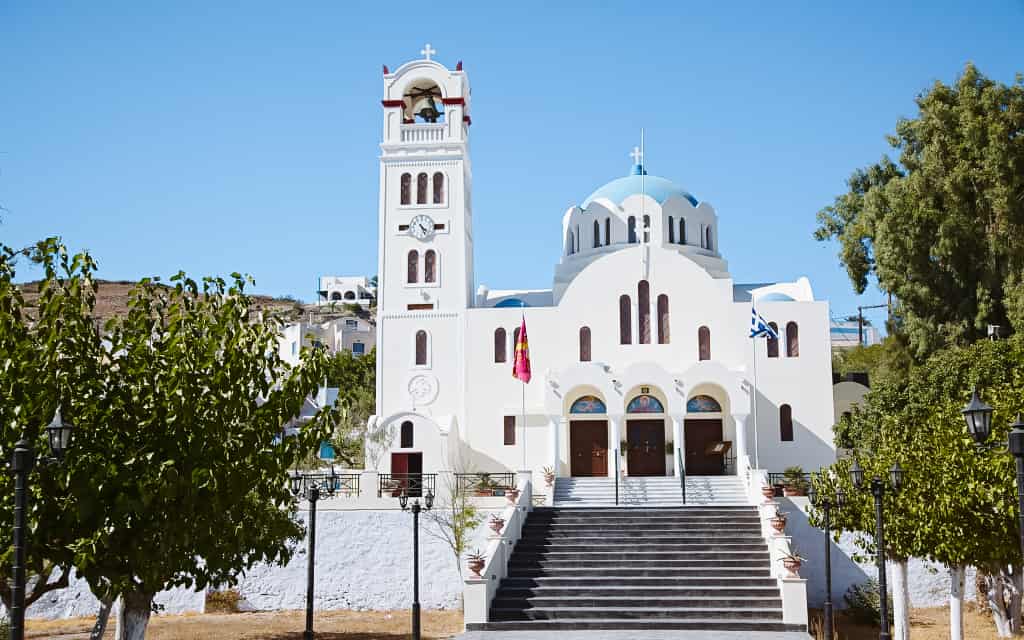 The village boasts a combination of traditional Cycladic architecture with whitewashed houses and narrow streets, medieval buildings such as a fortified castle, and beautiful churches.
Emporio is also a great starting point for hiking trails as it is located at the foot of Profitias Ilias. Routes lead to different parts of the island, for example to the monastery of Profitis Ilias (with a magnificent view) or to the secluded beaches of Vlychada and Perissa.
Megalochori
Megalochori is another picturesque village that has its own charm. It has managed to retain its traditional charm and character, so if you're looking for an authentic atmosphere, it's a better choice than Oia or Fira. During your visit, do not miss the beautiful bell tower and the central square with churches.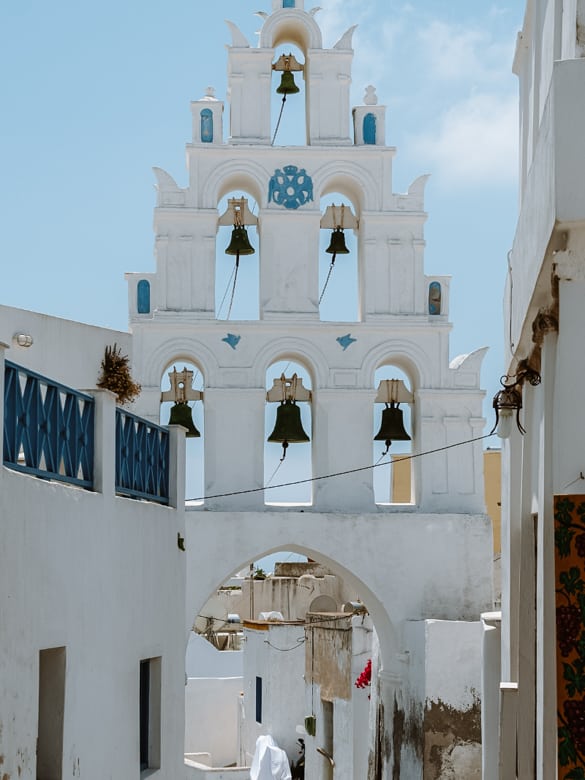 From the village there is a magnificent view of the surrounding vineyards, the caldera and the Aegean Sea. On the surrounding slopes are several wineries and canavas (traditional wine cellars)
The archaeological site of Akrotiri is a short walk away.
The most beautiful beaches in Santorini, Greece
Red beach
Red beach is smaller, but on the other hand it is also one of the most popular. With red sand and volcanic cliffs, it's an unforgettable sight. Swim in the crystal clear water, snorkel or enjoy the breathtaking surroundings from the beach.
The beach offers sun loungers, parasols and small refreshments. Entry here is at your own risk.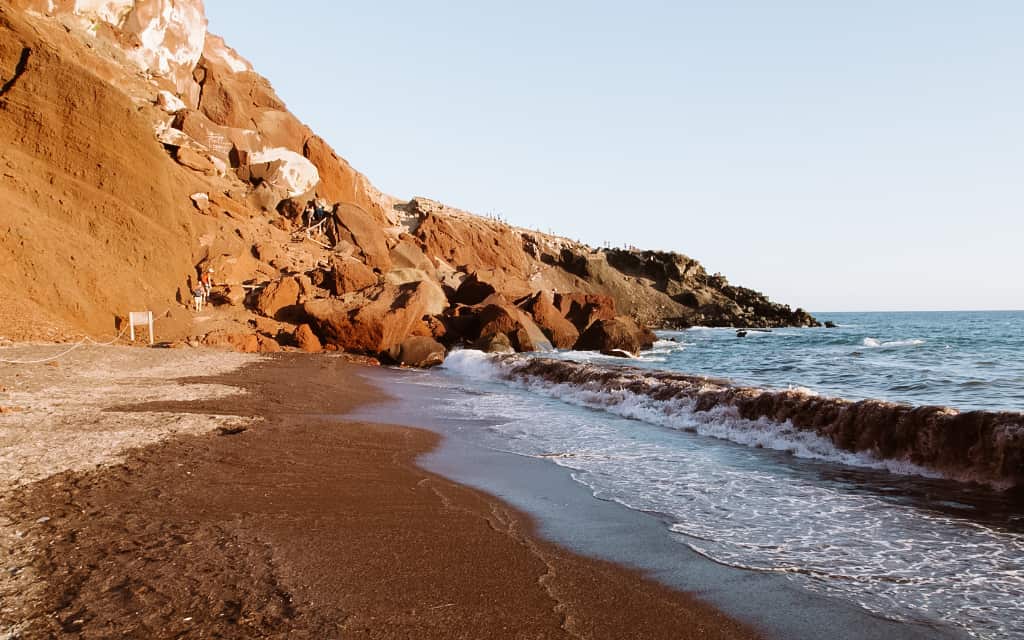 But if you're looking for a backwater or a quieter beach, Red Beach won't be the right choice for you. On the other hand, it is unique and at least worth seeing. Moreover, it is located near the archaeological site of Akrotiri.
Free parking is available here – it's just a short walk to the beach from the car park. A little further on, closer to the archaeological site of Akrotiri, there is a bus stop where the bus from Fira stops (from there it is 15-20 minutes to the beach).
Tip: You will pass several restaurants along the way. I recommend the traditional restaurant The Cave of Nikolas, which is located right on the coast.
Perissa and Perivolos beaches
The neighbouring black-sand beaches of Perissa and Perivolos on the south-east coast of the island are popular for their lively atmosphere, abundance of water sports and beach bars and restaurants.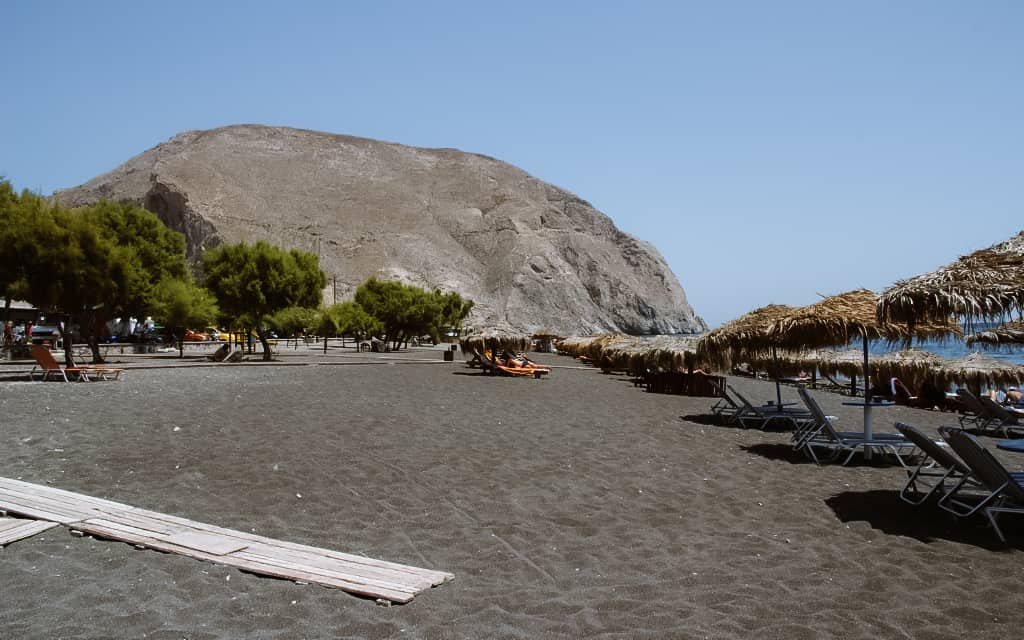 See the complete offer accommodation in Santorini .
Kamari beach
Located on the east coast, Kamari is a family-friendly beach resort with a wide range of facilities including sun loungers, parasols and water sports facilities. The beach promenade is lined with shops, bars and restaurants.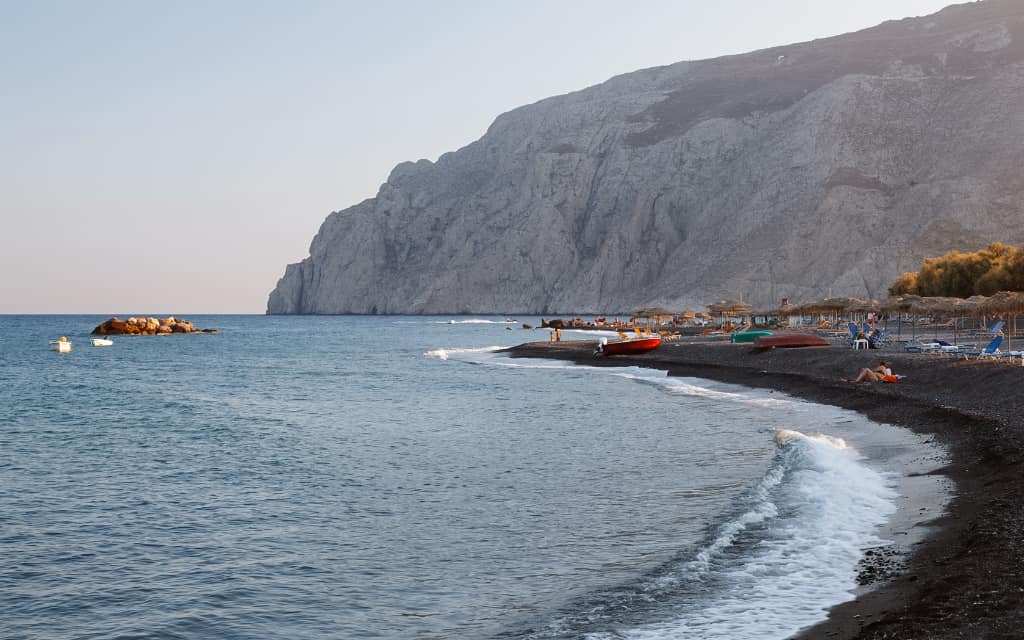 Vlychada beach
Vlychada beach stretches along the southern coast of the island, offering more seclusion. This tranquil, moon-like beach is known for its dramatic limestone cliffs and peaceful atmosphere.
Free parking, a beach bar and sun lounger hire are available right on the edge of the beach.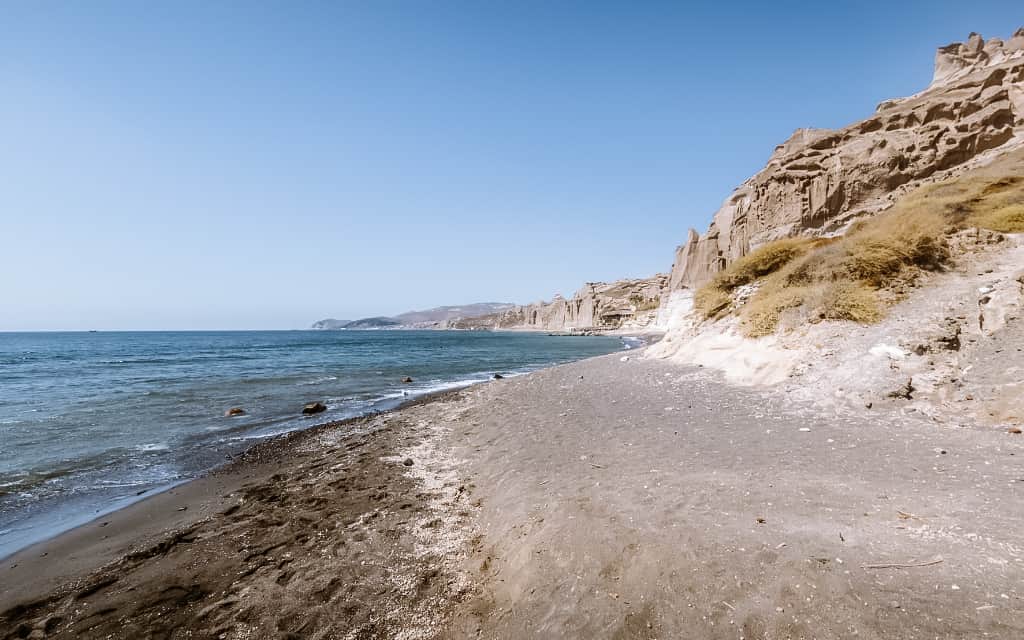 Where to watch the sunset on Santorini?
The sunsets on Santorini in Greece are iconic. Thanks to them, Santorini has become one of the most popular romantic holiday destinations.
Here are the best places to watch the sunset on Santorini:
Oia
Oia is the most popular sunset spot on the island, and for good reason. The village is situated on the cliffs and offers a fantastic view of the sunset over the caldera and the Aegean Sea.
The best places to watch are near churches with blue domes or the ruins of a Byzantine castle. In high season, be prepared for crowds.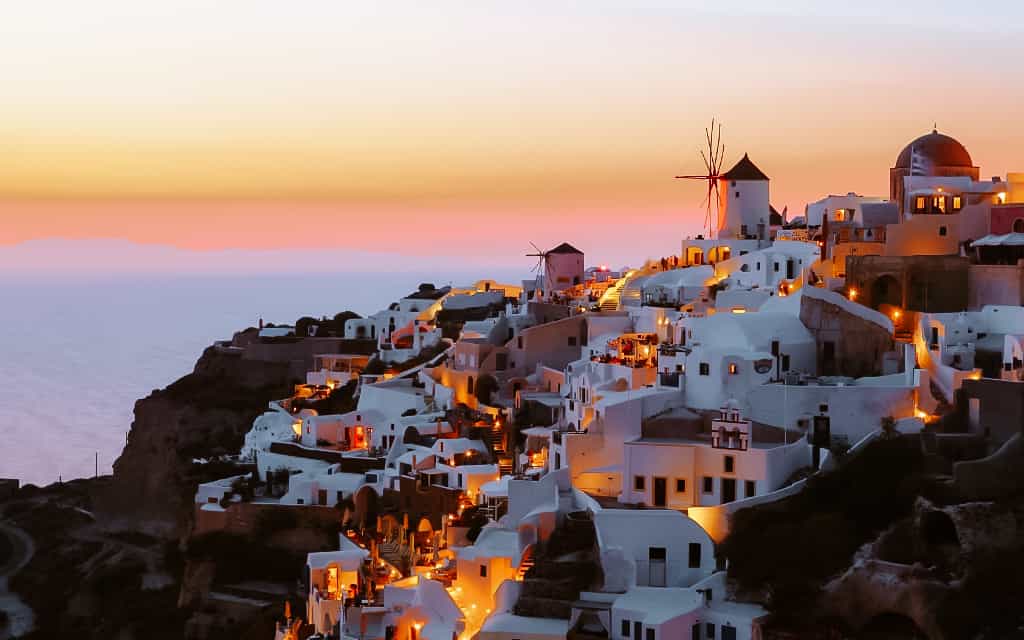 Fira
Fira is another popular place to watch the sunset on Santorini. Visit the cliffs along the caldera or dine in one of the many restaurants and bars that have terraces with views.
Fira is generally less crowded than Oia, but it's still a popular spot, so arrive early to ensure a good view.
Imerovigli
The picturesque village of Imerovigli is located on the highest point of the caldera cliff, providing a unique perspective for sunset viewing. Along the cliffs you can find several viewpoints or visit Skaros Rock, a rock outcrop with panoramic views of the island and the sunset.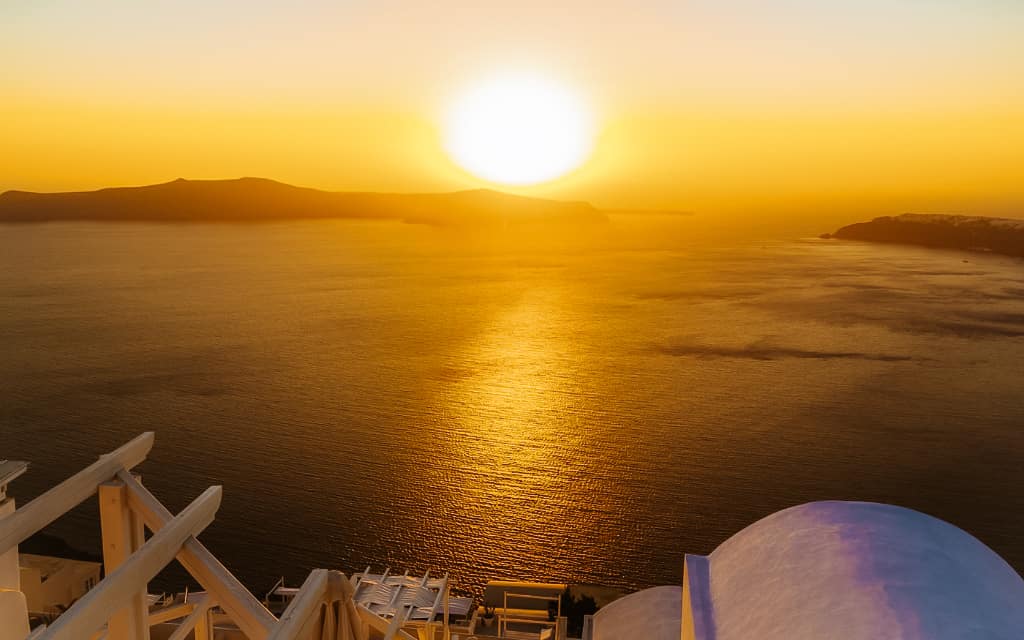 Winery Santo Wines
The Santo Wines winery is located near the village of Pyrgos and is probably the most popular winery on the island. The prices are a bit higher, but the view from the terrace of the caldera and the sunset are worth it.
You can also visit other wineries or restaurants where the views are fantastic. There's more than enough to choose from on the west coast of Santorini.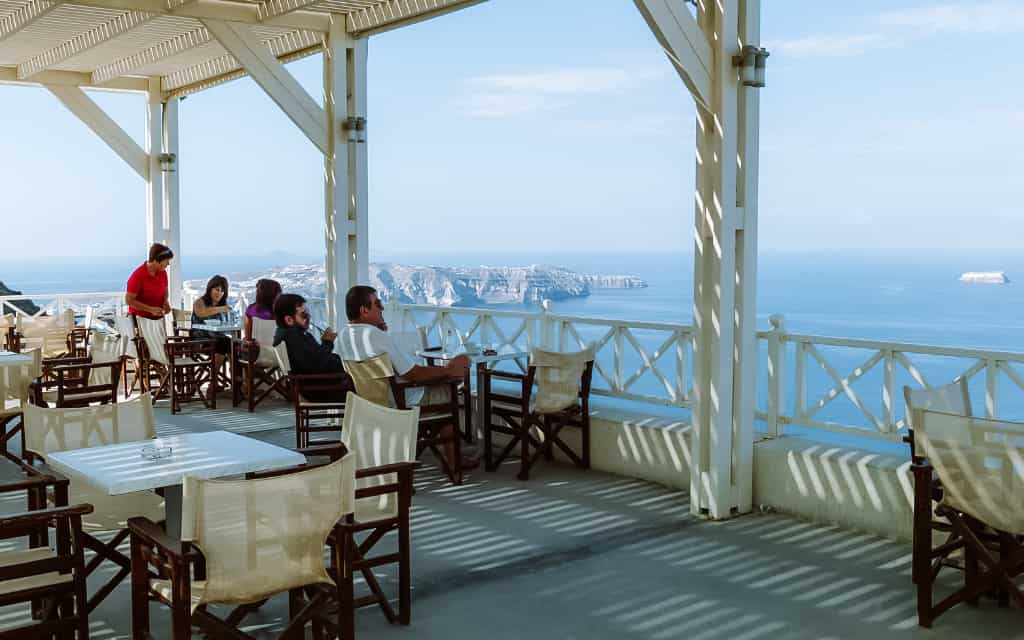 Catamaran cruise
A popular way to enjoy the sunset on Santorini is to take a sunset cruise. Several companies offer catamaran or yacht cruises that take you around the caldera and stop at the best spots for sunset viewing.
These cruises often include dinner, drinks and stops for swimming or snorkeling.
Akrotiri Lighthouse
Akrotiri Lighthouse is located on the southern tip of the island and is another great place to watch the sunset away from the crowds. Surrounded by nature and with an unobstructed view of the sun sinking behind the horizon. You can park a short distance from the lighthouse in the free parking lot.
Traditional dishes to taste in Santorini, Greece
Santorini's cuisine is as diverse as its landscape. Traditional dishes are based on local ingredients – fava beans, cherry tomatoes, capers and fresh seafood.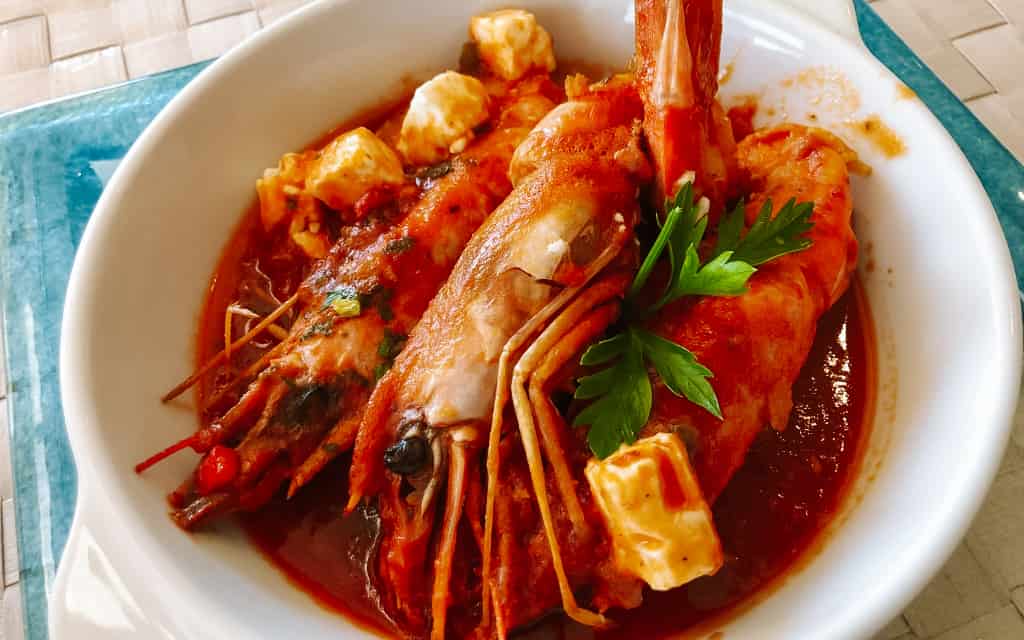 Some of the must-try dishes include:
Tomatokeftedes: Spicy tomato patties/curries are a speciality of the island of Santorini and are made with cherry tomatoes, onions and fresh herbs.
Fava: Yellow pea puree is a staple dish in Santorini, often served with a drizzle of olive oil and sprinkled with capers.
Grilled octopus: Grilled octopus is a popular seafood dish on the island, often served as meze with a glass of ouzo.
Saganaki: A fried cheese appetizer made with various Greek cheeses such as kefalograviera or kasseri, usually served with a squeeze of lemon.
You can sample the local cuisine in one of the many traditional tavernas or in the luxury restaurants, some of which offer fantastic views of the caldera.
You can buy food in traditional supermarkets like Lidl or at local markets.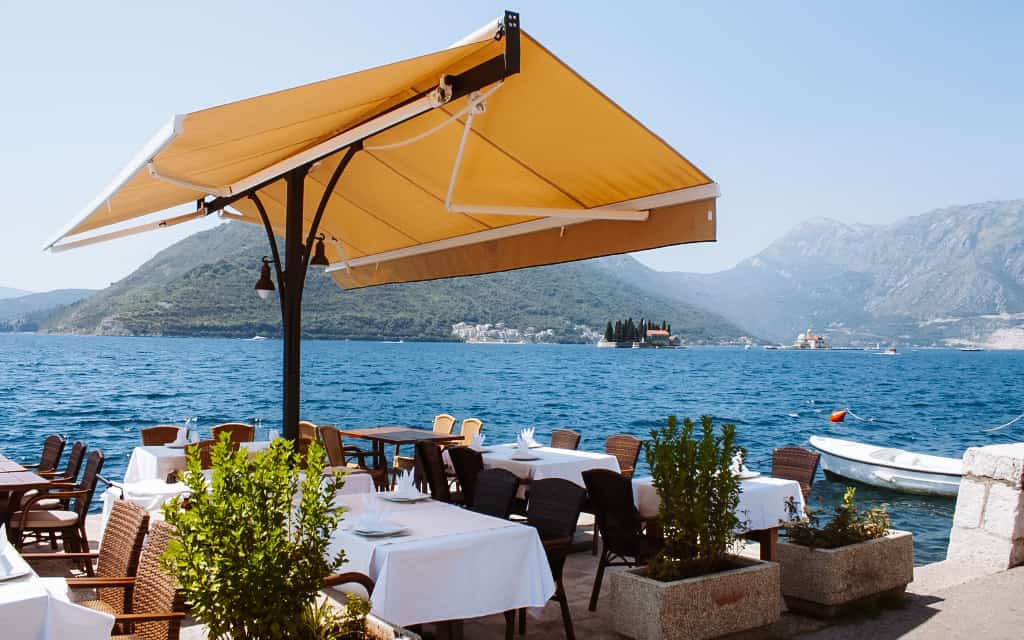 Santorini accommodation
Each village on Santorini has its own specific charm. Here are some of the best places to stay in Santorini depending on your preferences and budget:
LUXURY: Radisson Blu Zaffron Resort: Beautiful resort with full facilities (restaurant, fitness room, bar). Outdoor pool surrounded by palm trees, Kamari beach a few minutes walk away.
LUXURY: Hotel San Antonio: four-star hotel in Imerovigli with a magnificent view of the caldera and the sea. An infinity pool, gourmet restaurant and stylish rooms with included parking.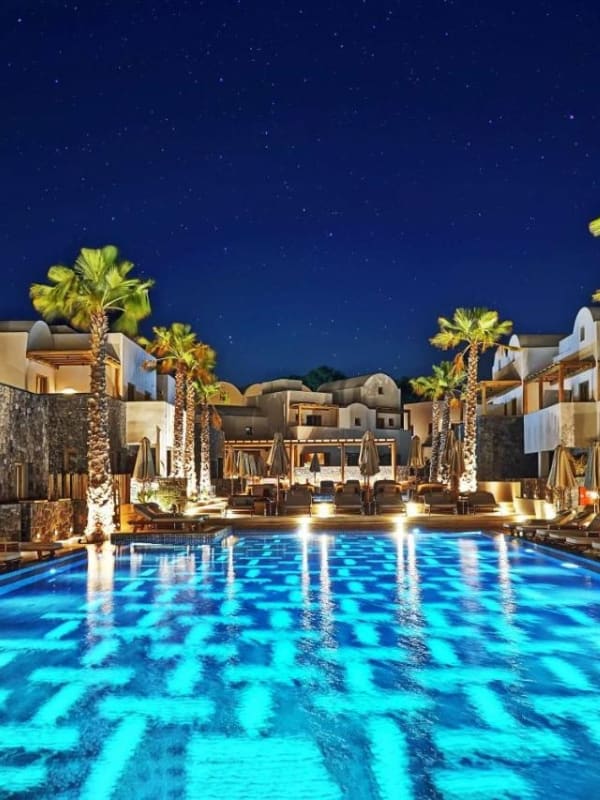 MIDDLE CLASS: Roula Villa Studios & Apartments : Family-run B&B in traditional Thera style, studios and apartments with kitchenette, outdoor pool with jacuzzi and 3 min from Perissa beach
MIDDLE CLASS: Blue Sea Hotel: popular and modern hotel a few steps from Kamari beach, excellent service and sea view. Free parking.
MIDDLE CLASS: Aparthotel Margarenia: Beautiful and cosy apartments a few minutes from Perissa beach and the shop, with views, outdoor pool and free parking.
MIDDLE CLASS: Marianna Hotel: a family-run hotel with great value for money, a large pool and stunning views. Free parking, 300 m from the beach.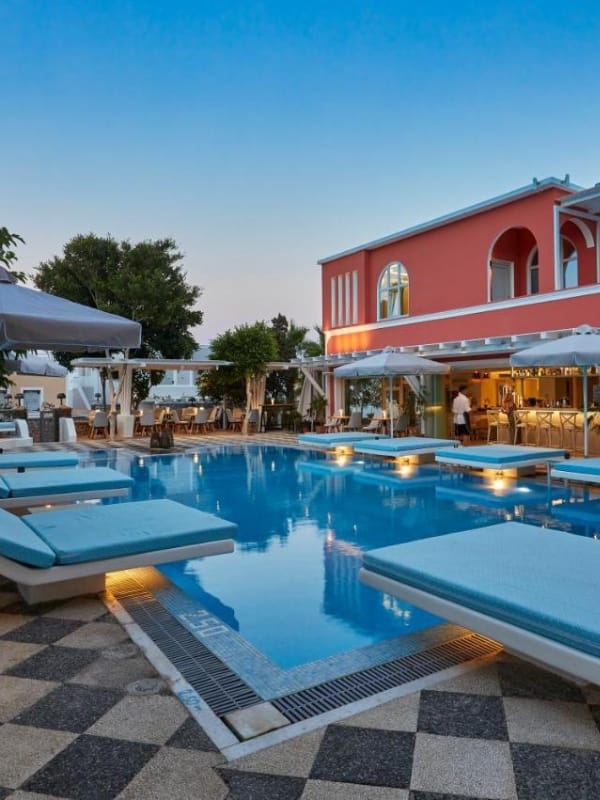 CHEAP: Levante Beach Hotel: cheap, nice hotel on the main street in Kamari, a short walk from the beach, close to everything you need.
CHEAP: Santorini Camping & Hostel: Very cheap accommodation in Santorini in large tents with beds or shared rooms, complete facilities including outdoor pool, restaurant and bar.
If you are looking for private accommodation – villa or apartments with kitchenette – check out the options accommodation in Santorini here .
How to get to Santorini?
By air to Santorini
Santorini Airport (JTR)
Santorini International Airport (JTR), or Thira Airport, is the main gateway when arriving by air to Santorini. The airport is located about 6 km southeast of the island's capital, Fira. A nice, smaller airport that offers basic services.
Especially during the peak tourist season (April to October), Santorini can be reached from many European cities including Vienna, Frankfurt, London, Prague and other cities. From Vienna you can get the best price for tickets – from € 160.
Flights may be less frequent in low season and may need to connect at Athens International Airport (see below).
Athens International Airport (AIA)
Athens International Airport (Athens International Airport "Eleftherios Venizelos") is another popular option for getting to Santorini. The airport is large, well-organised and offers complete facilities. From Athens you can reach Santorini by direct flight in about 45 minutes or by ferry (more on that in a moment).
With a connection in Athens, flights to Santorini can often be cheaper than direct flights to Santorini (e.g. Prague). Search for current flights to Santorini .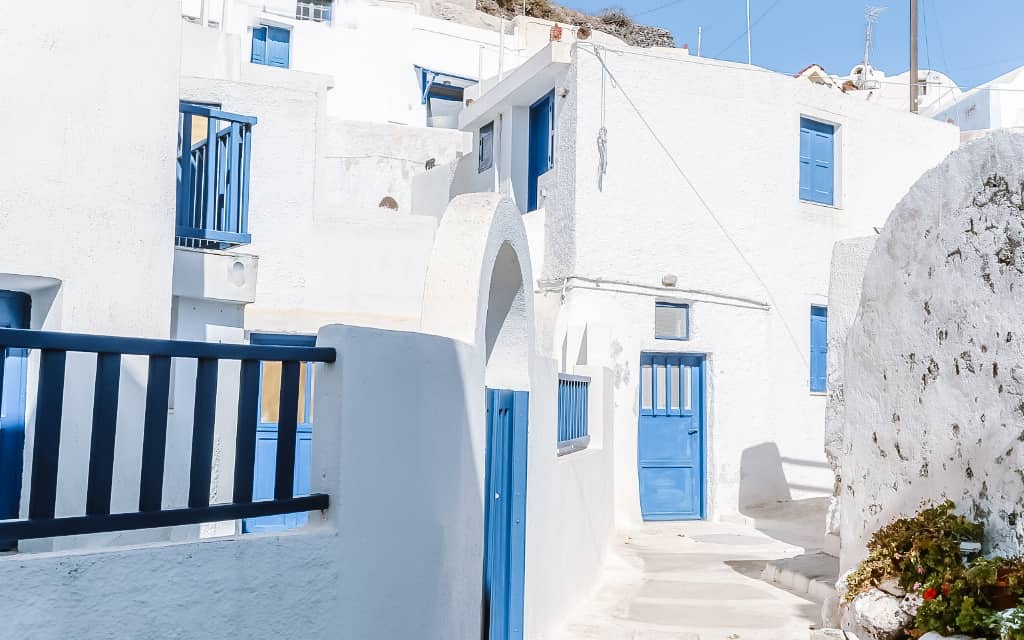 How to get from Santorini Airport
Taxi
Taxis are available at the airport, which is the most convenient and direct way to get to Fira or around the area. The taxi stand is located just outside the arrivals terminal. In peak season or for late night arrivals, you may have to wait in line and fares may be higher.
Tip: Taxis are generally scarce throughout Santorini and there may be none in the area. There are usually a couple of them at the airport, at the train station in Oia or Fira and at the port.
For that reason, you may want to book your airport transfer in advance . A driver will be waiting for you at the arrivals with a sign with your name on it.
Price for taxi and airport transfer to Fira is about 20-30 € and to Oia 30-40 €.
There is no Uber or similar service on Santorini.
Public bus
There is a local public bus service (KTEL) between the airport and the main bus station in Fira. Buses run approximately every hour between 6:00-22:00 – check the timetable here.
The journey takes 10 minutes. The bus stop is located right next to the airport terminal. From Fira station, there are connecting buses all over the island – they run frequently and are fast.
Hotel transfer
Some hotels in Fira offer airport transfers, either free of charge or for an additional fee. If your hotel provides this service, arrange it before your arrival and a hotel representative will meet you at the airport and take you directly to your accommodation.
Car rental in Santorini
If you are planning to explore Santorini, renting a car is the best option. Several car rental companies have branches at the airport, including local and international agencies. There are other rental agencies around the island, but due to the amount of people, renting a car here can be more chaotic than at the airport.
Book a car in advance, especially in high season. I recommend choosing smaller models as the roads and streets are narrower in Santorini.
A credit card and a driving licence will be sufficient to rent a car if you are from the EU and it is in Latin. Before renting, check that insurance is included so you don't have any unpleasant surprises.
After picking up the car, it takes approximately 10 minutes to get to Fira town, or 20 minutes to get to Oia or the very south of Santorini.
Parking in Santorini
You can probably guess that parking on Santorini can be a challenge at times. This applies especially to the most visited areas – Oia, Fira, Imerovigli. Moreover, all villages are located mostly on a slope and are mainly for pedestrians.
Free parking is available on the outskirts of Oia, Fira and Imerovigli. These are mostly unpaved areas where you should watch out for potholes. The car parks are relatively large, but they are soon full. Arrive early or wait for another car to leave. There is usually no point in moving elsewhere as parking is generally very limited.
In addition to free parking, there are also paid parking lots.
Scooter and quad bike rental
Scooters and ATV/Quads are a convenient way to explore Santorini at your own pace. There are several rental shops on the island where you can rent them. Prices for renting a scooter start at €20 and for renting an ATV/Quad at €30 per day.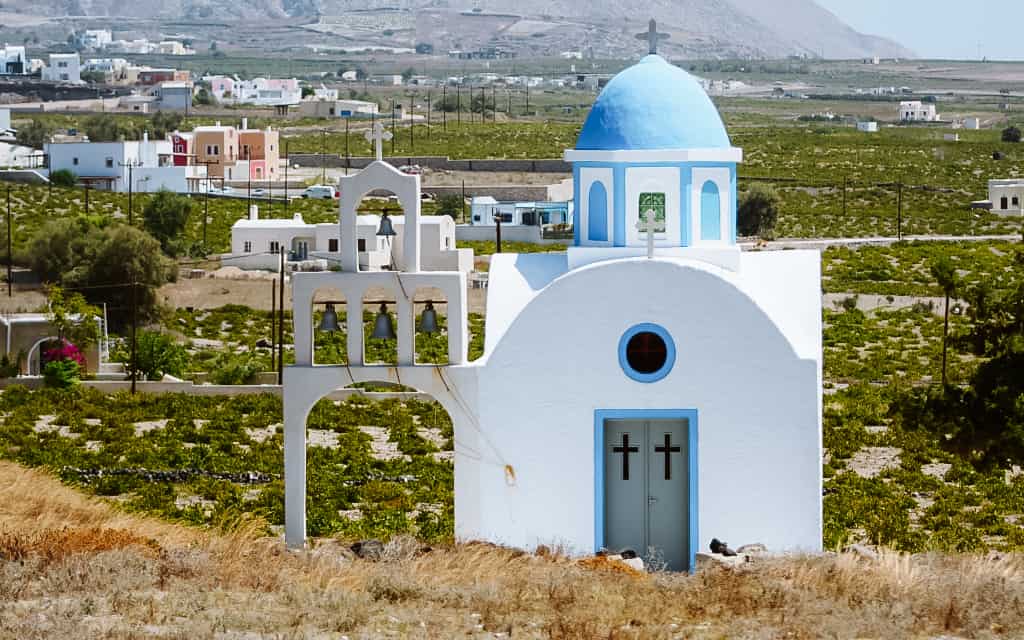 Ferry to Santorini
You can reach Santorini by ferry from Athens and the surrounding islands.
The ferry from Athens takes 4.5-11 hours depending on the company and type of cruise you choose. Longer cruises are usually overnight. Prices for the Athens-Santorini ferry are usually in the range of €45-90 for a one-way trip.
At the same time, the earlier you book, the better price you can get. High-speed catamarans tend to be more expensive. However, they are still cheaper than flights from Athens to Santorini. Check out the ferries from Athens to Santorini here.
The main port on Santorini is Athinios, which connects the island with Athens (Piraeus and Rafina) and Cycladic islands such as Mykonos, Naxos and Paros.
Upon arrival at Athinios Port, you can reach your accommodation by taxi, public bus or rental car. Beware that there can be quite a bit of confusion and it will take a while to get your bearings. You can book a transfer from the port here.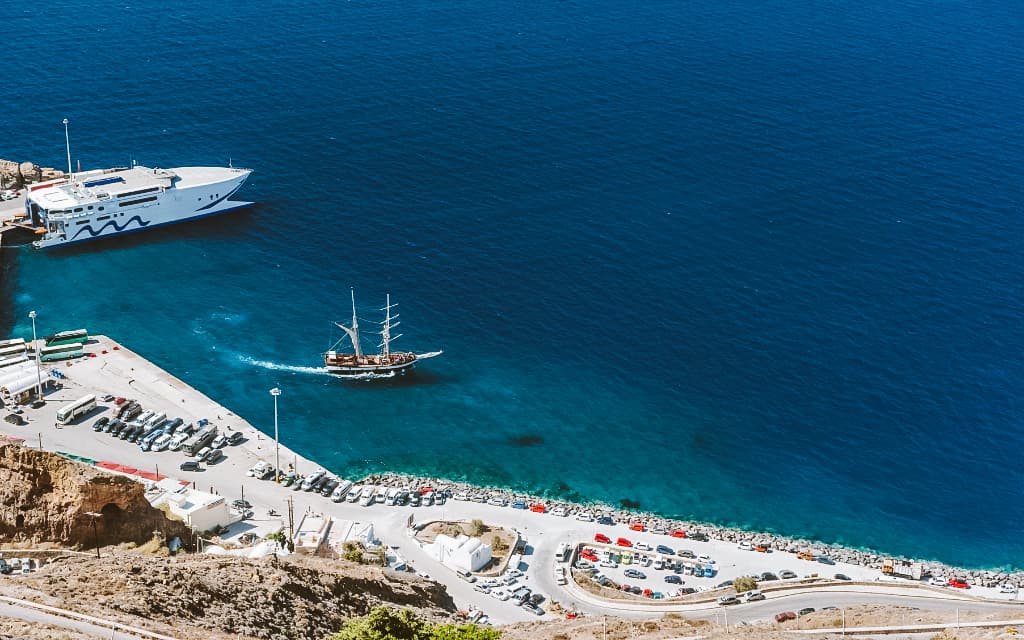 Transportation to Santorini, Greece
Public transport to Santorini is provided by KTEL buses. The main bus station is located in Fira, from where you can get buses to Oia, Kamari, Perissa, Akrotiri, Vlihada, Vourvoulos, Monolithos and the airport.
The buses run really frequently and the prices are average. See all timetables and prices here.
Prices in Santorini
Prices of basic food in Santorini are as follows:
Water 1,5 l – 0,85 €
Bottle of wine – 8 €
Bread 0,5 kg – 1 €
Eggs 12 pcs – 3,30 €
Cheese – 7,50 €
Chicken breast 1 kg – 7,50 €
Apples 1 kg – 2 €
How much does a holiday to Santorini, Greece cost?
The cost of a holiday in Santorini can vary depending on the time of year, location and budget. Here is a rough estimate of how much a holiday in Santorini will cost:
Accommodation: prices can range from 30 to 50 euros per night in budget accommodation, from 100 to 250 euros per night in mid-range hotels and from 300 to over 1,000 euros per night in luxury hotels and villas. Prices tend to be higher in high season (June to September) and lower in low season (April to May, October) and low season (November to March).
See the complete offer accommodation in Santorini .
Transport: buses are the most affordable option, with a one-way ticket costing around €1.60-2.50, while taxis and car rentals can range from €20-60 per day.
Dining: you can pay from 10 to 15 euros per person to 40 to 80 euros per person for a meal in a taverna or fast food restaurant. You can save money by eating at local bakeries, markets or preparing your own food if your accommodation has a kitchenette.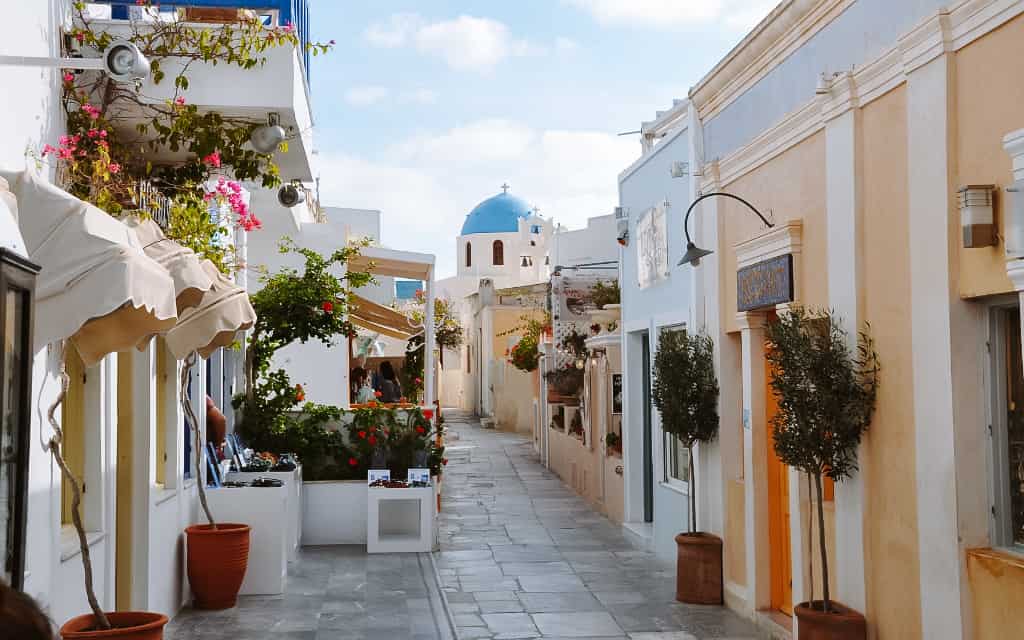 What are the tips for visiting Santorini, Greece?
Choose the right time to visit: the high season in Santorini runs from June to September and is characterised by warm weather, sunny skies and lots of people. To avoid the crowds and still enjoy the nice weather, consider visiting from April to May or in October.
Book accommodation and activities in advance: Santorini is a popular destination and accommodation, especially those with caldera views, can fill up quickly.
Wear comfortable shoes: many villages in Santorini, such as Oia and Fira, have narrow cobbled streets and steep steps.
Rent a vehicle: Renting a car or scooter can be more flexible and convenient when exploring the island at your own pace. Keep in mind that traffic can be busy in high season and parking can be a problem in popular areas.
Explore areas other than the caldera: although the caldera and its villages are the main attractions, Santorini has much more to offer. Visit the beaches of the east coast, explore ancient sites such as Akrotiri, or follow the island's trails to discover lesser-known beauty spots.
Bring cash: although credit cards are widely accepted, some smaller businesses and taxi drivers prefer cash. Bring a few euros for small purchases and tips.
Type C and F plugs are used in Greece. The Type C plug has two round pins and the Type F plug has two round pins with two ground terminals on the side. Greece operates on 230V and 50Hz supply voltage.
Learn basic Greek phrases:
Good morning – Kalimera
Hello – Kalispera
Hi – Ghia su
Please – Parakalo
Thank you – Efharisto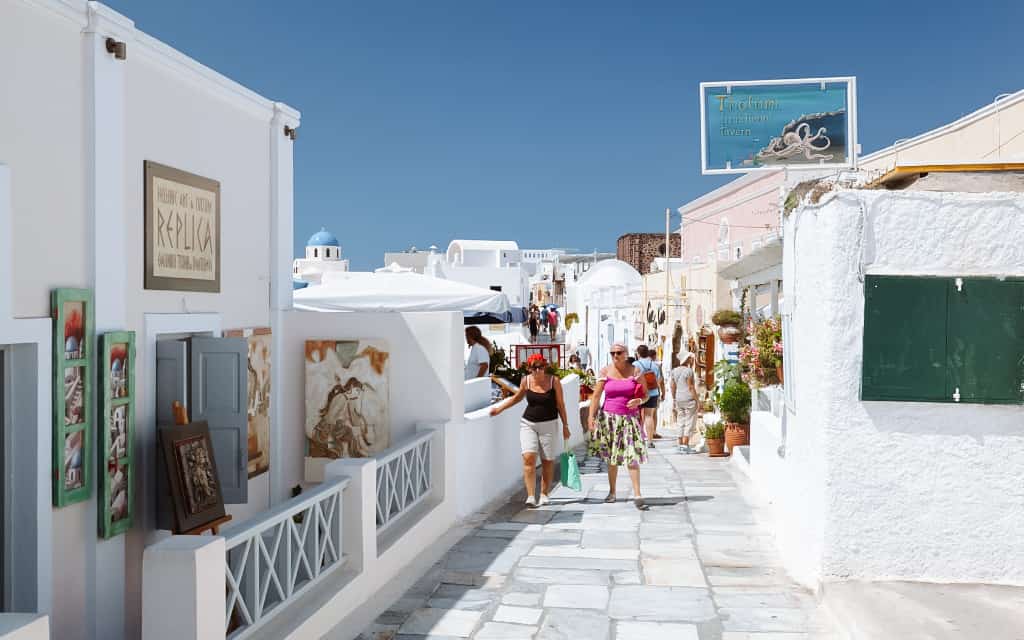 Best time to visit Santorini
Late April to May: spring is a great time to visit Santorini as the weather is pleasant and average temperatures range from 16°C to 23°C. The island is in full bloom, there are fewer people and accommodation is more affordable.
June to September (high season): summer is the most popular time to visit Santorini with temperatures ranging from 24°C to 30°C. Be prepared for large crowds and higher accommodation and airfare prices. If you don't mind crowds and want to experience the lively summer atmosphere of Santorini, this is the time to visit.
September to October: autumn offers a nice balance between warm weather, fewer people and more affordable accommodation. Temperatures during this period range from 20 °C to 27 °C. The sea stays warm enough for swimming and the sunsets are just as beautiful as in the summer months.
November to March (low season): the winter months in Santorini are quiet and offer a more authentic experience, fewer tourists and lower accommodation prices. However, temperatures may be cooler, ranging from 10°C to 16°C, and some businesses, hotels and restaurants may be closed.
This was our guide to Santorini, including tips on what to see and do in Santorini. Do you have a question? We'll be happy to answer it in the comments below. Have a safe journey!
More information about Greece
GREECE: Get inspired with tips on where to go to the seaside in Greece.
CROATIA: Take a look at the best places to go to the sea in Croatia.
ITALY: There are so many beautiful places in Italy – we've listed the most beautiful places in Italy in a separate article.
SPAIN: Get inspired with tips on places to visit in Spain. From beaches, historic towns to beautiful nature. Mallorca is one of the most beautiful islands in Spain – see photos and tips on what to see in Mallorca.